Holocaust education – Teachers workshop on "Exile and Community: the Life of Carola Domar"
November 15, 2020 @ 4:00 PM

-

5:30 PM

EST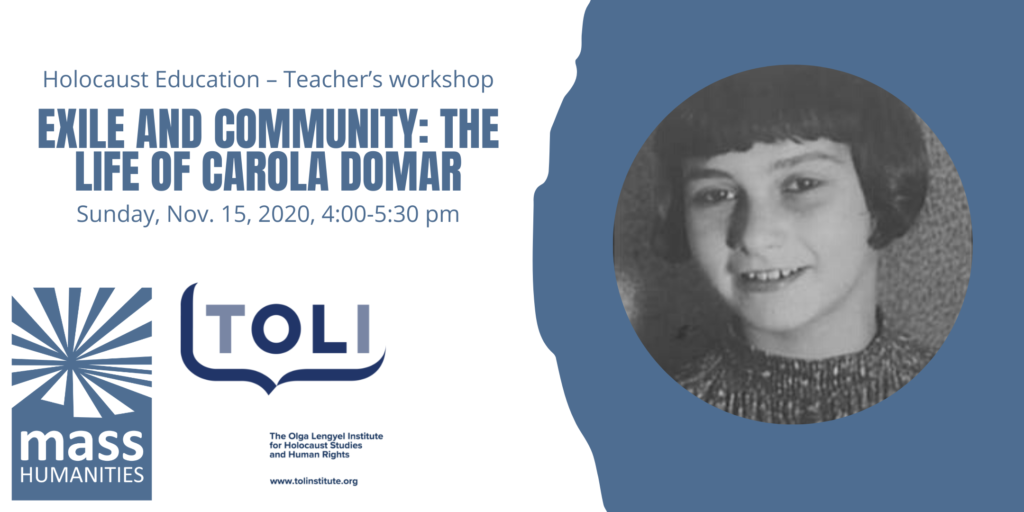 Teachers workshop on Exile and Community: the Life of Carola Domar
Sunday, Nov. 15: 4:00-5:30 pm
Please join us for an online, interactive workshop for educators interested in the Holocaust.
Sponsored by The Olga Lengyel Institute (TOLI) and Mass Humanities, this event helps educators think about how to use the documentary film Exile and Community: The Life of Carola Domar, and the accompanying curriculum guide, in the classroom. The 60-minute film follows the moving story of a young Jewish girl who grew up in Nazi Germany, escaped to the United States in her teens, and settled in a unique, idealistic community in Concord, MA. Told by Carola Domar and her daughter, Alice, Domar's search for community is all the more remarkable for the spirit of forgiveness with which she ultimately came to terms with her past and reconnected with her former homeland.
Film and curriculum guide:
Both the film and curriculum guide are available for free to educators in schools, museums, and libraries. The film is designed to be used with students in grades 8-12 in History and English classes but is also well-suited for college students and adults. The curriculum guide offers tiered prompts and activities for students of different ages.  To access the film and curriculum guide, click here.
Speakers:
Derek Penslar, Professor of History at Harvard University, will provide historical context for the film, focusing on the place of the Holocaust in Jewish and European history.
TOLI Seminar Facilitator Cara Crandall will lead an interactive exercise, with participants in breakout rooms, that engages the film and curriculum guide with the urgent questions so many Americans have today about how to commemorate dark moments in history, focusing on commemorative monuments and memorials.
To register: This event is for educators interested in teaching about the holocaust.  If you are an educator in a school, museum, library, or religious organization, you are eligible to attend this free workshop.  Please click here to register. Please watch the one-hour film, linked here, before the event.  Before the event, you will also receive an email from Jennifer Hall-Witt with more information on how to prepare for the workshop.  We will send the link to the event a few days before Nov. 15.
Questions? Please email Jennifer Hall-Witt at jhall-witt@masshumanities.org.