Stories of Our LBGTQ Ancestors: Marion Turner
September 20 @ 6:30 PM

-

7:30 PM

EDT

Funded by Mass Humanities

Cost: Free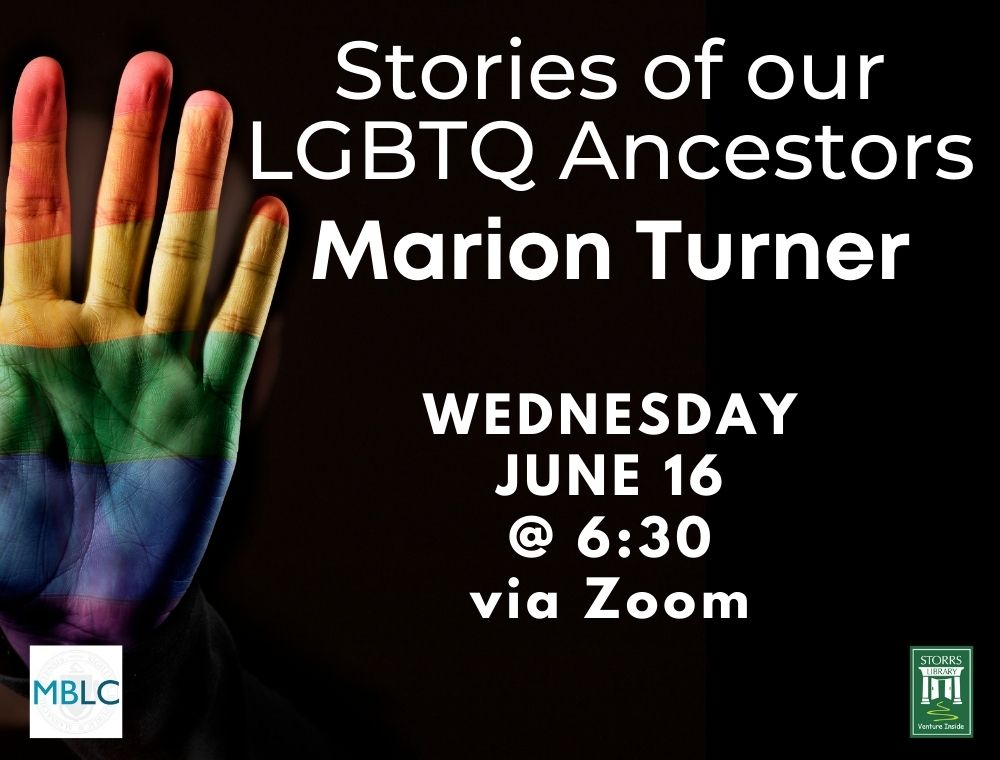 Join Storrs Library and Ben Power for the story of Marion Turner, an African American, gender non-conforming person who lived in Florence, Massachusetts from 1898 to 1903. Turner sometimes dressed in male attire and sometimes in female attire, and alternated pronouns to refer to themselves accordingly. Turner lived and worked with Mrs. J.D. Atkins and became involved with her in abolitionist efforts as they frequented Cosmian Hall. Turner held gatherings of young Black Americans at Mrs. Atkins house, inviting them up from the South to find opportunities in the New England.
Ben Power, Founder and Executive Director of the Sexual Minorities Educational Foundation (SMEF), Inc. has been the Curator of the Sexual Minorities Archives (SMA) since 1977. The SMA in Holyoke, MA is one of the largest and oldest national collections of LGBTQ literature, history, and art in the United States. SMEF includes the SMA, the Leslie Feinberg Library, and the Out Books on Wheels lending library: 4000+ additional LGBTQ books that circulate for free.
Ben founded the East Coast FTM Group in 1992, the first-ever trans-male support group in New England. He was also a co-founder in 2008 of the first-ever New England Transgender Pride March organizing speakers for the rally and was honored for his trans activism on the Trans 100 List in 2015. He holds a bachelor's degree in English and a master's degree in 20th Century American Literature and Socio-Cultural Processes. Ben is a medically disabled trans elder, working-class, anti-racist, anti-classist, pro-feminist activist who believes that Justice is voice for marginalized people and that Education is the key to Equality.