The American School for the Deaf: 200 Years of History & Innovation
June 30 @ 6:30 PM

-

7:30 PM

EDT

Cost: Free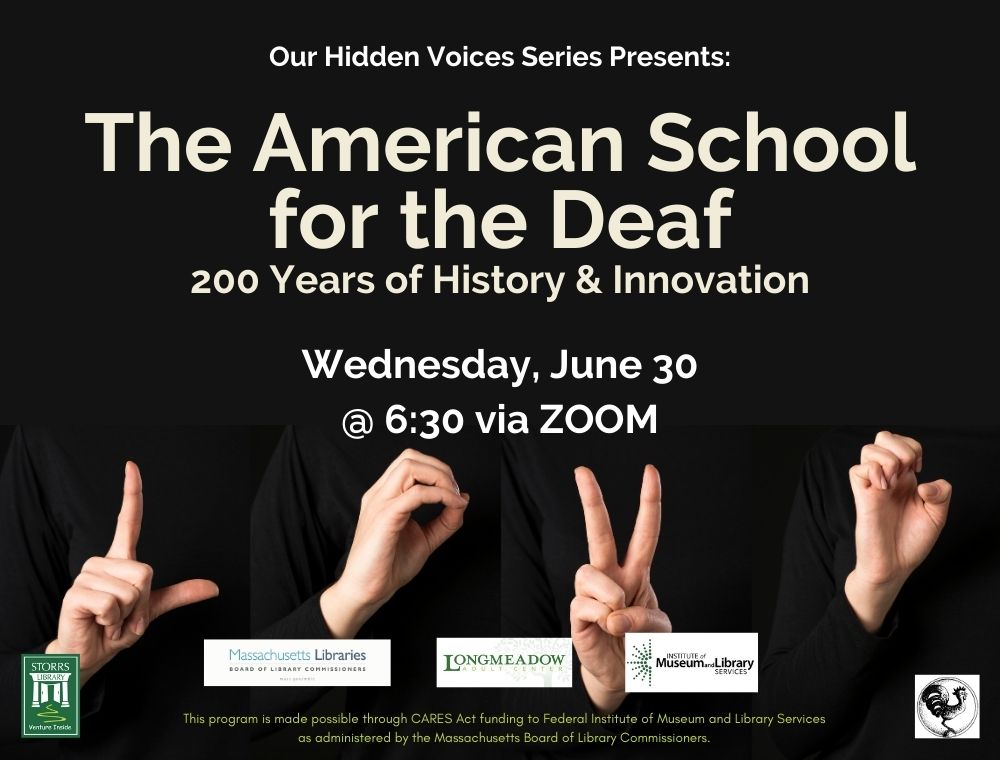 Storrs Library is pleased to virtually host "The American School for the Deaf: 200 Years of History & Innovation." Jeff Bravin and Jean Linderman will share with us the history of Sarah and Richard Storrs from Longmeadow, the community of Deaf students from Massachusetts who attended ASD, and share some pertinent items from their archives. This presentation will be signed and feature an interpreter.
Jeff Bravin has been employed at the American School for the Deaf since 2002 and is currently the Executive Director.  He also presents nationally and internationally on issues related to the field of Deaf Education, consistently educates Connecticut's leadership about issues affecting the State's deaf and hard of hearing citizens, and advocates for programs, services, and legislation to resolve them and to propel the Deaf Community forward.  He earned his B.A. Degree in Government from Gallaudet University, M.S. Degree in Deaf Education from McDaniel College (formerly Western Maryland College), and M.S. Degree in School Administration and Supervision from Queens College. He currently serves on the State of Connecticut Advisory Board for Persons who are Deaf or Hard of Hearing, and holds several organizational Board positions. He was born and raised in New York and is married with three children; he loves to go skiing with his family.
Jean Linderman has been working in the Museum at the American School for the Deaf since 2013 when she was brought in to assist  for ASD's 200th anniversary (2017). She is currently the Museum Coordinator, responsible for the preservation of the school's historical records and valuable documents. She also works on new acquisitions, research, tours and exhibits, arrangements for restoration and preservation, and creating accessible databases of holdings and information.  She has collaborated with many other museums and historical societies on behalf of ASD to share the school's contributions to deaf history, education, and language. Jean was raised in West Hartford.  She is married and has a daughter who is a nurse in Colorado.  Jean and her husband, John, belong to several antique car clubs and show their cars regularly (his 1910 Stanley Steamer and her 1957 Nash Metropolitan).  When not touring, she enjoys restoring and refinishing antique furniture.
This program is cosponsored by Storrs Library, Longmeadow Historical Society, Longmeadow Adult Center as part of our "Hidden Voices of History" series. This program is made possible through CARES Act funding to Federal Institute of Museum and Library Services as administered by the Massachusetts Board of Library Commissioners.