The Promise of Civic Renewal to Revive our Democracy
December 10 @ 7:30 PM

-

8:30 PM

EST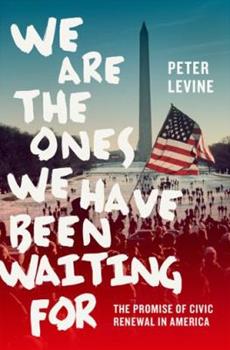 The Promise of Civic Renewal to Revive our Democracy
Dec. 10, 2020: 7:30-8:30
Please join us for the third event in our "Let's Talk about our Democracy" series.  Peter Levine, an expert on civic engagement, will talk with Program Officer Jennifer Hall-Witt about a promising vision for reviving our democracy, focusing on the role that ordinary citizens can play in fostering more deliberative, collaborative, and engaged communities. This conversation will be based on the findings in his book, We are the ones we have been waiting for: the promise of civic renewal in America, which advocates for a new, citizen-centered politics capable of tackling problems that cannot be fixed in any other way.
This event will include small-group discussion in breakout rooms amongst members of the audience. Please come ready to listen and participate!
Peter Levine is the Associate Dean of Academic Affairs and Lincoln Filene Professor of Citizenship & Public Affairs in Tufts University's Jonathan Tisch College of Civic Life. He was the director of CIRCLE, the Center for Information and Research on Civic Learning and Engagement at Tisch, and organizes Tisch's annual Frontiers of Democracy conference. In addition to We Are the Ones We Have Been Waiting For: The Promise of Civic Renewal in America (2013), he is also the author of The Future of Democracy: Developing the Next Generation of American Citizens (2007) and The New Progressive Era: Toward a Fair and Deliberative Democracy.
To register: Click here to register. A few days before the event, we will email you the link to access this online event.
Questions? Please email Jennifer Hall-Witt, Program Officer at Mass Humanities: jhall-witt@masshumanities.org.