Threats to our Democracy in Historical Context
November 19, 2020 @ 7:00 PM

-

8:00 PM

EST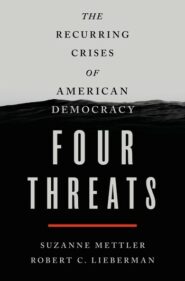 Threats to our Democracy in Historical Context
Thurs., Nov. 19: 7:00-8:00 pm EST
What can we learn about the current state of our democracy by examining it within the long arc of American history? Please join us for the first event in our "Let's talk about our democracy" series for an informative and engaging exploration of this question.
Peter Levine, an expert on civic engagement, will moderate a conversation and audience Q & A with Suzanne Mettler and Robert Lieberman, authors of the new book Four Threats: The Recurring Crises of American Democracy. By studying previous periods in history when our democracy has been in peril, they discovered four recurring threats: political polarization, racism and nativism, economic inequality, and excessive executive power. Today, for the first time in American history, all four threats are present at the same time, a convergence that marks a grave moment in our democratic experiment. Yet history also points the way to imagine a path toward repairing our civic fabric and renewing democracy. We hope you will join us for this important conversation!
Moderator:
Peter Levine, Associate Dean of Academic Affairs and Lincoln Filene Professor of Citizenship & Public Affairs in Tufts University's Jonathan Tisch College of Civic Life.
Panelists:
Suzanne Mettler, the John L. Senior Professor of American Institutions at Cornell University.
Robert C. Lieberman, Krieger-Eisenhower Professor of Political Science at Johns Hopkins University.
If you are interested in purchasing a copy of Mettler and Lieberman's Four Threats: The Recurring Crises of American Democracy, you can click here for options.
To register: Please click here.  A few days before the event, we will email a link to access the event to everyone who has registered.
Questions?  Please email Jennifer Hall-Witt, Program Officer at Mass Humanities: jhall-witt@masshumanities.org