Cutting edge conversations in the humanities
The humanities play an integral role in addressing the challenges faced by our democracy. Each fall, Mass Humanities convenes leading scholars, journalists, and public officials for a conversation on a relevant issue. Past symposia have focused on the presidency, the Supreme Court, the role of the media in our democracy, climate change, the role of the military in our culture, economic inequality, and racial conciliation.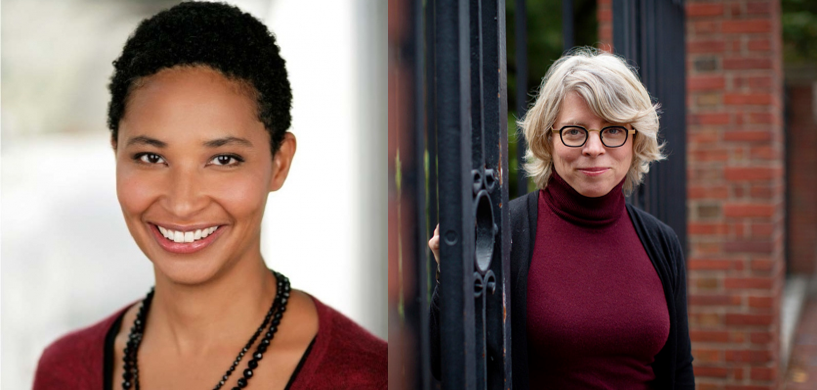 History, Historians, and Public Memory:
A Conversation with Danielle Allen and Jill Lepore
Two of the nation's leading scholars joined together for their first onstage conversation. Danielle Allen and Jill Lepore explored the role of historians in society, and the importance of history in a democracy. How can the study of the past inform a nation grappling with issues of identity, citizenship, and misinformation? In an era of contentious debates about historical events and figures, what forces influence public memory?
Danielle Allen, James Bryant Conant University Professor at Harvard University, and Director of Harvard's Edmond J. Safra Center for Ethics, is a political theorist who has published broadly in democratic theory, political sociology, and the history of political thought. A 2019 Massachusetts Governor's Award in the Humanities recipient, she is the author of six books, including Our Declaration: A Reading of the Declaration of Independence in Defense of Equality (2014). Allen is also the principal investigator for the Democratic Knowledge Project, a distributed research and action lab at Harvard University that seeks to identify, strengthen, and disseminate the bodies of knowledge, skills, and capacities that democratic citizens need in order to succeed at operating their democracy.
Jill Lepore is the David Woods Kemper '41 Professor of American History at Harvard University. She is also a staff writer at The New Yorker. A prize-winning professor, she teaches classes in evidence, historical methods, humanistic inquiry, and American history. Much of Lepore's scholarship explores absences and asymmetries in the historical record, with a particular emphasis on the histories and technologies of evidence. A prize-winning professor, she teaches classes in evidence, historical methods, the humanities, and American political history. As a wide-ranging and prolific essayist, Lepore writes about American history, law, literature, and politics. She is the author of many award-winning books, including the bestselling These Truths: A History of the United States (2018). Her latest book is This America: The Case for the Nation (2019).
---
Fall Forum 2019 Photos
Thanks to Danielle Allen and Jill Lepore, this year's Fall Forum was a dynamic conversation that engaged a very full audience at the Edward M. Kennedy Institute.
Click here to view past Fall Forum speakers.
---
Honoring our Donors
We are filled with gratitude for the response to this year's Governors Awards in the Humanities Dinner and our annual Fall Forum. Thanks to your support, Mass Humanities will bring new audiences to the humanities in 2020. 

Our special thanks go out to the John F. Kennedy Presidential Library and Museum, the Edward M. Kennedy Institute, Jill Lepore, honorees Danielle Allen, Lee Blake, Nancy Donahue and Jeff Musman, and their families and friends. 
EVENT SPONSORS
Laureate
Anonymous
Visionary
The Donahue Family
Luminary
Lia and Bill Poorvu
Spencer, Sullivan & Vogt
Champion
Community Foundation of Southeastern Massachusetts
W.E.B. Du Bois Center at University of Massachusetts Amherst
Eastern Bank Charitable Foundation
Gourmet Caterers
Benefactor
Darcy L. Immerman
Nahant Preservation Trust
New Bedford Historical Society
Michael Pappone and Diane Savitzky
Seyfarth Shaw LLP
WGBH Boston