The Massachusetts Governor's Awards in the Humanities recognize individuals for their public actions, grounded in an appreciation of the humanities, to enhance civic life in the Commonwealth. Each year the Mass Humanities Board of Directors selects nominees who are confirmed by the Governor of Massachusetts. Established in 2014, the awards are presented at an annual event.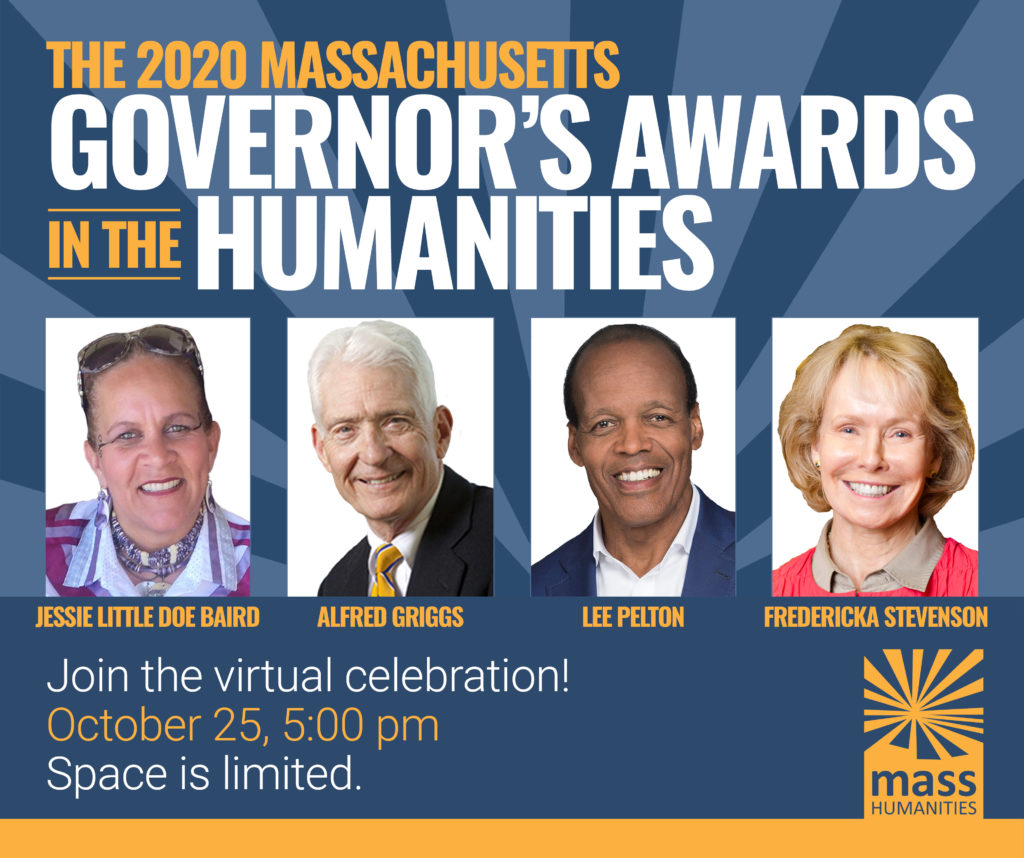 Register online using the form below.
Sponsorships for the Governor's Awards in the Humanities are available as listed on the registration from. Full details are included in the PDF at the following link.
jessie little doe baird is a citizen and vice chairwoman of the Mashpee Wampanoag Tribe and the Wampanoag Women's Medicine Society. She is co-founder and director of the Wôpanâak Language Reclamation Project, for which she garnered a MacArthur Fellowship. She has written an introduction to Wampanoag grammar, is currently working on a dictionary, and has authored many books in the language. She is a former research fellow of the National Science Foundation's Documenting Endangered Languages program and has served on the Mashpee Housing Authority and the Mashpee Historic District.
Al Griggs graduated from the U.S. Naval Academy and then served as a jet pilot in the U.S. Marine Corps from 1963 to 1968. A former Coca-Cola Bottler, Griggs has served on the boards of the Community Foundation and Economic Development Corporation of Western Massachusetts, Cooley Dickinson Hospital, and Dartmouth-Hitchcock Health. He recently completed a six-year term on the Mass Humanities board and is currently chair of the board of CISA (Community Involved in Sustaining Agriculture) and a member of the board of the John Hay Estate at the Fells in Newbury, New Hampshire.
Lee Pelton is president of Emerson College and an internationally known speaker and writer on the value of liberal education and leadership development, civic engagement, and diversity and inclusion. Pelton served as dean of the college at Colgate University and Dartmouth College, and was president of Willamette University in Salem, Oregon for 13 years. He serves on the board of directors of the Boston Chamber of Commerce, WGBH, MIT Press, Harvard Graduate School Alumni Council, Boston Arts Academy Foundation, the Boston Municipal Research Bureau, Facing History and Ourselves, and the Barr Foundation.
Fredi Stevenson is chair emeritus of Summer Search Boston, which she co-founded in 1993 to support low-income high school students who demonstrate compassion and resilience. She is a member of the Smithsonian National Board and chairman of the Smithsonian Science Education Advisory Board. She served as chair of the board of directors of WBUR, and is currently a member. She is a member of the Women's Leadership Board at Harvard Kennedy School, and an overseer of the Museum of Science. She served as a member of The NPR Foundation board and as a Boston Fellow of the Harvard Art Museums.
---
Sponsors as of September 15
Luminary
Anonymous
Champion
The Beveridge Family Foundation
Eastern Bank Charitable Foundation
Bill and Lia Poorvu
K|B Private Wealth Management
Benefactor
John Burgess and Nancy Adams
Community Foundation of Western Massachusetts
Cooley Dickinson Health Care
Emerson College
Mohegan Tribe
Troy and Pat Murray
Seyfarth Shaw LLP