Did your organization receive a relief grant from Mass Humanities? Click on the buttons below for relief grant recipient lists.
Explore the Mass Humanities funded projects awarded from 2000 to the present. Browse by grant type, city, region or keyword. Subscribe to our newsletter and receive news when grants are awarded.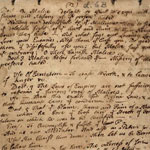 Project: Negotiating Social Contract Grant
Boston, MA, Suffolk County (Greater Boston)
Development of a walking tour mobile application explores Boston's early religious history, with a particular focus on the decision-making practices and contentious issues that characterized life in seventeenth-century Boston.