Did your organization receive a relief grant from Mass Humanities? Click on the buttons below for relief grant recipient lists.
Explore the Mass Humanities funded projects awarded from 2000 to the present. Browse by grant type, city, region or keyword. Subscribe to our newsletter and receive news when grants are awarded.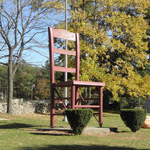 Project Grant
Gardner, MA, Worcester County (Central)
A community art and discussion project that will engage former chair manufacturing workers in producing 400 copies of eleven oral histories recorded in 2009, after the closing of the city's last chair manufacturer.
The Gardner Museum, Inc.
Gardner, MA, Worcester County (Central)
project director: Tracie Pouliot
awarded on:
2015-06-19
amount:
$4,000