Did your organization receive a relief grant from Mass Humanities? Click on the buttons below for relief grant recipient lists.
Explore the Mass Humanities funded projects awarded from 2000 to the present. Browse by grant type, city, region or keyword. Subscribe to our newsletter and receive news when grants are awarded.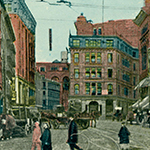 Project: Engaging New Audiences Grant
Boston, MA, Suffolk County (Greater Boston)
A project that connects experienced scholars with a cohort of Chinatown laborers-who will participate in six workshops on local history, national Chinatown histories, immigration, and documentary photography-to create original materials for a future exhibition.