Did your organization receive a relief grant from Mass Humanities? Click on the buttons below for relief grant recipient lists.
Explore the Mass Humanities funded projects awarded from 2000 to the present. Browse by grant type, city, region or keyword. Subscribe to our newsletter and receive news when grants are awarded.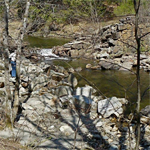 Project Grant
Haydenville, MA, Hampshire County (CT Valley)
Creation of three permanent low-profile interpretive wayside signs, a self-guided brochure, and a digital online "story map" for the site of the 1874 Williamsburg Reservoir Dam disaster.
Town of Williamsburg - Woodland Trails
Haydenville, MA, Hampshire County (CT Valley)
project director: Paul Jahnige
awarded on:
2017-06-16
amount:
$7,500