Did your organization receive a relief grant from Mass Humanities? Click on the buttons below for relief grant recipient lists.
Explore the Mass Humanities funded projects awarded from 2000 to the present. Browse by grant type, city, region or keyword. Subscribe to our newsletter and receive news when grants are awarded.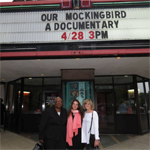 Project: Media Grant
Watertown, MA, Middlesex County (Greater Boston)
Creation of a Teacher's Guide and three companion short films which tell the stories of Native child removal, forced assimilation, and the first Truth and Reconciliation Commission for Native Americans in the country. Creation of a curriculum to accompany the documentary film "Our Mockingbird," exploring individual and group identities, American history, jurisprudence, and ethics in Harper Lee's novel.