Lessons Learned from an Empty Pot
Suzan Khan
Stoughton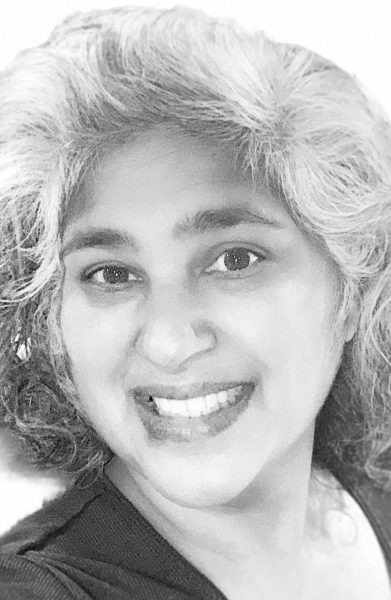 Back when I was twelve years old, I was responsible for cooking for my family. After the death of my father, my mother had to assume the role of the provider, and I became the caregiver who had to get up at four each morning to do chores, including packing lunches and serving dinner for my mother and five siblings. Sometimes I would go without food to make sure there was enough for the others, but I tried to never go more than two days without eating because I knew that would be bad for me.
Because flour was subsidized by the government in Trinidad, it was affordable. I often mixed it with water to make roti (a type of pita bread), and then served it with a vegetable, like eggplant or squash.  On rare occasions we would have meat from chickens or ducks that we raised. Other times meat came in the form of an unlucky iguana that made its way onto our property. 
We desperately needed more food though. One night, my older brother Tony and his friends went to the nearby law school where they caught about ninety-seven pigeons. Our portion was dinner that night.
In high school, I met my best friend Hafeezar for lunch break each day, and every day she would ask the same question: "Where is your lunch?" Feeling too embarrassed to tell her the truth, and not wanting her to feel sorry for me, I always gave the same answer: "I'm not hungry." Eventually Hafeezar must have caught on because she started bringing two lunches to school every day, and she'd say, "I don't know why my mother packed me an extra lunch–do you want it?" Thanks to Hafeezar, I ate at least once a day during the school year. She may very well have saved my life.
Although we lived in a dilapidated four-room house and didn't have much space to sleep or food to eat, my mother often took people in at no cost if they fell on hard times. One night, just as I was done cooking a pot of soup, a couple of friends stopped by and not only did my mother offer them food, but she also gave them second helpings. I kept trying to tell her we didn't have enough, but soon the food was gone. My brother Terry, who walked the streets picking up cans to sell to buy the supplies for the soup, came home to an empty pot. 
At nineteen, after seven years struggling with my family, I had the opportunity to come to America. It was a very difficult decision because I worried about leaving my mother and siblings behind.
As an immigrant I faced new struggles. I went back and forth between two of my mother's siblings, neither of whom seemed to want the responsibility of having me stay with them. I was staying with my Uncle Fize and his family in Dorchester on my first Christmas in America when he and his wife had a fight. My uncle left the house, and then my aunt took my seventeen-year-old cousin and went to a friend's house. I was left alone with no food or family on Christmas.
I felt like a scared little girl in an adult body in this big new world. I had the responsibility of providing for my family back home by sending them most of my paycheck, and I often didn't know where I would get my next meal or spend the night. I always traveled to and from work with an overnight bag, never knowing where I would end up.
Gradually I was able to build a life of my own, finding work and knowing I would come home to my husband at the end of each day. But my early experiences with hunger never left me, especially when I began noticing all the homeless people on the sidewalks of the city.
Remembering what it feels like to be hungry, I started volunteering with an organization that helps the homeless, but I quickly realized I needed to do more. After discussing this, my husband and I started buying food and cooking meals for the homeless. Every member of my household, including my kids, got involved, helping me with food shopping and food prep and going out with me to serve the food. After a while, my church family also started helping.
On my first day delivering food and supplies on the streets of Brockton, I met two men. James was able-bodied, and his friend Paul was in a wheelchair. As I handed them sandwiches, I asked what type of supplies they needed. James answered: "I want a gun and two bullets–one for me and the other for Paul". This ripped my heart out. 
My heart broke many times over again on a freezing day in February when the thermometer registered twenty-two degrees. A few of us went out to the streets of Brockton to find the homeless. We finally found Paul sitting in his wheelchair, under the dryer vent outside a laundromat, dressed only in a pair of slacks and a T-shirt, too frozen to hold a sandwich. We fed him and put extra clothes on him, then wrapped him in blankets. Paul chose to stay outside and all we could do was to surround him and pray. Two passersby joined us in prayer for Paul. "Now that is love," one of them observed.
I learned of Paul's death just three days later. He'd fallen on a sidewalk, hit his head, and died. I cried for Paul but was thankful that he left the earth knowing that someone cared about his well-being and gave him love.
Hunger is not just a pain in your stomach but an embarrassment within the very core of your being. So, when I see people who are hungry or homeless, rather than judging or scorning them, I choose to look at them with love. It is love, opportunity, and support people need to turn their lives around.
As for me, these day's hunger comes by choice. In the Bible God tells us to fast, and when we fast, we should give our food to the hungry. So I do.
All those years ago, that twelve-year-old girl deserved to have a full belly. She deserved to sleep past four in the morning without worrying about whether there would be enough food for her family. But by the grace of God good did come out of that experience. The mother who chose to share what little the family had with others taught the girl an important lesson—a lesson that continues to live within her today.