Looking Troubles Straight in the Eye
Charlie Knight
Springfield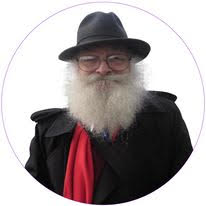 When I heard of the Clemente Course in Humanities I was about as low as you could get.
I had been quarantined from March 25 to June 8 and somewhere around May 25, I had thought that morning I would die before 10 a.m. But whatever it was "broke" at that time.
I was—and am–in one of the scariest portions of my life financially, and much of what is dear to me might be ripped away at any moment.
And I was sad about the fact that I had recently given up the presidency of a neighborhood council that I had been a part of on and off since I was fourteen.  I had first joined the Grange because it gave me opportunities to speak publicly and make a difference.  But now I was constantly being told that I could not say things right and that I did not word things correctly.  That hurt, since, in the course of my work in other places. I've been an assistant editor, correspondent, reporter and even public-access TV anchorman, writing most of my dialogue.  At first, the people at the Grange rewrote everything I wrote, and later they just had others do the writing. When I designed posters, they either did not have enough graphics or had too many. They either did not have enough information or were too wordy.  I was really doubting my ability to communicate and thought maybe my mind was going. 
Then I saw the flyer about the Clemente Course in the Humanities and especially its emphasis on critical thinking and writing. Maybe I could learn how to write and say the right words. I thought I would take a gamble on it, and if it did not work, I was probably a total failure. So, I applied and was accepted.
A strange thing happened.  My first instructor, Gina Ocasion, inspired confidence. Soon I was buying three-ring binders at Savers and plastic sleeves to save the slides used in lectures. After each class, I would look over what was said.  The course work got a little harder as we progressed, and what I had never done before was commonplace now. I underlined all over the books, wrote comments on the sides, and added drawings. I would argue with the author and write the unknown word at the top or bottom of the page, so I could later look up the meaning and Latin or Greek or other root so I would KNOW that word.
So, when the opportunity came to take a Clemente course on Democracy and Civic Engagement, I jumped at it.  It was another opportunity to learn skills and polish ones I already had so I could learn how to write and talk and make my thoughts clear.  And soon I was also enrolled in a Clemente U.S. History class at the same time. At that point I was attending three Clemente sessions a week as well as participating in a seminar/roundtable theology class through my Church Diocese. So, Mondays through Thursdays, I had classes in the evenings and much of the day was spent in reading, digesting the reading, and writing.
As these classes were starting, I was still dealing with hard times in my life.  I'd moved out of my apartment when the roof and floor had fallen in, but that meant I got fined for accepting Supplemental Security Income because I wasn't living in the residence they had certified.  By December, my SSI had dropped to fifty-eight dollars a month, and because the cheapest place I could live was a fifty-dollar subsidized single room occupancy apartment, that meant I only had eight dollars left after paying my rent. By then the operation I needed for a back injury was once again put off, and I was beginning to be in great pain much of the day.  But I wasn't about to let that stop me from learning.
In my Clemente classes, I was getting positive feedback from teachers and my fellow students on what I had written. That meant a lot after so many years of negative words about my writing. I was also encouraged to keep reading and thinking by the course questions, readings, and discussions. Because of the Clemente Courses I have been given the viewpoint that I can say things of value. I'm learning to acknowledge the good things I've accomplished rather than focusing on my failures.
The confidence my Clemente experience built led me to apply for a Bard College program to continue my college education.  I've also applied for a Community Health Worker training class that is offered through Holyoke Community College. Learning to be a Community Health Worker is an attempt by this old guy to get hired to help other seniors regain the right to make their own choices, make informed decisions, reach their own goals, and find joy in life again. 
I am so proud of my fellow Clemente and Community Health Worker students. We know who the victims are. We can see what needs to be changed. And we know how we can help. Because we have been those homeless, or battered, or victimized persons, maybe we can help those who are suffering today. And perhaps we can show the same sort of respect toward the leadership of all levels of our communities and government, cheering them on and assisting them to build a system that affirms everyone's right to "Life, Liberty, and the pursuit of Happiness."
The Clemente Course in the Humanities has changed my life. I am given courage and confidence that I can say things and have them understood by others. I am given confidence that my life has not been one long series of failures but that the experiences of each day, each month, each year have built upon one another to make me a person who can deal with challenges today. I came to Clemente thinking I could say nothing right. I now feel I have something worth saying and that we all need to be compassionate agents of change, a change that respects the dignity of all and at the same time affirms the values and morals many of us have been taught since youth.  
I started writing this at midnight and now it is 4 am. What has kept me awake and writing is the wish to encourage others to join in this work that celebrates the dignity and resourcefulness that God has given all of us, so rather than feeling alone we feel confident that what we do together is the right thing. I thank Bard College, Holyoke Community College, Mass Humanities, The Martin Luther King Jr. Family Services Center, and the Springfield Clemente professors and staff and students for the encouragement given for me to look the troubles straight in the eye and push them out of the way so we can build a better world for all.