Speaking Out for Members of My Community
Onyedikachi Nwogu
Worcester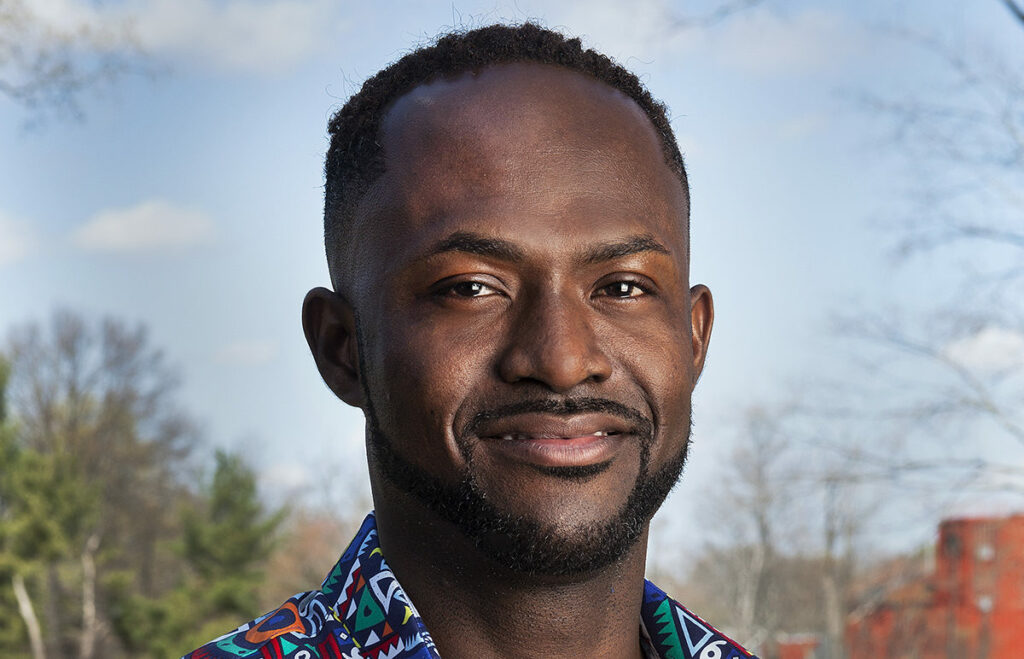 In July 2020, I was harassed and arrested because of my sexuality for a third time. I was still living in Abia State, Nigeria and it was about 7 or 8 p.m. Normally a driver at my job would bring me home at the end of the day, but that day he had to take a different route, and I told him I would find my own way home. When I was just about ten minutes from home, I was stopped by three police officers (this time it was not the regular police, but the Special Anti-Robbery Squad). It was a very quiet area where I lived, and this was during the COVID-19 pandemic, so there was almost no one in the street to see what happened.
The police officers said that I looked fresh, and they questioned me about my job and wanted to see my ID. They wanted to look at my phone, and when I resisted, they began hitting me with a black stick and slapping me. It was uncontrollable. When I saw that they were not taking it lightly, I did what they said. The officers accused me of resisting arrest, and they pushed me into the police van, and were able to cuff me and clip me in. At that point, I opened my phone for them and they started going through everything—my Instagram, Facebook, Twitter. They said, "So, you're gay, you fuck men, and you also promote homosexuality." I was very scared, because there have been many reported cases of SARS engaging in extra-judicial killings. I ended up paying a huge bribe to get out, because I was really scared of what could happen next. They spoke with hate toward gay people.
In August 2020, I was returning from the gym when I was attacked by a gang. The leader also had membership at my gym and he was someone who normally texted me to ask about fitness tips. I had made a post in support of gay men who were arrested and extorted earlier, and the post offended him. They hit me and I still do not understand what their main aim was that night. I narrowly escaped, and I lost everything (my gym bag, my wallet, my phone). I needed medical attention.
In 2014, Nigeria passed the Same Sex Marriage Prohibition Act (SSMPA). This act prohibits a marriage contract or civil union entered into between persons of same sex. The act stipulates penalties of up to fourteen years for engage in any form of same sex union and ten years for running a gay club, witnessing or administering the solemnization of a same sex marriage or civil union.
The law is an infringement of the rights of LGBTQ persons in Nigeria. Most gay men went into hiding, and this affected everything about been gay in Nigeria. People were afraid to go out and access health care. Over the years there have been reported cases of mass arrest targeting gay men. 
That has not silenced me. During the last #EndSARS protest in Nigeria, I was one of those trending the hashtag here in the United States and got it to a top 3 trending hashtag. We also trended the #NigerianGayLifeMAtters. Most of the victims of the police and SARS brutality, which I have personally experienced, were gay men.
The two reasons why I started my activism werethe law and losing my best friend to HIV in 2016. The goals of my activism were to bring the events that affect gay men to the mainstream media and secondly to ensure the right health care is given to any LGBTQ persons in need. If my friend had had proper access to health care as a gay man, he would still be living. 
In 2018, I came out as a gay man. It hasn't been easy for me. I have been attacked and arrested several times. In most recent times, the Special Anti-robbery Squad (SARS) would target gay men in arrests and extort huge sums of money from them. Gangs attack gay men and other times tries to blackmail and kill them. I am still active, speaking out for members of my community in Nigeria and Ghana. I still belong to many online platforms to support members of the community.