The Day I Learned Standing Up for People Can Save Lives
Oumar Kenneh
Worcester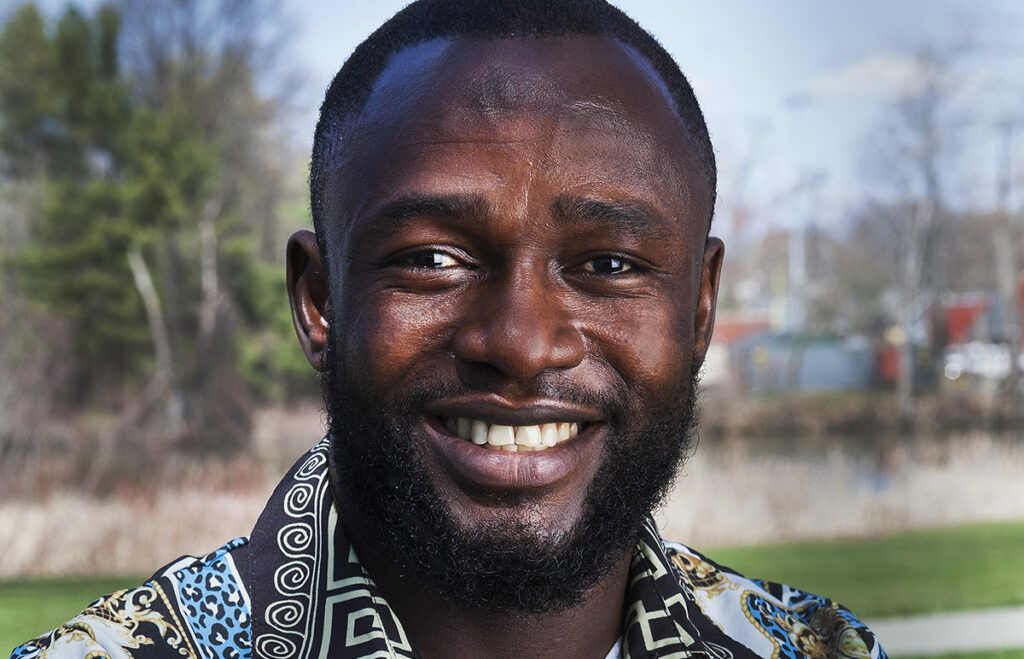 When I was a kid in Liberia, people would insult us for being Mandingo and Muslim. They'd say: "Mandingo dog, we're going to kill you–we're going to kill all of you." And they meant it. My aunt, my uncle, and my brother were all killed because they were Mandingoes.
Mandingoes are considered second-class citizens in Liberia. Although Liberia is supposedly a secular state, it doesn't give the same rights to Muslims as it does to Christians. Even Muslim students are forced to go to Christian religious services as a requirement for school. The Bible is taught in schools while the Quran is out of the question. In fact, Bible is one of the most important subjects taught in schools, and if you fail Bible and just one other course you aren't promoted to the next class.
Teachers also discriminate against Mandingo students in other ways. For example, Muslim holidays are not considered national holidays. Faculty members would give quizzes and tests on our religious holidays in order to watch us fail.
Mandingos were also bullied by their fellow students.  They would say things to us like "Mandingo dogs, Dingo dogs, foreigners, y'all not get home, go back to Guinea and we will kill all of y'all."  Hearing these names and being told to get out of our own country used to make me very sad as a kid. So I started standing up and speaking in my classrooms. I would take my classmates back to a time before the former slaves came to Liberia. 
After the abolition of slavery in America, freed black people were taken to Liberia by the American colonization society (ACS). Liberia was founded by the ACS in 1847 and is the oldest country on the African continent.  But Mandingoes were there before the Americans arrived. In fact, the Mandingoes were the first early traders in West Africa. They also created the Mali empire, the center of civilization in West Africa. The empire's total area included nearly all the land between the Sahara Desert and coastal forests. It spanned the modern-day countries of Senegal, southern Mauritania, Mali, northern Burkina Faso, western Niger, the Gambia, Guinea, the Ivory Coast, and northern Ghana. That is why Mandingo is still spoken in ten countries in Africa. So, I am very proud to be Mandingo. So, I asked my classmates why they are considered citizens, but Mandingoes are not.
But when I would speak up, teachers would punish me for telling the truth to my classmates, because they all hated us.
In 1989 Liberia erupted into a civil war, with all the other tribes in the country turning against the Mandingo tribe. Many died in the bloody war in Liberia. I lost dozens of family members in that bloody civil war. After the war, Mandingo people started coming back to their country, but their houses were all occupied. The people who had taken over the houses refused to give us back our homes and land. And the government is not saying anything about it. Our people get killed, harassed, and insulted at checkpoints and borders.
And that is why I was afraid for my life while I was approaching the checkpoint. 
I can remember I was coming back from Saclepea that market day. Although that city was known as the place that killed Mandingo people and was the place my aunt and nieces were killed, I'd gone there to help my mother sell Kool-Aid, ginger ale, sour milk, and water at the market to support herself. On my way home, passengers on the bus were insulting Mandingo people. Although I was only ten years old, I started reading our history to them and tried to make them understand that we are all the same.
But this was like pumping gas on a fire. The people on the bus told me to lie on the floor and apologize to them. Otherwise, they said, they would stop at the checkpoint and lie to the army that I was a rebel, which would cost me my life. Fortunately for me, there was a Muslim woman in the car who stood up for me even though she was not Mandingo. And the driver—who was afraid to speak because he was a Mandingo—was inspired by the woman and stood up for me too. I will never forget that day. That woman saved my life.  
All this happened at a time when people would kill you for being Mandingo. My country was best known for grabbing children and sending them to the front in the war so they would die. Anything could happen to you. I learned from that woman that standing up for people can save lives.
Because of this experience, I started having meetings with Mandingo boys like me. If we kept our mouths shut, nothing would change.  We needed to stand up for one another. If one person spoke, another person should back him up.  Maybe if more of us spoke up, someone would think "Let's look into these things."
Now I live in the U.S. and am a part of the Clemente Course in the Humanities. In one class we studied how John Lewis was beaten up for demonstrating for civil rights but kept speaking up, and it reminded me of my own story. I was inspired by John Lewis's final words to America.
When you see something that is not right, you must say something. You must do something. Democracy is not a state. It is an act, and each generation must do its part to help build what we called the Beloved Community, a nation and world society at peace with itself.
As I look to my future, I want to stand up for human equality in Liberia and in this country as well.  We have a long way to go to achieve equality, inclusion, and the Beloved Community.  And if we keep our mouths shut, nothing will change.