October 27: "History, Historians, and Public Memory"
Two of the nation's most prominent humanities scholars will appear onstage together for the first time this fall. On October 27, 2019, the Mass Humanities Fall Forum will feature Danielle Allen and Jill Lepore in a conversation about history, historians, and public memory. Held at the Edward M. Kennedy Institute, the Mass Humanities Fall Forum is an annual event that examines current affairs through the lens of the humanities.
The forum is free and open to the public. Register here.
Sunday, October 27, 3pm-4:30pm
Edward M. Kennedy Institute
Columbia Point, Boston
Directions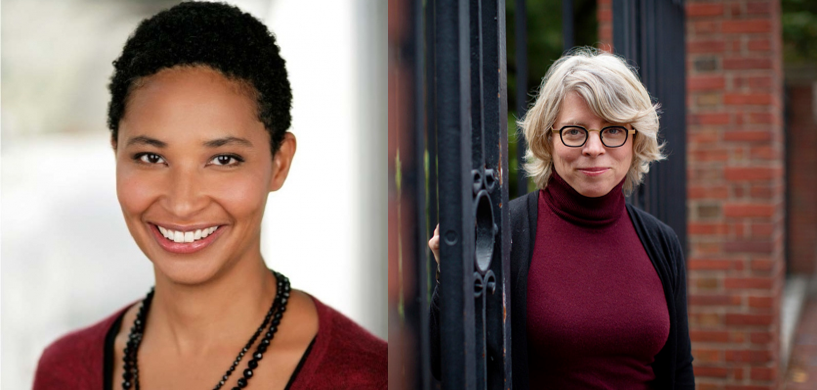 "History is propelling change in today's society through new research and public debate over the legacies of the past," said Mass Humanities Executive Director Brian Boyles. "Mass Humanities is honored to bring together two of America's brightest minds to consider the role of historians in sustaining our democracy."
From the recent New York Times "1619 Project" to decolonization efforts at museums around the world, issues around history have taken on political import in a contentious era. As the state affiliate of the National Endowment for the Humanities, Mass Humanities supports humanities-based approaches to challenges facing society. As the nation grapples with issues of identity, citizenship, and misinformation, Allen and Lepore will consider the forces influencing public memory.
Danielle Allen, James Bryant Conant University Professor at Harvard University, and Director of Harvard's Edmond J. Safra Center for Ethics, is a political theorist who has published broadly in democratic theory, political sociology, and the history of political thought. A 2019 Massachusetts Governor's Award in the Humanities recipient, she is the author of six books, including Our Declaration: A Reading of the Declaration of Independence in Defense of Equality (2014). Allen is also the principal investigator for the Democratic Knowledge Project, a distributed research and action lab at Harvard University that seeks to identify, strengthen, and disseminate the bodies of knowledge, skills, and capacities that democratic citizens need in order to succeed at operating their democracy.
Jill Lepore is the David Woods Kemper '41 Professor of American History at Harvard University. She is also a staff writer at The New Yorker. A prize-winning professor, she teaches classes in evidence, historical methods, humanistic inquiry, and American history. Much of Lepore's scholarship explores absences and asymmetries in the historical record, with a particular emphasis on the histories and technologies of evidence. As a wide-ranging and prolific essayist, Lepore writes about American history, law, literature, and politics. She is the author of many award-winning books, including the bestselling These Truths: A History of the United States (2018). Her latest book is This America: The Case for the Nation (2019).