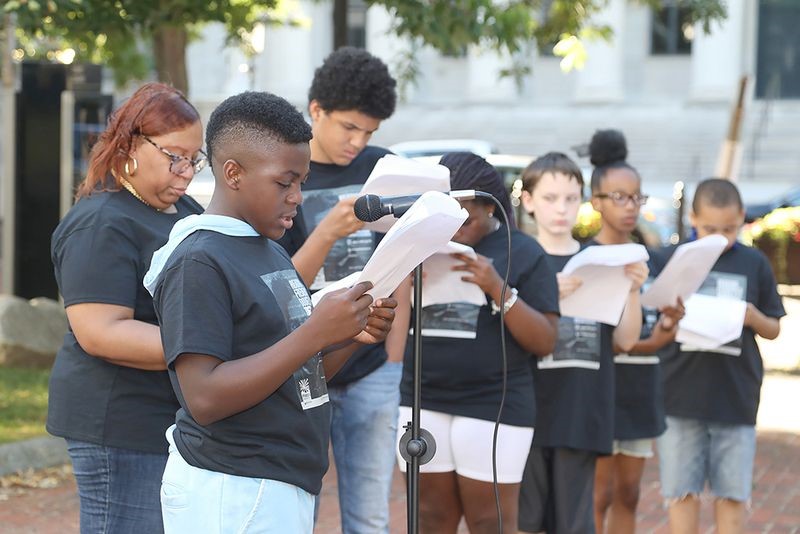 We believe Frederick Douglass' words belong in public spaces and provide grant support to readings in town squares, community centers, churches, museums, libraries and parks.
Each year, Mass Humanities organizes and funds these free public events where communities gather together to read and talk about Frederick Douglass' influential address, What to the Slave is the Fourth of July?
Organizations interested in hosting an event can propose any format for the reading and discussion that will foster a rich and productive community conversation.
Mass Humanities is proud to support these organizations as they host Reading Frederick Douglass Together events across the Commonwealth in 2023.
Wednesday, April 26
Holyoke
Grantee: Holyoke Community College
Location: In-person at the College Cafeteria, 303 Homestead Ave, Holyoke or remote via Zoom
Time: 11am
Thursday, May 25
Roxbury
Grantee: Madison Park Development Corporation
Location: Hibernian Hall, 171 Dudley St, Boston
Time: 4:30pm
Saturday, June 17
Boston
Grantee: H.E.R.O. Nurturing Center
Location: Boston Nature Center, 500 Walk Hill St, Mattapan
Time: 11am
Fall River
Grantee: Bristol Black Collective
Location: Kennedy Pavilion Park, 145-199 Bradford Ave, Fall River
Time: 1pm
Sunday, June 18
Brookline
Grantee: Brookline For The Culture
Location: Florida Ruffin Ridley School, 345 Harvard St, Brookline
Time: 12pm
Gloucester
Grantee: Cape Ann Museum
Location: Gloucester City Hall, 9 Dale Ave, Gloucester
Time: 10am
Juneteenth (Monday, June 19)
Natick
Grantee: Natick Historical Society
Location: Morse Institute Library, 14 East Central St, Natick
Time: 10am
Haverhill
Grantee: Haverhill Historical Society, DBA Buttonwoods Museum
Location: Whittier Birthplace, 305 Whittier Rd, Haverhill
Time: 6pm
Medway
Grantee: Medway Marches Incorporated
Location: Medway Community Farm
Time: 12pm-4pm
Waltham
Grantee: Watch City Arts
Location: Watch City Arts Tea Palour, 487 Moody Street, Waltham
Time: TBD
Saturday, June 24
Sudbury
Grantee: Athina Education, Inc.
Location: Sudbury First Parish, 327 Concord Rd, Sudbury
Time: 10am
Sunday, June 25
Jamaica Plain
Grantee: Jamaica Plain Historical Society
Location: First Baptist Church, 633 Centre St., Jamaica Plain
Time: 4pm
Newburyport
Grantee: Historical Society of Old Newbury
Location: Brown Square, Newburyport
Time: 10am
Tuesday, June 27
Milton
Grantee: Forbes House Museum
Location: Forbes House Museum, 215 Adams St, Milton
Time: 6:30pm
Wednesday, June 28
Somerville
Grantee: Somerville Museum
Location: Bow Market (tentative), 1 Bow Market Way, Somerville
Time: 5pm
Friday, June 30
Worcester
Grantee: NAACP Worcester
Location: Worcester City Hall, 455 Main St, Worcester
Time: 12pm
Saturday, July 1
Beverly
Grantee: Beverly Historical Society Inc.
Location: Hale Farm, 39 Hale St, Beverly
Time: 10am
Marion
Grantee: Marion Art Center, Inc.
Location: Marion Community Center, 465 Mill St, Marion
Time: 1pm
Sunday, July 2
Concord
Grantee: The Robbins House
Location: 320 Monument St, Concord
Time: 11am
Monday, July 3
Lynn
Grantee: Northshore Juneteenth Association
Location: Frederick Douglas Park, 1-15 Exchange St, Lynn
Time: 11am
Northampton
Grantee: Historic Northampton,
Location: 46 Bridge St, Northampton
Time: 11:30am
Boston
Grantee: Boston Partners
Location: Boston Common in front of the 54th Regiment Statue
Time: 12pm
Tuesday, July 4
North Andover
Grantee: Friends of the 1836 Meeting House
Location: North Andover Town Common
Time: 10:30am
Boston
Grantee: Downtown Boston Partnership, Inc.
Location: The Steps at the corner of Washington & Franklin Streets
Time: 1:30 – 3:30pm
Norwood
Grantee: Old Parish Preservation Volunteers, Inc.
Location: Old Parish Cemetery, 480 Washington St, Norwood
Time: 2pm
Oak Bluffs
Grantee: The Helene Johnson and Dorothy West Foundation For Artists In Need
Location: Inkwell Beach, 83 Seaview Ave, Oak Bluffs
Time: 11am
Plainfield
Grantee: Plainfield Reads
Location: Alden Pavilion (behind Library), 312 Main St, Plainfield
Time: TBD
Springfield
Grantee: MLK Family Services
Location: Court Square, 92-98 Court House Pl, Springfield
Time: 6pm
Medford
Grantee: Royall House and Slave Quarters
Location: 15 George St, Medford
Time: 12pm
Wednesday, July 5
East Falmouth
Grantee: Cape Cod Cape Verdean Museum and Cultural Center
Location: 67 Davisville Road, East Falmouth
Time: 4pm
Sunday, July 9
Sharon
Grantee: Sharon Historical Society
Location: 16 High St, Sharon
Time: 4pm
Sunday, July 23
Fall River
Grantee: Creative Arts Network
Location: Heritage State Park, Davol St, Fall River
Time: 1pm
Monday, August 28
Longmeadow
Grantee: IDEAL4Gifted
Location: Virtual
Time: TBD
Saturday, September 23
Hadley
Grantee: Porter-Phelps-Huntington Museum
Location: Porter-Phelps-Huntington Museum, 130 River Dr, Hadley
Time: TBD
Thursday, December 14
Peabody
Grantee: Peabody Institute Library
Location: 82 Main St, Peabody
Time: TBD