Two-year, $700K grant elevates new narratives.
Mass Humanities has received a two-year, $700,000 grant from the Barr Foundation for Expand Massachusetts Stories (EMS), an initiative aimed at generating more inclusive histories of the people and ideas that shape the Commonwealth.
The funding will allow Mass Humanities to award up to twenty new grants annually in 2022 and 2023 for projects focused on the history and experiences of communities of color in Massachusetts. Mass Humanities also plans to develop new communications tools to elevate the stories produced by the funded projects to audiences around the state.
"Every community relies on storytelling to navigate change, preserve traditions, and make themselves heard," said Brian Boyles, Executive Director of Mass Humanities. "At this critical juncture in our nation's history, the Expand Massachusetts Stories initiative will uplift new narratives about Massachusetts to help us imagine and build a more equitable commonwealth. On behalf of our staff and board of directors, I want to thank the Barr Foundation for this unprecedented support for Mass Humanities and the organizations we serve."
"Massachusetts is home to many diverse communities," said SueEllen Kroll, Barr's Senior Program Officer in Arts & Creativity. "We are excited to partner with Mass Humanities to center the voices, stories, and experiences of our BIPOC communities through its Expand Massachusetts Stories grantmaking program. These important grants will help fund the collection and amplification of more stories from communities and storytellers of color – and ensure that these histories and voices are preserved and part of our public conversation."
The stories initiative began in fall 2021, when Mass Humanities provided grants totaling more than $360,000 to 22 cultural non-profits for projects that included audio tours, documentary films, oral histories, and public events. The first grants made possible by Barr's support will be awarded in September 2022.
Four individuals to be honored Oct. 23 at JFK Library.
Mass Humanities announces that Governor Baker has confirmed the four recipients of the 2022 Governor's Awards in the Humanities, an annual recognition of excellence in the humanities. Mass Humanities will honor this year's awardees on Sunday, October 23, 2022, at the John F. Kennedy Presidential Library and Museum in Boston.
The 2022 Governor's Awards Celebration will honor the following individuals: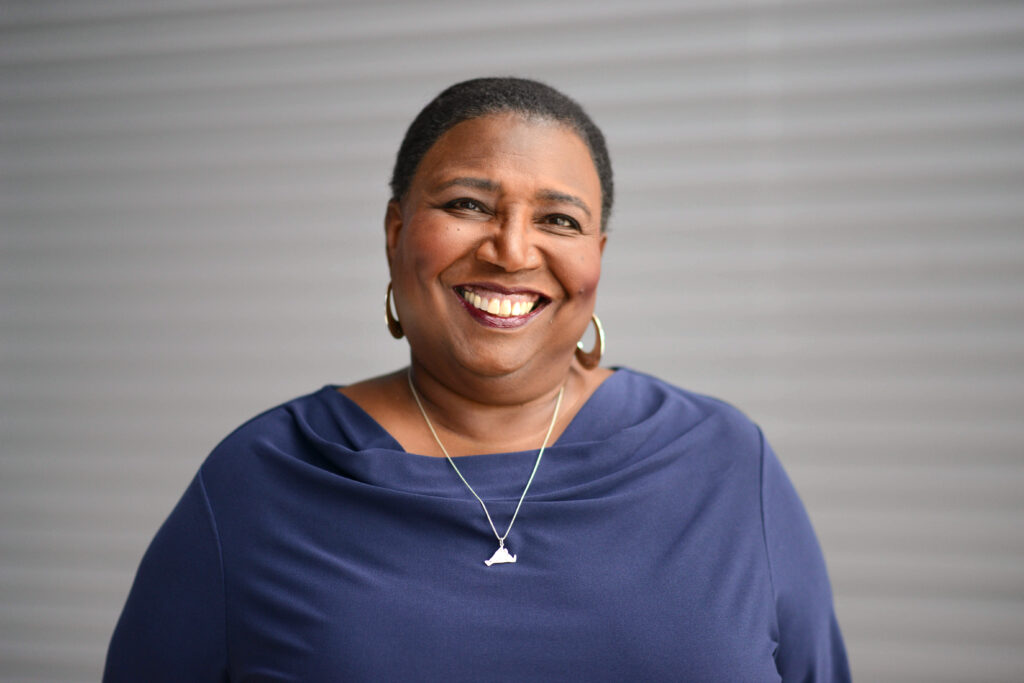 Callie Crossley, a groundbreaking journalist and television producer at GBH in Boston, host of "Under the Radar "with Callie Crossley, a weekly contributor to "Morning Edition" and "Boston Public Radio", and the host of "Basic Black," a talk show focused on current events impacting communities of color. Among Callie's accomplishments: a pivotal role in the production of Eyes on the Prize.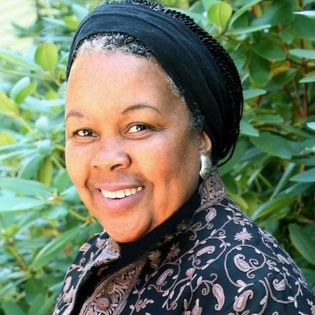 Frances Jones-Sneed, professor of History and former Director of Women's Studies at the Massachusetts College of Liberal Arts in North Adams. She is co-director of the Upper Housatonic Valley African American Heritage Trail, and an integral part of the efforts to preserve the historic Clinton A.M.E. Zion Church in Great Barrington, a project Mass Humanities continues to support.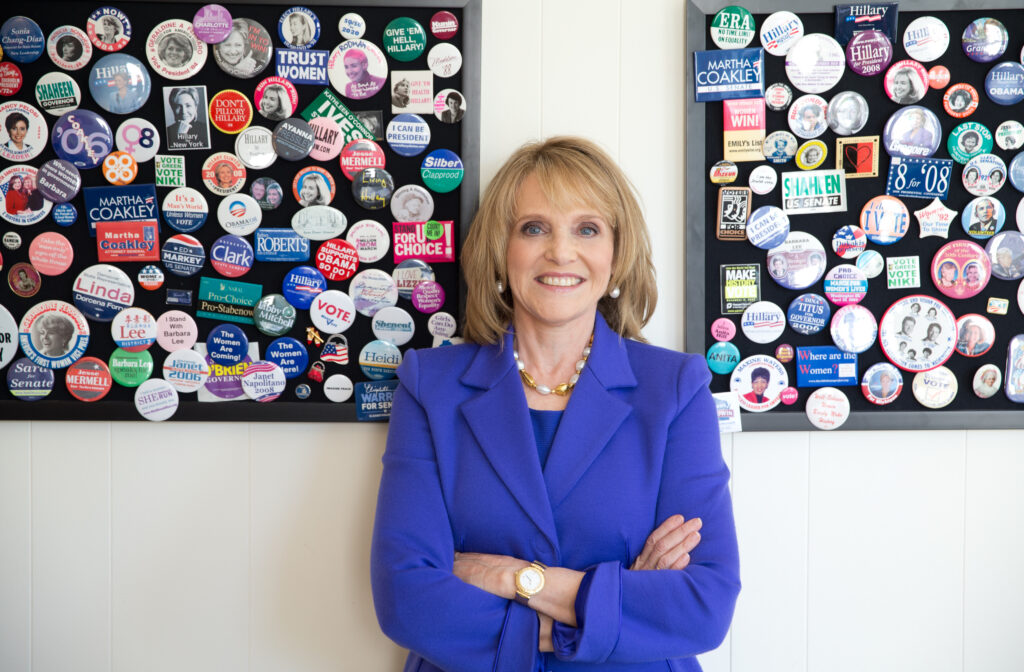 Barbara Lee, a nationally recognized philanthropist whose Barbara Lee Family Foundation advances women's equality and representation in American politics and contemporary art. For over twenty years, BLFF has conducted nonpartisan research on women in politics to strengthen our democracy and enrich our culture.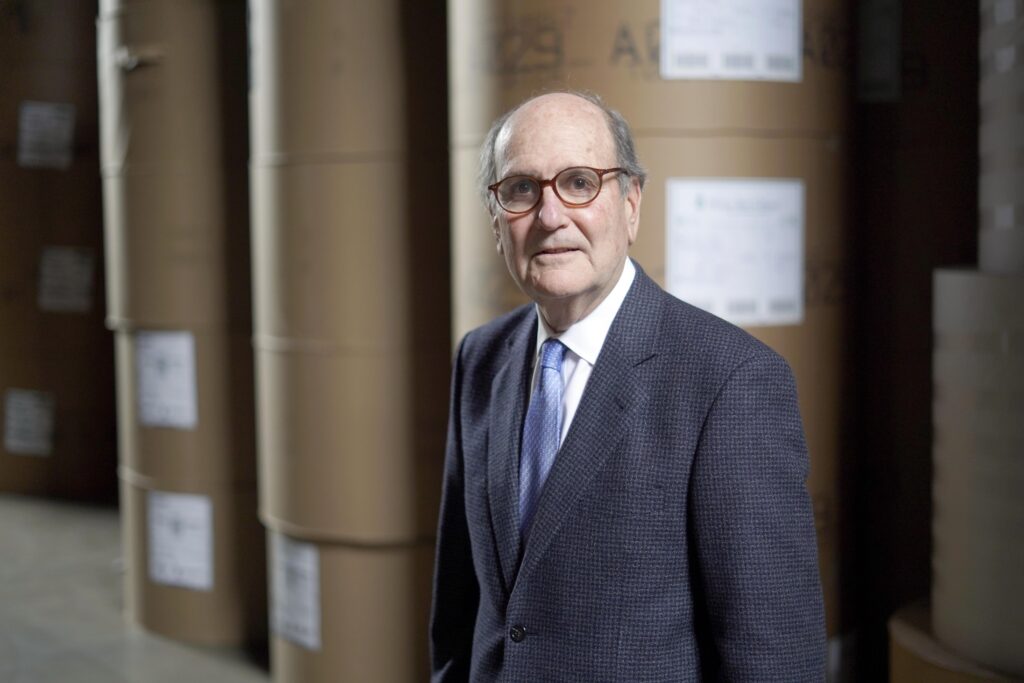 Fredric Rutberg, the president and publisher of The Berkshire Eagle and New England Newspapers, Inc.Based in Pittsfield, The Eagle is a daily paper that serves all of Berkshire County and adjacent areas of Connecticut and New York State. The paper's impact on local audiences reflects the importance of local support for an informed public.
"This year's awardees reflect the diverse ways the humanities impact our communities," said Brian Boyles, Executive Director of Mass Humanities. "From valuing a free press, elevating the urgent voices of our past, and championing the roles of women in our society, these honorees show us why the Commonwealth remains a vibrant place for ideas."
The Governor's Awards in the Humanities began in 2013. Past awardees include Danielle Allen, Lee Blake, Nancy Donahue, Kenneth Feinberg, Henry Louis Gates, Jr., Atul Gawande, Sacha Pfeiffer, Lia Poorvu, and David Starr.
The 2022 Governor's Awards Celebration will be held on Sunday, October 23 at the John F. Kennedy Presidential Library and Museum in Boston with limited capacity and a livestreaming option available. Proceeds from sponsorships, ticket sales, and direct donations support the Clemente Course, Reading Frederick Douglass Together, and the Smithsonian Museum on Main Street program as well as the organization's grantmaking. In 2021, Mass Humanities awarded grants totaling $1.7 million to more than 200 non-profits.
For further information, contact Diane Feltner at dfeltner@masshumanities.org.
Funds will help organizations increase their staff capacity and retention.
"Staffing the Humanities" responds to needs identified through Mass Humanities pandemic relief grant programs, CARES and SHARP, as well as a 2021 survey of recent applicants and grantees. Forty five percent of SHARP grantees requested funds for staffing. Fifty four percent of survey respondents selected "Staffing the Humanities" as their top choice for a grant program. "Staffing the Humanities" will support the growth and development of humanities programs across the Commonwealth by providing staffing funds to help organizations increase their staff capacity and retention.

This week, the foundation announced grants to eleven organizations with humanities programs. Totaling more than $196,000, the grants will help support humanities program staff costs for past Mass Humanities grantees with annual operating expenses between $50,000 and $350,000 and with five or fewer Full-Time Equivalent Employees (FTE).
The organizations receiving funding this year are the following:

Funding is made possible by the Massachusetts Cultural Council.
Leaders from around Massachusetts read "What to the Slave is the Fourth of July?"
As part of this year's Reading Frederick Douglass Together events, Mass Humanities produced a virtual reading of Douglass' speech, "What to the Slave is the Fourth of July?"

Participants include, among others: Harvard University's Henry Louis Gates and Annette Gordon-Reed, The Boston Foundation's Lee Pelton, State Senate President Karen Spilka, National Endowment for the Humanities Chair Shelly Lowe, Congressman Jim McGovern, GBH's Callie Crossley and Phillip Martin, Former Red Sox player and NESN analyst Sam Horne, and many others.
The video was produced in partnership with HEARD Strategy and distributed in partnership with The Emancipator.
Mass Humanities thanks all of the participants for the contributions:
L'Merchie Frazier – Museum of African-American History Boston/Nantucket
Keith Motley – Urban League
Melany LaRoe – Springfield Public Schools
Edmund Barry Gaither – National Center for Afro-American Artists
Callie Crosley – GBH
Danielle Allen – Author and Political Theorist
Daunasia Yancey BLM Boston
Liz Duclos-Orsello – Mass Humanities, Salem St. University
Leo Hwang – University of Massachusetts Amherst
Barbara Burgo – Cape Cod Cape Verdean Museum
Byron Rushing – Former MA State Representative
Sam Horn – Red Sox, NESN
Phillip Martin – GBH
Shelly Lowe – National Endowment for the Humanities
Lindsay Sabadosa – MA State Representative
Elijah Langston Floyd – Chicopee Public Schools
Justin Hurst Springfield City Council At-Large
Jerry Ayantola – Worcester Public Schools
Karen Spilka – MA Senate President
Henry Louis Gates, Jr – Author and Historian
Imari Paris Jeffries – King Boston
Michael Bobbitt – Mass Cultural Council
Jim McGovern – Congressman
Julia Meija – Boston City Council At-Large
David C. Howse – ArtsEmerson
Noube Rateau – Frederick Douglass Neighborhood Assoc., Brockton
Nancy Martin – Frederick Douglass Neighborhood Assoc., Brockton
Josh Garcia – Mayor of Holyoke
Yves Salmon-Fernandez – Mass Humanities, Southern New Hampshire University
Katherine Stevens – Mass Humanities
Cedric Arno – Music Mania TV
Wallace Johnson – Poet
Fran Smith – Partner, Boston Common Douglass Reading
Brian Boyles – Mass Humanities
Laoise Moore – Irish Consul General
Doneeca Thurston – Lynn Arts
Eleanor Lucia Yates – West Springfield Public Schools
Lee Pelton – The Boston Foundation
Crystal Valentine – Poet
Vanessa Unicorn – Worcester Clemente Course
Chika Offurum – PBS American Experience
David Harris – Douglass Program Co-Founder
Tre'Andre Valentine – Massachusetts Transgender Political Coalition
Annette Gordon-Reed – Historian
Juan Matos – Worcester Poet Laureate
Latoya Bosworth, PhD – Mass Humanities
Since 2009, Mass Humanities has supported readings of the speech in communities around Massachusetts.
Events planned for June and July.
Since 2009, Mass Humanities has supported public readings of Frederick Douglass's influential address, "What to the Slave is the Fourth of July?" around the Commonwealth. This year, more than 20 Massachusetts communities will host events that bring neighbors together to read the speech and discuss its ongoing relevance.
The Reading Frederick Douglass Together events this summer are made possible by "A More Perfect Union," a special initiative of the National Endowment of the Humanities designed to demonstrate and enhance the critical role the humanities play in our nation.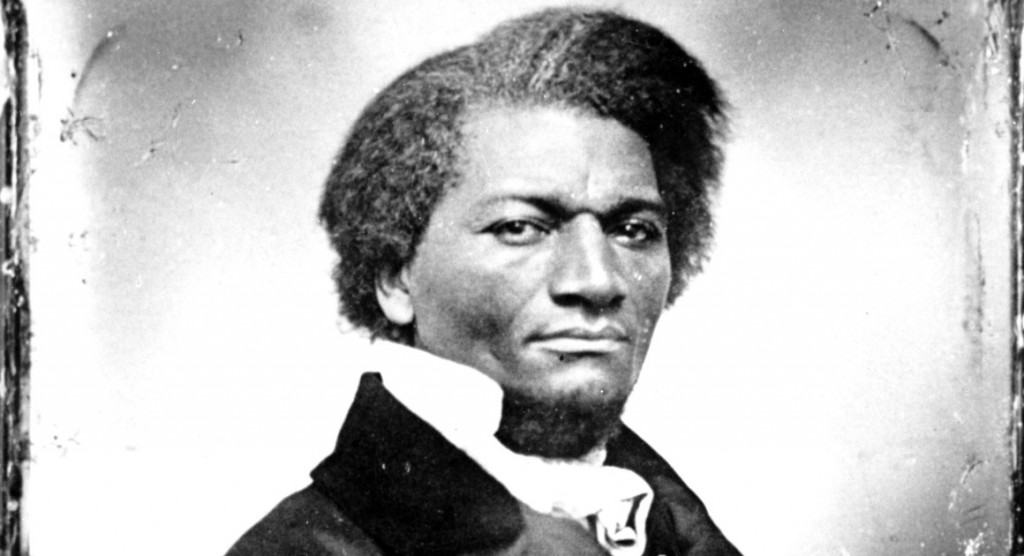 Readings and the discussions that follow can take many formats, but each event features a group of people gathered to read portions of the speech. The reading provides an opportunity to open up discourse between community members about race, democracy, and our responsibilities to the past and to each other.
Frederick Douglass escaped from slavery in 1838 and lived for many years in Massachusetts. He delivered the Fourth of July speech on July 5, 1852, in Rochester, New York, to the Rochester Ladies' Anti-Slavery Society.
"In Massachusetts, we know that an honest reckoning with difficult chapters in our history can heal and strengthen our communities," said Brian Boyles, Executive Director of Mass Humanities. "We need to hear and heed Douglass's words now more than ever."
2022 Event Schedule
June 12
Salem
50 Washington St.
3pm
June 18
Oaks Bluff
The Helene Johnson & Dorothy West Foundation for Artists In Need
The Inkwell Beach
10:30 am
3pm
June 19/Juneteenth
Newton
Newton North High School
12:30pm
June 20
Sturbridge
1 Old Sturbridge Village Rd
11 am
June 25
Sudbury
72 Wayside Inn Rd 1
10am
June 26
Brockton
Frederick Douglass Neighborhood Association
Frederick Douglass Park
3pm
Natick
58 Eliot St, Natick
6pm
June 30
Cambridge
Virtual Event
4:30pm
Somerville
Somerville Museum One Westwood Road
Worcester
Worcester City Hall
455 Main St
12pm (Rain date July 1)
July 1
Boston
Mass Humanities & partners
Shaw Memorial Freedom Trail
12pm
July 2
Beverly
39 Hale Street
10am
Northampton
Historic Northampton with Rep. Lindsay Sabadosa's office
46 Bridge St
11am
July 3
Lynn
North Shore Juneteenth Association
Frederick Douglass Memorial Park
6pm
Newburyport
Historical Society of Old Newbury
11 Brown Square (Garrison statue)
10am
July 4
Fall River
Greater Fall River Art Association 80 Belmont St
10am
North Andover
Friends of the 1836 Meeting House 190 Academy Road
12pm
Norwood
Old Parish Preservation Volunteers, Inc.
480 Washington St.
2pm
Plainfield
Plainfield Reads
312 Main Street
10am
Springfield
Martin Luther King Family Services
Court Square
6 pm
July 5
East Falmouth
Cape Cod Cape Verdean Museum and Cultural Center, Inc
67 Davisville Road
5 pm
Sharon
Memorial Park Beach
6 pm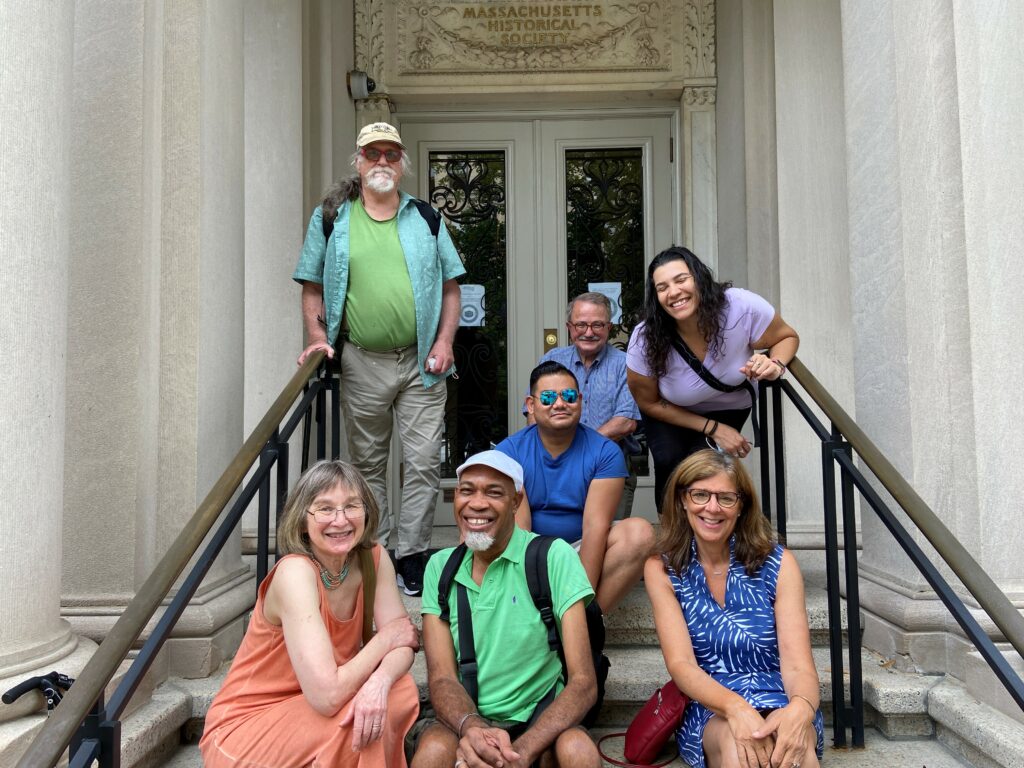 Special topics courses offer more opportunities for Clemente students
The Clemente Course in the Humanities offers a transformative educational opportunity for adults facing economic hardship and adverse circumstance. Since 2020, Mass Humanities has created special courses for past Clemente participants to earn additional credits from Bard College and build skills that amplifies their voices in their communities. Three courses are available this summer.
Archiving as Activism
May 23 – June 29
This course introduces students to the connection between archives and activism in Massachusetts, focusing on connecting what we learn and applying it to civic engagement/activist opportunities in our local communities. We will be looking at archival documents on the Combahee River Collective's first of a series of Black feminist retreats in the 1970s, which was held in South Hadley, and the ways in which they established a methodology and rationale for curating an archive so participants could work from a shared body of knowledge. Students in this class will be introduced to local archives including the Sexual Minorities Archive (Holyoke), The National Black Doll Museum (online), Dora Robinson's Liberation Collection (Springfield), and A History of Domestic Work and Worker Organizing (online).
With an eye to the future of the bill to establish a new Black heritage museum in Springfield, which would expand on current efforts to make visible local Black histories, this course introduces frameworks for thinking about the importance of archival objects (written, visual, aural, material, etc.) for historicizing and marking paths toward civic change. The course will also feature guest speakers to discuss the archive process, the ethics of interviewing human subjects, the politics of the archive, and the ephemeral aspects of grassroots organizing and the importance of documentation. The course will culminate in a video project where students can either contribute their own accounts/narratives, interview someone, or present an object lesson.
Application: Click Here
Instructor: Anna-Claire Simpson, PhD Candidate
Remote Course, Monday and Wednesday evenings, 6:30-8:00pm
May 23 – June 29
1 Credit Course
American Transcendentalism on the Ground, Then and Now
May 24 – June 30
This special topics course will offer you the opportunity to become more acquainted with the Transcendentalist tradition, which was born and thrived in Concord, MA, during our country's antebellum period. You are also invited to apply that knowledge to today's most pressing civic issues creatively and performatively. Led by Ralph Waldo Emerson and Henry David Thoreau, Transcendentalism is considered America's first great intellectual tradition and it offered a rich foundation for its leading figures to speak out against American slavery, the displacement of indigenous peoples, social conformity, outdated educational methods, and our growing separation from nature.

Application: Click Here
Prof. Daniel McGloin
Remote Course, Tuesday and Thursday evenings, 6:30-8:00pm
May 24 – June 30
1 Credit Course
Frederick Douglass and the Struggle Against Slavery in Massachusetts
July 12 – Aug 16
In 1847, Frederick Douglass arrived in Springfield, Massachusetts to meet with John Brown, a man who would go on to become one of the most celebrated and demonized radical abolitionists in US history. Having lived a freeman for nearly a decade, Douglass arrived in Springfield after it had already become an important crossroads for abolitionists who travelled north from New York City to Hartford up into Vermont, as well as those who moved east-west from Boston to Albany and on to Buffalo, New York. Springfield, then, is the site where prominent abolitionists who as well as other less well-known Americans took up the struggle against slavery in Massachusetts.

This course explores the history of the struggle against slavery by focusing on the local, national, and international dimensions of the movement through the lives of people like Frederick Douglass, John Brown, Sojourner Truth, and Elizabeth Freeman, all who lived in Massachusetts. In addition, the course will acquaint students with ordinary people who chose to put their time, risk their lives, and dedicate their hearts and minds toward ending slavery and racial prejudice.

Application: Click Here
Instructor: Ousmane Power-Greene, PhD
Remote Course, Tuesday and Thursday evenings, 5-6:30pm
July 12 – Aug 16
1 Credit Course
For more information on the Clemente Course, contact Gina Ocasion at gocasion@masshumanities.org.
Four new funding opportunities from Mass Humanities seek to respond to the challenges facing the people of Massachusetts. Part of a new three-year strategic plan, the foundation's 2022 grants calendar prioritizes support for projects and local organizations serving historically marginalized communities. 
Mass Humanities offers four ways for non-profits and tribal entities to seek funding in 2022:
Expand Massachusetts Stories Grants: Up to $20,000 for projects that seek, share, and/or interpret stories of Massachusetts, using the humanities to improve our shared understanding of the Bay State.
Staffing the Humanities Grants: $7000-$20,000 grants to small museums, humanities, and community cultural organizations to increase staffing to grow, create, or bring back humanities programs.
Reading Frederick Douglass Together Grants: Up to $1200 for communities to host shared public readings of Frederick Douglass's speech on the meaning of the 4th of July.
Bridge Street Sponsorships: Up to $1500 for history centers, societies, and historic sites to host online or hybrid programs during the 2022 calendar year.
The grants are made possible through support from Mass Cultural Council, the National Endowment for the Humanities, and individual donors.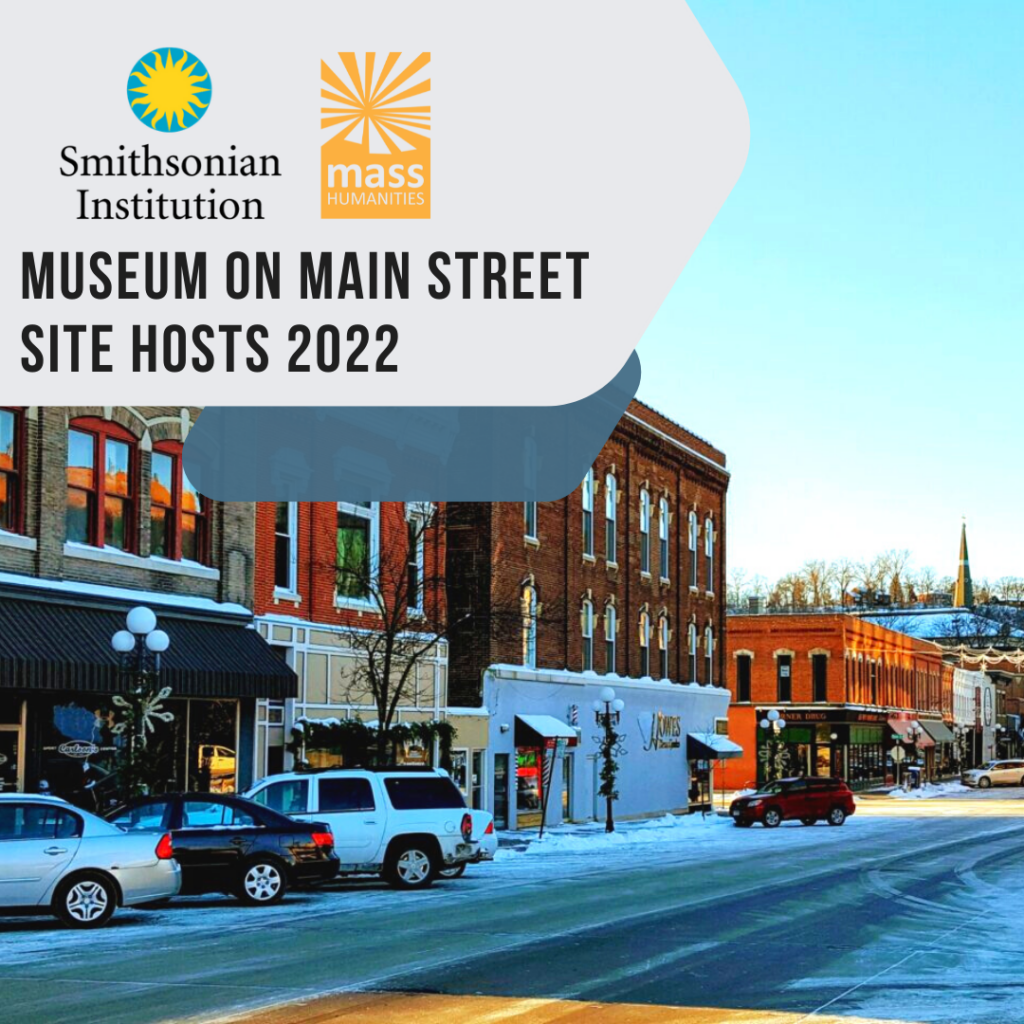 Six communities selected for traveling exhibit on changes in rural America.
The Smithsonian is coming to small towns in Massachusetts. 
Through a partnership with the world's largest museum complex, Mass Humanities selected six local organizations to host "Crossroads: Changes in Rural America," a traveling exhibit produced by the Smithsonian Institution's Museum on Main Street program.
These institutions will host the exhibit during the tour:
 Essex Historical Society and Shipbuilding Museum: 9/10/2022 – 10/22/2022
The Hull Lifesaving Museum: 10/30/2022 – 12/10/2022
Rutland Free Public Library: 12/18/2022 – 1/28/2023
Great Falls Discovery Center: 2/5/2023 – 3/18/2023
Bushnell-Sage Library: 3/26/2023 – 5/6/2023
Athol Public Library: 5/14/2023 – 6/24/2023
"Crossroads" explores how rural American communities changed in the 20th century.
The vast majority of the United States landscape remains rural with only 3.5% of the landmass considered urban. Since 1900, the percentage of Americans living in rural areas dropped from 60% to 17%. The exhibition offers small towns a chance to look at their own paths to highlight the changes that affected their fortunes over the past century.
"It's an honor to partner with the Smithsonian and our friends at each of the selected sites," said Brian Boyles, Executive Director of Mass Humanities. "Rural Massachusetts is a complex, changing landscape, and residents in our small towns deserve to be heard as we build a more equitable commonwealth."
Each site will receive extensive training from the staff of the Smithsonian along with a $10,000 grant from Mass Humanities to develop public events during the exhibit, which will be on display for six weeks in each community. Organizations located in towns with populations of 12,000 or less were eligible to apply. Mass Humanities receives major support from Mass Cultural Council (MCC), the state agency for arts and the humanities.
"Mass Cultural Council celebrates the power of culture in every Commonwealth community — whether big or small, east or west, rural, suburban, or urban," said Michael J. Bobbitt, Executive Director, Mass Cultural Council. "We are pleased to partner with Mass Humanities to support the Smithsonian's Museum on Main Street program and shine a spotlight on these rural stories that make Massachusetts so special."
Launched in 1994, Museum on Main Street (MoMS) is a Smithsonian outreach program that engages small town audiences and brings revitalized attention to underserved rural communities.  The program partners with state humanities councils like Mass Humanities to bring traveling exhibitions, educational resources and programming to small towns across America through their own local museums, historical societies and other cultural venues. A private foundation based in Northampton, Mass Humanities serves as the state affiliate of the National Endowment for the Humanities.
For further information, contact Jen Atwood at jatwood@masshumanities.org.
We asked the people of Mass Humanities to tell us which books, podcasts, shows and places sustained them this year. Their choices include new publications, recent finds and old favorites.
Lennie Alickman, Board Member, Provincetown
Book: Fierce Poise by Alexander Nemerov is about Helen Frankenthaler, one of the most influential modern artists of the 1950s. In a world of male artists, she broke out with her own painting technique. She used a staining technique and she worked quite large. I loved how she lived her life–fierce, as the title says, and on her own terms.
Jennifer Atwood, Program Officer, Medford
My friend Christina opened a feminist bookstore in Somerville during the pandemic called All She Wrote Books.  Her book store has been a way for me to find authors I never would have thought to pick up before.  I highly recommend folks check out her store and support her small business (great place for holiday gifts too).  Looking back over the past year some things I read that stand out include:
Book: Severance by Ling Ma. Published in 2018 before the pandemic, it's a dystopic novel about a pandemic originating from China. It is eerie how she managed to predict several things in this book before they took place, but also covers a lot of themes about workplace cultures and racial alienation via the trope of zombie apocalypse.
Book: In the Dream House by Carmen Maria Machado. This is a memoir that reads like a short story collection.  Telling the story about an abusive queer relationship using different literature tropes for each chapter and using the allegory of a "dreamhouse" to describe the relationship and how it deteriorates.  I thought it was a really clever way to write a memoir and covers a topic that I don't see a lot about. 
Book: Cook Korean! A Comic Book with Recipes by Robin Ha. Just for fun.  I really enjoyed making some of these dishes and they were so tasty.  I really enjoyed making homemade kimchi and braised short-ribs.  The comic book format also is beautiful and comes with a lot of information about Korean culture which is also great.  The author has a graphic memoir called Almost American Girl which is also really good.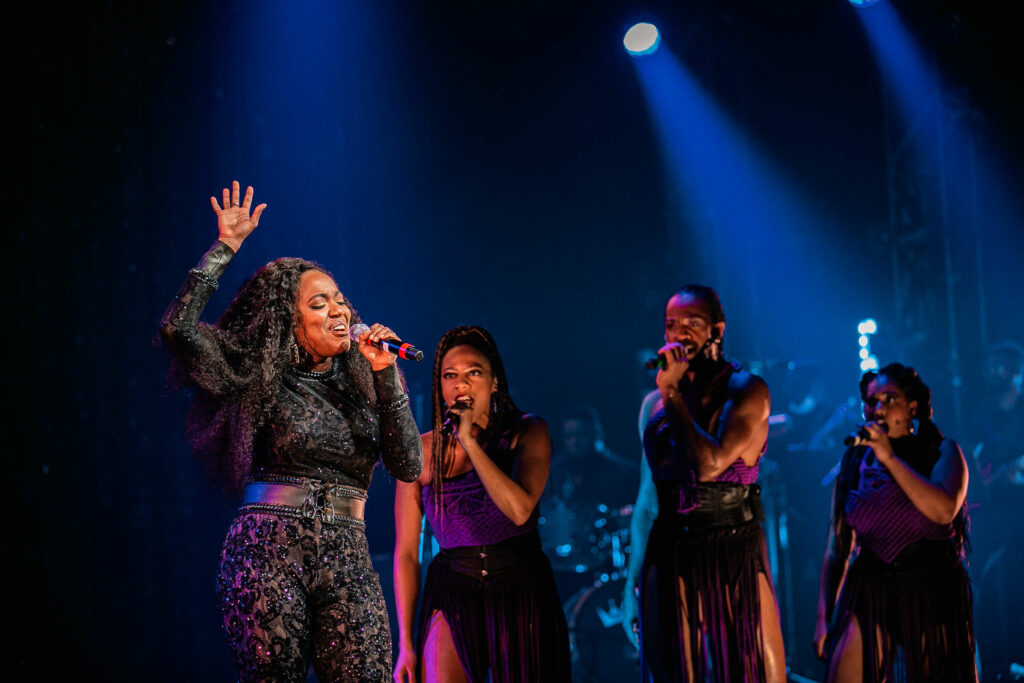 This was also the first time I'd been back in a theatre in years, which was surreal, but two experiences have stood out to me:
Theater: Macbeth in Stride at A.R.T. was some of the best theatre I've seen in my life.  Whitney White uses pop, rock, gospel, and R&B to trace the fatalistic arc of Lady Macbeth while lifting up contemporary Black female power, femininity, and desire.  It blew my mind.  Watch the trailer here.
Theater: I had been hearing "Why We Build the Wall" from Hadestown on WERS Standing Room Only for the past year, so when the show came to Boston this month I eagerly bought tickets and I am really glad I did. The score is really amazing.  The musical tells a version of the ancient Greek myth of Orpheus and Eurydice, where Orpheus goes to the underworld to rescue his lover, Eurydice.  I've been listening to the score a lot since seeing the show. 
Paul Bosco, Board Member, Concord
From the personal interest book pile on my desk: bio-innovation (Isaacson), tech history (O'Mara), tech leadership (Hennessy), and science futures (Hockfield):

Book: The Code Breaker: Jennifer Doudna, Gene Editing, and the Future of the Human Race by Walter Isaacson

Book: The Code: Silicon Valley and the Remaking of America by Margaret O'Mara

Book: Leading Matters: Lessons from My Journey by John Hennessy
Book: The Age of Living Machines: How Biology Will Build the Next Technology Revolution by Susan Hockfield

From past academic year: Several education reads from your faculty, friends, writers-in-residence, and fellows at Harvard.

Book: The Privileged Poor: How Elite Colleges Are Failing Disadvantaged Students by Tony Jack

Book: Cuz: The Life and Times of Michael A by Danielle Allen

Book: Lives in Limbo: Undocumented and Coming of Age in America by Roberto Gonzales

Book: Rural Education in America: What Works for Our Students, Teachers, and Communities by Geoff Marietta

Book: Why Rural Schools Matter by Mara Tieken
Book: Educated: A Memoir by Tara Westover
Brian Boyles, Executive Director, Leverett
Radio show: "Sway in the Morning," Sirius XM radio show. Sway Calloway is a legendary hip-hop journalist and radio personality. This year, I started tuning in on my commute and, well, I got emotional. The rapport Sway and his co-hosts maintain with listeners, the way people open up, celebrate each other, and reminisce over the foundations of the art form—that's what I needed on so many mornings.
Book: Wayfinding: The Science and Mystery of How Humans Navigate the World by M.R. O'Connor. How's this for the intersection of humanities and neuroscience: "At the heart of successful human navigation is a capacity to record the past, attend to the present, and imagine the future—a goal or place that we would like to reach."
Place: Lake Weyola State Park, Shutesbury. We fished, we swam, we ate snacks. So thankful for the natural beauty and accessible public spaces of Massachusetts
Elizabeth Duclos-Orsello, Board Chair, Somerville
Book: Lent of Liberation: Confronting the Legacy of American Slavery by Cheri L. Mills. A combination of historical documents, social justice and religious studies
Book: Translation as Transhumance by Mireille Gansel. A brief and beautiful meditation on the ways in which language, multilingualism, translation and intercultural learning and growth happen. I read it in its English translation.
Poetry: All the poetry of Pablo Neruda—love, loss, nature, beauty, soul searching.
Book: Critical Dialogues in Latinx Studies: A Reader edited by Ana Y Ramos-Zayas and Merida M Rua. Wedding humanities and social science explorations, set up as dialogues between ideas and including many discourses that are relevant to Massachusetts.
Reading: The digital zines my students have been creating, linking historical archival material, images and a wide range of cultural products with and to contemporary social justice issues (and they will be in the library collection at Salem State University)
Places: LOTS of trail running in beautiful natural spaces across the state, from the Fells and Blue Hills here in the Boston area, to the gorgeous trails north of Worcester and in/around Northampton and the hills of Franklin Park. Getting back to my love of being in nature and doing all my running there.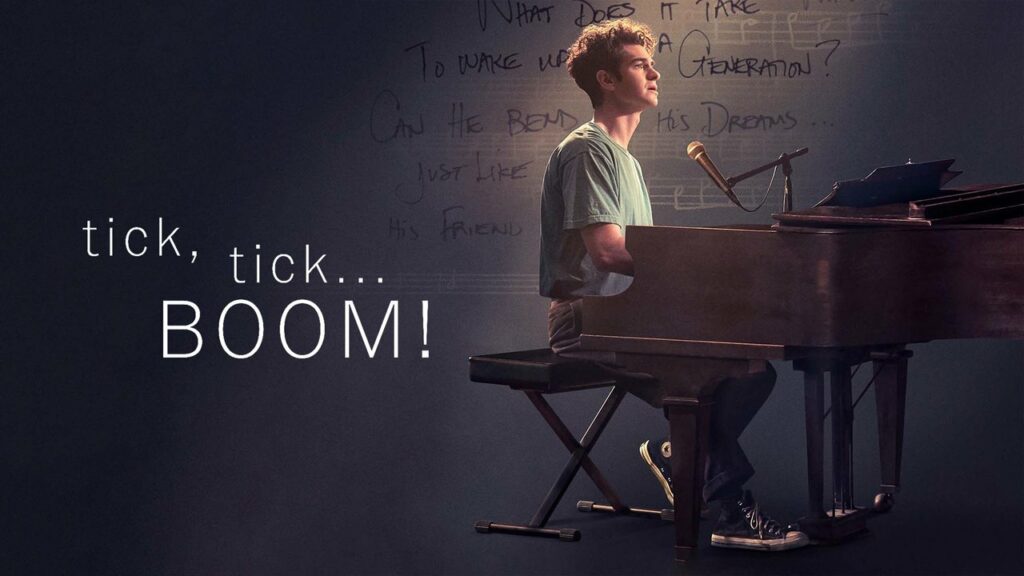 Diane Feltner, Executive Assistant, Ware
I really got into true crime documentaries this past year!
Series: The Keepers-Who Killed Sister Nancy? As a Catholic, this one really hit home and had me questioning my religion.
Series: Making a Murderer: The Story of Steven Avery. This story leaves you wondering about our criminal justice system.
Film: Tick, Tick…BOOM! Great, semi-autobiographical film about Jonathan Larson, the man who wrote RENT. It really captures the years of struggling an artist goes through.
Larry Hott, Board Member, Northampton
The Academy of Motion Picture Arts and Sciences has committees that watch films and decide on nominations. I'm on the documentary committee and I am assigned many new long and short documentaries to view and judge every year. Here are three 2021 documentaries that are outstanding.
Film: Kurt Vonnegut: Unstuck in Time. I grew up on Kurt Vonnegut novels, from "Deadeye Dick" to "God Bless You, Mr. Rosewater" to the iconic "Slaughterhouse Five." So, when I saw the new documentary on my list, I was excited. Vonnegut, who lived briefly in Northampton, MA toward the end of his life, and who spent decades living in Barnstable, MA had a profound effect on my worldview. The documentary is a true labor of love for filmmaker Robert Weide (famed producer of "The Marx Brothers in a Nutshell and creator of "Curb Your Enthusiasm"). He befriended Vonnegut in the early 1980s and shot interviews and scenes with him until Vonnegut's death in 2007. Then he spent another fourteen years raising the money to finish the film. The documentary is as fantastical as Vonnegut's writing; a biography that jumps about in time much like Vonnegut's storytelling. The film is also a biography of the filmmaker, who traces his life and career in Vonnegut's path.
Film: Roadrunner: A Film about Anthony Bourdain. I never watched Anthony Bourdain's "Parts Unknown" television show nor did I read "Kitchen Confidential." I watched "Roadrunner: A Film about Anthony Bourdain" because I admire the filmmaker Morgan Neville. Neville, a graduate of Hampshire College, has a knack for combining manic pacing with thoughtful reverie. His biography of Bourdain is anything but linear, skipping about in time like a character in a Vonnegut novel. Bourdain is so charismatic and enigmatic that the film is almost a mystery – what drives this man and what drove him to his self-inflicted death. This is a film to listen to, as well as watch closely. The soundtrack drives the action, a rarity in a non-music themed documentary. I've been thinking about the filmmaking techniques ever since watching this production.
Film: Street Gang: How We Got to Sesame Street is an in-depth look at the first decade of Sesame Street. It examines everything in the show, from pedagogical techniques to diversity to the high jinx of master puppeteers. It also considers the politics and philosophy behind the early Sesame Street storylines. This "kids" show influenced television and teaching in the USA and across the world. Puppets have power. They made me laugh throughout the film and then they made me cry at the end.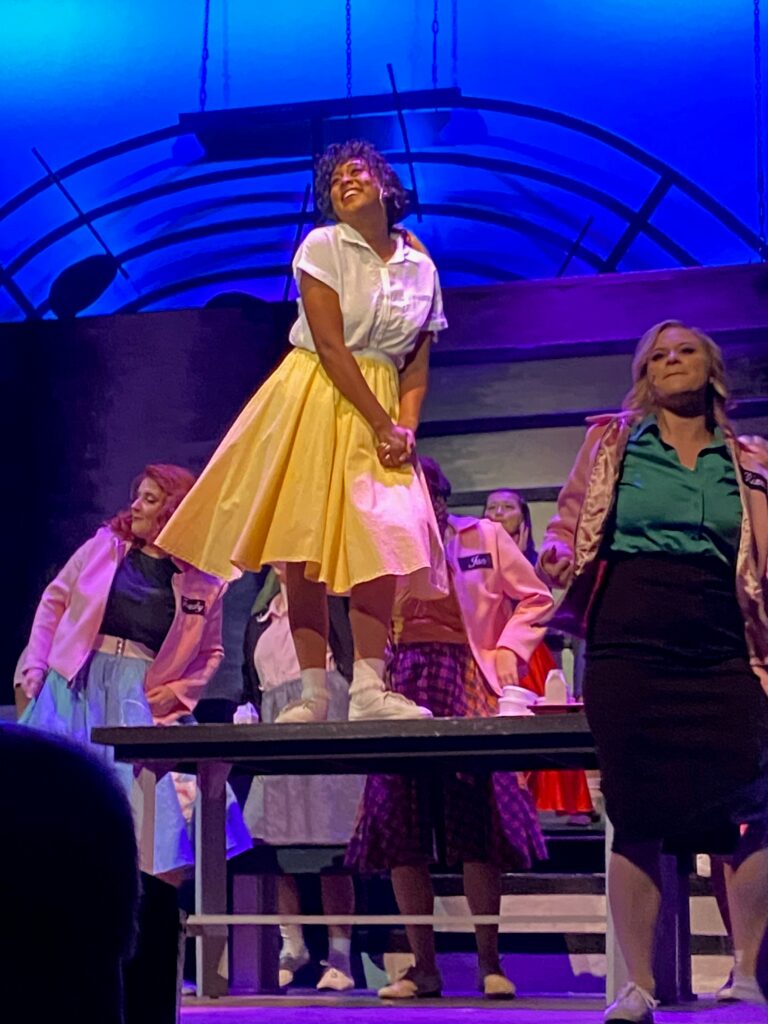 Denise Kaigler, Board Member, Quincy
Musical: In October, my partner Daniel and I went to Austin, TX, to see my daughter in her first local musical starring role. She played Sandra Dee in Grease.
Historic site: Daniel is Jamaican and has long wanted to see Plymouth Rock. So, on our way home from a long weekend on the Cape in June, we stopped in Plymouth. We saw the Rock and toured the Mayflower II. It was so special to be with Daniel as he experienced this important part of American history for the first time.
Amy Macdonald, Board Member, Cambridge
Podcast: Radio Open Source
Essay: "These Precious Days" by Ann Patchett
Place: Mt. Auburn Cemetery, Cambridge
Michael Meltsner, Board Member, Cambridge
Book: Go, Went, Gone by Jenny Erpenbeck. I strongly recommend this novel by the fine German writer Jenny Erpenbeck for anyone interested in the plight of refugees and how we cope with what they represent.
Gina Ocasion, Clemente Program Coordinator, Easthampton
I really can't choose just one book for the year, and to be dramatic, all of these books changed my life.
Book: Burnout by Emily and Amelia Nagoski. Not a self-help book–a science/humanities-based recognition of the stress cycle that was validating and offered real ways to navigate the feeling of burnout. (I know it sounds like self-help.)
Book: How to Hide an Empire by Daniel Immerwahr. I picked this up to read with a friend teaching at Hampshire (it's the common read) and I can't stop recommending this American History, written for a wide audience, that centers the Philippines.
Book: Between Two Kingdoms by Suleika Jaouad. This memoir is still haunting me in the best way. Jaouad was diagnosed with an aggressive cancer in her early 20s and this is her story of navigating illness, death, loss, love, and life. Beautiful writer — you might recognize her name from the NYT column "Life, Interrupted." Emerging from a pandemic and grappling with so much loss of life, her story has helped me understand grief and the uncertainty of life "between two kingdoms".
Podcast: Really loved this episode of the Ezra Klein podcast, "The Art of Revising Your Life," with Kiese Laymon and Tressie McMillan Cottom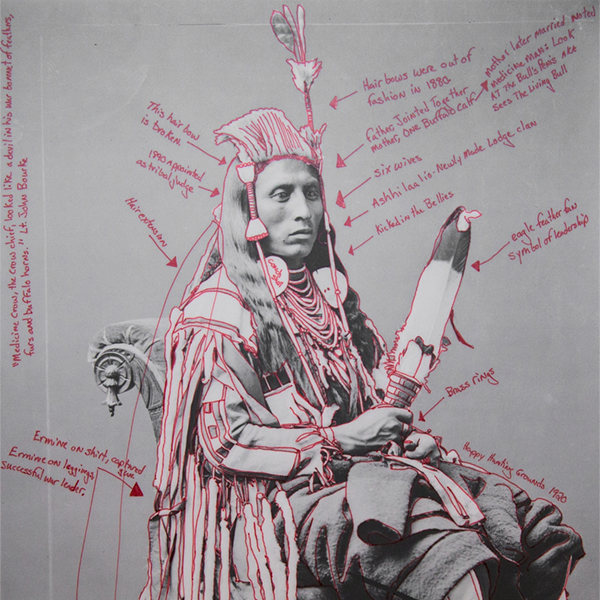 Exhibition: I love Apsáalooke: Children of the Large-Beaked Bird, Wendy Red Star's show at MASS MoCA. It's in the children's space, which encourages lots of play and questions which is exactly what she does in her art pieces! 
John Sieracki, Director of Development, Amherst
Book: A Natural History of Transition by Callum Angus. Many of us long for metamorphosis, and the characters in these short stories show us many often fantastical paths on that journey.
Book: The Dawn of Everything by David Graeber and David Wengrow. It just came out and I'm only 100 pages in, but so far this book has systematically upended all kinds of linear, black-and-white notions I've had of human history.
Book: Wolf Girls vs. Horse Girls by Catherine Weiss. I'm a sucker for plain-speaking poetry that causes me to laugh out loud while crying out of sadness on the inside.
Katherine Stevens, Director of Grants, Holyoke
Book/postage: Ursula K. Le Guin Stamps. Now that I'm back in New England, I've taken to re-reading Le Guin's Left Hand of Darkness every winter. Set on a snowy world where people don't have fixed genders and giving direct advice is considered the height of rudeness, a lone visitor tries and repeatedly fails to bridge the fundamental differences between himself and the people he encounters. It's almost too late before he realizes that difference itself is the bridge (don't worry, that's not a spoiler).
Series: Peak comfort viewing for me in 2021 was The Repair Shop. It's been a series in the UK for many years, but only recently landed in the states. Expert craftspeople do loving, painstaking repairs of people's family treasures. It doesn't matter if the object is worth thousands or wouldn't make it out of a jumble sale. No money changes hands. The delight on people's faces when they see their piece restored is beyond value and watching skilled people do excellent work is its own reward.
Podcast: Like many an 'elder millennial' who came of age in the 1990s and early 2000s, I've devoured episodes of the You're Wrong About podcast. The show's hosts revisit cultural touchstones, questioning and contextualizing dominant media narratives, everything from Y2K to Dan Quayle vs. Murphy Brown. As a historian, I love a good debunking and appreciate the chance to finally see the big picture beyond what I could grasp as a kid, even if it means accepting that my youth is now 'history.'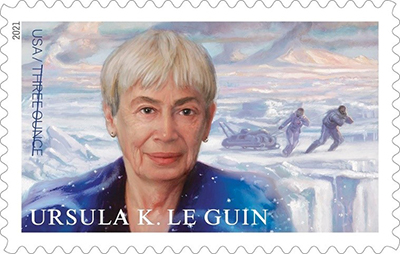 Michelle Wilson, Associate Director of Development, Amherst
Book: Station Eleven by Emily St. John Mandel. By far, one of the most riveting stories I've read in a long time. This post-apocalyptic tale was a little too close to home at times, given that it's about a global pandemic that wipes out 99.9% of the world's population. Eerier still is that it was written in 2014 long before COVID was a household word.
Film: Val (AmazonPrime). Even if you're not a Val Kilmer fan, this documentary about the aging film star is worth watching for its poignancy.
Twenty-two organizations receive grants totaling $364,364.
As the population of Massachusetts grows more diverse, a new initiative from Mass Humanities will support more inclusive histories of the people and ideas that shape the Commonwealth. This week, the foundation announced grants to 22 cultural non-profits for projects that include audio tours, documentary films, oral histories, and public events. Totaling more than $360,000, the grants are the first in a three-year effort to reexamine and reimagine the story of Massachusetts.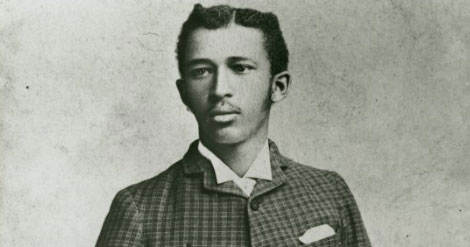 "There is a much needed reckoning with history unfolding in our nation, and these grants represent our investment in that movement," said Brian Boyles, Executive Director of Mass Humanities. "We believe that every resident should see their stories and the stories of their ancestors as valued parts of the Massachusetts story."
The "Expand Massachusetts Stories" initiative provides up to $20,000 to partner organizations. A June deadline attracted 80 applicants seeking funding from Mass Humanities. The grants are made possible through Mass Humanities' partnership with Mass Cultural Council, the state's cultural agency.
"Culture is a dynamic force for enriching communities and fostering diversity and inclusion through the arts, humanities, and sciences," said Michael J. Bobbitt, Executive Director, Mass Cultural Council. "We believe in the power of culture, and we are proud to support Mass Humanities' Expand Massachusetts' Stories Initiative as it helps to amplify the very stories shaping our Commonwealth."
See below for the full list of projects.
"In this time when we face so much misinformation and division, the humanities help us recognize our differences and make connections between neighbors and generations," said Boyles. "We want these projects to be seen by audiences across Massachusetts because they tell a much more complicated, vibrant story of our state."
The "Expand Massachusetts Stories" grants cap off a year of unprecedented funding for Mass Humanities, with more than $1.8 million awarded to museums, libraries, historic sites, and other cultural centers.
2021 Expand Massachusetts Stories Grants
Berkshires
Berkshire County Historical Society
Pittsfield
$8,750
Berkshire County Oral Histories
The Berkshire County Historical Society at Arrowhead will reopen and rename its archive of oral histories, images, and other ephemera related to African Americans, Native Americans, Italian Americans, and Polish Americans in Berkshire County. The former home of Herman Melville will host online events and conversations to share these stories.
Clinton Church Restoration
Great Barrington
$20,000
Interpretive Exhibit Design for a new African American Cultural Heritage Center in the Hometown of W.E.B. Du Bois
The life and legacy of civil rights pioneer and native son W.E.B. Du Bois are at the center of plans to restore the Clinton A.M.E. Zion Church in Great Barrington. The grant supports new work to educate visitors about the African American history of the Berkshires.
Great Boston
ActiveVista Media
Malden
$20,000
Chelsea: An Essential City
Chelsea: An Essential City is a documentary film that looks at the majority Latinx city's fight against COVID through the voices of its residents. An Expand Mass. Stories grant funds research and development of their ongoing story.

American Ancestors/New England Historic Genealogical Society
Boston
$20,000
Jewish Neighborhood Voices: Using Oral History to Link Massachusetts's Past and Present Communities
A new project at the New England Historic Genealogical Society will collect first-hand accounts from people who lived in Jewish neighborhoods and cities in Massachusetts in the first half of the 20th century, including stories from Dorchester, Roxbury, Chelsea, and Lynn. The Mass Humanities grant supports a new digital archive and online exhibit.
Center for Independent Documentary
Boston
$11,919
The Fate of Human Beings
Massachusetts has the highest concentration of mental institution cemeteries in the nation, with an estimated 15,000 people who died in state institutions buried in 10 cemeteries. A new documentary will uncover the stories of people with disabilities and mental illnesses who are buried in these unnamed graves.
Chinese Economic Development Council
Boston
$20,000
Resiliency in Chinatown: Stories of Survival and Community Building.
The Chinese Economic Development Council will collect and share residents' memories of poverty, war, family separation, sacrifice, hardship, and new beginnings.
History Cambridge
Cambridge
$11,726
Untold Histories of Black Cambridge
History Cambridge continues its recent research and programming to share the history of Black and African American people in the city. The MH grant supports "Untold Histories of Black Cambridge," a series of free public events based on the research.
Weiying Olivia Huang – Filmmaker
Boston
$13,000
City as Canvas: Above the Free Walls

Modica Way was founded in 2007 as a space for graffiti artists to create and display their work. An Expand Mass. Stories grant brings more audiences to filmmaker Weiying Olivia Huang's documentary about the alley in Cambridge's Central Square.
Royall House and Slave Quarters
Medford
$15,400
Expanding the Story of Northern Slavery
What is hiding in plain sight? The Royall House and Slave Quarters tackles this question through new archival research into the lives of Belinda Sutton and at least 60 other enslaved people who were largely responsible for running the 500-acre plantation known as Ten Hills Farm in Medford.
Northeast
Friends of the Lawrence Heritage State Park
Lawrence
$20,000
Telling the Underrepresented Stories of Latinos in Lawrence, MA
Lawrence Heritage State Park will expand the representation of the city's Latinos in its exhibitions, providing visitors with the stories that have shaped the city since WWII.
Southeast
National Black Doll Museum
Mansfield
$4,400
Faces In The Crowd: The Turner Sisters Of Boston & The Art of The Peddler Doll
Marie and Grace Turner were African American doll artists and doll historians specializing in "peddler dolls." A new exhibit at the National Black Doll Museum in Mansfield will explore their lives and legacy.
New Bedford Whaling Museum
New Bedford
$20,000
Common Ground: A Community Mosaic
The New Bedford Whaling Museum will expand its collection of photos, audio recordings, and documents related to the experiences of the region's underrepresented audiences.

UMass Dartmouth, Archives and Special Collections
Dartmouth
$17,600
Our Town/Nha Vida
Supported by an Expand Mass. Stories grant, "Our Town/Nha Vida" will interview 25 Cape Verdean-Americans of various ages and socioeconomic backgrounds in Dartmouth, providing a more inclusive understanding of their place in Massachusetts. The project is based at UMass Dartmouth.
Central
Worcester Historical Museum
Worcester
$20,000
Expanding Worcester Stories – Voices of the Vulnerable
Worcester Historical Museum's ongoing work to build community archives with local residents continues with "VOICES," a project that invites stories of the traditionally marginalized to take their place in the public record for the city's history and present.
Connecticut River Valley
Collaborative for Educational Services
Northampton
$20,000
Who Shall Have Borne the Battle: How the Civil War Transformed Disability, Exploring Stories of Massachusetts Veterans
By 1900, nearly a million Union veterans had received pensions based largely on disability. Civil War pensions became the largest single item in the federal budget. Massachusetts citizens played an outsized role in these changes. Collaborative for Educational Services will create curricula and workshops for teachers to share the stories of a diverse set of veterans and activists.
Holyoke Public Library
Holyoke
$15,632
Ciudad de Historias/City of Stories
The Holyoke History Room of the Holyoke Public Library will create three virtual, bilingual tours of Holyoke neighborhoods, highlighting places and stories from the city's 170-year history.  The tours will draw on historic images, family photographs from the Nuestros Senderos project, and stories from participants.

The Jones Library
Amherst
$20,000
The Slave Is Gone: The Show That Talks Back to Apple TV's Dickinson
Pulitzer-winner Jericho Brown teams up with the Jones Library for "The Slave is Gone," a new podcast that responds to Apple TV's Dickinson series.
Nueva Esperanza
Holyoke
$6,907
El Corazón/Heart of Holyoke Walking Tours
Nueva Esperanza of will develop 9 interactive walking tours of Holyoke and an exhibit of Puerto Rican and Latinx narratives about the heart of the city.
Ohketeau Cultural Center
Ashfield
$20,000
The Untold Story: Indigenous history and presence from pre-colonization to today
"Living Presence" is a multi-part event series hosted by Ohketeau Cultural Center focuses on the erasure of Indigenous groups through plaques, statues and memorials. An Expand Mass. Stories grant supports the Ashfield-based group's research and programs.
The Performance Project
Springfield
$20,000
First Generation Ensemble 2021-2022
Hosted by the Performance Project, "First Generation" is built on the premise that young people's cultural legacies and family histories are sources of strength as they shape their individual identities and navigate life's challenges. The grant supports a new year of programs in Springfield.
Porter-Phelps-Huntington Museum
Hadley
$19,030
A historic house museum along the Connecticut River is radically rethinking the stories it tells of the surrounding farmland and the people who worked and lived there. The museum's plans include exhibitions that reflect the lives of indigenous, enslaved, indentured, and day laborers on the site. A redesign and free public events at the Porter-Phelps-Huntington Museum in Hadley will particularly focus on the famstead's enmeshment in the slave economy and the lives of free Black people in Hadley in the 18th and 19th centuries.
RiverCulture/Town of Montague
Turners Falls
$20,000
Peskeompskut Audio Tour
Named after the captain who led a bloody massacre against an important Native American village, Turners Falls carries an uncomfortable history. Supported by an Expand Mass. Stories grant, RiverCulture and Nolembuka will create a new audio tour as part of ongoing efforts at reconciliation.
An Interview with Gina Ocasion, Coordinator of the statewide Massachusetts Clemente Course and Academic Director of the Springfield Clemente Course
By John Sieracki, Director of Development and Communications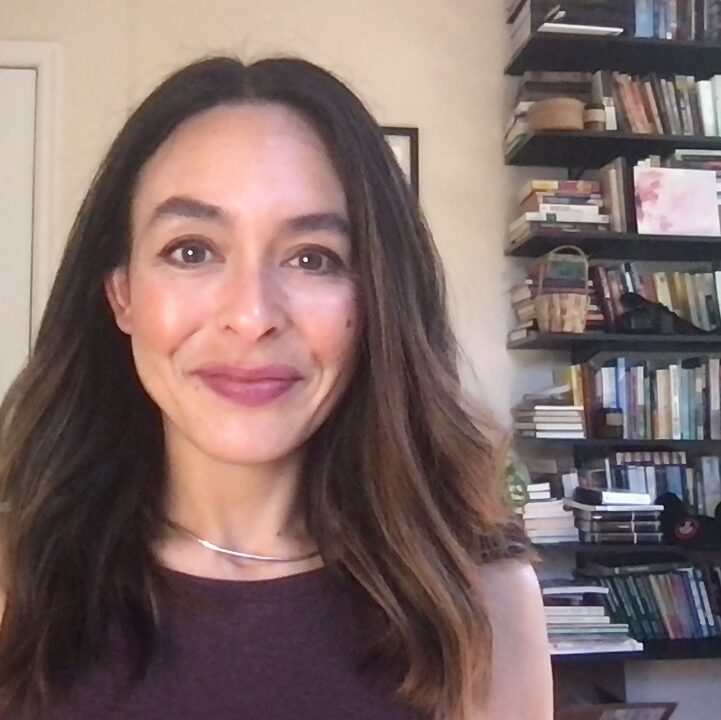 John Sieracki: Tell me about your childhood and experiences that led you along the path toward literature and teaching.
Gina Ocasion: I grew up in Redding, California, which most people know as just a sign on I-5. My dad emigrated from the Philippines with his family. My grandpa was in World War II. They came over as American citizens. There was a strong focus on education throughout my life because no one in my family had been able to afford an education. They were focused on the education of the second generation, and did a lot to give me access.
JS: Who were your influences as a student?
GO: When I was finishing my master's, I started working with a professor in American studies who inspired me by expanding on my concept of the book. A book is more than the words on the pages. It includes everything that informed the book. It includes everything that the book has gone on to inspire. The book is a product of the larger culture. In those classes, we used a book as an entry point to think about what's happening in the world and what the book does to inspire change in the world after it appears. A book is not purely an examination of whatever representations are happening in the language itself. It also includes all of the things that are at stake once that language is out into the world and all of the things its language is responding to. It was a shift for me in thinking about the importance of English and literature studies and American studies.
JS: What kinds of things do you write? Are you working on anything now?
GO: I just finished writing an article on Angeles Monrayo who is, or was a young Filipino girl growing up in Hawaii. It continues my focus in childhood studies, while allowing me into an interrogation of my own family's history and thinking about Filipino American culture and literature. Angeles' diary, edited by her daughter, is an amazing archive giving voice to the experience of a 12-year-old girl in the Hawaii sugar plantations. The literature about those experiences is dominated by men. Mostly men were recruited from the Philippines to work in Hawaii in the 1940s, and it's mostly men that we see in the literature.
JS: This reminds me of a recent conversation with Sonia Nieto, also second generation, who said she never read literature by or about Puerto Ricans until she got to college. When you were growing up, did you have any access to Filipino literature?
GO: No. My family was really invested in the education of all the kids, but they themselves worked really hard and they didn't have those authors on hand to pass down to us. But they told us lots of stories about growing up in the Philippines.
JS: Tell me about how your connection with the Clemente course, as one of the first faculty members at the Springfield course in 2016, and academic director for the past few years. What attracted you? What have been some of the highlights? What you see for the coming year?
GO: Teaching with the Clemente course has deeply informed my approach to teaching in general. This is the special thing for me about Clemente: it is constantly inspiring professors to reinvent their pedagogy and reinvest in the classroom. Every new class presents new perspectives on the course materials and how they inspire people to relate to the ideas, make them their own, and see them reflected in their communities. The connection between the course materials and community lies at the heart of Clemente. Our scholars are able to take what they learn in class and use it to re-see their home space and to make sense of what's happening in the world. This makes it much more meaningful than typical university intro courses. As faculty members, we witness the scholars' lives changing as the course progresses.
Moving into the academic director role a few years ago, I've been able to see how other professors approach their course materials, connect with Clemente students, and build on what has come before. It's an amazing privilege and gives me a way to support the faculty, make connections between the disciplines, and support students from a broader perspective. I love being able to create stability for the students and ensure that the core faculty will support them throughout the course.
JS: Do Clemente students or alumni have any influence on the syllabi? Have you taught anything written by a Clemente student?
GO: I was on a call recently discussing ways to have Clemente alumni take on leadership roles. Part of that is influence in the changing syllabi over the years. Everyone changes their syllabi based on what was successful in the last year and trying to build on that, do something new in the coming year. This year, all of our Clemente students around the state will get this anthology of their essays called This Is Your Democracy. Some sites will give it to students as examples of the kinds of writing we do in Clemente; some will engage with it critically. Either way, the goal is to inspire students to put their own ideas on the page because they know that we value their writing, their ideas, and their participation. Bringing the students back into the classroom in written form is a powerful experience for everyone involved.
Several sites have Clemente alumni tutors, people that have been through it before and can speak from relevant experience. They know the challenges for non-traditional students trying to juggle coursework and family while producing, writing, and engaging thoughtfully with the ideas we present.
JS: Beyond the core course—the five subjects taught in the yearlong program for six college credits—what's going to be happening this year with the writing courses, or any other kind of mini courses, field trips, or other enhancements?
GO: We're working on the course outline, but the individual sites take the lead on what they would like to offer, based on the needs of their communities, the gaps that need filling. The special topics courses are incredibly popular. Alumni want more than just the yearlong program. With the one credit that comes with each special topics course, they are an amazing way for people to both stay engaged and continue working towards their degree goals. So far, they've been specific to Massachusetts, taking up the history and the culture of the Commonwealth in really diverse ways, and showing how history informs our contemporary moment.
The Brockton site, for example, broke up the course into four different weeks each with a different speaker talking about the history of Brockton from a different discipline. In Springfield, we talked about social justice in Massachusetts. In western Mass, we have an amazing archive of the history of social justice through the David Ruggles House and the history of the Underground Railroad as it went through Springfield. Students put together the pieces of history gathered from different sources, and then fill in the course material with their own family histories and knowledge of social justice movements. It's powerful when the course material is so deeply connected to the community.
In Worcester, they studied Black soldiers in the Civil War, and how monuments speak to contemporary understanding of historical moments. They learned about engaging with hidden and silenced histories and narratives in the region.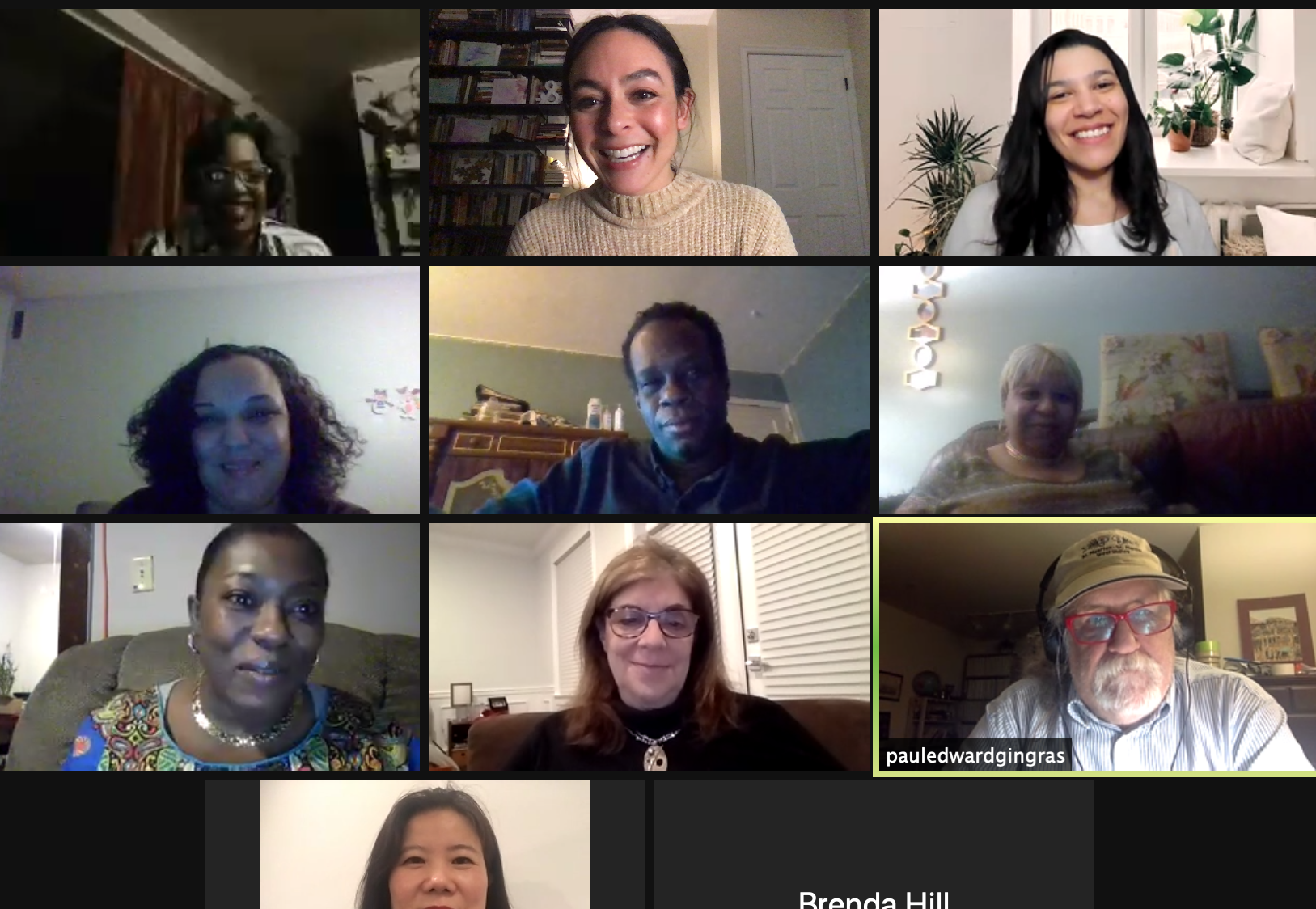 JS: The Clemente course remains online, although part of the essential fabric of the course has been working with cohorts of neighbors, people living in close physical proximity to each other, thereby helping a community that is set within a geographic space. Going online, people could conceivably participate from anywhere. There are different advantages and disadvantages to taking an online course, including access to technology. How do you see this playing out, assuming that at some point in the near future we will be able to have both in-person and online classes?
GO: The transition starting in the fall of 2020 was hard because we weren't sure what kinds of scaffolding we would need to provide for students. After going through those growing pains, seeing students not only build community in a Zoom classroom, but also grow in their technical fluency along with their knowledge and engagement in the humanities, was dramatic. It's a necessity now for students to be able to log into their computer, understand how to get to email, and know how to navigate the web. Providing those basic skills as they were woven through the classes was not something that we had foreseen, but it has now become an important and continuing part of Clemente.
I don't know that we can now separate that kind of weaving of digital literacies with the humanities, because all of our digital archives are now accessed online. As a lover of books, libraries, and archives, I hate to say it, but we don't need to go to the stacks anymore. So many primary materials we need have been digitized and we can access them together in a Zoom room. We can engage with them as if we were in a reading room at the American Antiquarian Society, with the added advantage of being able to have a conversation.
Online classes also provide much easier access for guest speakers. In addition, being online has helped greatly with retention. Students log in wherever they are. Students don't have to stay home from class because their babysitter fell through, for example, or because there's five inches of snow. All of this makes for a more dynamic classroom in lots of ways.
I hope we can continue to really offer the two things together, a hybrid of in-person and online. We've also been providing Chromebooks to students who need them. It's really hard to type and edit an essay on a phone!
Contact Your Senators Today
November 4, 2021 – Mass Humanities is grateful to our many supporters who contacted members of the Massachusetts House of Representative last week. We hope you can join us again as the legislative process continues.
Next week, the Massachusetts Senate will convene to consider S. 2564, An Act relative to immediate COVID-19 recovery needs, released by the Senate Ways & Means Committee as a $3.67 billion spending plan investing federal American Rescue Plan Act (ARPA) and FY21 state revenue surplus funds into key economic sectors. The Committee's plan provides $75 million to be granted by Mass Cultural Council to provide pandemic relief to the Commonwealth's cultural and tourism assets. At Mass Humanities, we believe the cultural sector is a vital part of the recovery from the ongoing impacts of the pandemic. We appreciate the Senate's support.
However, the bill allocates $50 million less for the cultural sector than the spending plan passed by the Massachusetts House last week, which provides $125 million for Mass Cultural Council. Fortunately, State Senator Ed Kennedy, Co-Chair of the Committee on Tourism, Arts & Cultural Development, has filed Amendment #2 to increase the appropriation to $200 million. We join our partners at Mass Cultural Council and MASSCreative in thanking Sen. Kennedy for his leadership at this pivotal time.
Once the Senate concludes its debate, a Conference Committee will be formed to negotiate a final, compromise bill, by deciding how to handle any differences contained within the final House and Senate bills. The legislative session concludes November 17.
Please contact your state senator today to ask them for their support of this crucial legislation.
Before the pandemic, arts, humanities and cultural nonprofits generated over $2.3 billion in spending, brought in nearly $100 million in state tax revenues, and supported more than 73,000 full time jobs. A larger look at the cultural sector shows that pre-COVID the arts and cultural sector in Massachusetts accounted for 4.3% of the Commonwealth's GDP and 142,578 jobs.
We believe this funding will strengthen the capacity of humanities organizations across Massachusetts to rebuild and develop new ways to serve their communities.
Follow Mass Humanities on Facebook and Twitter for more updates on these efforts.