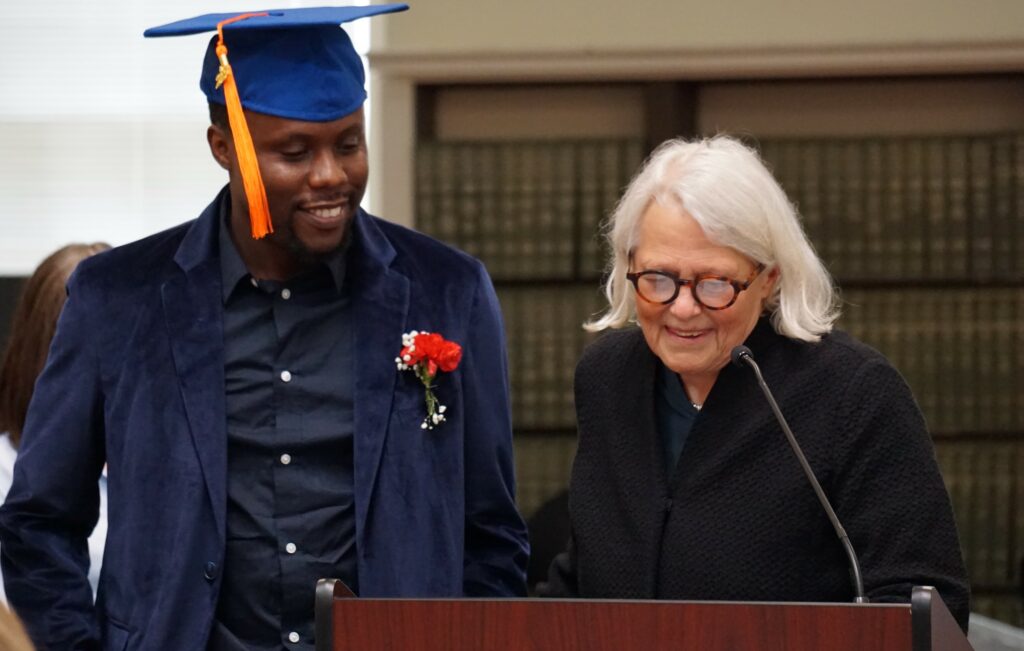 Elizabeth Bacon serves as the coordinator of the Clemente Course in the Humanities, Worcester.
The Clemente Course champions opportunities for Massachusetts residents from historically and systemically excluded communities to engage with, discuss, and author stories and ideas about our democracy. The course offers tuition-free, college-level classes in art history, creative writing, history, literature, and philosophy, and is designed around a conversation-centric learning model that promotes critical thinking and dialogue.
Elizabeth built strong partnerships with many of Worcester's colleges, religious institutions, community organizations and artists in this effort.
After a hiatus due to cuts in the city budget, Elizabeth worked tirelessly to bring the program back in 2014. The program has run successfully for more than a decade and is completely free to students including books, laptops, childcare, transportation and meals.
An accomplished educator, Elizabeth is also the founding director of two extracurricular civics programs for Worcester students: The Blackstone Canal Horse and Wagon Tours, a youth leadership development program that teaches high-school students to explore and present Worcester's rich history to visitors and residents alike and This is MyCity!, a civics education program for elementary students.
---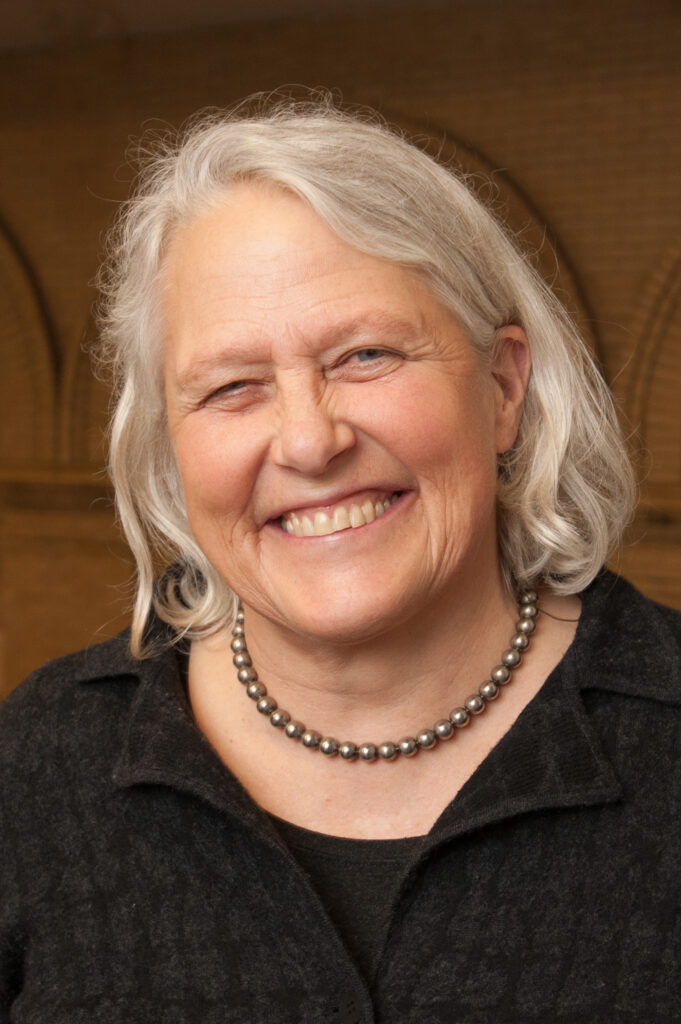 Mass Humanities: You are well known in Worcester as a long-time leader, on-the-ground coordinator and advocate in the humanities. What or who led you down the path toward your career?

Elizabeth Bacon: My career has been influenced by many inspiring role models, the most important of whom was my great grandmother, Dr. Eleanor A. Campbell, who founded Judson Health Center, a community health center first located in the basement of Judson Memorial Church in New York City in 1921. Through over a million visits, the Center's health and dental clinic served 45,000 residents, mostly Italian immigrants, from 1921-1957. By 1924, the clinic had become the largest of its kind in the United States. Campbell refused any wages for her services. It continues today as The Pride Health Center at NYC Health and Hospitals/Gotham Health, Judson.

My career as an educator was sparked by an intense relationship I developed with a non-verbal, neuro-diverse two-year-old at Holmes Hall, the Child Development Lab School at Connecticut College in 1977-78. I had been reading the works of the notable and original thinker, Hannah Arendt. This child verified Arendt's ideas that through respect for human integrity, supported by the careful articulation of common interests and goals, human beings can come together to establish the "sphere of freedom" (Arendt, 1958, p. 30) necessary for human growth. I saw in my relationship with this child the power inherent in creating something new. During that year, the two of us acted together to create something genuinely original, and because of that, both of us learned what it felt like to exercise our full human potential.
MH: Your extensive contributions to the humanities include work at This is MYCity! and Worcester's Blackstone Canal Horse and Wagon Tours. Can you tell us a little bit about what inspired you to begin these projects?

EB: I was inspired to create This is MYCity!, an after-school program, funded by The 21st Century Community Learning Centers Program of the Worcester Public Schools, because of my work as Education Director at Preservation Worcester. Alongside many wise and generous volunteers, who taught me so much about the city's history as seen through its built environment, we were able to recognize the need for a strong civics' education program in our schools. Why not take upper elementary school students out into the city to interview local people so that they could research and experience the context for many differing points of view? Each semester, we focused on different topics chosen by the students.
From 2006 to 2012, topics included: the Importance of Play and the Need for Extending Recess; the Problem of Stray Dogs and Cats; Smoking Advertising; the Chicken Ordinance Debate; and Wasted Food at School, among many others. At the conclusion of each semester, students from schools located all around the city debated solutions through a Mock City Council meeting inside City Council chambers. These meetings were led by City Clerk David Rushford (now retired) and overseen by Barbara Haller, City Councilor, District 4, (sadly deceased), who acted as Mayor. They were often attended by leaders in the community, School Committee and City Council members.
Worcester's Blackstone Canal Horse and Wagon Tours were inspired by a dream that South High Community School Principal, Maureen Binienda and I had. We believed that South High students would make excellent city tour guides. We researched programs around the country and visited a program in Boston called MYTOWN (Multi-Cultural Youth Tours of What's Now). We were impressed, but not surprised, by the professionalism of the students, their enthusiasm, their self-confidence and, most importantly, their innate intelligence.
MH: You have long used history as a tool for community development and economic empowerment while tirelessly advocating for the humanities in your home city and across the state. Can you talk a little bit about the interconnection between the humanities and the work you do?

EB: I am in the personal empowerment business. During the course of my career, I have sought out openings where education programs can practice the art of political consciousness in public spaces. As revered educator and author, Maxine Greene states, "To break with the "cotton wool" of habit, of mere routine, of automatism, is to seek alternative ways of being, to look for openings. To find such openings is to discover new possibilities – often new ways of achieving freedom in the world."
Greatly influenced by the writings of Greene and John Dewey, I have done my best to offer up education programs that have "the capacity to surpass the given and look at things as if they could be different." This is why the humanities have been so central to the work that I do. They force us to examine the course of human experience closely through dialogue with each other to create a "dialectic of freedom," to use Maxine Greene's phrase. I love that word "dialectic"–defined as "the art or practice of examining statements logically, as by question and answer, to establish validity."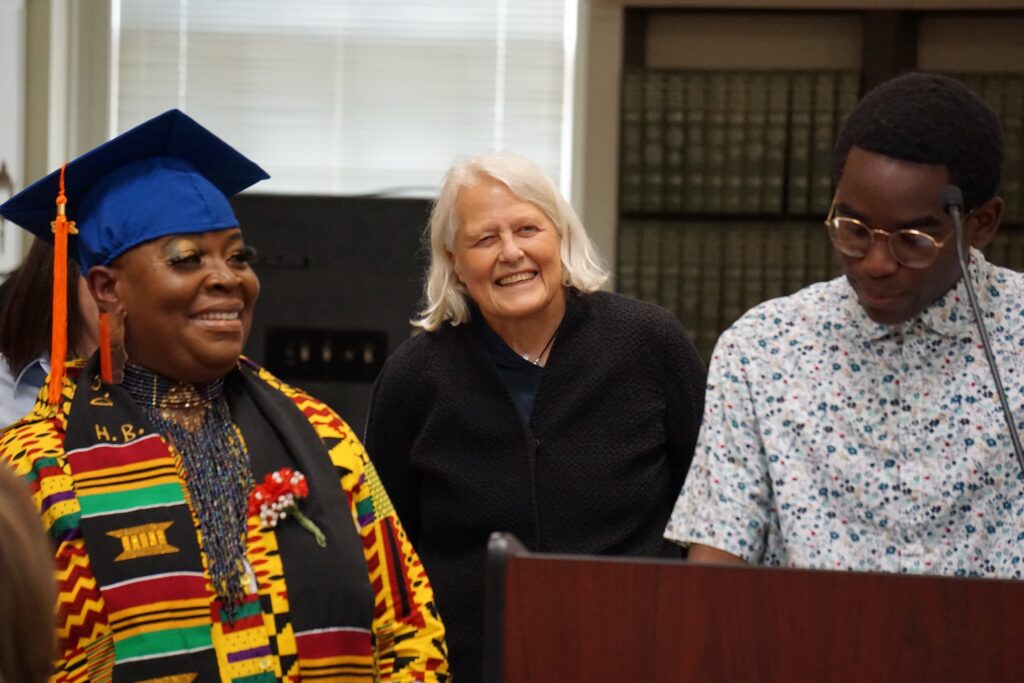 I am concerned with authorship as our connection to freedom itself. Through the process of close examination of our past alongside our present, we uncover pieces of ourselves and gain the confidence to look at our place in today's world. Through a rich understanding of those who have gone before us, we may find ourselves empowered to take political and personal action.
Equipped with the sounds of their own voices speaking to issues that matter to us all and embraced by a supportive Worcester community, MYCity! students felt more empowered and ready to start Middle School. Every Wagon Tour student went onto college, often the first in their family to do so, and Clemente graduates continue to take on important civic responsibilities and embrace their role in "the moral life of downtown." (Viniece Walker, as said to Earl Shorris, Harper's Magazine, 1977).
MH: Recent Supreme Court rulings reducing Women's Rights and striking down Affirmative Action, as well as the scaling back of Black and LGBTQA+ History courses at the high school and college levels in some states are major issues in the United States. What role can the humanities play to empower people here and across the country to become more engaged in the most pressing issues of the day?
EB: Maxine Greene wrote, "To be aware of authorship is to be aware of situationality and of the relations between the ways in which one interprets one's situation and the possibilities of action and of choice."
It is within the experience of authorship–the finding of one's own voice and the sharing of that voice in the public sphere–that we come to understand that our present "reality" is not fixed but constantly pliable, constantly emerging.
We must push back hard against the forces which seek to confine, control and oppress. The more friendships we create through the examination of our history, philosophy, art and literature texts together, the more multifaceted our world view becomes, and the more urgently we feel the need to open up new spaces where freedom can exist. We all have a driving hunger for friendship and community; however this must be paired with a "wide awakeness," a willingness to test and claim our voices as our own.
MH: How do you think the humanities can help us navigate these times of division?
EB: An inquiry into the humanities is, at its best, an exploration into the human spirit and the supports required by that sometimes fragile life force in order to survive and thrive. The humanities can help us steer the course through these thunderous times by leading us to discover and to understand why the fate of one is the fate of all.
Not one of us will have the possibility of being truly free until every one of us can enjoy the fullness of our rights as individuals with dignity. Yes, we must fight disinformation and recognize the critical social importance of fact-finding and truth-telling. But even the rule of law is under threat in the US and around the world today.
Threats to democracy twist legal language in the service of self-interest. We live in a world where the rule of law can be used to defend both greed and avarice as well as efforts to establish a broader sense of justice. Where else can we find examples of strong ethics? Where else can the restorative power of a dedication to "the greater good" be realized if not through the sound of our own voices, both past and present?
---
Come meet Elizabeth and hear her speak at the 2023 Governor's Awards in the Humanities on Thursday, September 28, at 6:30 p.m. at the John F. Kennedy Presidential Library and Museum in Boston.