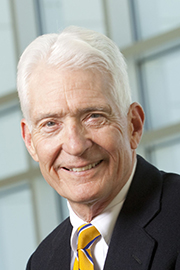 You may be surprised to know that Al Griggs—a decorated Marine, respected businessman, philanthropist, former Mass Humanities board member, 2020 recipient of a Massachusetts Governor's Award in the Humanities, and at the time, vice president of his class—never graduated from high school because he failed a US History course. But since then, he has gone on to achieve remarkable success in the business world, his volunteer endeavors, his ceaseless pursuit of knowledge, and his passion for building respect and inclusion within organizations of all types and sizes.
Al moved to the Northampton area in the mid-1950s with his parents and four siblings when his father acquired a Coca-Cola bottling franchise in Western Massachusetts. Al was attending high school at Philips Andover Academy, where his natural leadership skills blossomed and he served as class president for 2 years.
"Andover's school motto is Non Sibi, which is Latin for 'Not for Self'. I learned from a very young age that it is important to work for the common good. This ethos is reflected in every aspect of my life to some extent."
Despite failing to graduate—an acute disappointment for which he blames only himself—Al was a smart and capable young man. The headmaster encouraged him to join the US Navy, where Al's commanding officer suggested that he apply to the US Naval Academy from the enlisted ranks. He got in and served as the VP of his class for 3 years. When Al graduated, he was commissioned a 2nd Lieutenant in the US Marine Corps where he flew fighter jets for 5 years. One of his most memorable experiences during that time is hauntingly relevant to the current moment:
"I was living in Meridian, Mississippi, during flight training when three civil rights activists, James Chaney, Andrew Goodman and Michael Schwerner, were abducted and murdered in the area. The head of the FBI investigation lived in my house while they searched for their killers. Flight school was suspended and we were ordered to help search for the bodies. At one point, someone burned a cross on our lawn because the locals were angry that we were helping the FBI."
During the Vietnam War, Al flew over 100 missions in support of Marine ground troops, which earned him 7 air medals. He was awarded the Distinguished Flying Cross for putting his fellow Marines' lives before his own.
After he came home from the war, at his father's encouragement, Al attended Harvard Business School and then joined the family business.
"At Harvard, there was a lot of anti-Vietnam War sentiment, but most of the other students were simply interested to hear about my experiences over there. The most meaningful course I took while at Harvard was Human Behavior in Organizations taught by Tony Athos. It was enlightening and it really changed my perception of management and the importance of treating everyone in your company, from the person making the least pay to the CEO, with respect. I have carried this philosophy with me throughout my life as a business person."
Al met his wife, Sally, while at the Business School and they moved to the Pioneer Valley in 1970. From that time until 1992 when he sold the business, Al owned and acquired several Coke bottling franchises in Western Mass, Upstate New York, Southern Vermont and New Hampshire. Al was Chairman of the National Soft Drink Association for 2 years and worked with Senator Ted Kennedy and his staff to ensure access to safe non-sugar sweeteners in soft drinks.
After retiring, Al shifted his attention to enhancing the lives of people in the Pioneer Valley through philanthropy. Al became chairman of the Tuition Management Systems (TMS) board, which helps individuals and families reduce the student loan debt burden. This experience opened his eyes to the disparities of access to higher education. It is also why he has been such a huge champion of the Clemente Course over the years, which Mass Humanities runs in partnership with Martin Luther King Jr. Family Services and UMass Amherst in Springfield. Another of Al's achievements was as a co-founder of the Valley Gives program, which spotlighted the numerous nonprofits in the Pioneer Valley, helped small organizations enhance their fundraising capabilities in the digital age, and channeled millions of new dollars to the region's nonprofits.
His accolades and titles are numerous. During his nearly 30 years of community service, Al has been awarded the Paul Harris award from the Northampton Rotary Club, named Chair of the Community Foundation of Western, MA, Chair of the Northampton YMCA, Chair of the Cooley Dickinson Hospital Board of Trustees, Chair of the Economic Development Council of Western Massachusetts, Chair of the Board of Williston Northampton School,  Board Member of the Beveridge Family Foundation and Chair of the Dartmouth-Hitchcock Health Board where he oversaw a $250 million capital campaign for the hospital. Dartmouth- Hitchcock even named an award in his honor- the Griggs Ambassador Award, which is given each year to someone who has "made a commitment to be a part of Dartmouth-Hitchcock's global health solution by promoting wellness at every level of their community". He also served on several committees at Edwards Church in Northampton, where he has been a congregant for over 60 years. He is the current chair of Community Involved in Sustaining Agriculture (CISA). 
One of Al's proudest accomplishments, however, was joining the Mass Humanities Board in 2014 and helping to increase the foundation's visibility in Western MA.
"When I joined the Mass Humanities Board in 2014, I became interested in reading things other than non-fiction and I loved being exposed to things like philosophy and literature that I had very little experience with in my prior life. The Humanities have given me a lens to view the world in a different way as it relates to the pandemic and the issues of racism facing our country. We are living in challenging times and I am thankful that Mass Humanities is doing such important work to help support organizations and individuals as we grapple with the fallout of COVID-19."
Al lives in Northampton, MA and Sunapee, New Hampshire with his wife, Sally. They have two children together and Al has two children from a previous marriage.