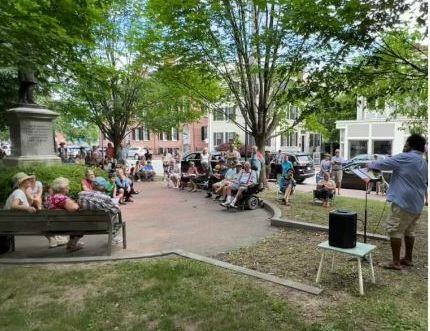 NEWBURYPORT — The Museum of Old Newbury and the First Religious Society, Unitarian Universalist Church, in partnership with Mass Humanities, will gather in Brown Square on Sunday, June 25, at 10 a.m. for the sixth annual public, interactive reading of Frederick Douglass' Fourth of July address, "What to the Slave is the Fourth of July?"
The reading will be followed by a discussion led by humanities scholar Doneeca Thurston, the executive director of Lynn Museum/LynnArts.
Mass Humanities has provided grants to nonprofits to host public readings and discussions of this famous speech this summer across Massachusetts. Newburyport is one of dozens of sites hosting a public reading Frederick Douglass Together event.
Douglass escaped from enslavement in 1838 and lived for many years in Massachusetts. He delivered this speech on July 5, 1852, in Rochester, N.Y., to the Rochester Ladies' Anti-Slavery Society.
The most celebrated orator of his day, Douglass' powerful language, resolute denunciations of slavery and forceful examination of the Constitution challenge people to think about the stories they tell, the values they teach, and if their actions match the aspirations. To quote Douglass, "We have to do with the past only as we can make it useful to the future."
This is an outdoor event and open to all. Bring folding chairs for those who would like to sit. Participation in this public reading event is encouraged but not required.
In case of inclement weather this event will be held inside at the First Religious Society, 26 Pleasant St., Newburyport. Call 978-462-2681 to confirm the event location.
For more information, contact Bethany Groff Dorau at the Museum of Old Newbury, 978-462-2681.