Brian Boyles joined Mass Humanities as its new Executive Director on October 15, 2018. For the last twelve years Brian worked at the Louisiana Endowment for the Humanities (LEH), Louisiana's humanities council, including the last four as Vice President of Content and Publisher/Editor of LEH's award-winning magazine, Louisiana Cultural Vistas.
"Brian impressed us with his energy, enthusiasm, and practical grasp of the humanities," said Hilda Ramirez, a member of the search committee. "His record of accomplishment in engaging diverse groups of people was most impressive," she added.
Brian is a native of Pittsburgh. He graduated from Tulane University and began his career working in publishing at Simon & Schuster. He and his wife have two young children together.
Brian sat down with Tim Binkert, Communications Specialist, to talk about his new position.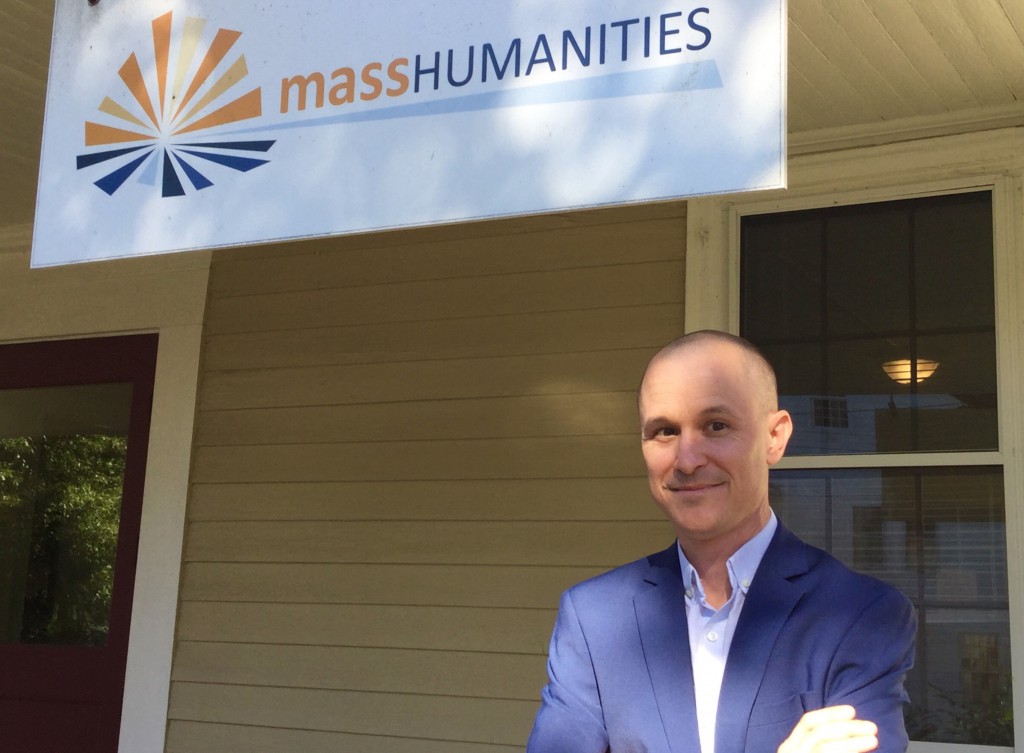 What's been the driving focus of your career so far? What's been your #1 goal?
I found early on that there was a real reward in being the person who connects people. There's no shortage of brilliant, hardworking people in the humanities, but the nature of the work is often solitary, demanding, and under-resourced. That goes for scholars, but also for the staff at a small town museum or a filmmaker editing in the wee hours. Someone needs to advocate for these folks, to make sure they know about each other, and to channel their work to new audiences. My goal has been to make these connections so that more people can enjoy and benefit from the humanities.
How do you think your experience at LEH will help you in your role at Mass Humanities?
Humanities councils respond to the particular needs and cultures of their home states. In Louisiana, we faced challenge after challenge, from Katrina to coastal land loss to the legacy of slavery, and time and again we found ways for the humanities to serve local communities. We listened, built new ways to connect scholarship with the public, and sought resources to give rural, urban, and suburban audiences the chance to explore their past and imagine a better future. Massachusetts is a much different place, with globally renowned humanities institutions and its own rich culture, but it's certainly a place with its own unique challenges. I'll approach our work with the most important skill I picked up in Louisiana—the ability to listen.
What drew you to this organization? To Massachusetts?
The work of Mass Humanities under the leadership of David Tebaldi set the gold standard for humanities councils. I came here to join in this long-standing dedication to widening the audience through meaningful, brave projects and programming. As our nation wrestles so vigorously with its identity, I truly feel that Massachusetts has a pivotal role to play, much as it has since the birth of the republic, in shaping public discourse and finding solutions.
What do you look forward to the most in starting this job?
The list is pretty long, but I'm especially excited to work with this staff and our board. We have talented, creative people in our office, and I look forward to helping them shape our initiatives. I'm also eager to learn the state with the guidance of board members who are experts on literally every corner of Massachusetts.
What will your approach be in the first year here? Can you let us know a little about the direction you'd like to take the organization in, your vision for it?
It's important for me to understand the ecosystem of the humanities in Massachusetts. Who's doing great work? How do we engage different communities? Who are our partners, and how can we meet new ones? I need to get to know the spatial and cultural geographies. I have young children, and my wife and I want to explore the state with them. For this first year, and probably every year, I plan to cover a lot of ground, meet as many people as possible, and eat a lot of local food. (I'm fairly sure I'll see the Celtics in the Finals this season, too.)
These experiences, along with David's mentorship, the guidance of our board and the input of our partners, will shape a shared vision for our work. What's clear is that Mass Humanities enjoys a great reputation, established through our grants program, the impact of the Clemente Course, the vivid content of Mass Moments, and initiatives like Reading Frederick Douglass and FAIR. This is a vital organization. My hope is that we link these pieces together in intentional ways so that a child who participates in our family literacy program becomes a high school student who uses Mass Moments to write her AP History paper. I want to see even more Clemente scholars, and find ways that they become project directors at Mass Humanities-funded museums, or direct a documentary film we support, or read Douglass in front of the State House. My great fortune is to join an organization where so many of these connections are already underway. Let's keep that momentum building for Massachusetts.