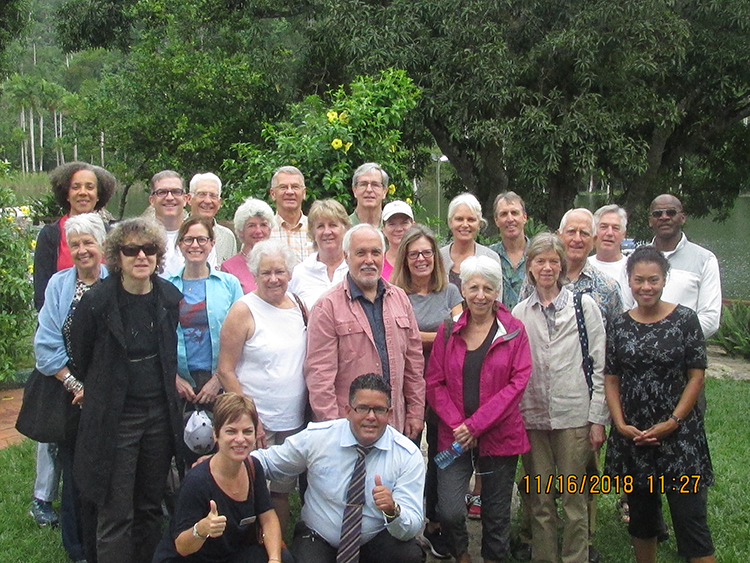 By Denise Kaigler, Board Member, Mass Humanities
As soon as David Tebaldi (former Executive Director of Mass Humanities) announced during a board meeting that he was planning to lead his eighth trip to Cuba, I was in. Visiting the country has long been on my bucket list. But for Americans, traveling to Cuba isn't a simple book-fly-relax experience. American tourists must apply to travel to Cuba under certain categories, such as education or humanitarian, and their itineraries have to include meetings with representatives of local charities and social service agencies. Thanks to Mass Humanities, we would be all set.
Traveling with Mass Humanities and ETA Cuba, our travel services provider, were 29 people representing California, Connecticut, Florida, Maryland, Massachusetts, and even Jamaica. Excluding David, this was the first trip to Cuba for all of us. That alone made the experience incredibly special. We enjoyed experiencing many "firsts" together, and sharing countless unique moments.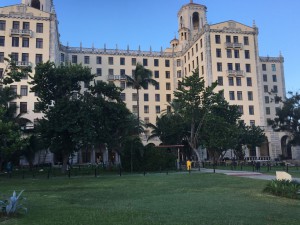 During our eight days in Cuba, our meticulously planned itinerary was divided between Havana and Cienfuegos. In Havana, we stayed at the storied Hotel Nacional, which overlooks Havana Bay and is known for the underground bunkers constructed during the Cuban Missile Crisis. During the first three days, we talked with noted political scientist Rafael Hernandez about Cuba's new constitution, explored the Old City (La Habana Vieja), enjoyed a rehearsal by the contemporary dance company Danza Combinatoria, visited the Muraleando community arts project (El Tanque), where we danced along with a traditional Cuban band, walked through Cuban history in the Museo de Bellas Artes (Museum of Fine Arts) and strolled along Paseo del Prado. For lunch and dinner, we were hosted by a selection of the few paladares (private restaurants often run out of the owners' homes). Not surprisingly, the food was undeniably delicious!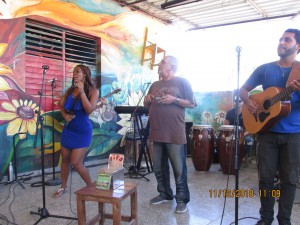 Leaving Havana, we stopped at Finca Vigia, the famed Ernest Hemingway Estate. We walked the grounds and saw Hemingway's private writing studio where he penned The Old Man and the Sea. Arriving in Cienfuegos, we enjoyed a walking tour through its main square, Plaza Jose Martí, met with UNEAC, the Union of Artists and Writers, admired the city's beautiful architecture, including the Tomas Terry Theatre, and heard a private performance by an incredibly talented string ensemble, Orquesta de Cuerdas, where we were invited up to dance during some of the selections.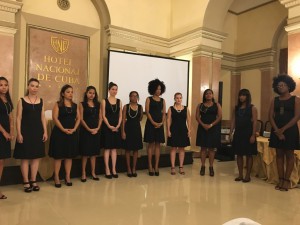 After two nights in Cienfuegos, we headed back to Havana where we would wind down our incredible Cuban adventure. On the way to the hotel, we stopped at Plaza de la Revolución and visited the outdoor marketplace. Later that day, we were instructed in Cuba's second most popular game: dominoes. After dividing into teams and playing dominoes alongside local players, we enjoyed a group lunch where we discussed Cuba-US relations.
After lunch, we spent time in the Museo de la Revolución, which is housed inside the former Presidential Palace. Bullet holes from the March, 1957 attack on the palace remain eerily visible throughout. That evening, we were treated to a magnificent private performance by the Havana women's chorus, Vocal Luna, where members of our group were invited up to sing alongside, and the entire group participated in a Q&A session about music education in Cuba.
Fittingly, our final day in Cuba was full of adventure and included a wonderful and very cool surprise. It began with a fantastic tour of Las Terrazas, a pioneering ecovillage and UNESCO Biosphere Reserve nestled in the Sierra del Rosario mountains west of Havana. And after changing and meeting in the hotel lobby to head to our final dinner, our surprise: parked alongside the hotel's main entrance was a jaw-dropping line-up of several of those beautifully maintained vintage 1950s cars that would take us to the restaurant. (One was an Edsel!) We were like little kids, running around and trying to decide, based on the vibrant colors, which car we wanted to jump into. Being driven to our final dinner by a remnant of Cuba's pre-Revolution days was definitely one of the many highlights of this incredible trip.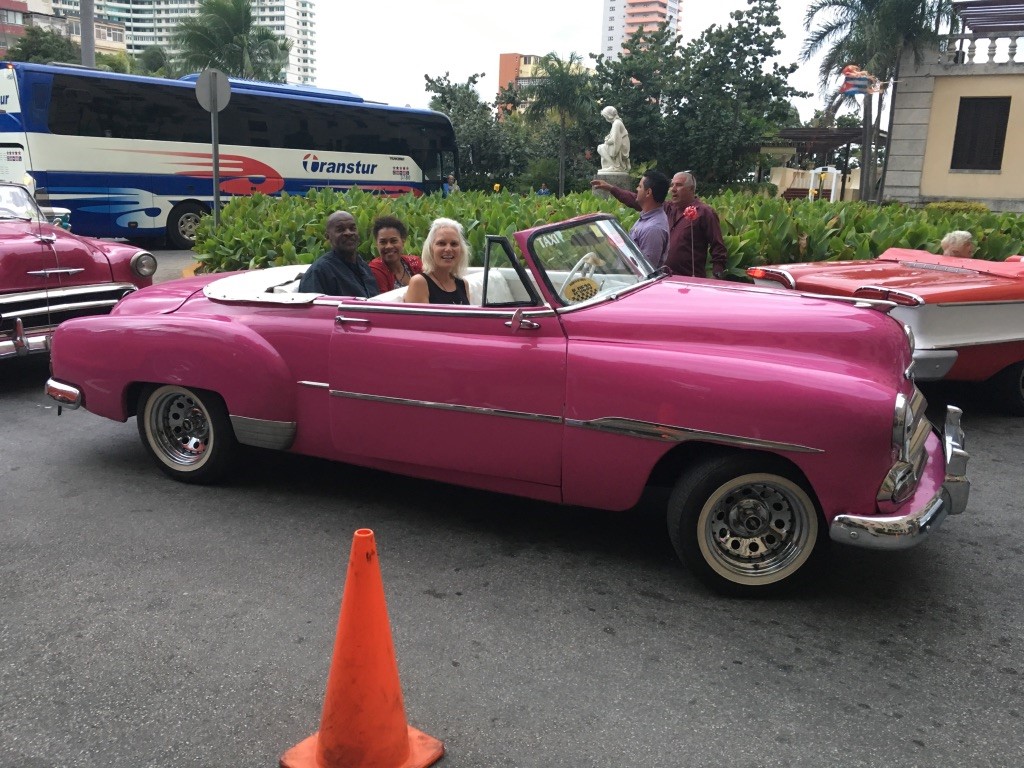 After dinner, we attended our final event–a spectacular theatre performance, Cuba Vibrai (Lizt Alphonsa Dance Cuba)–at the gorgeously restored Gran Teatro de la Habana. This show is so wonderful that photos and videos of the performance are strictly forbidden.
Visiting Cuba and seeing–experiencing–Cuban life first-hand shattered my preconceived notion about this communist-ruled country and its approximately 11 million citizens. While there is poverty throughout, Cubans embrace the country's Spanish heritage, openly share its storied past, and enthusiastically look toward its future. The country's multiethnic culture was on display everywhere we went, pulling us in and leaving us wanting more. It was wonderful to see children laughing and playing, and adults singing and dancing. We were invited into every aspect of their world, their lives. There was no question we couldn't ask (and we asked a lot) and no experience we couldn't enjoy. There was an incredible vibrancy I didn't expect to see and feel. I was engaged in ways I never imagined. Although I have visited numerous countries around the world, my week in Cuba was one of the most enlightening, educational and enjoyable experiences of my life.
On behalf of the entire November 2018 group, thank you Mass Humanities for making this incredible experience possible.