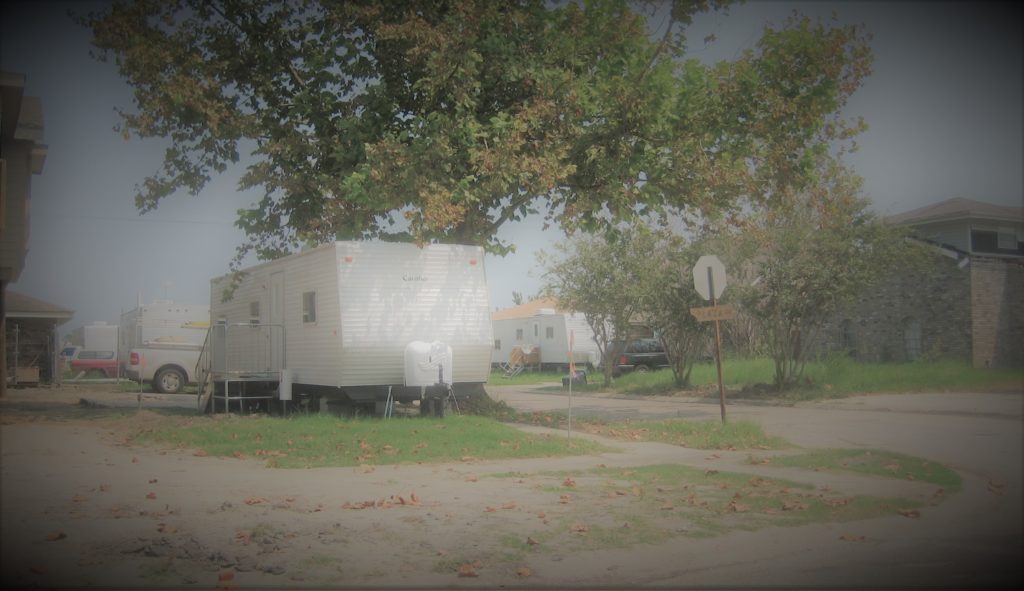 Turning to memories of post-Katrina New Orleans to fight COVID-19's isolation.
My wife worked at a diner in the French Quarter in the months following Hurricane Katrina. I'd meet her after work, where we'd commiserate and joke with the rest of the staff, usually joined by their partners who were employed at hotels or in construction. The owner, a Greek man in his 70s, still worked the kitchen every day, but he was typically gone by close, so the libations flowed freely as waitresses and cooks slowly cleaned up. Anyone who's worked in a restaurant knows the weary camaraderie of the closing shift.
We became good friends with the bartender, a woman from Northern Ireland, and her husband, a carpenter from St. Bernard Parish, the working class suburb abutting the Lower Ninth Ward. Oftentimes, the night would continue with a drive through the desolate city, out to their home, which, like all of "da Parish," was utterly annihilated by the floodwaters. On lawn chairs outside their FEMA trailer, I'd listen as Anne Marie and Karl joked about hanging their cash savings on a line to dry out after the storm—"literally laundering money" went the punchline. There were ongoing battles with insurance companies and the federal government, rumors of their neighbors' fates, and an ample amount of speculation about what was to become of the city of New Orleans and all of us.
I've always felt that the true story of the city's recovery, such as it was, was the fortitude of the countless people of all backgrounds who, with minimal assistance from the government or big business, slogged away at rebuilding, depending only on the companionship of their families and neighbors. One could not hide his or her human failings, inequities persisted and unnecessary tragedies occurred, but the ability to meet at the end of the night, comparing notes, sharing in anger and bewilderment, downing cans of cheap beer—I learned a lot from that experience.
The crisis we face today is defined by our isolation. Certainly in Louisiana we felt stranded, forgotten, betrayed, but at least we were there together. Now, every human on the planet shares a common threat in COVID-19, but how do we build community while practicing social isolation? What does righteous indignation look like when we cannot see one another, but for thumbnails on Zoom? How do we burn off the frustrations of working from home, or waiting in line for a test, or listening to the latest news from Washington? We can turn to social media, a medium that offers at least as much anxiety as it does comfort.
I've made more phone calls than usual the last two weeks, for professional and personal reasons, and was grateful to talk without staring into my laptop. But this is empathy delivered through a device, not human touch. We are suddenly full time digital creatures, or as Mass Humanities board member Ramon Borges-Mendez told me when we talked yesterday, "Now everyone is a millennial!"
We can learn from those millennials. I'm certainly learning a lot from spending more time with my little ones, who have my wife and me just where they want us. And, like it or not, we must learn new ways to build community through our digital platforms, using the humanities to knit new ties through conversations, shared learning, and the exchange of ideas.
For now, we raise our glasses to our laptops, sharing gallows humor with loved ones across the country who, like us, sit isolated from their own communities. There must be a strength we can draw from the all-encompassing nature of this crisis, some way to feel that we are all in the same boat while not seeing each other in person.
Prone to nostalgia and optimism, I hope we can make this time meaningful by being more present with one another, whatever the platform. I'll admit, though, that I wish we were cleaning up a diner together right now.
Brian Boyles is Executive Director of Mass Humanities.