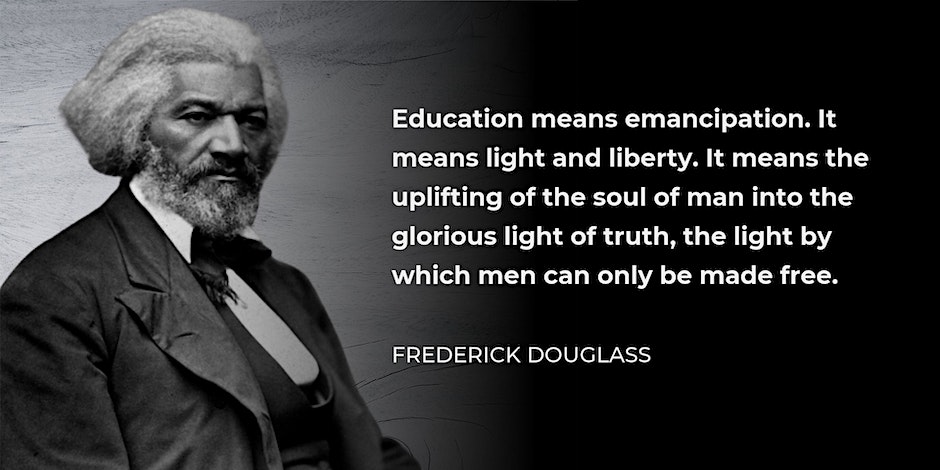 Learning to read and write fueled Frederick Douglass's desire for freedom. It was through literature that Douglass acquired the language to explain what he had already learned through lived experience: that slavery was inhumane, liberation was everyone, and education was a pathway. In explaining his transcendence from literate and enslaved to self-taught and free, he wrote "Some know the value of education by having it. I know it's value by not having it."
On Wednesday, Oct. 18, 5 p.m., Mass Humanities hosts "Education Means Emancipation," a virtual panel discussion, about the transformative power of education as well as the challenges to accessing quality and equitable education in the Commonwealth. We will welcome five guests for the discussion:
Robert Porter, Assistant Principal/Site Administrator for an alternative high school in the 3rd largest district in Massachusetts.
Lynn Cadwallader, founder/director of an independent secondary school in Lynn, and a scholar for a project supported by a 2022 Expand Mass. Stories grant from Mass Humanities;
Kristina Scott, a Clemente Course graduate and a writing consultant at Bard Microcollege
Graham Warder, Associate Professor of History at Keene State College and a scholar for a Mass Humanities-funded project;
Kevin Dua, history educator and instructional coach who has been advocating for inclusive practices in schools for 14 years.
MH Program Officer Latoya Bosworth leads the conversation.
Mass Humanities spotlights the diverse historical expertise and experiences of our community members, and hosts community events that spark conversations between neighbors about what it means to live in a free and equitable society.