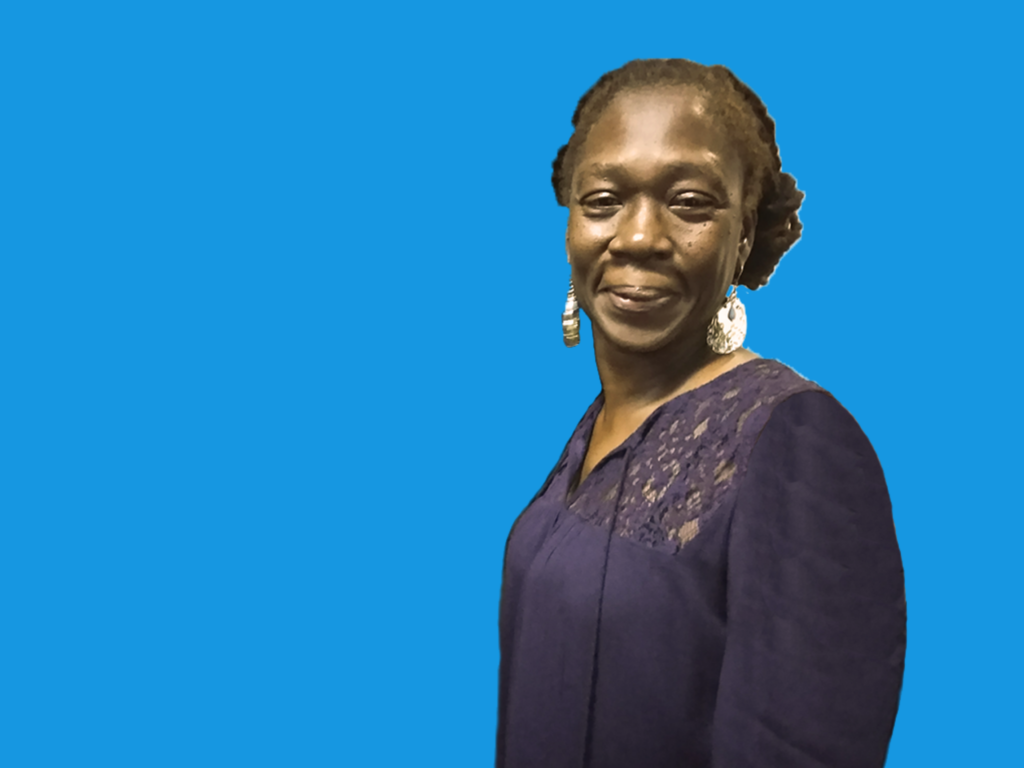 Dorchester Clemente Course Student Judith Foster Tells Her Story
I spent the first nine years of my life on my mother's land along the beautiful Rio Magno in the district of Linstead, Jamaica. We grew all kinds of fruit and vegetables: peas, pineapples, sugarcane, bananas; you name it. I am so grateful to have experienced that idyllic childhood. It was like Eden.
My mother migrated to the U.S. in 1969, and eventually each of us five children followed. When I arrived in Dorchester in February 1975, I remember asking her what all this dirty stuff was all over the street. It was snow. It was terribly cold. I remember crying all the time.
I had done very well at school in Jamaica. There, participation in class was both mandatory and praised. Not so in Boston. I attended the now-closed Lucy Stone Elementary School and the Champlain Middle School. Then I was bused to East Boston High. I remember angry people throwing things at the bus as it went by. In each of these schools, students were allowed to do pretty much whatever they wanted, including abusing the teachers. I remember one teacher advising me not to speak up in class.
I was often the target of bullying, and one such incident was bad enough to cause me to drop out just a couple of months before graduation. I managed to get my GED at Roxbury Community College a year later, and I went on to graduate from Hickox Secretarial School, in 1986. In the mid-eighties I had two sons and a daughter. I was in a physically and emotionally abusive relationship with their father.
We moved to Florida in 1987 and I worked at a few different jobs while attending school to become a medical assistant. I didn't graduate. In 1992, I fell four stories out of an apartment building. I spent four months in a hospital with many broken bones, and the doctors told my mother that they did not expect me to live, and if I did live, I would not be able to walk. I proved them wrong on both counts, but I suffer to this day from chronic debilitating pain and memory problems that have gotten worse over time. I haven't been able to work for the past few years because of it. I am grateful that my mother, who is now 84, was able to step in and help raise my kids.
After the incident, I moved back to Boston and eventually was able to start a career in political campaigning, beginning with Mayor Thomas Menino's campaign in 1999. I worked on campaigns for Shannon O'Brien and Jill Stein for Massachusetts Governor, and President Obama and Senator John Kerry when they each ran for president. The proudest time of my career was working with the late Boston Councilman Chuck Turner at the Boston Redevelopment Authority and with the Boston Workers Alliance to reform the Criminal Offender Record Information (CORI) system, which Governor Patrick signed into law in 2010. Among other things, the new law makes sure CORI reports are kept confidential and helps to protect the rights of the subject. Before that time, it was virtually impossible to get a job in Massachusetts if you had a criminal record of any kind.
In 1988, my son Paul was born. Like his siblings, Paul was a true blessing for me. He graduated from high school in 2006, and I promised him that if he went to college and got a bachelor's degree, I would as well. He enrolled at Johnson C. Smith University in Charlotte, North Carolina, majoring in computer science engineering with a minor in marketing.
February is a difficult month for me. Three months before he was due to graduate, on February 22, 2013, Paul was shot and murdered for no good reason outside a nightclub in Charlotte. It is still an unsolved case. The police told me Paul had been seen having a verbal altercation with an unidentified man inside the club. That's all I know.
I can't remember anything else that happened in 2013. In 2014, I found the strength to act and started trying to think of ways to get justice for Paul in some form, as I was not able to file for any legal damages. I made videos and had a press conference about his case in North Carolina. I convinced the university to award Paul his degree posthumously.
Around that time, woman pastor told me, "whatever good God is doing for you, you should go out and do for others." My mother encouraged me to make a retreat, and take some time for myself. So, I visited my childhood home in Jamaica for three months. I went to the rivers and beaches, enjoyed the fresh fruits and vegetables, and felt rejuvenated.
There I found the inspiration to establish the HERO Nurturing Center, a nonprofit organization dedicated to Paul. HERO stands for Healing Empathy Redemption Oasis. We built the Hope Garden, which my neighbors and I now use to grow our own fruits and vegetables right in the middle of Dorchester. We had lots of help from hardworking volunteers, my local state Representative Liz Miranda, and organizations like the Farmer Collaborative, Speak for the Trees, Farmers Food Forest Coalition, and American Forest. A video about the project in which I am featured can be found on YouTube (search "Community ReLeaf – Making Boston Vibrant").
With the encouragement of my friend, community activist Kevin Peterson, in July 2018, I attended the Reading Frederick Douglass event on the Boston Common. It's an amazing event that I want to organize here in Dorchester this year. There I met Rose Sackey-Milligan, a Mass Humanities program officer who is now retired, and she told me about the Clemente Course in the Humanities.
A light went on in my head. I thought, "This is how I can honor my promise to Paul and get my degree." I am currently enrolled in the program. It is incredibly convenient, with classes right at Codman Square Health Center two evenings a week, and the professors are incredible. It's also a way to get to know neighbors who have similar interests. Over the years, I've taken courses on and off at RCC, and I have earned about 36 credits. The six I receive through the Clemente Course will take me further along, and I plan to enroll again and work toward my bachelor's degree in art history.
Why art history? Because it takes me back to my childhood. In my house and neighborhood growing up, we had musical instruments of all kinds – banjoes, slide whistles, drums – all carved out of the trees that surrounded us. I want to explore and reveal for others that art, history, and culture. I'll be using the skills, network, and confidence I'm finding in the Clemente Course to do for others the good that God is doing for me.