Aaron Vega, Deborah Hall, Kristin McGurn and Ed Augustus Join Statewide Board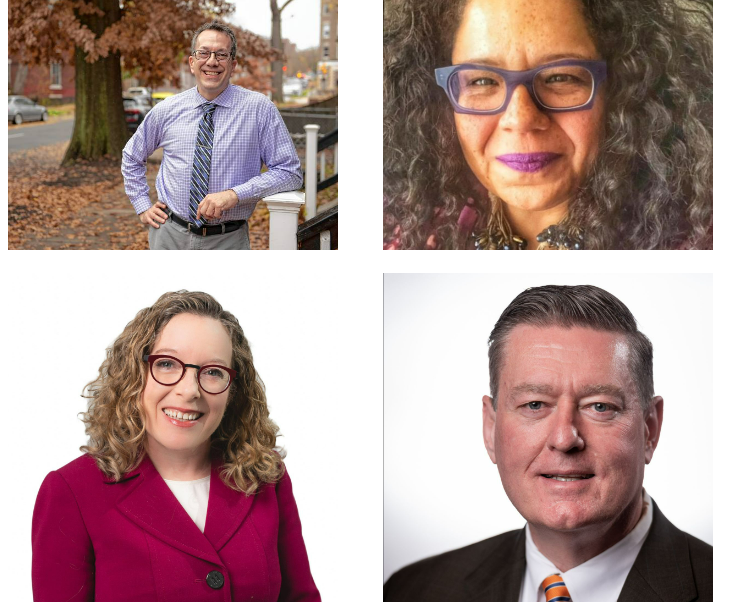 Mass Humanities is pleased to announce the induction of Aaron Vega, Deborah Hall, Kristin McGurn and Ed Augustus as the foundation's newest board members.
Vega is Director of Economic Development for the City of Holyoke and a former State Representative. Hall serves as CEO of the YWCA Central Mass in Worcester. McGurn is an attorney and co-managing partner of Seyfarth's Boston office. Previously the City Manager of Worcester, Augustus is the first Chancellor of Dean College in Franklin.

"We welcome these new members and look forward to incorporating their expertise into the work we do," said Brian Boyles, Executive Director of Mass Humanities. "Aaron, Deborah, Kristin and Ed each bring track records of driving change in their professions. I'm honored that they've volunteered to serve Mass Humanities and the Commonwealth."
---
About Our New Board Members
Aaron Vega is excited to join the Mass Humanities board and brings his experience and passion to the organization. He served four terms as Holyoke's State Representative and before that, two terms as an At-Large City Councilor. Prior to his life in the public sector Aaron was a documentary film editor for nearly 15 years, working for HBO, TLC, PBS and most notably being part of Ken Burns editorial team for "Jazz".
Aaron lives in Holyoke with his wife Debra, who is a former radio City Rockette and current dance and yoga teacher. They have a son Odin who has also taken to the stage and dance in between practicing guitar and playing Minecraft.
Deborah Hall is CEO of the YWCA Central Mass. She has over 30 years of experience working with survivors of domestic violence and addressing the intersection of race, gender, and community violence. She is social justice advocate and an art lover.
Deborah has served in leadership positions for several programs throughout Massachusetts, Rhode Island, and Missouri addressing issues of homelessness, violence, and substance abuse. She holds a BS in Political Science and African American Studies from Washington University in St. Louis, Missouri, and a MS in Nonprofit Management from Worcester State University. She currently serves on the boards of Worcester Eastside CDC, Worcester Business Improvement District, Worcester Education Collaborative and Jane Doe, Inc.
She is a frequent speaker on gendered violence and violence in the lives of Black women. She is the founder of Worcester Black History Project, a member of the Advisory Committee for the Worcester Cultural Plan, and a member of the American Antiquarian Society.
Kristin McGurn is co-managing partner of Seyfarth's Boston office, a member of the firm's Labor & Employment department, and a co-chair of the Health Care, Life Sciences & Pharmaceuticals group. She is an experienced litigator, whose knowledge spans federal employment law, analogous state common law, and statutory claims, including Title VII, ADEA, FMLA, ADA, FLSA, civil and equal rights, fair employment practices, and wage payment claims. She counsels and defends scores of employers in many business sectors, with an emphasis on matters affecting the health care and pharmaceutical industries.
Kristin also helps nonprofit and for-profit businesses negotiate and draft employment policies, contracts, and covenants. She prosecutes and defends all manner of employment-related disputes, including agency enforcement actions and discrimination, harassment and retaliation, pay equity, breach of contract, breach of fiduciary duty, nonsolicitation, unfair competition, and whistleblower claims.
Ed Augustus is the first Chancellor in Dean College history. As Chancellor, Ed reports directly to the Board of Trustees and works closely with Dean College President, Kenneth Elmore. Ed has worked in public service for more than 30 years.
Ed was appointed as the City Manager of Worcester in 2014. As City Manager, he focused on continuing Worcester's economic development renaissance, supporting education and youth, and making city government inclusive for all residents of New England's second-largest city. Prior to his appointment as City Manager, Ed, a native of Worcester, served as Director of Government and Community Relations at the College of the Holy Cross.
His career began at the age of 23 when he was appointed to the City of Worcester's Human Rights Commission. A few months later, he was elected to the Worcester School Committee, becoming the youngest person ever to hold elected office in Worcester. He served on the School Committee for two terms.
Building on his commitment to education, Chancellor Augustus moved to Washington, D.C. where he worked in President Bill Clinton's United States Department of Education from 1992 to 1998. Augustus also served as U.S. Congressman Jim McGovern's Chief of Staff in Washington from 1998 to 2004. He served two terms in the Massachusetts State Senate, representing Worcester's 2nd District.
He is a graduate of Saint John's High School in Shrewsbury, Suffolk University and a master's degree from Johns Hopkins University.
---
Each year, Mass Humanities accepts nominations from the public for seats on its board.