Smithsonian's "Crossroads: Change in Rural America" Arrives at Bushnell-Sage Library
---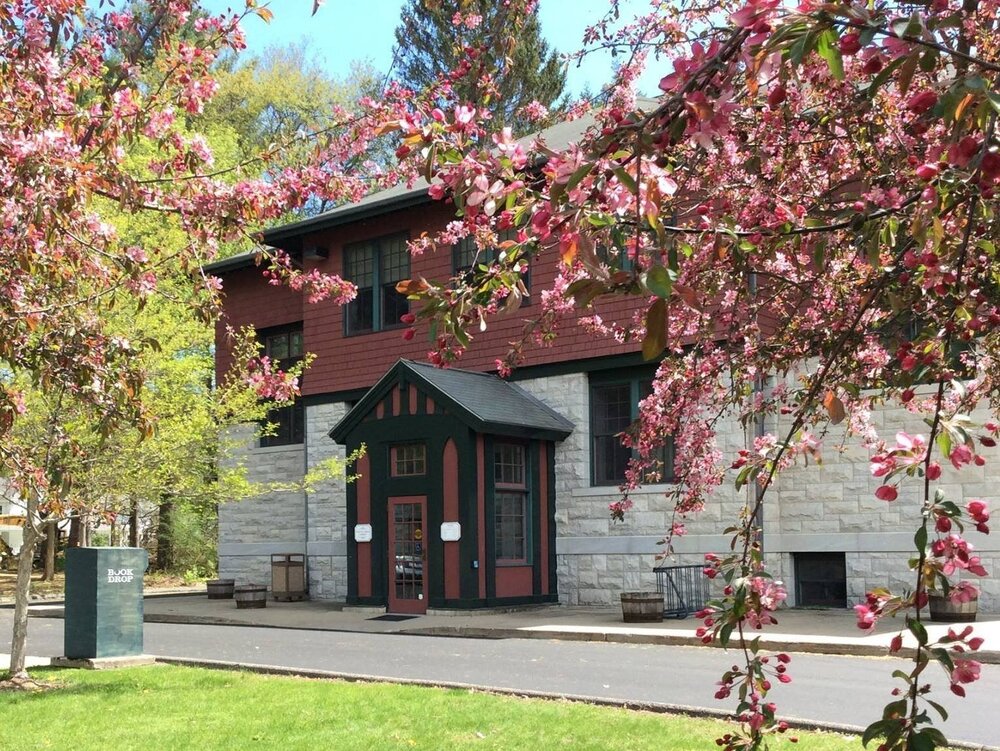 ---
Known for its rich, fertile land and agriculture, Sheffield is a picturesque New England town in the Housatonic River Valley in Western Massachusetts and the oldest town in Berkshire County.
Originally inhabited by the Stockbridge Mahican Indians, settlers purchased the land from Chief Konkapot in 1724.
After some land disputes with neighboring New York, the Town of Sheffield was incorporated in 1733 and remains an important agricultural center in Massachusetts.
Sheffield's past and present-day way of life will take center stage as the Smithsonian Museum on Main Street (MoMS)–"Crossroads: Change in Rural America" comes to the Bushnell-Sage Library from March 26 through May 6, in cooperation with Mass Humanities.
"It's been such a rewarding experience for our community to prepare for Crossroads," said Director of the Bushnell-Sage Library, Deena Caswell. "Those of us on the planning team have deepened the relationship between our various community groups, and having so many local organizations working together is a reminder of the "all hands on deck" attitude needed for success in rural America."
Caswell added, "I'm excited for the people of Sheffield to recognize themselves and their experiences in this exhibit. Sheffield is "where the Berkshires began" – we have families that have been in town for generations, and have seen many new faces that only multiplied during the pandemic. As one of those recent arrivals, working on the Crossroads project has taught me so much about our history and makes me excited about our future. I also am eager for visitors to enjoy our nature, arts, culture, and community as they come to Sheffield."
"Crossroads: Change in Rural America" offers small towns a chance to look at their own path to highlight the changes that have affected their fortunes over the past century. The exhibition will prompt discussions about what happened when America's rural population became a minority of the country's population and the ripple effects that occurred.
Throughout the exhibit, the "Crossroads" theme will connect Sheffield's land, people, identity, persistence, and change to evaluate the town's past, present and future.
"The rural communities of the Berkshires are places with rich histories, brilliant people, and persistent challenges," said Executive Director of Mass Humanities, Brian Boyles. "We applaud the work of our partners in Sheffield to make this Smithsonian exhibit a catalyst for conversation and renewal."
---
---
Throughout the exhibit, the "Crossroads" theme will connect Sheffield's land, people, identity, persistence, and change to evaluate the town's past, present and future.
This unique programming includes:
Sunday, March 26, 3pm: Opening Reception, Bushnell-Sage Library–Celebrate the opening of the traveling Smithsonian exhibit "Crossroads: Change in Rural America." Featuring music by the Lucky Five, food by the Marketplace, and festivities by the Miller.
Friday March 31, 7pm: Growls, Hoots, and Silence at Dewey Memorial Hall–The Wild Animals of Sheffield Dewey Memorial Hall Since the last glacier scraped north leaving tundra behind, wildlife has come and gone many times. What does the future look like? Discussion with slides by Nancy Elle Smith, former Executive Director of Sweet Water Trust and a founder of the Sheffield Land Trust.
Monday, April 3, 7pm: Ashley Falls: A History Through Stories at the Trinity United Methodist Church–The early history of Ashley Falls, the first European settlement in the Berkshires, is documented by records and deeds, letters and newspapers. This program will do something different. Long-term residents, and some with shorter terms, will narrate stories about the village stretching back to the beginning of the last century. Stories heard from parents and grandparents, changes seen and experienced personally will paint a picture of what village life was like then and how Ashley Falls has changed over the last one hundred and twenty years to become what it is today.

April 14-28: Juried Art Show: Rural Berkshires: Always Adapting at Dewey Memorial Hall–This juried show reflects Berkshire County's artists' innovative energy and abilities. Mediums include oil, acrylic, watercolor, collage, quilting, mixed media, and photography. Join us for an opening reception on Friday, April 14 at 6pm featuring our talented artists, the music of Rees Shad and the Conversations, and food & drinks.
Saturday, April 15, 2pm: Oral History Collection Day: Recollections of Sheffield's Black Community in the 20th Century at the Dan Raymond House–The Sheffield Historical Society will conduct an oral history day to record recollections of Sheffield's Black community and its members from the 1900s. If you have family connections, or were a neighbor, classmate, student, friend or acquaintance of members of the community, the Society invites you to share your memories. The oral histories will be added to the Sheffield Historical Society archives, and you will have the choice to have your recording become part of their current research project on the history of Sheffield's Black community between 1781-1915.
Sunday, April 16, 3pm: Pox, Pus, and Creeping Miasma: Disease & Death in 18th & 19th Century New England at Dewey Memorial Hall–Historian Dennis Picard shares a bit about the symptoms, causes, and treatments endured by those in the Berkshires and will show examples of antique medical devices and medicines.
Thursday, April 20, 7pm: Creating Community in Sheffield: A Community Conversation at Dewey Memorial Hall –The past few years have brought big changes to Sheffield. How can old and new neighbors come together to both preserve our history and prepare for a vibrant future? Join us for a spirited and civil conversation. Registration required.
Sunday, April 23, 3pm: Revolutionary War Doctors in the Berkshires at Dewey Memorial Hall–The War for Independence was a catalyst for advancement in medicine for both soldiers and civilians. Dr. Brian Burke & Gary Leveille of the Great Barrington Historical Society will highlight some of the capable physicians who served the Berkshires during and just after the war.
Thursday, April 27, 7pm: Sheffield: Through a Generational Lens at Old Parish Church–A range of local panelists will reflect on socially poignant topics of their generation and how their lives and town have changed. Opportunity for audience participation will follow. Hosted by The First Congregational Church of Sheffield with the conversation moderated by Rev. Jill Graham.
Sunday, April 30, 3pm: Recollections of 20th Century Healthcare in the Southern Berkshires at Dewey Memorial Hall–The 20th Century saw the establishment of modern medicine in the Southern Berkshires, in particular with the opening of Fairview Hospital in 1912. A panel of healthcare professionals who worked in the region will share their recollections of what it was like to give and receive healthcare in the latter half of the 1900s.
Saturday, May 6, 2pm: The Natural (and Human) History of Sheffield at Greenagers Barn –Why is Sheffield an ecological treasure? What does the future look like for wild nature, for farms, for ecological integrity? Greetings by Will Conklin, Executive Director of Greenagers; Angela Sirois- Pitel · Western Massachusetts Stewardship Manager at The Nature Conservancy; Kathy Orlando, ED of Land Protection, Sheffield Land Trust; Rene Wendell, Land Steward, The Nature Conservancy. Registration required.
Mass Humanities will host a reception to celebrate the opening of MoMS in Sheffield with the Rural Policy Advisory Commission on Friday, March 31 at 4pm, at the Bushnell-Sage Library.
---
Over the past year, the staff at Bushnell-Sage Library received extensive training from Mass Humanities and the Smithsonian, along with a $10,000 grant from Mass Humanities to develop public events during the six-week exhibit.
Mass Humanities' local sponsors and partners for the MoMS Sheffield stop include Fairview Hospital BHS, Dewey Hall, Sheffield Historical Society, Sheffield Land Trust, Housatonic Heritage, and Friends of the Bushnell-Sage Library.
Mass Humanities' partners for the statewide tour include the National Endowment for the Humanities, Big Y, and Blue Cross Blue Shield of Massachusetts.
---
Launched in 1994, MoMS is a Smithsonian outreach program that engages small-town audiences and brings revitalized attention to underserved rural communities. The program partners with state humanities councils like Mass Humanities to bring traveling exhibitions, educational resources and programming to small towns across America through their local museums, historical societies and other cultural venues. Exhibitions are designed to engage communities and become a catalyst for conversation about life in small-town America.
Organizations located in towns with populations of 12,000 or less were eligible to apply for the MoMS grant. The six sites chosen for MoMS will have the opportunity for a second-year grant to continue the work and programs they developed as part of MoMS.
MoMS kicked off in Massachusetts in September at the Essex Historical Society and Shipbuilding Museum, traveled to the Hull Lifesaving Museum in October, the Rutland Free Public Library in December, and the Great Falls Discover Center at Turners Falls in January before arriving in Sheffield. Athol Public Library (5/14/2023 – 6/24/2023) will follow the stop in Sheffield and close out the traveling exhibit's tour in the state.
For more information about each activation, including the times and locations, click here.
For further information, contact Program Officer Jen Atwood at jatwood@masshumanities.org.