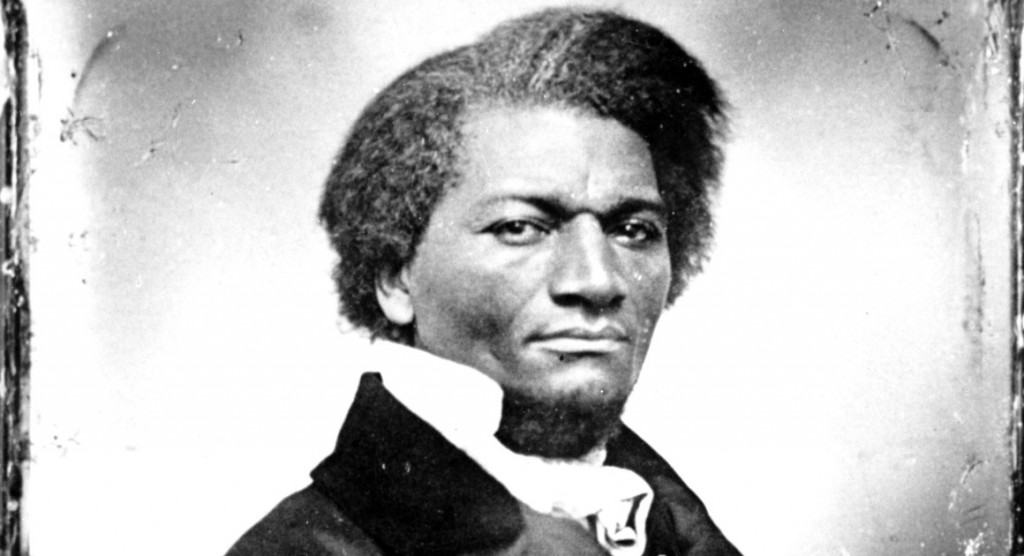 Every summer, Mass Humanities supports public readings of Frederick Douglass's famous Fourth of July address, "What to the Slave is the Fourth of July?" in communities around the state. Grants for up to $2,000 are available on a rolling basis. Click here to learn more.
People of all ages take turns reading parts of the speech until they've read all of it. But why? What's the purpose of reading Douglass's speech in public? What happens when we read it together? And how is the speech relevant today? We reached out to five people actively engaged in organizing their community's Douglass reading to get their thoughts. Enjoy!
CEDRIC ARNO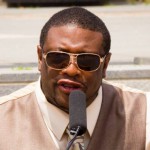 I believe the purpose in Reading Frederick Douglass's speech is the power a person gets in telling his oppressor, "I've had enough." It's a chance to publicly demonstrate truth to power. The speech is filled with eloquent, rhythmic patterns transcribing the landscape of America as a slave viewed it, written for those who didn't know the words or have the platform to say them. It's a public condemnation of slavery and a bellowing of, "I know what you are doing, I see what you are doing, I'm saying something about it."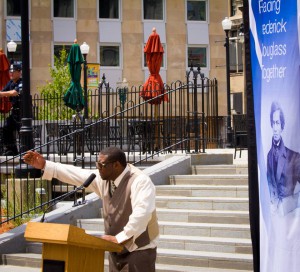 The hypocrisy shown to slaves in US history is the same shown to Native Americans, to the Irish, to many more. These are commonalities that can bring Americans together. We can fight injustices together if we hear our common struggles. So reading the speech out loud and in public has a second purpose: to bring us together to create a more perfect union.
The speech is relevant because of an unresolved illness that plagues America to this day: what to do with the slave, the Negro, the black man? Slavery was America's greatest illness. The enslaved mentality is still perpetrated onto black people, brown people—anyone whom the power structure views as "other." In that way, the speech couldn't be more relevant.
Cedric Arno is the Executive Producer of Music Mania Television and plays a key role in Future Focus Media Co-op and Youth Training Institute in Worcester. Email Cedric.musicmaniatv@gmail.com or visit http://bit.ly/2szLaW3 for more information.
LEE BLAKE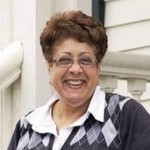 When we read Frederick Douglass out loud, we listen to the power of his words echo off the walls and around the room. It's a powerful thing to listen to different people reading his words and questions, some of which our society still struggles with just as much now as in 1852. After the speech, we take time to reflect on contemporary issues such as immigration, prison reform, and social and racial justice. We pause in our commemoration of Douglass's life to ask: what issues would he be championing now? What should we be addressing and how?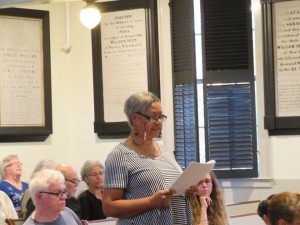 The speech could not be more relevant in a time when white supremacy and racism are on the uptake; when people seeking sanctuary at our country's borders are stopped and turned back; when women are once again losing control of our bodies through federal actions. We don't just want to celebrate the past; we want to use the past to light the way to a more inclusive future.
Lee Blake serves as the President of the New Bedford Historical Society and Director of the Campus Compact, University of MA Dartmouth. Email info@nbhistoricalsociety.org or visit nbhistoricalsociety.org or more information.
DAVID HARRIS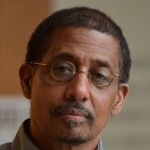 On this, the tenth reading of the speech, an event originally entitled "Reading Frederick Douglass in the Era of Barack Obama," I am reminded of Obama's words shortly after his election: "I have never been so naïve as to believe that we can get beyond our racial divisions in a single election cycle." At the time I wrote in the Boston Globe that "the true meaning of that election is not that we are relieved from talking about race but that we are relieved to talk about it." Last year was an equally dramatic reading as we entered the era of Donald Trump. Reading Frederick Douglass in the era of Donald Trump has certainly put the lie to post-racialism. Indeed the need conduct the reading is heightened by the tenor of today's talk about race. In light of the growing intolerance that characterizes a great deal of public discourse, it is all the more important not only to reflect on Douglass's words but to do so in community.
In that Globe article I quoted with optimism Douglass's words: "While drawing encouragement from the Declaration of Independence, the great principles it contains, and the genius of American Institutions, my spirit is cheered by the obvious tendencies of the age." Although it is difficult, if not impossible, to cheer in the tendencies of our age, these days I find my anchor in Langston Hughes' Let America be America Again.
…Let America be the dream the dreamers dreamed—
Let it be that great strong land of love
Where never kings connive nor tyrants scheme
That any man be crushed by one above.
(It never was America to me.)…
…O, yes,
I say it plain,
America never was America to me,
And yet I swear this oath—
America will be!
It is in this spirit that we gather again to read Frederick Douglass.
David Harris is the Managing Director of the Charles Hamilton Institute for Racial Justice, Harvard Law School and former chair of Mass Humanities board of directors. 
WENDY JOSEPH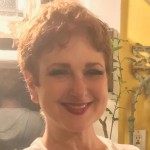 The purpose of the public reading, in my opinion, is to educate and inspire. Oftentimes people have never heard of this speech; the prose is wonderful, and the message makes them pause to reflect. Communal readings are also an essential part of place-making, whether it's a physical space or a community coming together. When we read it together, the words ring out; you feel the genius of the words and the message. As one teenager said, "I never feel as smart as when I'm reading the words of Frederick Douglass aloud."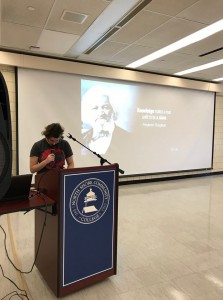 In terms of relevance: every year (and this will be my eighth year), we say, "It can't get more relevant"–but it does. Whether it is gun violence, police brutality, civil war monuments issues–each year as we gather our songs for social justice (which is how we begin our program) we keep what has happened the previous year in mind.
In addition, Douglass offers us insights into the hypocrisy of political and religious powers by speaking the truth. The enduring message from Douglass is that knowledge and education is the people's best way to get to the truth. Once you know the truth, you can raise your voice for change.
Wendy Joseph co-chairs the LynnDouglass200 Bicentennial Committee. Email wendy_joseph@mac.com or visit http://bit.ly/2xXtnNw for more information.
LYNN SMITH


We read Douglass's speech out loud for two reasons: to build community, and to honor the words by reading them with witnesses. The very act of putting aside time, committing to being together, and making a space where everyone is welcome elevates the experience. Additionally, saying something out loud, with witnesses, and owning it as a community can change the world. With Douglass, it's knowing how he struggled to learn to read and write; understanding his commitment to knowledge; and empathizing with the fact that even with his dignity, people assumed he was ignorant and incapable of oratory of any kind. "Oppression makes a wise man mad. Must I undertake to prove that the slave is a man?" We read, and we watch each other's heads go up and down, and we are one in thought.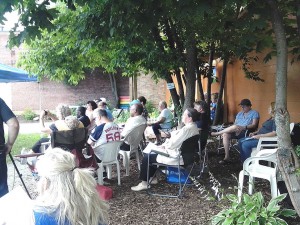 In terms of Douglass's relevance to the current day, he hits on themes of isolationism quite well: "No nation can shut itself up from the surrounding world." But he also gives hope, saying, "I do not despair of this country…the day will come when feuds will end, and foes will change to faithful friend." So don't despair! Come together, share in community and humanity, and create a beloved community.
Lynn Smith is the President of Frederick Douglass Neighborhood Association in Brockton and a Brockton Historical Society volunteer. Email fdnabrockton@gmail.com or visit douglassbrockton.org for more information.