Museum on Main Street "Crossroads: Change in Rural America" makes stop at Great Falls Discovery Center
---

---
Originally known as Peskeompskut, the area of Turners Falls was once inhabited by Indigenous Tribes prior to European contact. After 10,000 years of continuous Indigenous habitation, Turners Falls became one of five villages established along the Connecticut River in Montague, MA during the mid-19th Century.
Founded in 1868 as a planned industrial community to harness the immense power of the local waterfalls, Turners Falls has undergone numerous changes over the past two centuries.
Turners Falls' past and present-day way of life will take center stage as the Smithsonian Museum on Main Street (MoMS), in cooperation with Mass Humanities, rolls into the Great Falls Discovery Center, Turners Falls from Feb. 5 through March 18.
"Like the whole of America, Franklin County has seen transformation and depression, ebbs and flows," said Sarah Doyle, Secretary of the Friends of the Great Falls Discovery Center Board. "The Friends of the Great Falls Discovery Center are excited to bring the Smithsonian's Crossroads exhibit to Turners Falls so that we all may explore together the unvarnished and beautiful history of this community, and where we are today, within the context of the country at large."
Crossroads: Change in Rural America offers small towns a chance to look at their own path to highlight the changes that have affected their fortunes over the past century. The exhibition will prompt discussions about what happened when America's rural population became a minority of the country's population and the ripple effects that occurred.
---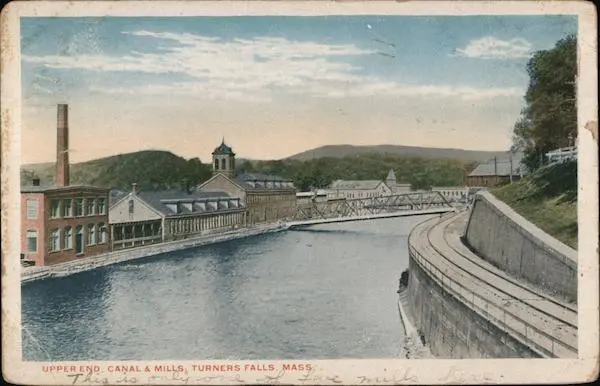 ---
Throughout the exhibit, the "Crossroads" theme will connect Turners Falls' land, people, identity, persistence, and change to evaluate the town's past, present and future.  
Over the last several months, the Great Falls Discover Center, Turners Falls has worked with the Smithsonian, Mass Humanities and local partners to create additional exhibitions and programming that ties Turner Falls to the Crossroads theme.
Mass Humanities' local sponsor for the MoMS Turners Falls stop is Greenfield Savings Bank.
Other local sponsors and partners participating include Friends of the Great Falls Discovery Center, the Department of Conservation and Recreation, the Town of Montague's RiverCulture, the Pocumtuck Valley Memorial Association, Montague Public Libraries, and New England Public Media.
Mass Humanities' partners for the statewide tour include the National Endowment for the Humanities, Big Y, and Blue Cross Blue Shield.
Over the past year, the staff at Great Falls Discover Center received extensive training from the staff of Mass Humanities and the Smithsonian, along with a $10,000 grant from Mass Humanities to develop public events during the exhibit, which will be on display for six weeks.
"The partnerships and conversations planned by the team at Great Falls Discovery Center reflect a deep commitment to the Turners Falls community," said Brian Boyles, Executive Director of Mass Humanities. "We look forward to learning from their innovative approach to Museum on Main Street."
---
---
This unique programming includes:
Saturday, Jan. 28 at 1pm: Photo Beat, Past and Present–Moving Forward in Time, Capturing of the Moment–Meet Joe Parzych and enjoy light refreshments. His exhibit, Photo Beat, Past and Present— Moving Forward in Time, Capturing of the Moment, captures changes in local rural life.
Friday, Feb. 3, Feb. 10, Feb. 17, Feb. 24, and March 3 at 1pm: Nice & Easy Walk: Crossroads Edition–An easy-paced, 1 to 2-mile guided walk, along the Canalside Rail Trail or downtown Turners Falls, geared for seniors, but open to all ages. Join others seeking fresh air and exercise. A DCR Park Interpreter highlights local history, weaving in topics from the Crossroads: Change in Rural America exhibit.
Sunday, Feb. 5 at 1pm: Crossroads Exhibit Ribbon Cutting–Come be the first to see the Smithsonian Exhibit, Crossroads: Change in Rural America, in Turners Falls! Get the scoop on how rural America has changed since 1900. The Friends of the Great Falls Discovery Center board members, expert hosts of the monthly Great Falls Coffeehouse series, provide coffee and refreshments for this big day.
Saturday, Feb. 11 at 6pm: Crossroads Kickoff–Join us at the Shea Theater Arts Center in Turners Falls to jump start your Crossroads experience with storytelling, a short local film, and live music. Hear an introduction to the Crossroads exhibit and related programming with Leo Hwang, UMASS Amherst Assistant Academic Dean. Enjoy the documentary short film, "A Sweet Tradition," by filmmaker Steve Alves that highlights the local family tradition of making maple syrup. New England Public Media presents storytellers featuring local points of view on contemporary Franklin County life, the most rural mainland in Massachusetts.
Saturday, Feb. 18 at 1pm: Crossroads: Franklin County Industrialization–Find out what industries were created throughout Franklin County, before, during and after industrialization of the Turners Falls canal. Learn how much industrial activity there once was along the streams and rivers in some of our now-quiet towns and villages and how that activity related to the larger industries in our region.
Sunday, Feb. 19 at 4pm: Crossroads Artist Reception: Montague at Work and Play–This exhibition of digital illustrations was originally published in the Montague Reporter between 2019 and 2022. Created by local artist and Turners Falls resident Nina Rossi, the illustrations depict scenes of local daily life.
Saturday, Feb. 25 at 1pm: Crossroads: Cutlery and Hand Tools–Join silversmith Steve Smithers as he explores the story of the first tradesmen/artisans who came to Greenfield and the surrounding towns in the late 18th century, which eventually led to the emergence of the great metal industries of our region.
Tuesday, Feb. 28 at 6pm: Crossroads: Food for Thought, Soup Night, Quiz Night, and Community Conversation–Enjoy delicious locally prepared soup and join your Franklin County neighbors in a dialog about food, farms, and food insecurity. Registration required.
Saturday, March 4 at 4pm: Crossroads Event: Recovering Indigenous Histories Along the Kwinitekw (Connecticut River)–A Talk with Dr. Margaret M. Bruchac (Nulhegan Abenaki), Associate Professor of Anthropology at the University of Pennsylvania. Indigenous histories in the valley of the Kwinitekw are long and deep, tracing back to glacial times and marked by many, many generations.
Sunday, March 5 at 1pm (Deerfield) and Monday, March 10 at 10am–Montague Center: Crossroads: Rural Landscapes: Painting Workshops (Deerfield)–Artists have long celebrated the beauty of Franklin County's rural landscape. Be one of them as you create your own small abstract land and waterscapes inspired by the views around us. Adults and teens of all skill levels will find their creativity unlocked in this fun introduction to the River Gallery School's Sequencing approach. Free. All materials provided. Bring an art apron if you have one. Presented by the Pocumtuck Valley Memorial Association in Deerfield and co-sponsored by Tilton Library in South Deerfield and Montague Public Libraries.
Sunday, March 12 at 3pm: Deepening the Power of Place: Exploring our Cultural Crossroads through Story, Song and Spoken Word–Join us for Crossroads Closing Event with Erica Wheeler and Andre StrongBearHeart Gaines, Jr. Singer/songwriter Erica Wheeler's keynote concert celebrates our connections to Franklin County with a performance at the Shea Theater Arts Center. This will be followed by "Social Songs & Spoken Word Poetry: The Confluence of Traditional Eastern Woodlands Social Songs and Modern Spoken Word Poetry," composed and performed by Nipmuc Tribe citizens Andre StrongBearHeart Gaines, Jr. and his nephews, Daishuan Reddeer Garate and Miguel Wandering Turtle Garate. This performance will explore the common themes that connect ten-thousand-year-old traditional Indigenous social songs with modern day Spoken Word poetry.
---
Launched in 1994, MoMS is a Smithsonian outreach program that engages small-town audiences and brings revitalized attention to underserved rural communities. The program partners with state humanities councils like Mass Humanities to bring traveling exhibitions, educational resources and programming to small towns across America through their local museums, historical societies and other cultural venues.
MoMS kicked off in September at the Essex Historical Society and Shipbuilding Museum, traveled to the Hull Lifesaving Museum in October, and arrived in Rutland Free Public Library in December before coming to the Great Falls Discover Center at Turners Falls. Turners Falls will be followed by stops at the Bushnell-Sage Library, Sheffield (3/26/2023 – 5/6/2023) and Athol Public Library (5/14/2023 – 6/24/2023).
Organizations located in towns with populations of 12,000 or less were eligible to apply for the MoMS grant. The six sites chosen for MoMS will have the opportunity for a second-year grant to continue the work and programs they developed as part of MoMS.
---
For more information about each activation, including the times and locations, click here.
For further information, contact Jen Atwood at jatwood@masshumanities.org.