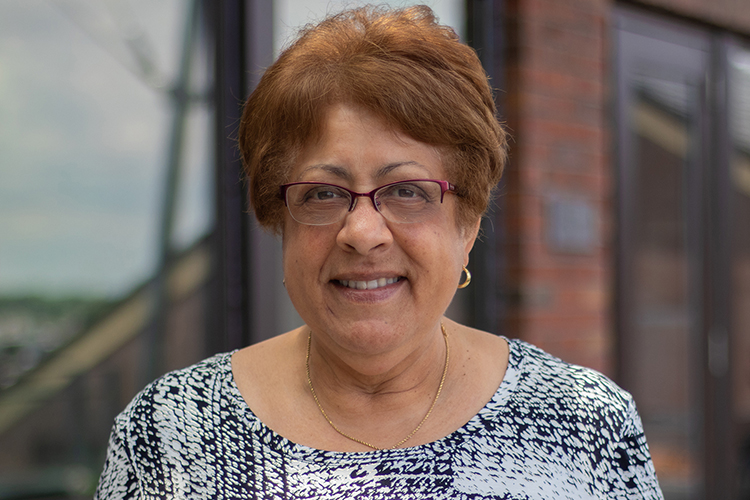 By Lee Blake, President, New Bedford Historical Society
2019 Governor's Awards in the Humanities Honoree.

Join us on 10/27 to celebrate her achievements.
When I was in high school in the 60s, I was fascinated by the politics of the day. Martin Luther King was coming up, people were talking about black resistance, the Vietnam War, and how to organize and I didn't know anything about that. I wanted to be able to discuss the issues, but I couldn't find any information. I began to organize students and we demanded African American studies classes and African American afterschool programs. This was done out of our need to connect to our own identity and to have positive images of black people.
I was born and raised in New Bedford. I attended UMass Amherst and UMass Dartmouth in the early 70s. At that time, it was very hard for people of color to get into college, but I knew that college was the place where I would learn more, and where I would be in a position to earn more. I was in the second UMass class to integrate and my experiences there were really pretty bad. There were about 15 of us from New Bedford who enrolled with other people of color from around the state. We were each put in a different dorm. None of the women in my dorm would speak to me for the whole semester.
When I graduated, my first job was teaching African American studies classes at my high school in New Bedford. After four years, I moved to New York where I worked to integrate the construction unions.  Then I worked for the first African American mayor of New York as director of education for the city. I worked with all the school systems and also the state, addressing urban education issues on the elementary and secondary level.
I moved back to New Bedford after 20 years or so, just before September 11, seeking more community involvement in New Bedford's development.
New Bedford is extremely diverse and has a strong history with the Underground Railroad. There are large Cape Verdean, Portuguese and African American populations as well as many other ethnic groups that were all brought here through the whaling and textile industries. It's a culturally rich community.
At the New Bedford Historical Society, where I have been president for eight years, we work with other organizations to make sure that voices from all corners of our community are heard through events that go on in the city. It is our role to preserve New Bedford's history for people of color.
The National Endowment for the Humanities has awarded us five grants relating to New Bedford's Underground Railroad and Frederick Douglass. Not everyone knows that Frederick Douglass and his wife, Anna, lived in New Bedford for a time.  In fact, Frederick gets the name Douglass here in New Bedford and in 1842 voted for the first time in local elections.  A number of well-known abolitionists lived in New Bedford before they moved to other parts of the country; this included Lewis Hayden, John Jacobs, brother to Harriet Jacobs, and Jeremiah Sanderson, an educator who founded schools for children of color in California.
In partnership with UMass Dartmouth, I hosted several summer workshops where we invited approximately 80 teachers from around the country each summer to learn about the Underground Railroad from the maritime perspective. We created a movable campus using historical sites here in New Bedford that were involved at that time. We held lectures at the Quaker meeting house, New Bedford Whaling Museum, and other historical sites so that people would get a flavor for and understand these places' role in American history.
It is important to understand that things have changed for people of color in our country. Part of my work with the Historical Society is to make sure that people recognize these changes and to include the voices of people of color in the historical narrative of the city. People here in New Bedford, but really people across the United States, have struggled to move the country forward. When I'm working with the historical society and our focus is on African American history, Native American history, Cape Verdean history and the Underground Railroad, what we are doing is making sure that the environment that we live in supports multicultural and multi-racial history.
When I was young, I would have loved to hear these stories. They are inspiring—so tangible and touchable. The Underground Railroad was something people believed in. They supported people; they helped people while they were here in New Bedford and then helped them move on. Committees were formed to help buy people's freedom. These are the kind of empowering stories that young people want to hear about. This is what the humanities do!