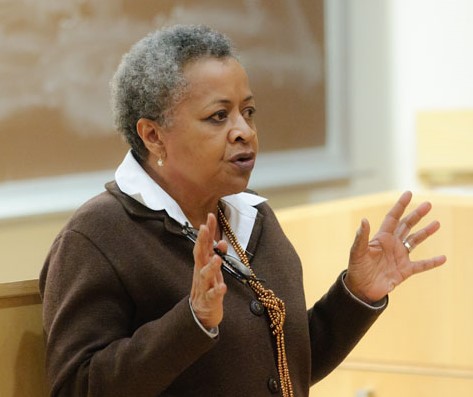 Professor Margaret A. Burnham is a globally recognized expert on civil and human rights, comparative constitutional rights, international and criminal law. She was the first African American judge in Massachusetts.

Margaret is a University Distinguished Professor of Law at Northeastern and Director of the Civil Rights and Restorative Justice Project, as well as the faculty co-director of the Northeastern School of Law's Center for Law, Equity and Race (CLEAR).

Under Margaret's leadership, CRRJ investigates racial violence in the Jim Crow Era and other historical failures of the criminal justice system and serves as a resource for scholars, policymakers and organizers involved in various initiatives seeking justice for these crimes.

Margaret headed a team of outside counsel and law students in a landmark case that settled a federal lawsuit. CRRJ's investigations are widely covered in the national press, including a PBS Frontline documentary series, "Un(re)solved."

In 1993, South African President Nelson Mandela appointed Margaret to serve on an international human rights commission to investigate alleged human rights violations within the African National Congress.

In 2021, President Joe Biden nominated Professor Burnham to serve as a member of the Civil Rights Cold Case Records Review Board and the U.S. Senate confirmed her appointment in 2022. The board is charged with reviewing the records of Civil Rights Era cold criminal cases of murders and other racially motivated violence that occurred between 1940 and 1979.

Margaret is being honored for her lifelong dedication to protecting civil and human rights around the world.
---
Mass Humanities: As a University Distinguished Professor of Law at Northeastern , you have become an internationally recognized expert on civil and human rights. What or who led you down the path toward your career?

Margaret Burnham: Mine is not an unusual story. As did hundreds of other college students, I left my home in the Northeast and went on the prowl for some "good trouble" in the South in the 1960s. I landed in Jackson, Miss. in 1964 and there I was tutored by a local woman named Hazel Palmer. Canvassing by her side, I learned how to talk to utter strangers, black and white, about democracy, rights and race. And she taught me when to pull back from the violence that loomed rampant over our project. Years later, when explaining First Amendment law to students at Northeastern, Hazel Palmer's clear voice would come back to me. What stayed with me was the fortitude and certitude that she brought to the work. She had parented eight children, and for some reason, not, it seemed to me, justified by her situation in life, she took for granted that these were her rights, her country and her fight. These women who challenged Mississippi's political leaders at the 1964 Democratic Party Convention in Atlantic City–Fannie Lou Hamer, Victoria Grey, Hazel Palmer–were my most influential early teachers. My mother, who is 108 years old, lives in Boston with me. Most parents would bewail their children leaving college with just a shadow of a plan. But my mother encouraged me to go, knowing there was a classroom there and Hazel Palmer who awaited me. How right she was.
MH: The Civil Rights and Restorative Justice Project at Northeastern investigates racial violence in the Jim Crow era and other historical failures of the criminal justice system. CRRJ serves as a resource for scholars, policymakers and organizers involved in various initiatives seeking justice for these crimes. Can you tell us a little bit about what inspired you to begin this work?

MB: In 1964, alongside Hazel Palmer, I was an organizer for the Student Nonviolent Coordinating Committee in Jackson. In May of that year, about seventy miles away in Meadville, Miss., the Ku Klux Klan lynched two nineteen-year-olds. In 2007, I met the family members of the young men and, with my students, pursued a lawsuit on their behalf. Thereafter, we learned that there were thousands of families who had lost relatives to lynching and other forms of historical homicidal racial violence in the mid-twentieth century. Civil or criminal remedies would, in most cases, no longer be available, but at the law school we could piece together the facts for the families, inform them on legal matters, and include the victims' experiences in the cavernous archive of African American resistance. The federal government was also engaged with these cases, although its brief was limited. We've worked with hundreds of families over the years and learned a lot about the violence that enforced Jim Crow, and the antagonistic legal system that sustained it. The stories are collected in our archive; we've released a thousand cases, most of them previously effaced. Ours is not merely a project of historical excavation and amplification; it is also a demand for redress and recognition, and hence it sits within the larger global call to repair past racial and colonial harms.

MH: Your work has been dedicated to protecting civil and human rights by exploring history, illuminating truth and confronting injustice. Can you talk a little bit about the interconnection between the humanities and the work you do?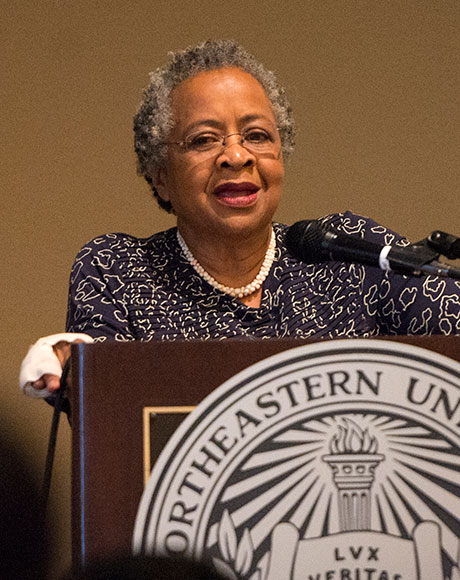 MB: This takes me back to the archive–not ours in particular but the archival project. Its raison d'étre is to capture and record the past, but in doing so, the archive alerts us to its inherent insufficiencies. This, of course, is the conundrum the humanities address: how to nail down what we do not, and perhaps cannot, know. All that we can record is what is materially available to us, but that is not all we know about a specific past event. One must take on the archive's gaps and silences, sometimes inadvertent, sometimes intentional, if the archive is to be meaningful. In order to fully capture the past, the insights of scholars working in the feminist vocabulary like Saidiya Hartman and Hortense Spillers exemplify the need to "confabulate" in the interstices of established facts. Nor is it just its lacunae that delimit the archive, or, for that matter, any scholarly product that sets out to "capture" history. The archive is an interpretation that must itself be interpreted, for without translation–fiction, music, the visual arts–the archive is incomplete. The power of history is not diminished when it merges with story, nor are facts corrupted by fiction. It is, after all, Beloved that renders Margaret Garner's history fully legible. Archival work on the violence visited on black people must also respond to the political question of whether collecting the data more harms than good. I'm reminded here of Hilton Als' comment in response to the exhibition of lynching photographs, Without Sanctuary. Why, he asks, must we continue to "drag all those lynchings around?" And he asks, as we research and write about these things, do we not become the cliché we mean to critique: the colored person writing about the violated colored person for the benefit of white spectators? Artists, and perhaps only artists, can reveal what is yet to be seen in what we've witnessed before, and why it deserves, again, our attention.
MH: Recent Supreme Court rulings reducing Women's Rights and striking down Affirmative Action, as well as the scaling back of Black and LGBTQA+ History courses at the high school and college levels in some states, are major issues in the United States. What role can the humanities play in empowering people here and across the country to become more engaged in the most pressing issues of the day?

MB: An appreciation of both the periodicity and continuity of human experience is at the heart of the humanities. In my work, for example, we ask why events 80 years ago still impact the behavior of those with no direct experience or personal memory of the trauma. How do we make sense of a legacy that continues to shape us today? And can we get beyond it? The explanatory reach of science falls short here.
What makes the humanities exciting is the window these disciplines open up to the unknown. Unlike science, they accept that there are no linear, causal explanations for why humans treat each other as they do. And yet our purpose must be to find our individual place within the seemingly inexplicable. We can and should study and account for the practices, attitudes, beliefs, rituals, symbols and ideas that constitute societies. We can catechize the moral from the immoral, but the humanities are more than a didactic project. They ask us to imagine a different world: a decolonialized, deracialized, shared future on an imperiled planet. And they call on us to exalt the reality that old truisms–the gender binary, for example–will inevitably give way to new understandings of human plasticity. They should induce us to action, to get our hands dirty and to appreciate that change is always possible and contestation inevitable. The orthodox, the normal, can always be disrupted; dissent in the service of justice and equality is a human obligation; and that victories can be lost. The humanities invite a robust moral and political discourse, one that is based on evidence but acknowledges that evidence, while critical, is also partial.

MH: How do you think the humanities can help us navigate these times of division?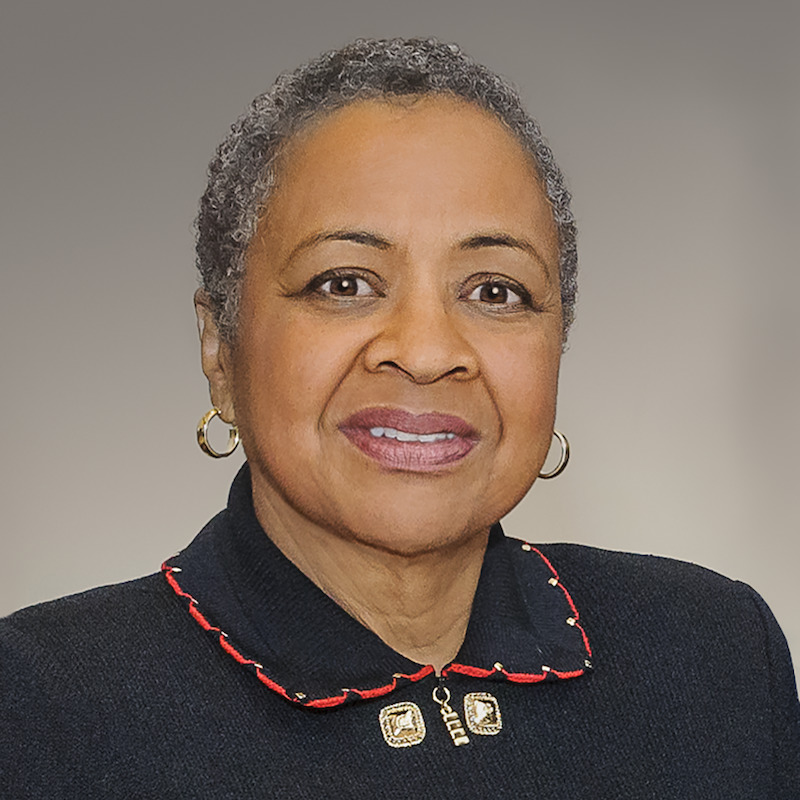 MB: The humanities help us see beyond our neighborhood. I often share an example with my students from my days as a judge in Boston. I worked in downtown courts, and many of the customers were people of color. Back then, you were appointed to judge in your "neighborhood," metaphorically speaking. Judges can easily become hardened to the sight of chains on an African American kid, which can lead one to conclude that the two were made for each other: black young men and chains. One year, during a blizzard, court officers picked me up at my home in Dorchester and took me to a court in a white neighborhood. As I hopped on the bench there, I was taken aback when I saw that the cuffs were all on white kids. The incident forced me to reconsider the correlation between chains, class and racial identity. This dissonance made it plain that what one sees is never the whole picture; one "sees" through a lens that is culturally and experientially specific. Cultural myopism limits us all, preventing us from taking on counter-narratives and "otherness." One must study to get the whole picture, to "see" beyond the neighborhood. Without study–and reading fiction and listening to music are "study"–we walk through the world with blinders.
---
Come meet Margaret Burnham and hear her speak at the 2023 Governor's Awards in the Humanities on Thursday, Sept. 28, at 6:30 p.m. at the John F. Kennedy Presidential Library and Museum in Boston.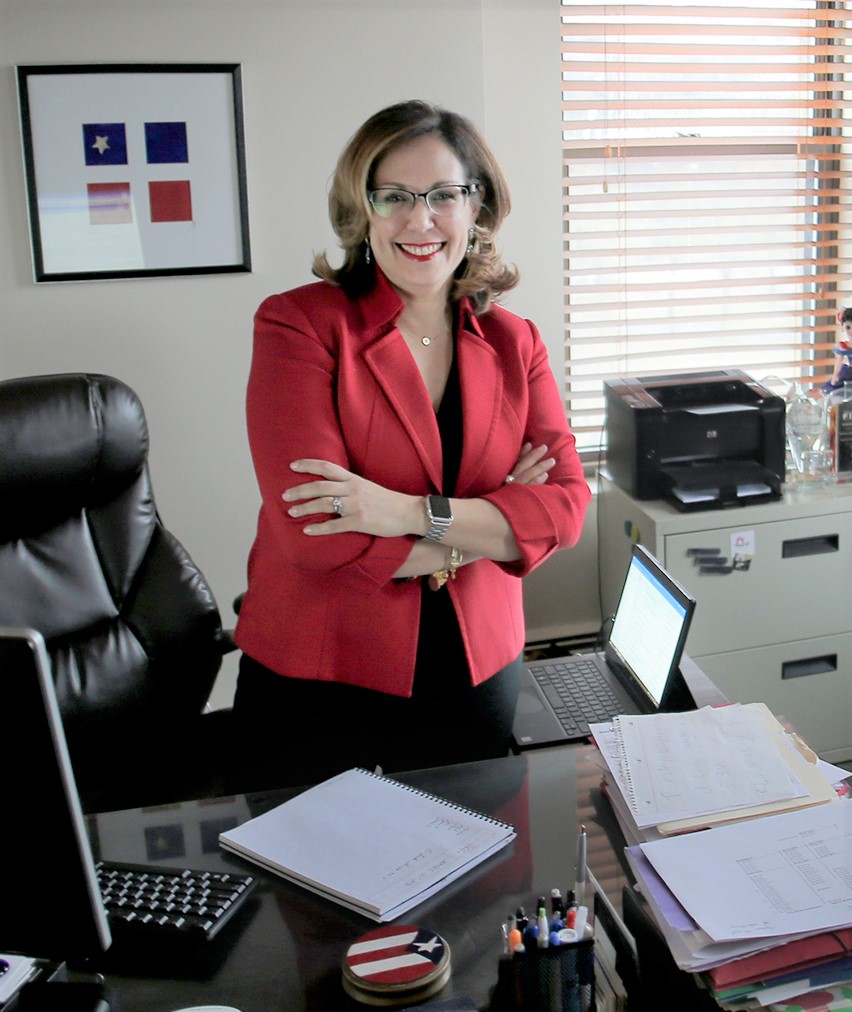 Vanessa Calderón-Rosado is the CEO of Inquilinos Boricuas en Acción (IBA) in Boston and has had a long and multifaceted career demonstrating a commitment to the humanities.
Under Vanessa's leadership since 2003, IBA has become the largest Latino-led nonprofit organization in Eastern Massachusetts, with over $250 million in assets and a portfolio of 667 affordable housing units in its South End Villa Victoria developments in Roxbury and Mattapan.
Vanessa was selected as a Barr Fellow in 2009, and in 2010, she became the first Latina to be appointed to the Massachusetts Board of Elementary and Secondary Education.
In 2022, her work elevating education, community development and philanthropy in Boston led to the Greater Boston Chamber of Commerce recognizing Vanessa with the Distinguished Bostonian Award.
At this year's Governor's Awards in the Humanities event, Vanessa is being honored for her work that actively promotes Latinx culture and for her contributions to shaping a more equitable philanthropic ecosystem in Massachusetts.
---
Mass Humanities: As CEO of Inquilinos Boricuas en Acción, you have committed yourself to the humanities within education, community development and philanthropy in Boston and across the state. What or who led you down the path toward your career?
Vanessa Calderón-Rosado: My love for the humanities started at a young age. My family was creative, artistic and musical. My late mom was a registered nurse but also a gifted poet, writer and a talented singer and multiple family members have meaningful talents in the creative and performing arts. Clearly, I had the privilege of having an upbringing that valued the arts, theater, music, dance, literature and the humanities. These experiences helped me develop a passion for reading, a gusto for arts and culture and a love for the humanities at an early age.
Like many individuals, my career path has not been linear. My undergraduate degree was in elementary education, and my first job out of college was as a third grade teacher in my native San Juan, Puerto Rico. As a third grade teacher, you get to teach all subjects and I always sought to connect the dots between science, literature, math, music, social studies and arts. Students enjoyed writing poems about the solar system, counting the metrics and predicting the rhythmic probabilities of a familiar song and drawing expressive maps of their neighborhood or community.
I have continued integrating the humanities into my life and my work. Inquilinos Boricuas en Acción is a nationally recognized community development corporation that empowers individuals and families to improve their lives and achieve socio-economic mobility through high-quality affordable housing, education, financial and resident empowerment and arts programs. IBA's holistic approach to community development reminds me of the value of the humanities in the holistic education of my third grade students!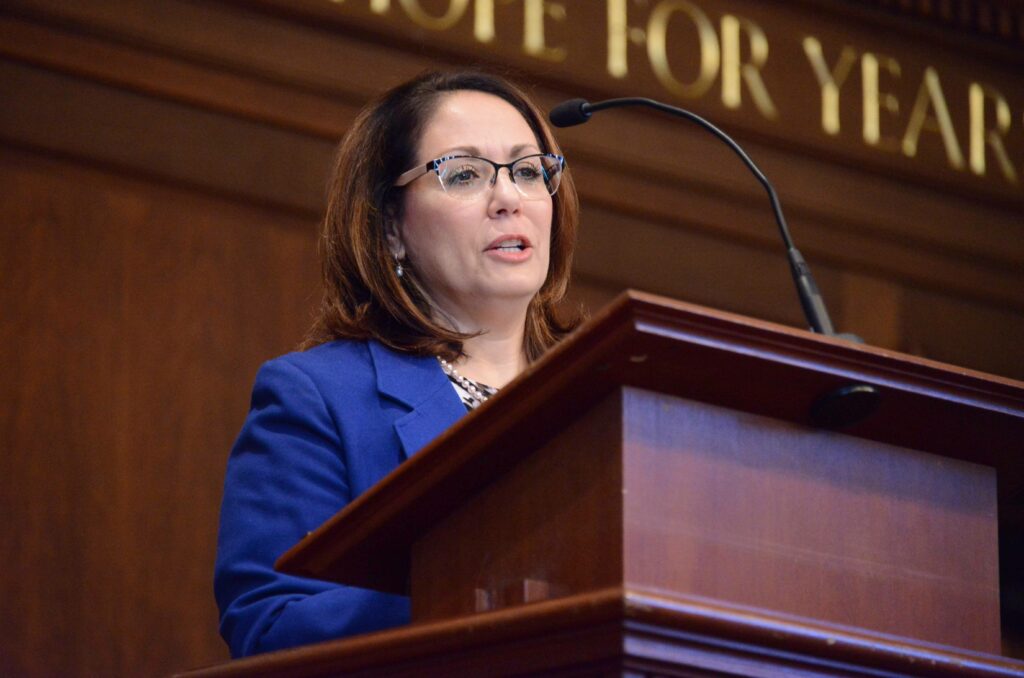 MH: Inquilinos Boricuas en Acción promotes Latinx culture and builds community through the arts in Boston's South End. Can you tell us a little bit about what inspired you to begin this work?
VCR: The intersection of the arts, culture and community development has been at the heart of IBA's work since our inception in 1968. IBA was founded by a group of Puerto Rican activists who stared down the city's urban renewal bulldozers and revitalized the neighborhood by developing affordable housing, creating community programs and driving economic opportunity for the residents. Our founders knew that the arts were central to those efforts, not only to celebrate our history, heritage and roots but also to build a thriving community.
I wholeheartedly agree with their vision! Every day, I see the transformative power of the arts in the education of our children and youth, in family engagement, in generating economic opportunities, in fostering intergenerational and multicultural dialogues, in making our community safer and stronger. I am proud to continue their legacy today. Our work in the arts and culture promotes Latinx arts and artists, and it also helps open up conversations and expand points of view within our community and between our Puerto Rican/Latinx community and other communities. Furthermore, IBA's work in the arts creates connections and shares our cultural values to build bridges between people.
MH: As you've shared, IBA is dedicated to empowering and engaging individuals and families to improve their lives through affordable housing, education and arts programs. Can you talk about the interconnection between the humanities and the work you do?
VCR: IBA's community and economic development work is rooted in providing affordable housing and creating opportunities for low-to moderate-income children, youth and families. Our innovative, award-winning programs not only rely on research and best practices but also on creating dialogues in communities and amplifying the voices of the people we serve and represent. An optimal mechanism for accomplishing that is by integrating the arts and the humanities in this work.
Our efforts to expand and increase social capital in our community through community organizing, early childhood education, youth development, and community arts are just a few examples of how IBA incorporates the humanities into building vibrant, civically engaged, prosperous and healthy communities. Additionally, IBA's arts programs bring joy to our community and help build the fabric of our city.
I personally believe that a well-rounded individual in one who has a wide range of abilities and interests and is knowledgeable, multi-talented and empathetic. I know that the humanities provide the tools to become a well-rounded individual. I am committed to ensuring that the individuals that we serve in our community are granted every possible opportunity to be well-rounded people, and thus, keeping the humanities as part of our core is critically important.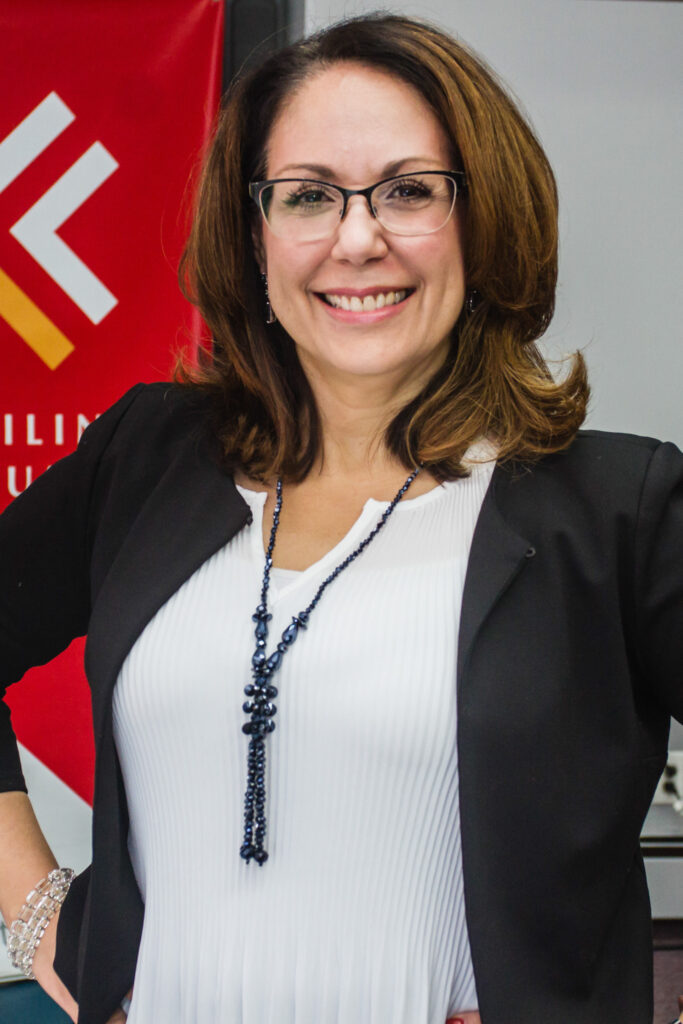 MH: Recent Supreme Court rulings reducing Women's Rights and striking down Affirmative Action, as well as the scaling back of Black and LGBTQA+ History courses at the high school and college levels in some states, are major issues in the United States. What role can the humanities play in empowering people here and across the country to become more engaged in the most pressing issues of the day?
VCR: For me, it is simple: the humanities help us understand the world's different perspectives and open the space for dialogue. Understanding history, reading literature and non-fiction pieces and exploring and experiencing the arts–traditional and contemporary–help us expand our views of the world, comprehend our own set of values and biases, fight for justice and strive for a more equitable world.
The erosion of the humanities in our education system, public dialogues and political discourse has led us to a dangerously narrow social mentality that is incapable of understanding the beauty of our complex human nature and has pushed our policies to extremist views that are exclusionary, disempowering, unjust and inequitable.
We can defy that. We must empower people by holistically integrating the humanities into our K-12 and higher education systems, as well as in community-based work.
MH: How do you think the humanities can help us navigate these times of division?
VCR: The humanities open the space for dialogue, empathy, kindness, joy and understanding. These are fundamental elements for the well-being of the human spirit and the creation of an engaged and healthy civil society. In today's divided society, we often miss these fundamental elements, creating precariously segregated factions that are at odds and in conflict with each other. I believe that we can overcome these divisions, and the humanities are the vessel to help us reach that promised harbor.
St. Augustine said, "Hope has two beautiful daughters; their names are anger and courage. Anger at the way things are, and courage to see that they do not remain as they are." I am hopeful! We must act collectively with a full dose of anger and courage and lean into the humanities to bring people together and create space for dialogue, empathy, kindness, joy and understanding.
---
Come meet Vanessa Calderón-Rosado and hear her speak at the 2023 Governor's Awards in the Humanities on Thursday, Sept. 28, at 6:30 p.m. at the John F. Kennedy Presidential Library and Museum in Boston.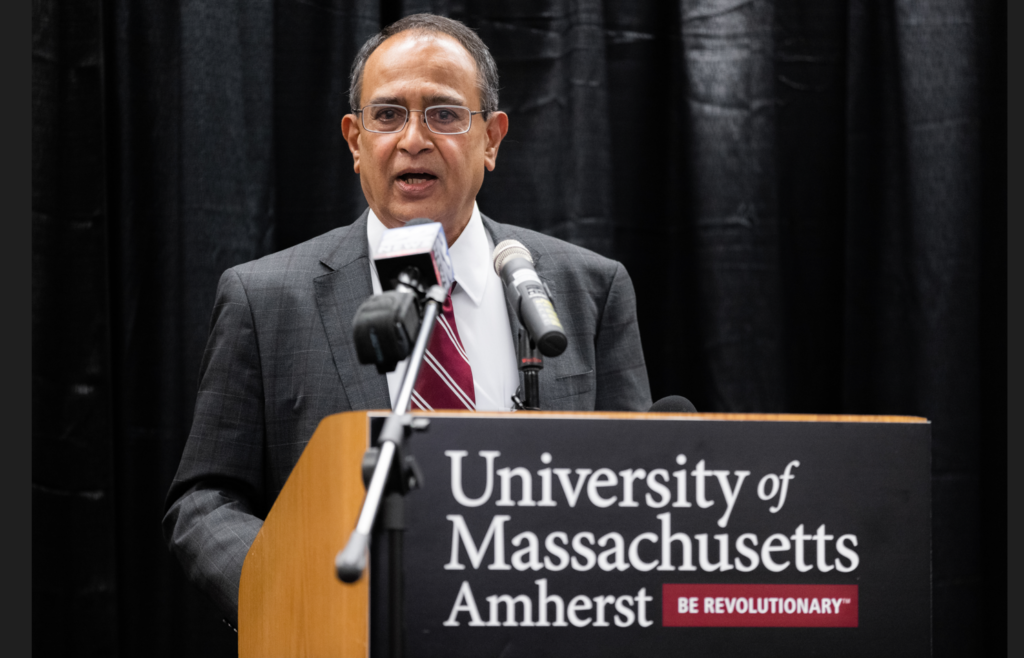 Kumble Subbaswamy is the retired chancellor of UMass Amherst and a committed public education advocate.
Championing an open and transparent leadership style, "Swamy," as he is known around campus, successfully enacted a comprehensive campus-wide strategic planning process. Under his leadership, the university continues to move up in the national rankings, making the flagship campus one of the fastest-rising top-tier public research universities in the country.
Swamy has also generated an unprecedented level of transformative financial investment and philanthropy for the university, enabling expanded recruitment of a world-class faculty, accelerated enrollment growth of a diverse student body and enhanced facilities.
With an ongoing emphasis on innovation, Swamy positioned the university as a leader in the flexible education revolution. Through UMass Flex, the excellence of the UMass Amherst educational experience is available worldwide, with expanded access to degree completion and professional credentials.
Before coming to Amherst, he served as provost at University of Kentucky. He joined Kentucky University in 1978, after serving as a post-doctoral fellow at the University of California, Irvine. During his first 18 years at the University of Kentucky, he served as Associate Dean of Arts and Sciences and Chair of the Department of Physics and Astronomy.
Swamy is being honored for his commitment to education and transformative work at UMass Amherst.
---
Mass Humanities: As chancellor, you worked to build a campus culture centered on social responsibility and inclusiveness, which are essential elements in the humanities. What or who led you down the path toward your career?
Kumble Subbaswamy: First of all, UMass was established under the Morrill Act to educate the "agricultural and industrial classes." As such, educating all segments of society, especially those who have been historically underserved, is part of our mission. Further, a university is not only a place for learning professional skills; it is also a place for personal development as a member of society and as a citizen in an increasingly multi-ethnic and diverse democracy. Thus, diversity, equity and inclusion are integral to the university's mission.
MH: Your extensive contributions to the humanities include outreach and initiatives aimed at addressing campus climate, diversity and culture. This work has made you a highly regarded Chancellor, both within the campus community and nationally. Can you tell us a little bit about what inspired you to begin these initiatives?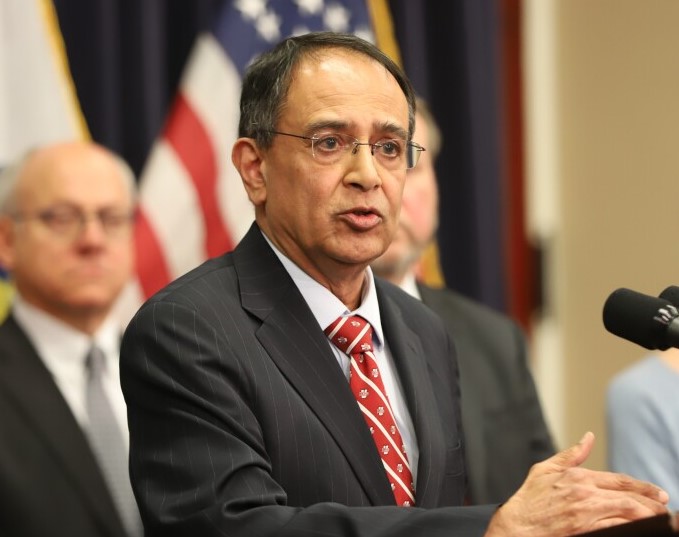 KS: I am a big believer in planning, assessment and continuous improvement. If we are to make good on our goal of being a diverse and inclusive community, it requires intentionality in our actions and a commitment to desired outcomes. We improved our recruitment strategies to the point where we nearly doubled the percentage of students of color over a decade. With one in three students being of color, we then had to ensure that everyone felt welcomed, supported and developed a sense of belonging to the institution. This is no easy task given the de facto segregation that largely exists in our society. Through our climate surveys, we are listening to members of our community and learning how best to create a supportive, inclusive and vibrant campus. This is a long journey, for sure.
MH: You have long been a public education advocate. Can you talk a little bit about the interconnection between the humanities and the work you do?
KS: I find inspiration in Thomas Jefferson's words, "We must dream of an aristocracy of achievement arising from a democracy of opportunity." Nowhere more than in education can we put this into action better. To me, college education has always meant a broad-based education: one that fuels our curiosity, allows us to understand and appreciate our natural world, places us in our historical context and helps us realize our common humanity through art, literature, religion and more—which we collectively call culture. Such education is the foundation of democracy.
MH: Recent Supreme Court rulings reducing Women's Rights and striking down Affirmative Action, as well as the scaling back of Black and LGBTQA+ History courses at the high school and college levels in some states are major issues in the United States. What role can the humanities play to empower people here and across the country to become more engaged in the most pressing issues of the day?
KS: To me, the humanities are a window into the human condition and a glimpse at what makes us human. To recognize and celebrate the various ways in people are different is to acknowledge everyone's humanity. The different ways in which people experience and express their humanity constitute the richness of music, art, literature and social commentary. To oppress our fellow humans and to censor the expression of their humanity is to deny their humanity. It is everyone's responsibility, especially of the college-educated, to fight against oppression and censorship by supporting the humanities.
MH: How do you think the humanities can help us navigate these times of division?
To partake in the humanities is to celebrate the breadth and richness of the human experience. It is the best way to develop empathy. To ignore or diminish the role of the humanities in education is an existential threat to the survival of society, let alone a healthy and vibrant one.
---
Come meet Kumble Subbaswamy and hear him speak at the 2023 Governor's Awards in the Humanities on Thursday, Sept. 28, at 6:30 p.m. at the John F. Kennedy Presidential Library and Museum in Boston.
Published by the The Berkshire Eagle on 8/18/23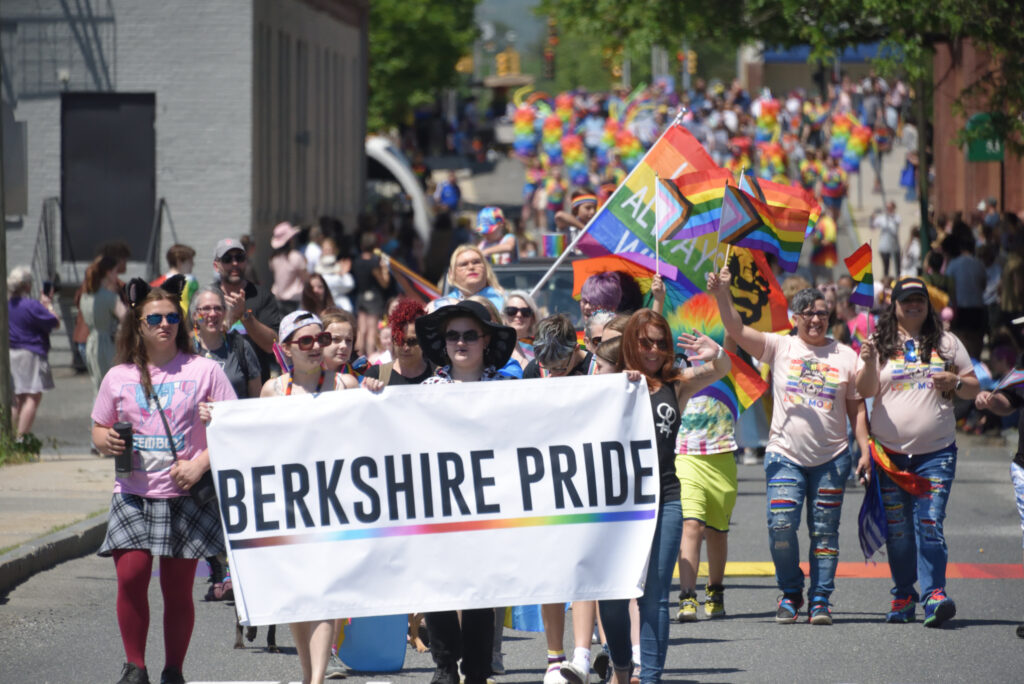 PITTSFIELD — Berkshire Pride, a nonprofit organization dedicated to promoting LGBTQIA+ visibility, education, and community engagement, has received a staffing grant from Mass Humanities, added three staffers, and will hold an open house at its new location at 34 Depot St. on Aug. 31.
The open house will take place from 5 to 7 p.m. The matching grant from Mass Humanities has allowed Berkshire Pride to bring in a new executive director, Cass Santos-China, and also Emma Lenski as LGBTQIA+ competency educator.
Santos-China has a wealth of experience and passion for LGBTQIA+ advocacy. Lenski will play a pivotal role in creating safe and informed spaces for the community.
Berkshire Pride also has a new president, Michael Taylor, and has received formal recognition as a nonprofit organization. That designation reaffirms Berkshire Pride's mission to create safe spaces, provide educational resources, and support LGBTQIA+ individuals across the Berkshire community.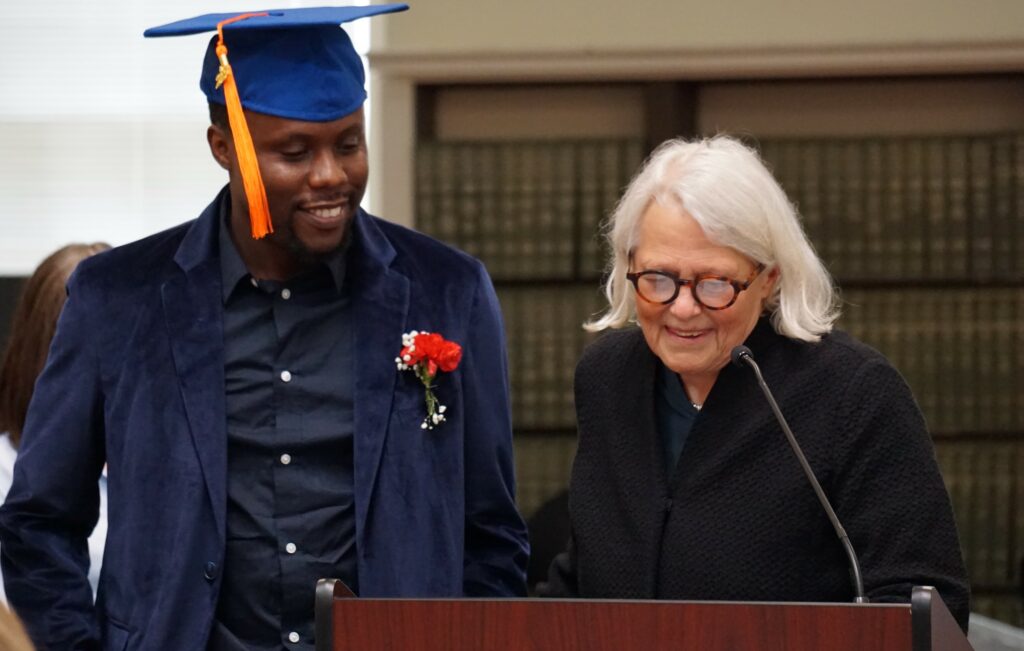 Elizabeth Bacon serves as the coordinator of the Clemente Course in the Humanities, Worcester.
The Clemente Course champions opportunities for Massachusetts residents from historically and systemically excluded communities to engage with, discuss, and author stories and ideas about our democracy. The course offers tuition-free, college-level classes in art history, creative writing, history, literature, and philosophy, and is designed around a conversation-centric learning model that promotes critical thinking and dialogue.
Elizabeth built strong partnerships with many of Worcester's colleges, religious institutions, community organizations and artists in this effort.
After a hiatus due to cuts in the city budget, Elizabeth worked tirelessly to bring the program back in 2014. The program has run successfully for more than a decade and is completely free to students including books, laptops, childcare, transportation and meals.
An accomplished educator, Elizabeth is also the founding director of two extracurricular civics programs for Worcester students: The Blackstone Canal Horse and Wagon Tours, a youth leadership development program that teaches high-school students to explore and present Worcester's rich history to visitors and residents alike and This is MyCity!, a civics education program for elementary students.
---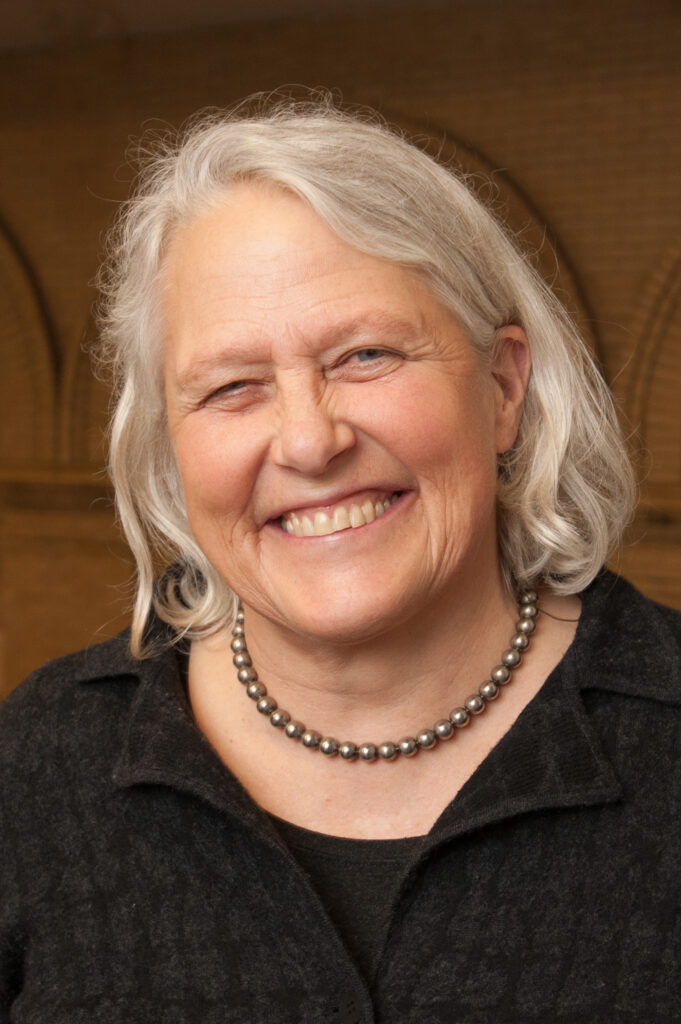 Mass Humanities: You are well known in Worcester as a long-time leader, on-the-ground coordinator and advocate in the humanities. What or who led you down the path toward your career?

Elizabeth Bacon: My career has been influenced by many inspiring role models, the most important of whom was my great grandmother, Dr. Eleanor A. Campbell, who founded Judson Health Center, a community health center first located in the basement of Judson Memorial Church in New York City in 1921. Through over a million visits, the Center's health and dental clinic served 45,000 residents, mostly Italian immigrants, from 1921-1957. By 1924, the clinic had become the largest of its kind in the United States. Campbell refused any wages for her services. It continues today as The Pride Health Center at NYC Health and Hospitals/Gotham Health, Judson.

My career as an educator was sparked by an intense relationship I developed with a non-verbal, neuro-diverse two-year-old at Holmes Hall, the Child Development Lab School at Connecticut College in 1977-78. I had been reading the works of the notable and original thinker, Hannah Arendt. This child verified Arendt's ideas that through respect for human integrity, supported by the careful articulation of common interests and goals, human beings can come together to establish the "sphere of freedom" (Arendt, 1958, p. 30) necessary for human growth. I saw in my relationship with this child the power inherent in creating something new. During that year, the two of us acted together to create something genuinely original, and because of that, both of us learned what it felt like to exercise our full human potential.
MH: Your extensive contributions to the humanities include work at This is MYCity! and Worcester's Blackstone Canal Horse and Wagon Tours. Can you tell us a little bit about what inspired you to begin these projects?

EB: I was inspired to create This is MYCity!, an after-school program, funded by The 21st Century Community Learning Centers Program of the Worcester Public Schools, because of my work as Education Director at Preservation Worcester. Alongside many wise and generous volunteers, who taught me so much about the city's history as seen through its built environment, we were able to recognize the need for a strong civics' education program in our schools. Why not take upper elementary school students out into the city to interview local people so that they could research and experience the context for many differing points of view? Each semester, we focused on different topics chosen by the students.
From 2006 to 2012, topics included: the Importance of Play and the Need for Extending Recess; the Problem of Stray Dogs and Cats; Smoking Advertising; the Chicken Ordinance Debate; and Wasted Food at School, among many others. At the conclusion of each semester, students from schools located all around the city debated solutions through a Mock City Council meeting inside City Council chambers. These meetings were led by City Clerk David Rushford (now retired) and overseen by Barbara Haller, City Councilor, District 4, (sadly deceased), who acted as Mayor. They were often attended by leaders in the community, School Committee and City Council members.
Worcester's Blackstone Canal Horse and Wagon Tours were inspired by a dream that South High Community School Principal, Maureen Binienda and I had. We believed that South High students would make excellent city tour guides. We researched programs around the country and visited a program in Boston called MYTOWN (Multi-Cultural Youth Tours of What's Now). We were impressed, but not surprised, by the professionalism of the students, their enthusiasm, their self-confidence and, most importantly, their innate intelligence.
MH: You have long used history as a tool for community development and economic empowerment while tirelessly advocating for the humanities in your home city and across the state. Can you talk a little bit about the interconnection between the humanities and the work you do?

EB: I am in the personal empowerment business. During the course of my career, I have sought out openings where education programs can practice the art of political consciousness in public spaces. As revered educator and author, Maxine Greene states, "To break with the "cotton wool" of habit, of mere routine, of automatism, is to seek alternative ways of being, to look for openings. To find such openings is to discover new possibilities – often new ways of achieving freedom in the world."
Greatly influenced by the writings of Greene and John Dewey, I have done my best to offer up education programs that have "the capacity to surpass the given and look at things as if they could be different." This is why the humanities have been so central to the work that I do. They force us to examine the course of human experience closely through dialogue with each other to create a "dialectic of freedom," to use Maxine Greene's phrase. I love that word "dialectic"–defined as "the art or practice of examining statements logically, as by question and answer, to establish validity."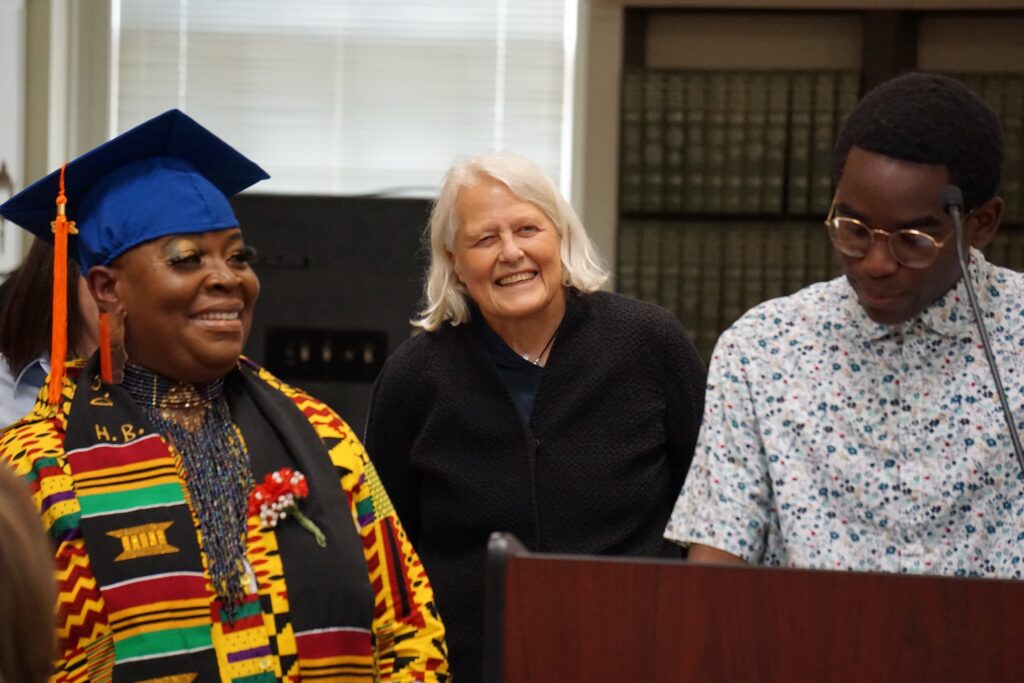 I am concerned with authorship as our connection to freedom itself. Through the process of close examination of our past alongside our present, we uncover pieces of ourselves and gain the confidence to look at our place in today's world. Through a rich understanding of those who have gone before us, we may find ourselves empowered to take political and personal action.
Equipped with the sounds of their own voices speaking to issues that matter to us all and embraced by a supportive Worcester community, MYCity! students felt more empowered and ready to start Middle School. Every Wagon Tour student went onto college, often the first in their family to do so, and Clemente graduates continue to take on important civic responsibilities and embrace their role in "the moral life of downtown." (Viniece Walker, as said to Earl Shorris, Harper's Magazine, 1977).
MH: Recent Supreme Court rulings reducing Women's Rights and striking down Affirmative Action, as well as the scaling back of Black and LGBTQA+ History courses at the high school and college levels in some states are major issues in the United States. What role can the humanities play to empower people here and across the country to become more engaged in the most pressing issues of the day?
EB: Maxine Greene wrote, "To be aware of authorship is to be aware of situationality and of the relations between the ways in which one interprets one's situation and the possibilities of action and of choice."
It is within the experience of authorship–the finding of one's own voice and the sharing of that voice in the public sphere–that we come to understand that our present "reality" is not fixed but constantly pliable, constantly emerging.
We must push back hard against the forces which seek to confine, control and oppress. The more friendships we create through the examination of our history, philosophy, art and literature texts together, the more multifaceted our world view becomes, and the more urgently we feel the need to open up new spaces where freedom can exist. We all have a driving hunger for friendship and community; however this must be paired with a "wide awakeness," a willingness to test and claim our voices as our own.
MH: How do you think the humanities can help us navigate these times of division?
EB: An inquiry into the humanities is, at its best, an exploration into the human spirit and the supports required by that sometimes fragile life force in order to survive and thrive. The humanities can help us steer the course through these thunderous times by leading us to discover and to understand why the fate of one is the fate of all.
Not one of us will have the possibility of being truly free until every one of us can enjoy the fullness of our rights as individuals with dignity. Yes, we must fight disinformation and recognize the critical social importance of fact-finding and truth-telling. But even the rule of law is under threat in the US and around the world today.
Threats to democracy twist legal language in the service of self-interest. We live in a world where the rule of law can be used to defend both greed and avarice as well as efforts to establish a broader sense of justice. Where else can we find examples of strong ethics? Where else can the restorative power of a dedication to "the greater good" be realized if not through the sound of our own voices, both past and present?
---
Come meet Elizabeth and hear her speak at the 2023 Governor's Awards in the Humanities on Thursday, September 28, at 6:30 p.m. at the John F. Kennedy Presidential Library and Museum in Boston.
Published by The Armenian Mirror-Spectator on 7/20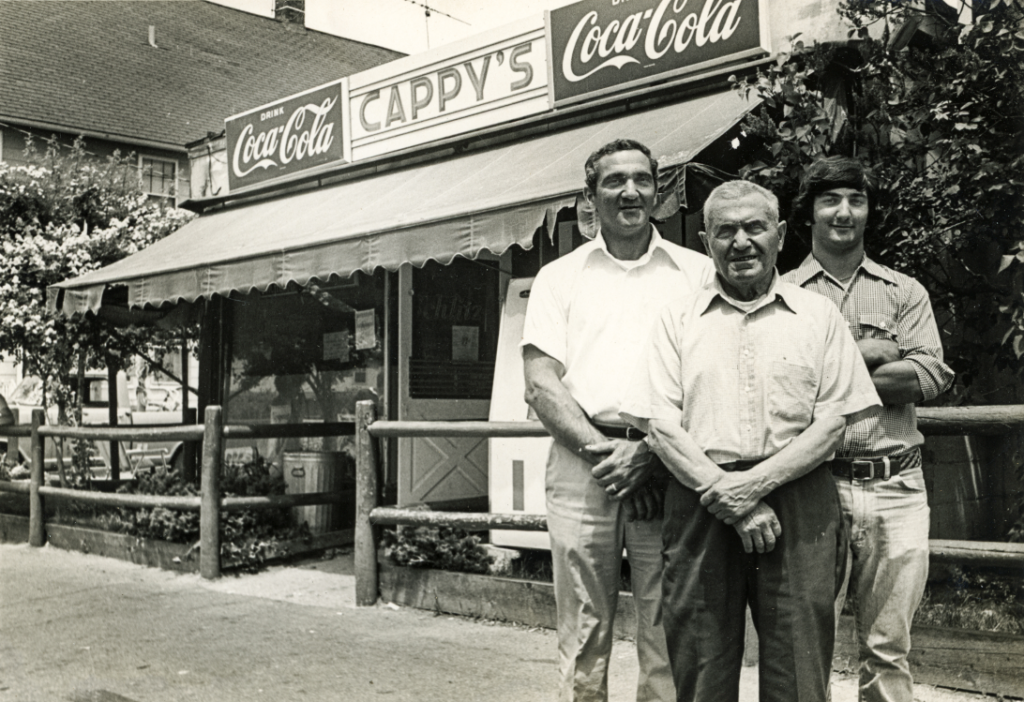 WHITINSVILLE, Mass.—The Armenians of Whitinsville project is one of 35 humanities and arts organizations in Massachusetts to be awarded a grant from the Mass Humanities Council. The $1.2 million awarded in total to these 35 organizations represents the single largest grant line in the history of Mass Humanities. Awards ranged from $16,000 to $40,000 for organizations with budgets of $500K or less; the Armenians of Whitinsville project received $40,000. The grants were funded to Mass Humanities from the Mass Cultural Council and are part of Massachusetts' multi-billion dollar pandemic recovery spending plan.
The Armenians of Whitinsville project was founded during the pandemic and is dedicated to celebrating this early Armenian American community's post-genocide survival after more than a century. Central to the project's vision is a website, which serves as a modern Houshamadyan of Armenian American life over the generations in a diaspora community founded at the end of the 19th century. Collections on the website capture the families, work, church and school memories that shaped the lives of many generations, with photographs, memory objects, recordings, documents and recipes. Sharing these collections illustrates how Armenians became an integral part of this Massachusetts community, helping it to learn and grow with a spirit of service to others. Putting the website and its contents together has been a grassroots effort run by volunteers. The Armenians of Whitinsville project is looking forward to using the grant's funding to contract the consulting help needed to strengthen the website's infrastructure and expand the project's visibility through social media and events.
Research conducted by the project team has already surfaced some discoveries of historical significance, including a letter written by a missionary in Marash to a member of the town's founding family detailing her eyewitness testimony of the massacres there in the 1890s. At the time when Arthur Fletcher Whitin received this letter from Clara Hamlin Lee in 1896, there were already approximately 100 Armenian men working at his textile machinery factory, and the earliest of the Armenian families were settling in town.
Volunteers for the project are working with families to help them put together their family histories and collections. This has included translating and subtitling recordings done in the 1970s and 1980s to broaden the reach of these Genocide survivors' life experiences to viewers unfamiliar with their native Western Armenian dialect. The project's founders believe that other concentrated ethnic communities, especially those who emigrated because of trauma, will learn from this project the importance of preserving their histories for generations to come.
Additionally, the Armenians of Whitinsville project is currently completing its work on a 2022 Expanding Massachusetts Stories grant from Mass Humanities to conduct new oral history recordings among Armenians with Whitinsville roots. That work, which complements the historical recordings the project has translated and posted, has been done with guidance from the University of Southern California Institute for Armenian Studies.
Anyone with an interest in the Armenian diaspora or in post-genocide survival can learn by exploring the collections on the website. The project invites anyone with Armenian ancestors who can trace their American journey to Whitinsville to reach out to the team about building their own collection at info@armeniansofwhitinsville.org.
Grants will support staff positions in organizations across the state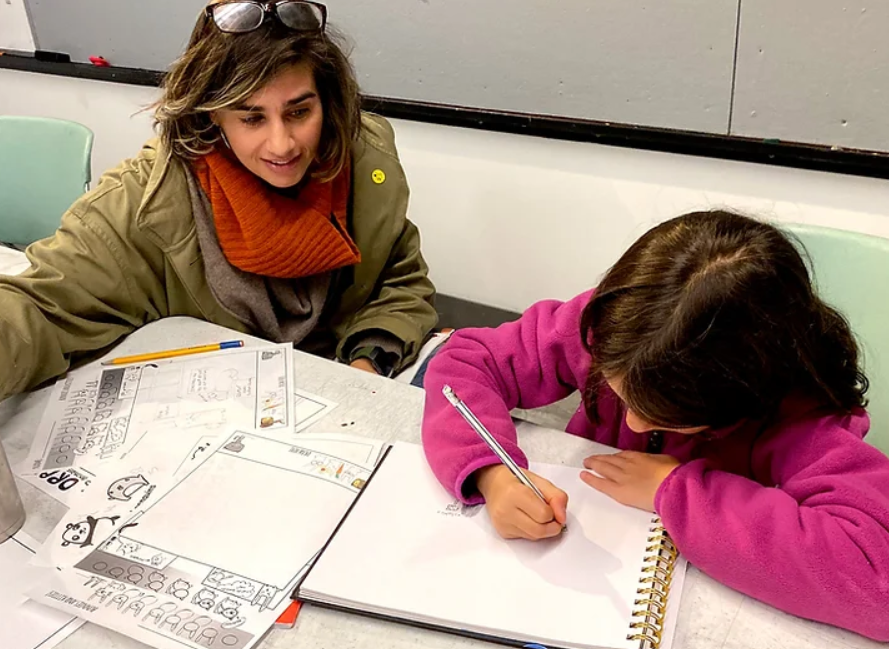 We are pleased to announce that 35 organizations from Cape Cod to the Berkshires will receive grants totaling over $1.2 million (see list below), marking the largest single grant line in the history of the organization.
The 2023 Staffing Recovery Grants deliver funding to non-profit organizations to sustain and expand the hours of current staff or to hire new staff in order to create, restore and grow humanities programs across the state. Awards ranged between $16,000 and $40,000, and benefit organizations with budgets of $500,000 or less and five or fewer full-time equivalent employees.
In February, Mass Cultural Council announced a $2.5 million grant to Mass Humanities as part of the state agency's Cultural Sector Pandemic Recovery Grants. Mass Humanities immediately began soliciting grant applications from organizations through the newly launched Staffing Recovery Grant initiative.
"Grassroots humanities organizations drive positive change and a sense of belonging in Massachusetts communities," said Brian Boyles, Executive Director of Mass Humanities. "We are grateful to our partners at MCC for making these grants possible. This funding provides an influx of support for jobs and programs at a crucial point in our recovery from the COVID-19 pandemic. We look forward to celebrating the successes of these museums, cultural centers, and education providers."
On December 13, 2021, then-Governor Charlie Baker signed An Act Relative to Immediate COVID-19 Recovery Needs into law. This multi-billion-dollar pandemic recovery spending plan invests both federal ARPA and state surplus revenue dollars into key economic sectors to spur activity and growth.
The Act provided $60.1 million to Mass Cultural Council and directed the state arts agency to develop and implement new, one-time grant programs to assist Massachusetts creative and cultural organizations with their pandemic recovery.
"Last year Mass Cultural Council designed and implemented two historic, one-time recovery grants to assist Massachusetts artists, creatives, cultural workers, and cultural organizations with their ongoing efforts to economically rebound from the pandemic," said Michael J. Bobbitt, Executive Director, Mass Cultural Council. "A major priority of the Agency was to ensure these funds were distributed equitably and throughout the entire creative and cultural sector. We were pleased to partner with Mass Humanities, who has a proven track record of stewarding programs for the Commonwealth's humanities-based organizations, and direct $2.5 million for regranting purposes to ensure recovery in every corner of our field. Congratulations to today's grant recipients, we look forward to watching your new initiatives develop!"
Grant dollars reached every region of the state. Mass Humanities reports that 46% were first-time grantees, while 43% of organizations are led by people of color. The foundation targeted communities with high levels of poverty, providing 48% of funds to these areas.
"Workforce development and retention has been a challenge across economic sectors throughout Massachusetts and humanities programs are often particularly vulnerable," said Senator Paul Mark, Chair of the Senate's Joint Committee on Tourism, Arts and Cultural Development. "I applaud the Mass Humanities Staffing Recovery Grant Program for taking strides to help address this challenge by supporting workforce retention and expansion at organizations all over the Commonwealth. This grant funding will have a direct, tangible positive impact for these organizations."
Since the outset of the pandemic, Mass Humanities has awarded more than $4 million in grants to non-profits, including $2 million in funding made possible by the CARES Act and ARPA.
---
Total Grants awarded $1,242,870
Boston/ Greater Boston
Metro-West
Northeast
Southeast
Cape and the Islands
Central
Connecticut River Valley
Berkshires
---
To learn more about Mass Humanities grant opportunities, email grants@masshumanities.org.
Published by Aprell May Munford in the Springfield Republican on July 5.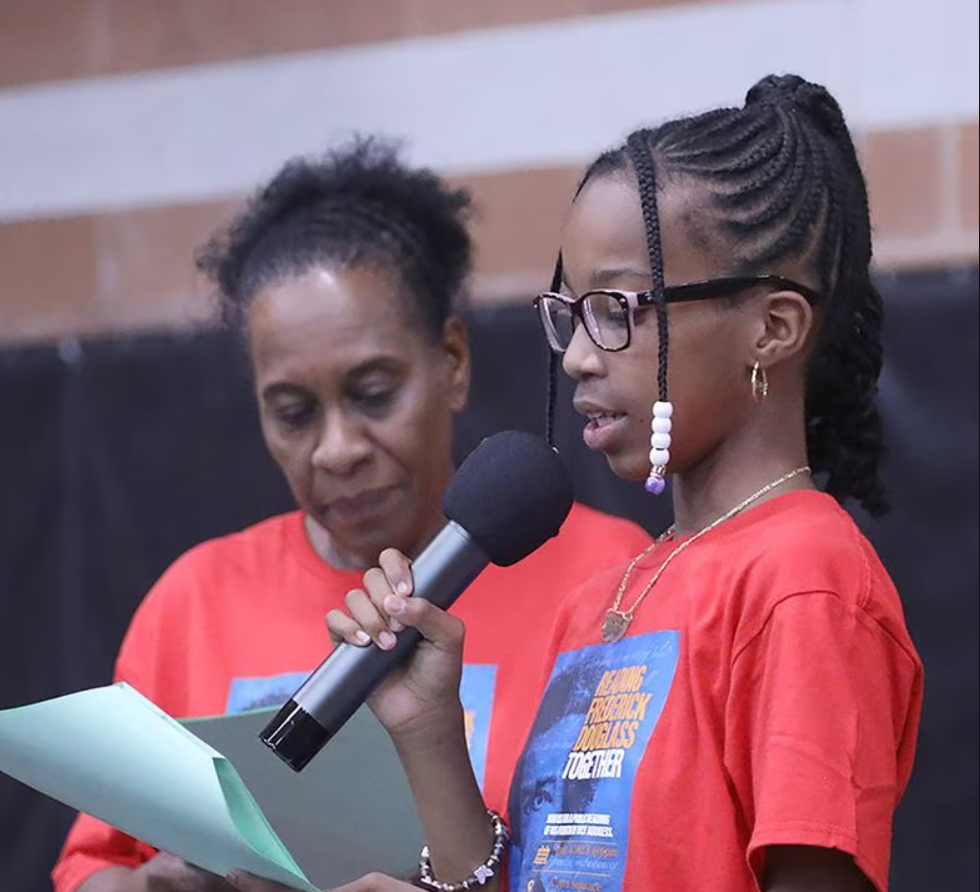 SPRINGFIELD – More than three dozen people came out this week in Springfield to reflect on the deeper meaning behind abolitionist Frederick Douglass' influential address, "What to the Slave is the Fourth of July?"
Springfield was one of several communities in Massachusetts where people gathered this Independence Day to read and talk about Douglass' address.
This was Easthampton resident Myra Oyedemi's first time attending a reading. "Hearing the speech in its entirety was profound," Oyedemi said. "I am thankful for Juneteenth where I can have an equivalent moment of freedom to celebrate."
After escaping slavery in 1838, the famous abolitionist and former slave lived for many years in Massachusetts.
The reading of the Frederick Douglass Fourth of July Address, " What to the Slave is the Fourth of July?"
"Douglass met John Brown in Springfield and even delivered speeches in Court Square," Michelle Toni McComb, the Springfield's reading organizer, said.
Douglass delivered the speech over 171 years ago, on July 5, 1852, to the Rochester Ladies' Anti-Slavery Society in Rochester, New York. In the address, Douglass denounces slavery and forcefully examines the Constitution and gaps between the country's actions and aspirations.
Kathrine Stevens, director of grants at Mass Humanities, said a Reading Frederick Douglass Together Program started in 2009.
"Other Black and interracial communities had been reading the speech for some time and Mass Humanities took it up to help expand the movement," Stevens said. "In 2019, there were 12 readings. This year's grant supported 41 communities across the state."
Each year on the Boston Common, near a monument to the 54th Regiment, legislators, students and members of the public take turns reading Douglass' speech aloud.
Hearing it in different languages and voices dramatizes the country's current diversity, Stevens said.
The reading of the Frederick Douglass Fourth of July Address " What to the Slave is the Fourth of July?"
Springfield audience
A portion of Springfield readers were fourth- and fifth-graders who attend the Martin Luther King Jr. Family Services afterschool program. Others were college students, residents and the first poet laureate of Springfield, María Luisa Arroyo Cruzado, who read half the speech in Spanish.
McComb worked with students in the afterschool program to prepare them to understand the speech.
"Education is imperative for all ages, all walks of life, on every level and the speech is still holding true today," McComb said.
Carolyn A. Cushing, poet laureate of Easthampton, attended the event in Springfield. She said events like these are significant. "That is important because people are trying to keep information like this out of places," Cushing said.
The Reading Together Program celebrates Douglass' oratorical skills, while also confronting racial trauma.
Cushing says that while Douglass praises the Founding Fathers, he reminds listeners that the ideals of freedom and liberty were not available to all. "We still need to be reminded of that. He ends with hope — and if he could have hope, then we too can have hope and take action to make it so," she said.
The program in Springfield has been gaining popularity over the years. Despite rain and a last-minute change of location, this year's event drew a big crowd.
People are looking for something to do on the holiday in response to social injustice and in protest, Stevens said.
Alert to trauma
As more people take part, Mass Humanities has worked to ensure people are not traumatized by what they hear.
A guide the group created provides facilitators with steps to take.
"Douglas celebrates yet criticize the ideals of freedom, justice and liberty, reflects on the past while making meaning for the present and this speech still lets us do that," Stevens said. "Hearing the speech on the Fourth of July gives us an opportunity to reflect on the question whether America is living up to its ideas."
The guide provides a framework for facilitating potentially difficult, uncomfortable conversations, said its author, Latoya Bosworth, the Mass Humanities program officer who coordinates the Douglass initiative.
According to Bosworth's guide, racial trauma is the cumulative effect of racism on an individual's mental and physical health.
Symptoms can be observed in people of all ages, in Black and brown communities, and are linked to feelings of anxiety, depression and physical health issues.
McCombs said tough conversations often take place after readings.
"We will ask if anybody has any questions about the speech, and then participants will use the trauma-informed manual to set the tone and guide the conversation," she said. "It's about making sure there's a good tone with the discussion. This is my second year hosting the reading and so far, it has been good."
Other readings are scheduled in Sharon July 9, in Fall River July 23, in Longmeadow July 28, in Hadley Sept. 23, and in Peabody Dec. 14.
"Somerville Museum to Put Community at Center of Live Reading of Frederick Douglass's 1852 Speech," by Nicole Kagan in the Boston Globe on June 27.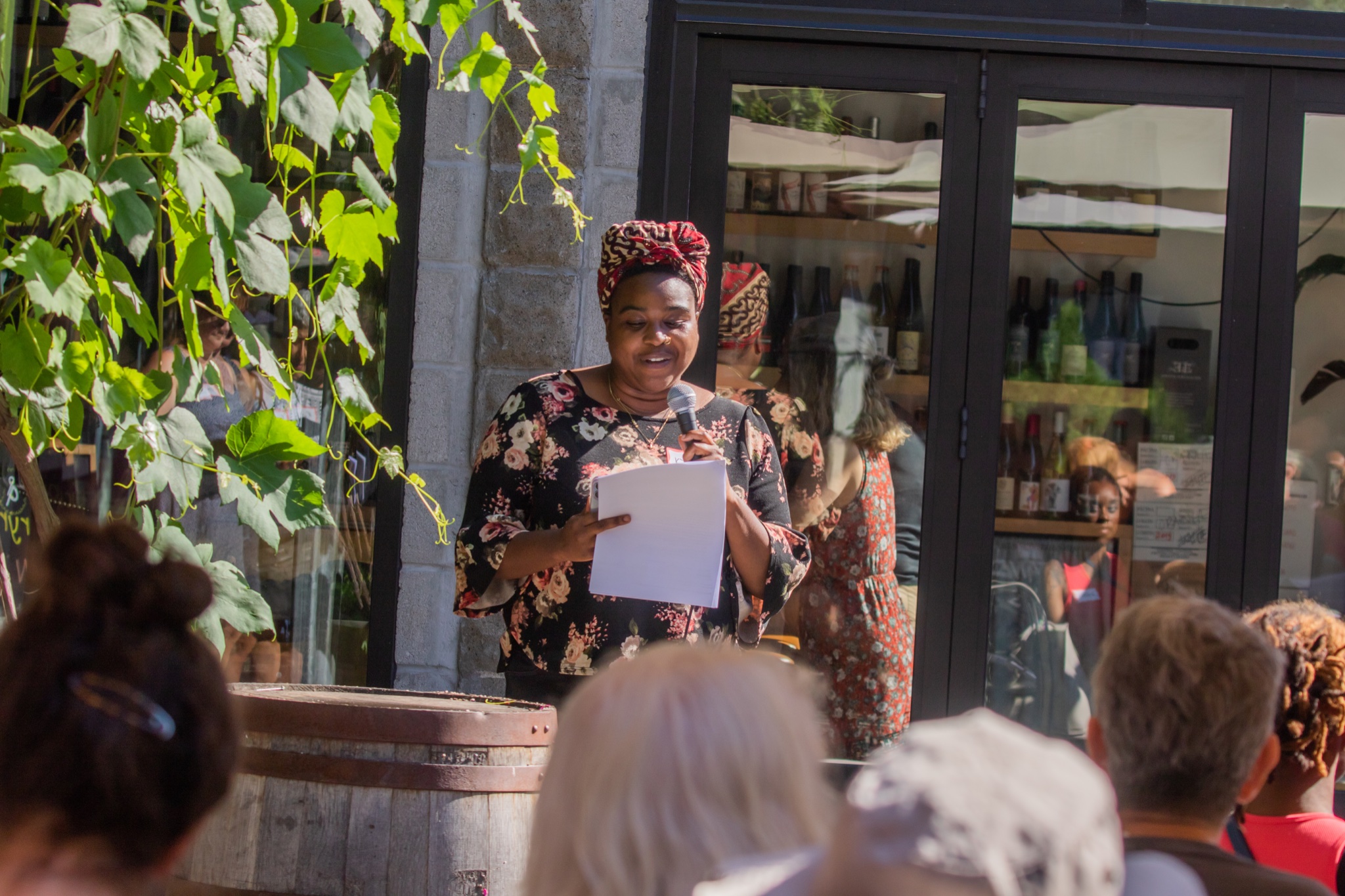 In 1852, Frederick Douglass gave his speech "What to the Slave is the Fourth of July" to a crowd of abolitionists in Rochester, N.Y. On Wednesday, a group of Bostonians will take turns reciting the same speech at a public market in Somerville.
The reading, hosted by the Somerville Museum, is free and every attendee is welcome to take part, aided by a printed handout.
"It's about spreading awareness about who Frederick Douglass was," said the museum's assistant director, Alison Drasner. "We want to encourage conversation about race and racial relations and about what the holiday means to different people in the country."
The event, which will take place at Bow Market, is supported by Mass Humanities, a nonprofit dedicated, in part, to keeping the state's history alive through community events. This summer, through the "Reading Frederick Douglass Together" program, the organization sponsored over 35 recitations of the speech that started in April and will continue into the fall.
The Somerville Museum has hosted readings of a 45-minute abridged version of Douglass's July 5th speech since 2019, including a Zoom recitation in 2020. Drasner will assign paragraphs to participants who have RSVP'd beforehand, but attendees may also volunteer to read by lining up at the microphone.
"It's not a theater production. It's not a lecture. It's really a conversation," Drasner said. "We want people to feel comfortable in the space. So we're keeping a casual sort of setup in that respect."
The Somerville Museum intentionally hosts the event outside of the museum to reach a larger audience, Drasner explained. This way, people who are simply walking by can decide to take part on a whim.
According to the Mass Humanities website, the only guideline for the readings is that a group of people read the speech to the end, "where and how they do it and what they do before and after, are all up to the local event planners."
After the Somerville reading, there will be a community discussion led by Kyera Singleton, executive director of the Royall House and Slave Quarters in Medford and a current Harvard University fellow. She'll give context for the speech, which explores the moral and constitutional arguments against the slave trade, explain the ways Douglass's words are still relevant today, and ask participants to respond to them.
In the past, Drasner said, the conversations have been animated, but also thoughtful and respectful.
"We don't promote it as a celebration of the 4th of July," Drasner said. "That is not what it is. It's more of a come, be a part of this conversation, and take away from it what you will."
Published by Meg Trogolo in Worcester Magazine on July 4.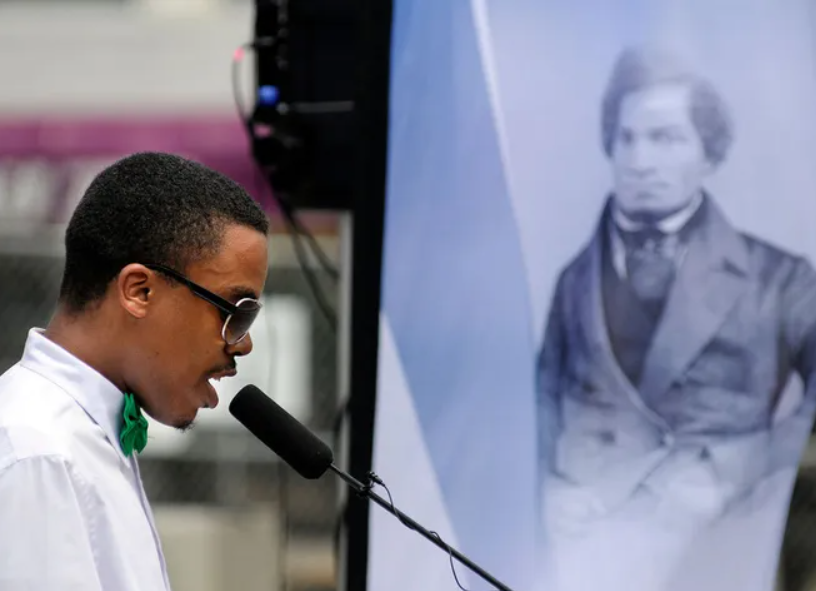 Every year, on the eve of Worcester's July 4 celebrations, city residents ranging from artists to elected officials to line cooks come together outside City Hall to recite "What to the Slave is the Fourth of July?", abolitionist Frederick Douglass' famed 1852 speech addressing the extreme inequality that the holiday laid bare in pre-Civil War America.
"Your prayers and hymns, your sermons and thanksgivings, with all your religious parade and solemnity, are, to (an American slave), mere bombast, fraud, deception, impiety and hypocrisy – a thin veil to cover up crimes that would disgrace a nation of savages," Douglass wrote.
Those words will ring out again across Main Street, when the annual "Reading Frederick Douglass Together" takes place June 30 at the Worcester Common Oval. Anyone who attends can sign up to read part of the speech. The event will also feature performances from singer Chappella Rabess and poet April Neely, and Worcester Youth Poet Laureate Adael Mejia.
"We have a long way to go. It's a chance to speak up and have a voice. (When the U.S. declared independence) in 1776, Black people were still slaves and didn't have any freedom," Worcester NAACP president Fred Taylor said.
The meaning of democracy
City Hall has provided the backdrop for the yearly reading for over a decade, but Douglass' history in downtown Worcester goes farther back. During the fight for abolition, the building was host to Douglass. In the 1830s, he was a member of the Worcester Anti-Slavery Society and visited the city often to speak at both City Hall and Mechanics Hall.
Mechanics Hall is currently commissioning a painting of Douglass from artist Imo Nse Imeh of Holyoke to hang in its portrait gallery — one of three portraits of prominent 19th century Black leaders set to be added.
"Frederick Douglass has a very rich history in Massachusetts, and I think the reading of the speech brings a significance to that," Mass Humanities program officer Latoya Bosworth said. "As times change, there's always issues around what it means to live in a free and equitable society, and that changes as time changes. It always helps to promote that discussion about where our democracy is today, the challenges to that democracy and the strength of that democracy."
More:Worcester's Black Heritage-Juneteenth Festival postponed to July 1
The Worcester NAACP will organize the event, funded by Mass Humanities, which provides funding for similar events across the state. According to Mass Humanities' calendar, more than a dozen readings will take place throughout Massachusetts in the week leading up to July 4, with eight readings happening on July 4 itself.
"We've been funding the readings since 2009 all over Massachusetts, but we recognize that some of the readings have been taking place before that as part of Black public memory," Bosworth said.
'Still fighting the battles'
The Worcester NAACP has long been part of the yearly Frederick Douglass readings. Former president Cedric Arno organized the readings beginning in 2009, and Taylor stepped in after becoming president. Taylor said the speech resonated with him as a Black Worcester resident, particularly in light of the recently-settled racial discrimination lawsuit brought by a retired Worcester police officer against the Worcester Police Department.
"It's a reflection on where we were then, and how we're still fighting some of the same battles. You look at leadership in almost every organization and you don't have a lot of Black representation," Taylor said. "Sometimes you have Black leaders in certain spaces, but those people are leaders in name only. At the end of the day, they're not making the decisions."
A share of the harvest
Arno, meanwhile, drew a direct line between history and the current economic and working conditions for Black Worcester residents. Arno painted a picture of enslaved Blacks, doing back-breaking work to harvest a farm's worth of crops only for that harvest to be enjoyed by their white captors instead.
"Black people in Worcester are not getting that harvest," Arno said. "They are not receiving that harvest for years of toil. Now, we are in a situation where we are not even receiving the benefits of the ARPA grant that set out money for Black people to get things going. Worcester is not delivering in any way, shape, or form on what was signed."
More:Douglass' fight for women's rights included the 1850 convention in Worcester
The June 30 reading will not be the first time this year that Douglass' 1852 speech has been read in Worcester. In February, another reading took place at City Hall as part of Worcester's Black History Month programs, and Arno said during a discussion forum after that reading, he encountered what he remembered as a teaching moment.
"We had Robert Jones come in and do a discussion in City Hall about the intersectionality of crime and punishment and Black people from emancipation until now. There was a subversive person in there who wanted to misdirect the conversation, and it was found that that person had bigoted thoughts," Arno said. "Hopefully, we got a chance to change that individual's bigoted theories and mindset for the next time. I believe the person was invited to come back to the next reading."
"Reading Frederick Douglass Together" will take place in front of at noon June 30 in front of Worcester City Hall. To learn more, visit the event page at worcesterma.gov. Also, this year's Black Heritage-Juneteenth Festival will be held July 1 at Institute Park.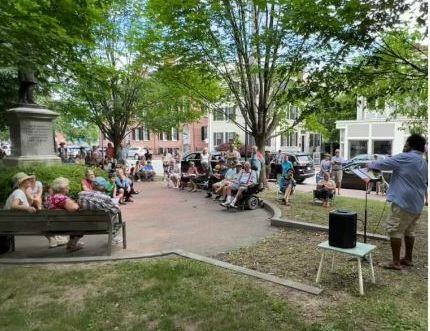 NEWBURYPORT — The Museum of Old Newbury and the First Religious Society, Unitarian Universalist Church, in partnership with Mass Humanities, will gather in Brown Square on Sunday, June 25, at 10 a.m. for the sixth annual public, interactive reading of Frederick Douglass' Fourth of July address, "What to the Slave is the Fourth of July?"
The reading will be followed by a discussion led by humanities scholar Doneeca Thurston, the executive director of Lynn Museum/LynnArts.
Mass Humanities has provided grants to nonprofits to host public readings and discussions of this famous speech this summer across Massachusetts. Newburyport is one of dozens of sites hosting a public reading Frederick Douglass Together event.
Douglass escaped from enslavement in 1838 and lived for many years in Massachusetts. He delivered this speech on July 5, 1852, in Rochester, N.Y., to the Rochester Ladies' Anti-Slavery Society.
The most celebrated orator of his day, Douglass' powerful language, resolute denunciations of slavery and forceful examination of the Constitution challenge people to think about the stories they tell, the values they teach, and if their actions match the aspirations. To quote Douglass, "We have to do with the past only as we can make it useful to the future."
This is an outdoor event and open to all. Bring folding chairs for those who would like to sit. Participation in this public reading event is encouraged but not required.
In case of inclement weather this event will be held inside at the First Religious Society, 26 Pleasant St., Newburyport. Call 978-462-2681 to confirm the event location.
For more information, contact Bethany Groff Dorau at the Museum of Old Newbury, 978-462-2681.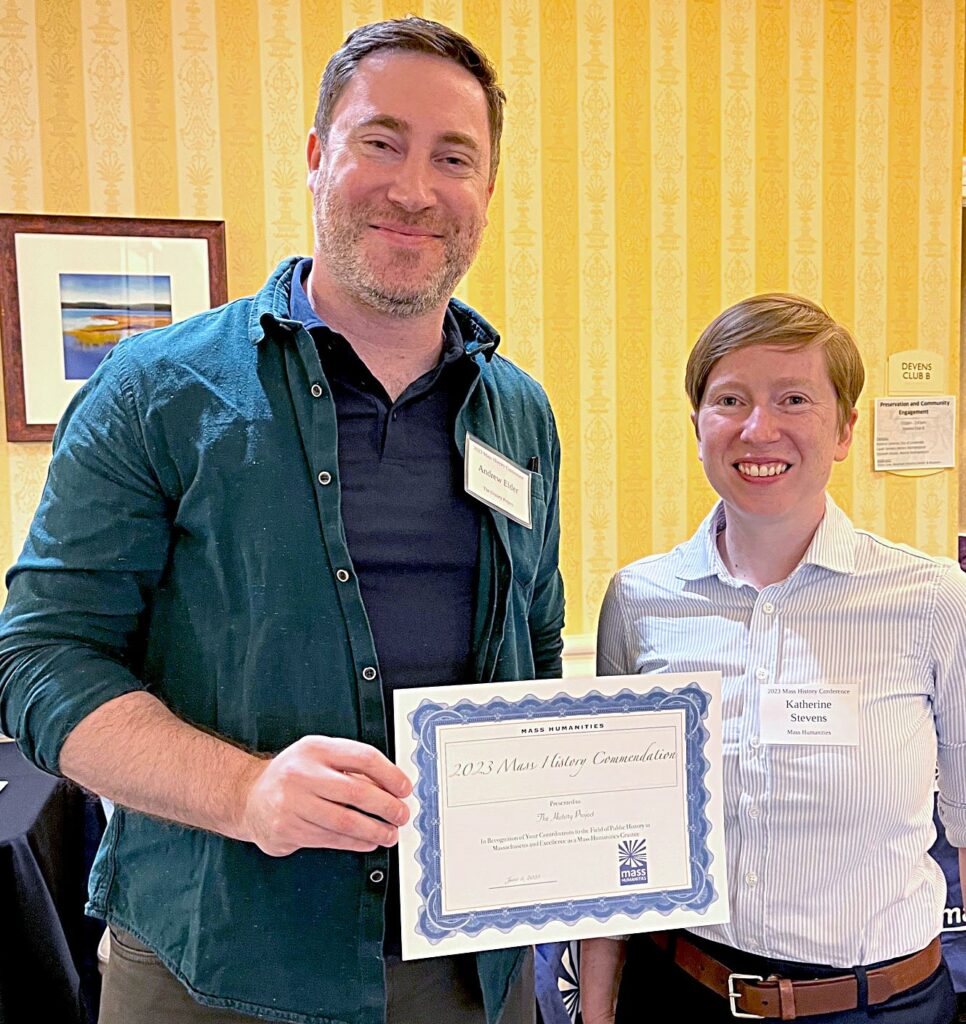 Each year, Mass Humanities awards a Mass History Commendation to a grantee whose work represents the very best of today's public history field in Massachusetts.
This year's Mass History Commendation goes to The History Project, a Boston-based archive that documents and preserves the history of New England's LGBTQ communities and shares that history with LGBTQ individuals, organizations, allies and the public.
The award was presented to Andrew Elder, Board Chair for The History Project, on Monday, June 5 during the 2023 Mass History Conference in Devens, MA. The conference was made possible in part through funding support from Mass Humanities.
Like so many great history organizations, The History Project is volunteer-driven and endlessly innovative.
In 1980, a group of activists, historians, archivists and writers were awarded a grant of $300 from the City of Boston to document Boston's gay and lesbian history in conjunction with the city's 350th anniversary.
Today, The History Project maintains one of the largest independent LGBTQ archives in the nation, which includes more than 250 collections from organizations and individuals encompassing more than one million documents.
Two recent projects supported by Mass Humanities reflect The History Project's ongoing efforts to collect more inclusive stories of LGBTQ communities.
A 2021 Digital Capacity Grant helped establish a Community Curator position for community outreach with Boston's Black LGBTQ community, enabling access to the historical legacy it has been denied and ensuring that the stories of the contemporary LGBTQ+ community will be preserved in perpetuity.
As online programs bolstered audiences for history organizations in recent years, a 2022 Bridge Street Fund grant from Mass Humanities supported The History Project's events on "Queer Women in Bookstores," the "History of Pride Celebrations in Boston" and the "Speeches that Shaped LGBTQ Literary Culture."
Additional grants from the CARES Act and the American Rescue Plan sustained the organization during the pandemic.
In a time when efforts to silence the voices and experiences of LGBTQ+ communities are on the rise, the strength and groundbreaking work of The History Project exemplify a humanities organization that is meeting the moment and serving the people of Massachusetts.
It is truly an honor for us to celebrate this work with the 2023 Mass History Commendation.