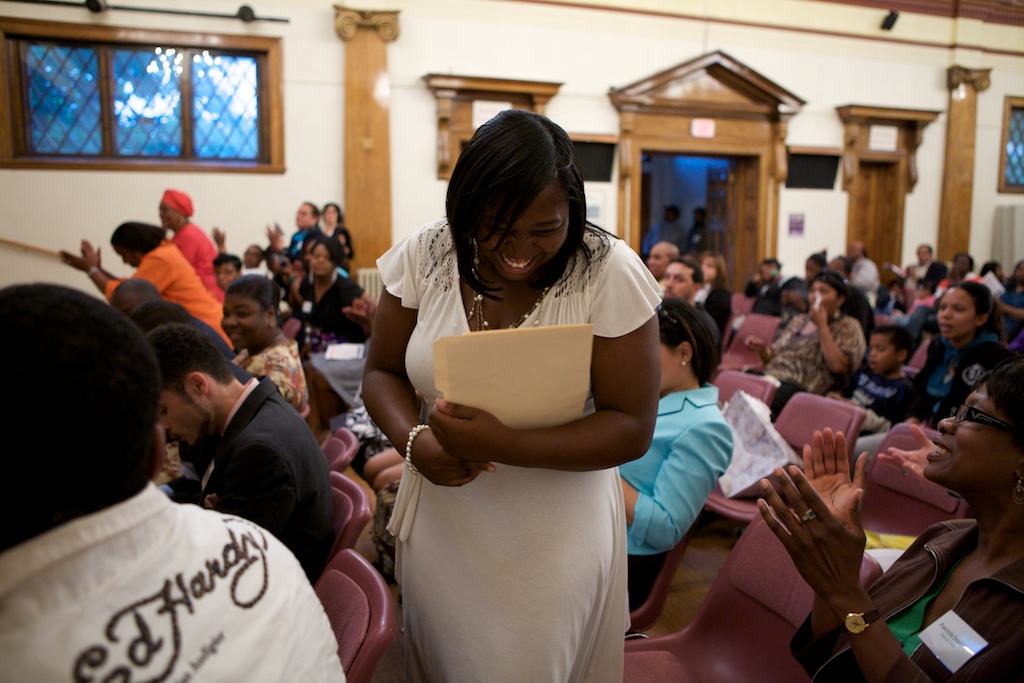 The humanities provide essential skills for an informed citizenry, in particular the critical thinking and rhetorical proficiency necessary for participating in the exchange of ideas. Mass Humanities recently received a grant for $33,600 from the Mellon Foundation and the Federation of State Humanities Councils for "Writing Our Democracy: Media Literacy, Local Voices, and the Shaping of Public Opinion."
The project, made possible through the "Democracy and the Informed Citizen" initiative, will offer courses in media literacy and op-ed writing for graduates of the Clemente Course in the Humanities, a program that serves adults in traditionally underserved communities. Mass Humanities will partner with media outlets in Dorchester, New Bedford, Springfield, and Worcester to publish student writing, with a culminating event planned for fall 2020 at WBUR's CitySpace in Boston.
The project seeks to deepen public understanding of the historical and philosophical foundations of a free press; create opportunities for local journalists to engage directly with community members to address issues of concern; and build media literacy and skills in neighborhoods often excluded from public view.
This marks the third time that Mass Humanities has received funding through the "Democracy and the Informed Citizen" initiative since 2013.
Funds support 31 Massachusetts organizations around the state.
Mass Humanities is excited to announce that it has awarded $244,391 in support of 31 humanities projects in communities across the state. Seventeen of these grants support projects concerning Massachusetts Voting Rights history and the 19th Amendment centennial. From panel discussions to original theatre performances, oral histories, and traveling exhibitions, funded grants in 2020 will instigate dialogue centered on voter's rights and inclusivity.
Northeast
$3,610 to Cape Ann Museum in Gloucester for public programming centered around "Our Souls Are by Nature Equal to Yours – The Life and Legacy of Judith Sargent Murray." Funding will support three free public lectures events and one book discussion for an exhibit on the 18th-century writer and advocate for women's equality, Judith Sargent Murray.
$7,521 to the University of Massachusetts Lowell and the Tsongas Industrial History Center for "Every Voice Counts: Equipping Educators to Teach Civics", a series of six online teacher professional development workshops highlighting local communities' struggles for political representation.
$8,360 to the Reading Public Library for "The Vote: Exploring Voting Rights in America". The library will explore voting rights in America through multiple community events, lectures and performances, facilitated discussions and book groups, documentary screenings, hands-on projects and performances. Events will highlight the experiences of African Americans, recent immigrants, and residents of U.S. territories.
$3,000 to North Shore Juneteenth Association in Lynn for "Why Vote? Hat and Heels High Tea", a lecture and discussion event with Civil Rights activist and author Rodney Hurst and legal scholar David Harris at the Lynn Museum.
$3,500 to North Shore Community Development Coalition in Salem for "Why Your Vote Matters Forum" for a discussion of voting rights focusing on the experiences of past and present immigrant communities.
Metrowest Boston
$7,550 to the Robert Treat Paine Historical Trust in Waltham for "Partners in Protest: Massachusetts Working Women and their Struggle for the Vote". Humanities scholars will help create a classroom resource kit for 8th grade Waltham civics classes on suffrage and labor movements in their city.
$14,878 to Primary Source in Watertown for "Our Rights & Nothing Less: Struggles to Secure the Vote in the United States", a professional development series for K-12 social studies teachers on debates over voting rights, including lessons that highlight Massachusetts stories.
$14,983 to Tempest Productions in Brookline for "Soapbox Suffragists: Votes for Women and the Fight for Voting Rights 1900-2020 and Beyond". Funding will create living history performances and discussions rooted in the words of suffragists, civil rights activists and contemporary advocates. Events will take place in New Bedford, Pittsfield, and Roxbury.
Southeast
$12,030 to the Brockton Public Library for "The Vote: A Divided Movement that Brings Us Together", for a free series on the history of voting rights including panel discussions, a traveling exhibit, workshops, and an outdoor installation highlighting Brockton residents involved in the suffrage movement.
$14,997 to the YWCA Southeastern MA for "Lighting the Way from Suffrage to Civic Engagement", for two panel discussions on voting rights and a youth-artist showcase inspired by the history of New Bedford women.
$3,500 to New Bedford Whaling Museum "20 Ripples. Through a Wampanoag Lens" for two events interpreting Indigenous history, culture, and environmental perspectives connected to the art exhibit "Ripples."
$3,500 to Zeiterion Theatre in New Bedford for "Southcoast Seven", to connect a play about women from around the world to women from New Bedford. Students from Bristol Community College will develop a public presentation on 7 local women who have made a significant contribution to the world around them.
Boston
$15,000 to the John Fitzgerald Kennedy Library Foundation in Boston for "Expanding Democracy: The 19th Amendment and Voting Rights Today", a special half-day conference featuring three forums on the history and current relevance of the suffrage movement.
$15,000 to BCN Productions in Boston for the distribution of "Borderland- The Life and Times of Blanche Ames-Ames", a documentary film about the Massachusetts suffrage activist, with curriculum guide development and scholar-led screenings planned.
$7,500 to 826 Boston, Roxbury, for a "Young Author's Book Project: A Student's Perspective on Grove Hall, Dorchester." This funding will support student editors and professional designers to publish and showcase student writing about the Grove Hall neighborhood of Dorchester.
$9,900 to Roxbury's Dudley Street Neighborhood Initiative (DSNI) "Neighborhood Voices: DNI Community Land Trust". This funding will support training, collection, sharing and archiving of oral histories from 1st families who moved 25 years ago on to the largest community land trust in Boston.
$14,195 to Boston Chinatown Neighborhood Center's Pao Arts Center for "Homeward Bound: Global Intimacies in Converging Chinatowns", community programming and an exhibit highlighting stories of migration, displacement, and resilience in Chinatowns around the world.
$3,500 to Cathedral of St. Paul in Boston for "Words from the Street: Readings and Conversation with the Black Seed Writers" for writing workshops with those who are homeless, transitional, and recently-housed, culminating in publication of their works in The Pilgrim magazine and four public reading and discussion programs.
$1,757 to Somerville Center for Adult Learning Experiences for "Theater for Adult Immigrant ESL Students" to fund a theater class for ESL students in which they will learn about Americans' experience of the home front during WWII, perform a play on that topic for other ESL students, and then engage in small and large group discussion after the performance, developing their language skills and their knowledge of history.
$3,500 to Boston Review for "Women's Right to Be Elected", a panel discussion on the political theories and practical differences between the right to vote and the right to be elected, comparing the US with countries where more women hold elected office.
$3,500 to Company One, Boston for "Our American Stories", 3 panel discussions led by accomplished women of color, following 3 different plays in Company One's 2020 season, all connected by the theme of American stories. Two of the panels follow performances where the ticket cost is "pay as you can."
$3,450 to Arts Connect International, Boston for "Arts Equity Summit", a 4-hour panel and discussion event focused on problematizing the creation of monuments to memorialize historical events.
$3,000 to YWCA Cambridge for "Voting Rights, Women's Suffrage and Fannie Lou Hamer", two discussions with Billie Jean Young, creator of a one woman show on labor and civil rights activist Fannie Lou Hamer.
$3,000 to Jaara Inc., Boston for "Evolution of Black Dance Across the Americas", for a panel discussion on the history of Black dance forms, kicking-off the Black Dance Festival.
Cape & Cape Islands
$2,500 to the Falmouth Historical Society for "Gaining the Vote: The Road to Women's Suffrage", lectures with historians and authors on the history of women's political participation.
Western Massachusetts
$15,000 to the Osher Lifelong Learning Institute, Berkshire Community College in Pittsfield for "The Right to Vote: The Fight for Women's Suffrage 1848-1920 University Day", a day-long program for multigenerational audiences, featuring panels, performances, and an exhibit on women's suffrage.
$15,000 to the Bhutanese Society of Western Mass Inc., Springfield, for "The Untold History of Bhutanese Americans in Western Mass: A Community Oral History Project." Funding supports oral history gathering and cross-generational dialogue among Bhutanese refugees in greater Springfield.
$14,500 to OneHolyoke Development Corporation, Holyoke, for "The Diary of Anne Frank 2020 Project", to bring a traveling exhibit on the Diary of Anne Frank to Holyoke High School. The program provides community discussions, professional development for teachers and opportunities for students to become exhibit guides.
$10,000 to WAM Theatre, Lee, for "Roe Reproductive Justice Education and Dialogue Across Difference Training". Funding supports preparation by cast and staff to lead facilitated post-performance dialogues on the contested issue of reproductive justice.
$3,500 to Springfield Museums for "Oh, the Thinks You Can See! Exploring Ideas and Images at the Springfield Museums", discussions with kids and caretakers of Dr. Seuss' book Oh, the Thinks You Can Think, led by a graphic facilitator who translates children's ideas into pictures at the Museum's Dr. Seuss Birthday Party.
$3,500 to Forbes Library, Northampton for "The Right to Vote: Past, Present, Future", four panel/discussion events on four aspects of voting: women's suffrage, civil rights movement, current barriers to voting, and teen voting.
Friends—
As the year draws to a close, I thank you for your support for Mass Humanities in 2019. Before we open the book on the new year, I'll share a few thoughts on what I've learned and what you can expect from us in 2020.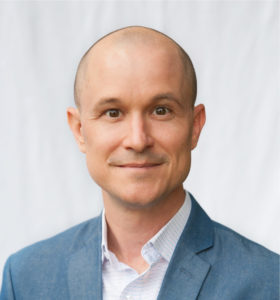 Throughout my travels, I've been struck by the energy and innovation coursing through the cultural life of the Commonwealth. Bold ideas reverberate through performance halls and inside the walls of museums, catalyzing changes in our towns and cities. Leaders in the public and private sectors understand that the creative economy can revitalize a neighborhood.
At Mass Humanities, we know the humanities are key ingredients in the cultural renaissance underway in Massachusetts. We work with residents who turn to storytelling, dialogue and scholarship to spark the imaginations of their neighbors.
In 2019 we marveled at the way historians and community members in Holyoke and Worcester joined together to reshape the stories of their cities.
We joined in the applause when neighbors of different faiths in Somerville gathered to understand each other through music.
We learned from the sixth grader in Pittsfield who dreamed of becoming a doctor but needed help navigating the obstacles she faces due to her gender.
We felt hope for the future when teenagers in Springfield, surrounded by hundreds of adults, asked tough questions about the roots of the achievement gap in public education.
We admired the working people in Brockton who debated literature with classmates from different walks of life, different countries of origin, and different ethnicities. They spoke with genuine respect for each other, and for the way the humanities force us to consider other viewpoints.
That unfailing search for common ground, combined with the genius bubbling up from our communities, makes the humanities ecosystem in Massachusetts so exciting and so deserving of more attention. These projects not only drive change—they allow residents to consider the impact of the many changes we face as Americans.
In 2020 Mass Humanities will champion this work through several key initiatives.

First, we've increased our annual grants budget by 25%, raising our grant making to the highest level in our history. Our grants serve as catalysts for residents crafting humanities-based approaches to local decision making, cultural institutions reimagining their missions and audiences, and the many scholars who are more engaged than ever in public life. They deserve as this additional support, and we thank Governor Baker, the legislature and Mass Cultural Council for making it possible.
In 2020 we'll also offer more ways to access our resources. Our Local History and Reading Frederick Douglass Together grants are now available through monthly deadlines, a change aimed at sustaining the grassroots organizations that depend on those funds. You'll find these deadlines and our revised Grants Guidelines on the recently relaunched MassHumanities.org.
As we make more funding available, we must grow the audience for the humanities. Since our founding in 1974, we've worked to fulfill the promise made by Congress in the founding legislation of the National Endowment for the Humanities: "The arts and the humanities belong to all the people of the United States."
In 2020 we'll create more opportunities for families in traditionally marginalized communities. New grants will allow students in our signature educational initiative, the Clemente Course in the Humanities, to host their own public readings of Frederick Douglass's "What to the Slave is the Fourth of July?" this summer. With funding from the Mellon Foundation and the Federation of State Humanities Councils, we'll offer summer courses in media literacy and writing for Clemente graduates to bring their voices to local editorial pages.
This spring, Mass Humanities will partner with The Care Center in Holyoke for a pilot of the PRIME TIME family literacy program. The program, recognized for excellence in early childhood education by the Library of Congress and the American Library Association, will bring caretakers and young children together to read children's books and discuss themes like courage, dreams and equity. Families will share meals, take home books, and begin a lifelong engagement with the humanities.
Our network of partner organizations stretches from Adams to Eastham, from a community center in Roxbury to a college classroom in Lowell. We want to activate this network to build more resources and more visibility for the humanities in Massachusetts. As the humanities community grows and diversifies, Mass Humanities will serve as a convener. In 2020 we'll continue our support for the Mass History Conference and Mass History Day, and we'll host our second annual summit for Reading Frederick Douglass Together project directors. Our new Humanities Lab series kicked off this month in Worcester, with plans for more grantee showcases in the coming months along with a grants workshop next fall.
Next month we'll announce the first grantees to receive support through "The Vote," our special funding priority for 2020. Sparked by the 100th anniversary of women's suffrage, "The Vote" is our contribution to the unfolding conversation about our democracy. Instead of rancor and partisanship, communities responded to "The Vote" with big questions and fresh ideas. I'm excited to watch our grantees turn their talents towards the important issue of voting. Regardless of your party affiliation, the humanities can help you on the way to the election booth.
Entering my second year on the job, I'm thankful for the many people who share in this work, in particular our dedicated board, talented staff and friends like you. As we wrap up 2019, I'll repeat the promise I made in my first letter to our supporters: I'm here to listen. And as our plans for next year should make clear, Mass Humanities is here to serve the people of Massachusetts. I hope you'll join us in making sure the humanities continue to thrive in 2020.
Happy New Year,


Brian Boyles
Executive Director
bboyles@masshumanities.org
LOI's for project grants are due by March 23, 2019. For more information on the dates and guidelines for grants, click here.
A rainy, inhospitable night in Brockton, MA, didn't stop students from coming out to discuss Uncle Tom's Children, the first book written by African-American author Richard Wright in 1938. It was the latest piece of literature they had been assigned to read in the Clemente Course in the Humanities. 
Even with English as a second or third language for many, everyone joined in the discussion, which was led by literature professor Corey Dolgon. Small and large groups reflected on themes presented in the book and each person was able to articulate how this story parallels their experiences today.  With this text in mind they listened deeply to each other's perspectives and shared their own narratives that both echoed and contrasted attitudes expressed nearly a century ago. 
This is why the humanities are critical: we can unite disparate communities by fostering the intellect and compassion needed for effective cross-cultural understanding. Using the tools of the humanities magnifies our commonalities, keeps us curious about each other, and encourages us to examine our worldview.
Four new board members began their terms with Mass Humanities this fall, joining our statewide board of directors and bringing new areas of expertise to our mission.
Lennie Alickman is a retired banker; treasurer of Provincetown Art Association and Museum; artist; real estate agent. Alickman studied painting and received a BFA from Syracuse University in 1983. Beginning in Boston and moving to Los Angeles, she worked for The Boston Company until 1999. Most recently, she served as Senior Managing Director for First Republic Bank in Los Angeles. In 2012, her passion for art was calling so she retired from private banking to pursue a professional career in the arts.
Yves Salomon-Fernandez is President of Greenfield Community College, where she leads and manages all aspects of the college as its chief executive officer. Previously the president of Cumberland County College in New Jersey, she served as Vice President for Strategic Planning and Partnership Advancement for Massachusetts Bay Community College, with teaching experience at Salem State University, Cambridge College, and Boston College. She received her PhD in Educational Research from Boston College.
Phitsamay Sychitkokhong Uy is Associate Professor, College of Education, and Co-director, Center for Asian American Studies at University of Massachusetts Lowell. Uy's work focuses on the Southeast Asian American experience, cultural engagement, and activism. She is a past board chair of the Southeast Asian Resource Action Center, and currently serves on the boards of Nisei Student Relocation Commemorative Fund, and the Community Advisory Board for the Institute of Asian American Studies at UMass Boston. She received her Ed.D. from Harvard.

Alickman, Uy, and Salomon-Fernandez were nominated at the June board meeting and each will serve three-year terms.
Lyell Franke is a graduate of Wheaton College and longtime resident of Duxbury. She is an Overseer and former board member of the South Shore Conservatory. She served on the boards of the Duxbury Creative Arts Council and Duxbury Cultural Council. Lyell currently serves on the executive committee of the Duxbury Music Festival, and is a Senior Associate at the MFA.
Franke was appointed to the board by Governor Baker and will serve a three-year term.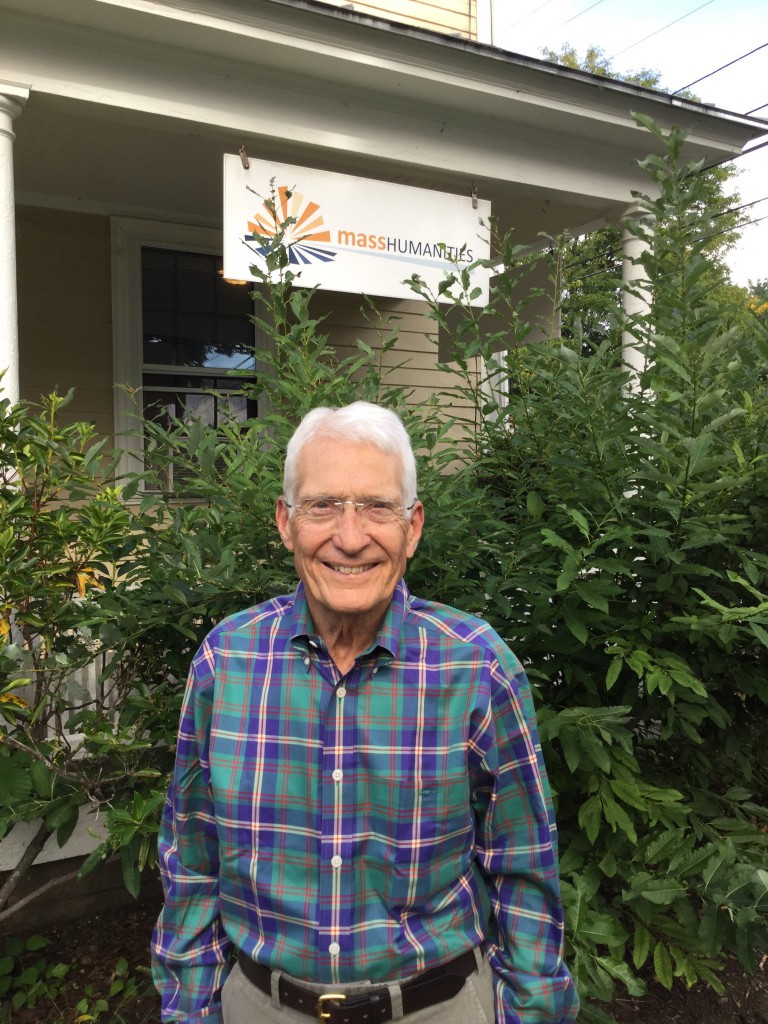 Al Griggs never intended to get involved in the humanities. But he's sure glad he did.
"I was a Coca Cola bottler," said Al. "Growing up and into early adulthood, I was acquainted with the humanities but didn't focus on it—I mostly read nonfiction!"
Being on the board of Mass Humanities, though, has "opened my mind to so many other things. Philosophy, music, literature, art, history—all those things that make us human."
And Al, along with his wife, Sally, are now only too happy to be involved with Mass Humanities and proud to support its work.
"Too few people understand the programs and the grant money that's expended by Mass Humanities. It's spectacular work that makes a real difference in people's lives."
Particularly the Clemente Course in the Humanities. "Massachusetts is an interesting place, in that there are an enormous number of museums, libraries, and colleges all around us—points of exposure to the humanities," he said. "Then there's a group of low-income people, and the humanities are not on their radar. What has been so interesting and wonderful to see is how Mass Humanities, through Clemente, programs and grants, impacts people who otherwise wouldn't have exposure to the humanities. That's been remarkable."
"In six years I've gotten a great deal of enjoyment from working with Mass Humanities. It's not just about the money we give or that Mass Humanities gives out, it's about making us all more aware of the humanities and how they can impact people's lives–including my own."
October 27: "History, Historians, and Public Memory"
Two of the nation's most prominent humanities scholars will appear onstage together for the first time this fall. On October 27, 2019, the Mass Humanities Fall Forum will feature Danielle Allen and Jill Lepore in a conversation about history, historians, and public memory. Held at the Edward M. Kennedy Institute, the Mass Humanities Fall Forum is an annual event that examines current affairs through the lens of the humanities.
The forum is free and open to the public. Register here.
Sunday, October 27, 3pm-4:30pm
Edward M. Kennedy Institute
Columbia Point, Boston
Directions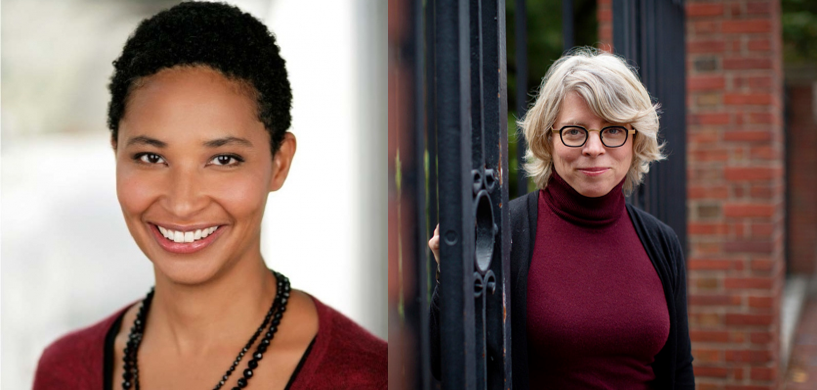 "History is propelling change in today's society through new research and public debate over the legacies of the past," said Mass Humanities Executive Director Brian Boyles. "Mass Humanities is honored to bring together two of America's brightest minds to consider the role of historians in sustaining our democracy."
From the recent New York Times "1619 Project" to decolonization efforts at museums around the world, issues around history have taken on political import in a contentious era. As the state affiliate of the National Endowment for the Humanities, Mass Humanities supports humanities-based approaches to challenges facing society. As the nation grapples with issues of identity, citizenship, and misinformation, Allen and Lepore will consider the forces influencing public memory.
Danielle Allen, James Bryant Conant University Professor at Harvard University, and Director of Harvard's Edmond J. Safra Center for Ethics, is a political theorist who has published broadly in democratic theory, political sociology, and the history of political thought. A 2019 Massachusetts Governor's Award in the Humanities recipient, she is the author of six books, including Our Declaration: A Reading of the Declaration of Independence in Defense of Equality (2014). Allen is also the principal investigator for the Democratic Knowledge Project, a distributed research and action lab at Harvard University that seeks to identify, strengthen, and disseminate the bodies of knowledge, skills, and capacities that democratic citizens need in order to succeed at operating their democracy.
Jill Lepore is the David Woods Kemper '41 Professor of American History at Harvard University. She is also a staff writer at The New Yorker. A prize-winning professor, she teaches classes in evidence, historical methods, humanistic inquiry, and American history. Much of Lepore's scholarship explores absences and asymmetries in the historical record, with a particular emphasis on the histories and technologies of evidence. As a wide-ranging and prolific essayist, Lepore writes about American history, law, literature, and politics. She is the author of many award-winning books, including the bestselling These Truths: A History of the United States (2018). Her latest book is This America: The Case for the Nation (2019).
Funds available for projects that explore voting rights.
To commemorate the centennial of the 19th Amendment, Mass Humanities will prioritize funding public programs in 2020 that use the humanities to explore voting rights in America. Applications were accepted during the Fall 2019 Project Grant round for "The Vote: Exploring voting rights in the U.S."
Mass Humanities invites non-profit organizations to submit Letters of Intent no later than September 9, 2019 for Project Grants. Click here to learn more.

The 19th Amendment
The 19th Amendment to the U.S. Constitution declared that the right to vote could not be denied on the basis of a person's sex. Ratified in 1920, it marked a major victory in the women's movement by extending the vote to women. But with racism and xenophobia on the rise in the late nineteenth and early twentieth centuries, many women of color, like their menfolk, could still not vote. Poll taxes and literacy tests effectively barred many African Americans from voting, especially in the South, and Native Americans in 1920 could gain the right to vote only by severing their ties to their tribes. Many states had passed laws making it illegal for noncitizens to vote, and Chinese Americans were barred from citizenship. Clearly the ratification of the 19th Amendment represents a complicated moment in our nation's history, one that warrants thoughtful reflection on how to commemorate it.
The year 2020 arrives at another pivotal period in our nation's electoral history. Some states are considering extending the franchise to felons and younger teens, while others have increased the hurdles to voting. As voting rights, voter fraud, and electoral security are being debated across the country, the humanities offer essential resources for deepening our understanding of this moment.
Mass Humanities invites applications for projects that explore the many dimensions of voting rights in America, using the lens of history, literature, philosophy, jurisprudence, identity-based studies, or any other humanities discipline. 

By Nancy Donahue, 2019 Governor's Awards in the Humanities Honoree
Virtually my entire life has been spent in New England manufacturing cities made up of hard-working, diverse immigrant groups living in harmony for the most part, who are making tremendous contributions not only to the economy, but also to the less fortunate in the community, and to an exciting, vibrant culture.
I grew up in New Britain, CT, at the end of the Great Depression and into World War II. My father was an engineer who ended up having to make his living selling ten-cent insurance policies door to door, while my mother raised my two brothers, sister, and me. All the while she volunteered to help families who weren't faring as well, through the church, Red Cross, and other organizations.
The war had started when I entered junior high, and I joined the Victory Farmerettes. All the boys—including my uncles—had been drafted, and the farmers were left with no one to do the labor. So, we girls spent our days working the soil on farms around New Britain, with my group being headquartered in an abandoned country club. Everyone took part in the war effort in big and small ways: each family had their own Victory Garden; we all saved and rolled the tin foil used to wrap chewing gum. In high school, I was a Candy Striper at the hospital and involved in many church and school organizations.
After I graduated from Lasell College, I was lucky enough to land a job as one of five female salespeople at IBM around 1950 – there were two young sales women in New York, one in Los Angeles, one in Chicago, and me solo in Boston. The company was refining its innovations on the electric typewriter and management thought women would be better at persuading schools and colleges to buy them, as typing was considered "a woman's job." That was the time of the Korean conflict, and I volunteered to work Air Patrol night shifts at the top of Hancock Tower, watching for enemy planes. Why they ever thought enemy planes would be coming over Boston, I don't know.
I met my dear late husband Dick while I was working in Boston and he was attending law school. We were married a short time later, and little did I know that fifteen years later I would be mother to eleven children. I had always thought that six children sounded like the right number of blessings to count, but I ended up with many more.
Before we were married, Dick and I both volunteered for John F. Kennedy's campaign when he ran against Senator Henry Cabot Lodge for the U.S. Senate in 1952. After we were married, Dick continued to volunteer with the Kennedy organization, eventually taking a leave of absence from his law firm to work on Kennedy's attempt at the vice presidency in 1956 and then, most importantly, on his 1960 presidential election campaign.
When President Kennedy asked Dick to serve on his administration, we moved the growing family to Washington, DC. I was raising six, soon to be seven kids essentially by myself; Dick worked from dawn to long after dusk, so he was no help. When we had number seven, we hired a young woman from Panama whose mother was an indigenous Panamanian and whose father was French of African descent; she looked African American. She had no understanding of the discrimination in this country, and neither did I.
Once, she had a toothache and we sent her to a dentist who, unbeknownst to me, refused to treat black people. She was turned away. We were shocked. Another time, she tried to take the kids to a matinee movie, but wasn't allowed in. For me, the evils of the country I was born into were being revealed; for her of course, it was much worse. She stayed with us for many years, went on to work in a hospital, married and moved to Brooklyn. We kept in touch for the rest of her life.
Over the years I was fortunate to have found a series of au pairs who not only were terrific caretakers, but also taught the family and me about the world outside of DC since they all were immigrants. Our friendships lasted many years.
November 15, 1963 was Dick's last day with the Kennedy administration. He had been working for 3 years in the White House and another year before that on the campaign, and he thought it was time to get back to the law and to Lowell. Seven days later, on November 22, President Kennedy was assassinated. That was a horrible time—more evil revealed. I remember flying to the funeral with the rain pouring down the plane window and how it matched our tears.
In the following years, Dick served on the board and then as president and COO of Nike in Oregon. The arrangement was that I would fly to Portland and stay for two weeks, then fly back for two weeks in Lowell, as I had many commitments in Lowell as well as some of the family who hadn't yet flown the nest. I became more involved with the Lowell community and served on various boards, first in the area of human service with agencies such as the United Way and the International Institute, and then with more arts-oriented organizations.
In the early 1990s, the president of UMass Lowell, who was a neighbor, wanted to start a foundation for the university in order to gain support from private sources. He asked if I would help with the fundraising to get it going, so we started a series of events, twice a year, where we would bring in musicians and other performers from around the world: Yo-Yo Ma, the Moscow Pops, Bennie Goodman, and Marcel Marceau, to name a few. We were flying by the seat of our pants, but it was great fun and very successful. At last, Lowell had some top quality cultural events!
As I had this new reputation in the performing arts, a couple of actors from a summer theater in New Hampshire came to me to talk about opening a professional theater in Lowell. We assembled a board, UMass Lowell offered their auditorium, and the Merrimack Repertory Theatre was born. The Theatre soon acquired its own space and has gone on to produce wonderful shows that are influenced by the diverse perspectives of the Lowell community, also serving as a showcase for new works. It is now a nationally recognized theater attracting actors, directors and designers from across the country. I served as the first president of the board and for the next forty years served on the board in many different capacities; I'm currently chair of the board.
Dick served for many years on the board of the John F. Kennedy Library Foundation and my family has been pleased to support the work of the Kennedy Library in promoting civic education, hosting naturalization ceremonies for new immigrants, and offering free public forums on an array of issues that resonate with President and Mrs. Kennedy's vision for the future of our country. Our relationships with the Kennedy Library, Caroline Kennedy, and Senator Edward M. Kennedy are associations of which the Donahue family has always been quite proud.
I serve on many other boards and advisory boards in the arts, the humanities, and education. I have learned over the years that culture and human services go hand-in-hand to meet peoples' needs. Social and creative enrichment are just as important as food and shelter for a thriving community. It's also amazing to see the leadership in Lowell diversify over the years. I look forward to watching Lowell blossom into the future.
–September 2019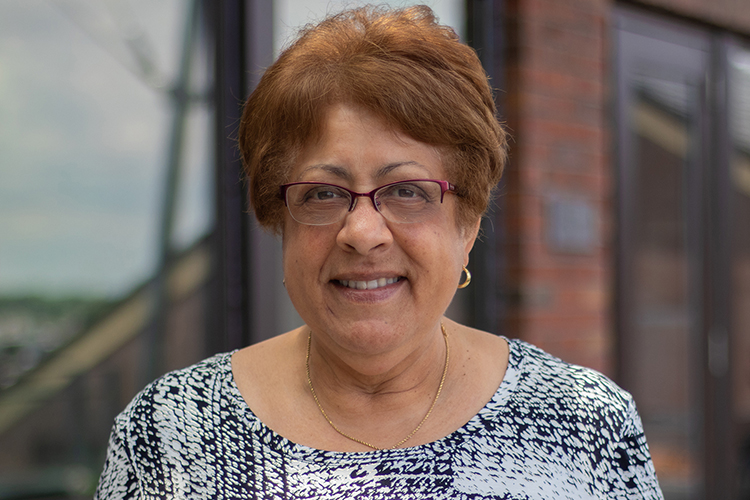 By Lee Blake, President, New Bedford Historical Society
2019 Governor's Awards in the Humanities Honoree.

Join us on 10/27 to celebrate her achievements.
When I was in high school in the 60s, I was fascinated by the politics of the day. Martin Luther King was coming up, people were talking about black resistance, the Vietnam War, and how to organize and I didn't know anything about that. I wanted to be able to discuss the issues, but I couldn't find any information. I began to organize students and we demanded African American studies classes and African American afterschool programs. This was done out of our need to connect to our own identity and to have positive images of black people.
I was born and raised in New Bedford. I attended UMass Amherst and UMass Dartmouth in the early 70s. At that time, it was very hard for people of color to get into college, but I knew that college was the place where I would learn more, and where I would be in a position to earn more. I was in the second UMass class to integrate and my experiences there were really pretty bad. There were about 15 of us from New Bedford who enrolled with other people of color from around the state. We were each put in a different dorm. None of the women in my dorm would speak to me for the whole semester.
When I graduated, my first job was teaching African American studies classes at my high school in New Bedford. After four years, I moved to New York where I worked to integrate the construction unions.  Then I worked for the first African American mayor of New York as director of education for the city. I worked with all the school systems and also the state, addressing urban education issues on the elementary and secondary level.
I moved back to New Bedford after 20 years or so, just before September 11, seeking more community involvement in New Bedford's development.
New Bedford is extremely diverse and has a strong history with the Underground Railroad. There are large Cape Verdean, Portuguese and African American populations as well as many other ethnic groups that were all brought here through the whaling and textile industries. It's a culturally rich community.
At the New Bedford Historical Society, where I have been president for eight years, we work with other organizations to make sure that voices from all corners of our community are heard through events that go on in the city. It is our role to preserve New Bedford's history for people of color.
The National Endowment for the Humanities has awarded us five grants relating to New Bedford's Underground Railroad and Frederick Douglass. Not everyone knows that Frederick Douglass and his wife, Anna, lived in New Bedford for a time.  In fact, Frederick gets the name Douglass here in New Bedford and in 1842 voted for the first time in local elections.  A number of well-known abolitionists lived in New Bedford before they moved to other parts of the country; this included Lewis Hayden, John Jacobs, brother to Harriet Jacobs, and Jeremiah Sanderson, an educator who founded schools for children of color in California.
In partnership with UMass Dartmouth, I hosted several summer workshops where we invited approximately 80 teachers from around the country each summer to learn about the Underground Railroad from the maritime perspective. We created a movable campus using historical sites here in New Bedford that were involved at that time. We held lectures at the Quaker meeting house, New Bedford Whaling Museum, and other historical sites so that people would get a flavor for and understand these places' role in American history.
It is important to understand that things have changed for people of color in our country. Part of my work with the Historical Society is to make sure that people recognize these changes and to include the voices of people of color in the historical narrative of the city. People here in New Bedford, but really people across the United States, have struggled to move the country forward. When I'm working with the historical society and our focus is on African American history, Native American history, Cape Verdean history and the Underground Railroad, what we are doing is making sure that the environment that we live in supports multicultural and multi-racial history.
When I was young, I would have loved to hear these stories. They are inspiring—so tangible and touchable. The Underground Railroad was something people believed in. They supported people; they helped people while they were here in New Bedford and then helped them move on. Committees were formed to help buy people's freedom. These are the kind of empowering stories that young people want to hear about. This is what the humanities do!
Mass shootings are often described as "tragedies." When former First Lady Michelle Obama discussed in her recent autobiography the 2012 murder of 20 children and six of their educators at Sandy Hook Elementary School in Newtown, Connecticut, she wrote, "Usually, work was work and home was home, but for us, as for many people, the tragedy in Newtown shattered every window and blew down every fence."
Similarly, the Associated Press reported on how the Las Vegas community "marked the anniversary of the tragedy," referring to the 2017 mass shooting at a country music festival at which 58 people were murdered and close to 500 wounded. The American Public Health Association responded to the murders of 11 people at the Borderline Bar & Grill in Thousand Oaks, California by stating, "It is unacceptable that preventable gun violence tragedies have become so frequent."
In perhaps the most heartbreaking official response to a mass gun murder in the U.S., President Barack Obama, tears streaming down his face, spoke to the community of Newtown and said, "We can't tolerate this anymore. These tragedies must end. And to end them, we must change…We will be told that the causes of such violence are complex, and that is true. No single law, no set of laws can eliminate evil from the world or prevent every senseless act of violence in our society, but that can't be an excuse for inaction. Surely we can do better than this."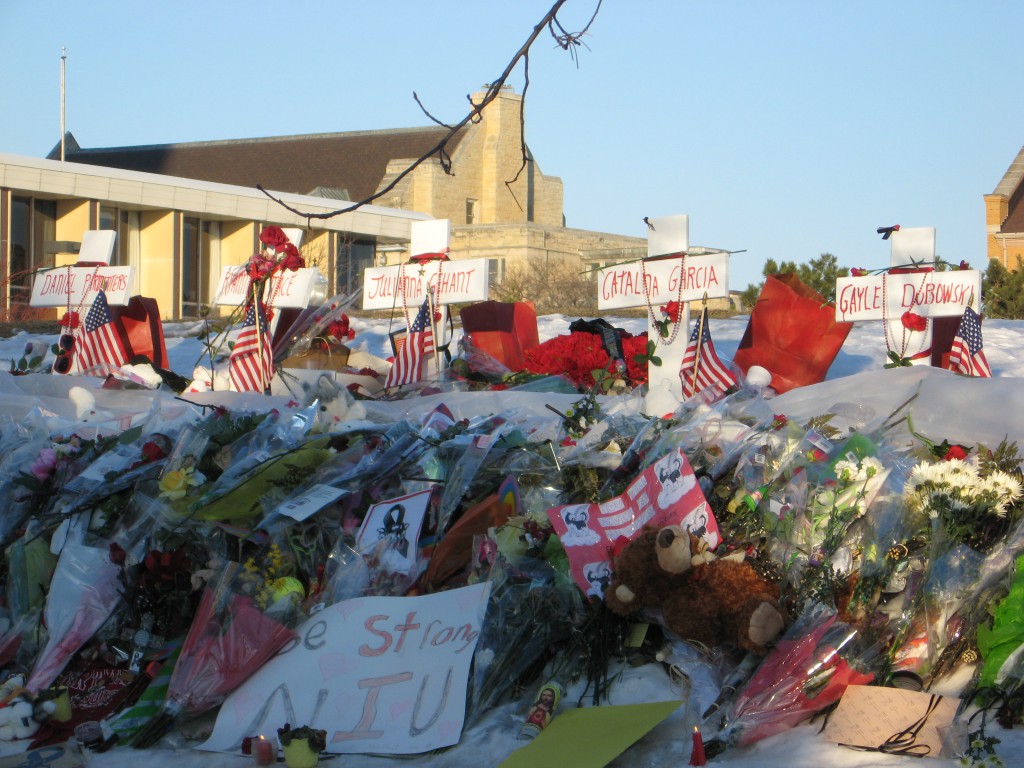 We can do better, and one way is to change the language we use to describe and come to grips with these atrocities. It can seem like a small point, a linguistic splitting of hairs, but language shapes meaning, and meaning informs action.
Not at all inevitable
When we call a mass murder a tragedy, we create a narrative in which such violence seems inevitable. Any literature student knows that "tragedy" was formalized as a specific theatrical form in ancient Greece, is best exemplified by the play Oedipus Rex by Sophocles, and was defined by the philosopher Aristotle in his Poetics. In its original usage, "tragedy" referred to the suffering of an individual whose "tragic flaw" fated them to fulfill a usually horrible destiny. The protagonist is therefore simultaneously a victim of fate and the agent of his own inevitable victimization. In Oedipus's case, he tried to avoid his fate but ended up falling victim to it due to his own tragic flaw, in his case pride.
There is no comparison between this and the victims of mass gun violence. What was the "fatal flaw" of the worshippers in Killeen, Texas? Of Charleston, South Carolina, or the Tree of Life synagogue in Pittsburgh? The students and teachers and support staff at Columbine High School, Virginia Tech University, Sandy Hook Elementary, Marjory Stoneman Douglas High School, Umpqua Community College, or Santa Fe High School?
The answer to all these questions is, "Nothing." The victims of these crimes were not destined to die, but the use of the word "tragedy" means that we accept, linguistically, the idea that these people were, like Oedipus, somehow complicit in their own demise, and that there was, and is, nothing we can do about it, because such events are fated, inevitable. This perhaps unconscious acceptance of our own powerlessness creates passivity. Using "tragedy" to describe mass violence leads us to understand life as an experience that contains events we are helpless to stop, a world in which we are all as blind as Oedipus, left to weep and wail, send thoughts and prayers—passive responses that do nothing of substance to stop the massacres.
Evil and mundanity
It is the same with use of the word "evil" to refer to the perpetrators of mass violence. "Evil" has become a shorthand term to describe something or someone who does something morally wrong, but the word comes with a long history of religious and moral subtext, particularly of the supernatural. The word is commonly used within the realm of morality and religion to describe otherworldly forces uncontrollable by humans. In the Christian Bible, for example, evil is a constant threat that humans must overcome: in Ephesians 6:12, humans must "struggle not against flesh and blood, but…against the powers of this dark world and against the spiritual forces of evil in the heavenly realms."
But mass murderers do not possess supernatural powers. They do not scratch at our windows at night. Mass murderers choose to kill people for many reasons, but none of them were driven by an uncontrollable supernatural force. When we describe them as "evil," we, again unconsciously, turn them into people who commit murder because of some spiritual lapse, some severe moral flaw, rather than being criminal actions carried out by "ordinary men" (to borrow Christopher Browning's description of Nazi mass murderers), truly banal human beings, as Hannah Arendt described Adolph Eichmann.
We can change this by referring to "mass shootings" as "mass murders"—and murder is a crime. The perpetrators of this violence should be called criminals, not "shooters" (a term that places the murderer at the center of the narrative rather than the victims who deserve our attention). Use of the term "crime" rather than "tragedy" also places these massacres in a different realm: instead of the language of inevitability and powerlessness, we can frame our discussion in the realm of the law, which is a social and civic problem, not a religious or moral one, and which people believe they can control or prevent—not the case with "tragedy" or "evil."
Perhaps this small change in terminology can create a different response other than passivity, allowing us to create proactive solutions to the problem of mass gun violence in the U.S. If we don't, we will then be the agents of our destruction, like Oedipus, blind to the true meaning of mass murders, and to our own role in their perpetuation—and that would truly be a tragedy, because we would be the ones who failed to stop them.