"Photography can help you tell your story…and share it with the world. That can be a like a medicine. That can heal someone." – Mussa Uwitonze
The 1994 genocide in Rwanda, in which extremists from the dominant Hutu ethnic group went on a killing spree to rid the country of all minority Tutsis, left 800,000 people dead and 95,000 children without parents. Three orphans of the genocide—Gadi Habumugisha, Mussa Uwitonze, and Bizimana Jean—are subjects of a feature documentary, Camera Kids, currently in production by Boston-based GroundTruth Films and supported by a Mass Humanities Project Grant.
The documentary follows Gadi, Mussa and Bizimana on a journey through Rwanda as they try to understand the roots of the genocide that made them orphans. To do that, they meet with, photograph, and interview genocide perpetrators, their families, and their victims. They are the first genocide orphans to begin a conversation with the children of genocide perpetrators.
It's a story that is itself rooted in storytelling. Gadi, Musa and Bizimana grew up in Imbabazi Orphanage, where they were first given disposable Fuji cameras by Through the Eyes of Children (TTEC), a nonprofit that teaches photography to vulnerable children and helps them to share their stories with the world. For more than a decade, TTEC visited the orphanage and taught photography to a group of 19 kids. The orphans became known as "the camera kids."
The photos of everyday life in Rwanda taken by Gadi, Mussa, Bizimana and sixteen other camera kids are the largest known body of photographic work of Rwanda rebuilding taken by victims of the genocide. The images have been exhibited around the world and featured at the United Nations and at the premiere of Hollywood's Hotel Rwanda.
Now adults and professional photographers themselves, the three men have gone from being students of the non-profit to becoming its teachers. Through TTEC, they're running photo workshops around the world with the goal of helping other vulnerable children.
Their first global photo workshops were held in 2018 with immigrant teens in New Jersey and foster children in Massachusetts. Over the next year, as they travel to Haiti and the Middle East to work with orphans and refugees, GroundTruth's film team, led by Director/Producer Beth Murphy, will be with them, documenting their journey and exploring the power of storytelling and the humanities to foster understanding.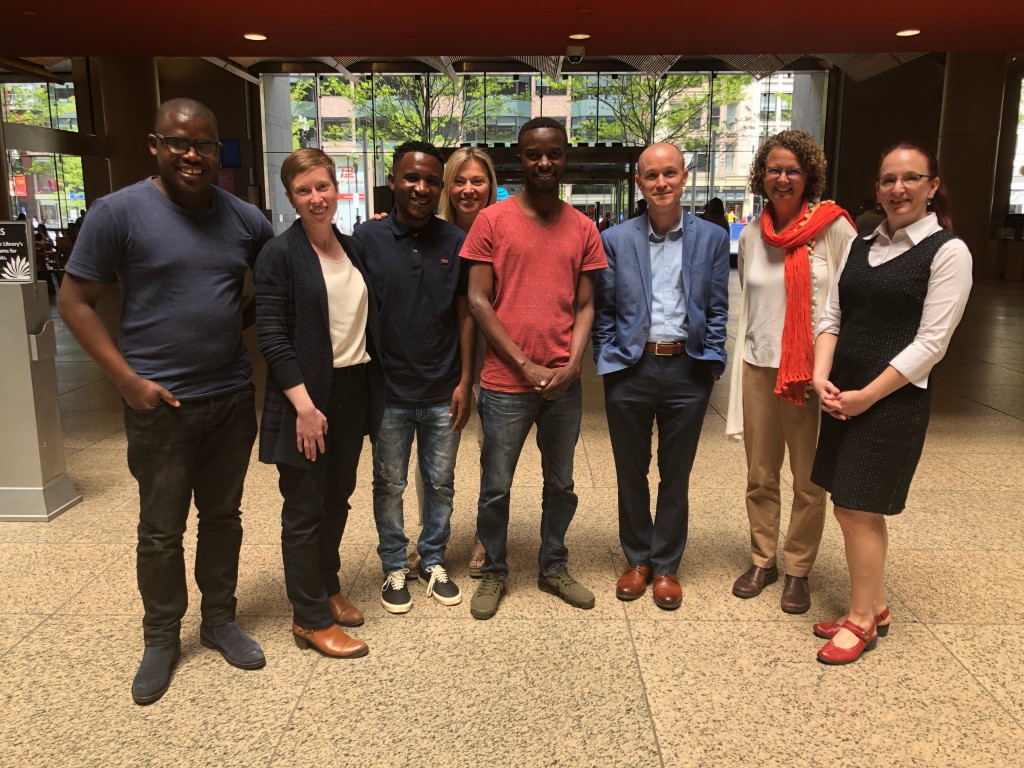 Mass Humanities funding has gone toward two specific project goals: the creation of the above trailer, and multimedia work published in TIME and The GroundTruth Project.
The topic of genocide goes to the core of what the humanities are about: humanizing the other. By focusing on sharing and expanding the experiences of genocide survivors, both orphans and perpetrators, the project raises important questions about the past and future of our shared humanity—life and death, peace and war, pleasure and suffering, hope and despair. What is the legacy of genocide for the children of those who were killed? For the children of those who committed the atrocities? What, together, can they teach us? These issues, along with the often contradictory responses they inspire, call for humanistic methods to shed light on the truth beneath the wealth of images captured by the kids' cameras.
Find out more about this project at groundtruthproject.org.
Mass Humanities has awarded grants totaling $177,053 in support of 34 humanities projects in communities across the state. Funded projects include oral histories, museum exhibits, community discussions, workshops and documentary films on a number of topics: the life experiences of Ugandan immigrants in Waltham, the relationships between Pilgrim settlers and Wampanoag peoples in Plymouth, and a documentary exploring couples whose marriages have broken new ground.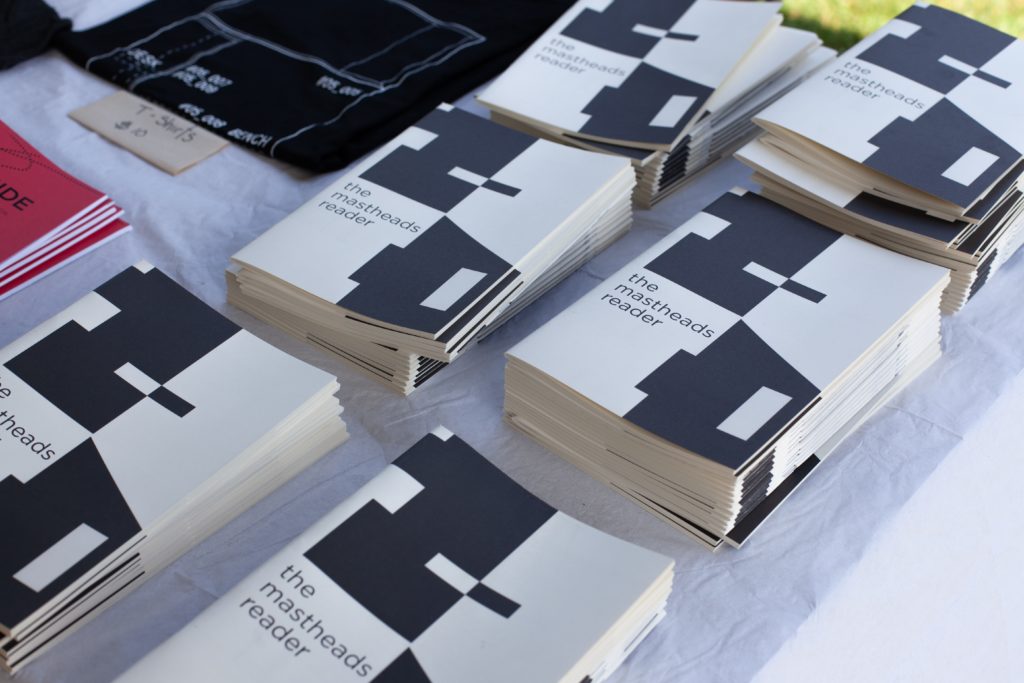 "Our most recent grants are a reminder that, in an era marked by discord and uncertainty, the humanities offer common ground," said Mass Humanities Executive Director Brian Boyles. "Whether by reading the work of Frederick Douglass together or discussing difficult moments in our history, people in Massachusetts come together to learn, to listen, and to imagine the future of their communities."
The grants are part of more than $500,000 that will be awarded in 2019 by Mass Humanities. The organization is the state affiliate of the National Endowment for the Humanities, and receives funding from the Mass Cultural Council. Museums, libraries, community centers, and universities are among the beneficiaries of Mass Humanities grants, reviewed and approved by members of the Mass Humanities board of directors.
See below for a full list of projects funded.
Berkshire
$5,000 to the Flying Cloud Institute in Great Barrington for a project with 20 underserved Pittsfield girls in an after-school science program that uses theater- and humanities-based discussion to help them understand the production of scientific knowledge as a process shaped by social and cultural forces.
$2,325 to Chester Theatre Company for four post-performance discussions with various scholars. Plays include Now Circa Then and On the Exhale.
$2,000 to Lee Historical Society to inventory their collection and create a finding aid.
$3,500 to the City of Pittsfield Office of Cultural Development for "Class and Culture in the Gilded Age Berkshires," a lecture and moderated discussion on the early lens of James Van Der Zee and the pen of W.E.B. Du Bois, part of The Mastheads' 2019 season.
$3,500 to Barrington Stage Company in Pittsfield for a free symposium on environmental challenges in the Berkshires accompanying a performance of Fall Springs, a dark musical comedy about environmental disaster.
$395 to the Susan B. Anthony Birthplace Museum in Adams to host an educational family day culminating in a reading and discussion of Frederick Douglass's speech on the meaning of the Fourth of July.
Cape Cod & Islands
$14,925 to Plimoth Plantation in Plymouth for Biography of a Landscape, an exhibit and public lecture on the relationships between Pilgrim settlers, Wampanoag peoples, and their shared environment.
$1,500 to the Cape Cod Cape Verdean Museum and Cultural Center/Associacao Caboverdiana de Brockton in Brewster for a reading and discussion of Douglass's speech on the meaning of the Fourth of July. The reading will take place on July 5th, Cape Verdean Independence Day.
Central
$2,000 to the Photographic Presentation Center to organize, inventory, and digitize items from the collection of Auburn photographer Winfried Sommerfeld.
Greater Boston
$3,000 to Fort Point Theatre Channel in Boston for a discussion of the "Her Story Is" project, exploring how a small group of American and Iraqi female writers are collaborating with each other as they translate both language and culture, including the impact of war.
$7,500 to the Arlington Historical Society for The Day History Marched Down Our Streets, a permanent exhibit about the site of the most intense fighting on the first day of the American Revolution.
$15,000 to the Edward M. Kennedy Institute for the United States Senate in Boston for a 20-minute program on the suffrage movement in the U.S., with a focus on 1910-20. The program will become part of EMK's rotating repertoire of daily programs.
$6,500 to the Museum of African American History in Boston for lectures on the history of jazz and the creation of an exhibit showcasing the African Meeting House as a gathering place for members of Boston's black community and their allies since the early nineteenth century.
Metrowest Boston
$12,914 to African Cultural Services in Waltham for Diary of a Confused Immigrant–Telling Our Stories, a community-based participatory research project and performance exploring the experiences of the town's Ugandan immigrant community.
$7,500 to The Drinking Gourd Project in Concord for research and design of a family tree representing the intertwined relationships of Robbins House residents, all connected to Caesar Robbins, an African American Revolutionary War soldier.
$600 to The Robbins House in Concord for a reading and discussion of Douglass's speech on the meaning of the Fourth of July that illuminates the black freedom struggle from the Declaration of Independence through the present day.
$3,500 to Good Shepherd Community Care in Newton and the organization Living Wisely, Dying Well to host four lecture and small-group discussion events that incorporate the arts and humanities into death and dying education.
Northeast
$3,500 to New Lynn Coalition for a July 3 reading and discussion of Douglass's speech on the meaning of the Fourth of July and a follow-up discussion in September, "The Unfinished Agenda of Frederick Douglass in the 21st Century: Which Way is the Arc of Justice Bending Today?"
$2,000 to the University of Massachusetts Lowell for a finding aid for a collection of Jack Kerouac's papers recently gifted to the university.
Southeast
$8,750 to the Center for Independent Documentary in Walpole for distribution of the documentary film Exile and Community: The Life of Carola Domar. The film focuses on the life of a Jewish teen living in Germany in the 1930s who was targeted by the Nazis and eventually escaped to Britain and then to Massachusetts.
$15,000 to the Center for Independent Documentary in Walpole for pre-production of a documentary exploring the institution of marriage and the couples whose marriages have broken new ground, including the first same-sex couple to obtain a marriage license in the U.S.
$500 to Old Parish Preservation Volunteers in Norwood to host a reading and discussion of Frederick Douglass's speech on the meaning of the Fourth of July. The reading will be part of the town's July 4th celebration.
$500 to The Frederick Douglass Neighborhood Association in Brockton to host a reading and discussion of Frederick Douglass's speech on the meaning of the Fourth of July. The speech will be read in many different languages.
$3,500 to South Coast LGBTQ Network in New Bedford for a series of four films at the New Bedford Whaling Museum related to LGBTQ+ experiences, followed by panel discussions and conversations with the audience.
$2,000 to Sharon Public Library for the repair and digitization of the papers of Eugene Tappan, Sharon's first historian, as well as the creation of a finding aid.
$2,000 to Mansfield Public Library to digitize 30 reels of the Mansfield News, a local newspaper dating back to 1873.
$2,000 to the Hanover Historical Society to produce an annotated catalog of documents and artifacts related to the history of shipbuilding on the North River.
Western Massachusetts
$2,200 to Shaw Memorial Library in Plainfield to host a reading and discussion of Douglass's speech on the meaning of the Fourth of July, and a follow-up discussion of the Massachusetts State Constitution.
$3,500 to the Institute for Environmental Awareness in Petersham for "Building Bridges at the Great Falls: Native Roots and Current Challenges," a series of events for participants to experience and reflect upon Native culture and presence in Western Massachusetts.
$7,500 to the Springfield Public Forum for four events devoted to understanding the history and structural causes of the achievement gap in American education.
$3,275 to Silverthorne Theatre Company in Turners Falls for scholar-led discussions of three plays that consider how people navigate cultural identity in situations designed to marginalize, exclude, or exterminate them.
$10,670 to Fractured Atlas in Charlemont for two series of scholar-supported workshops with Franklin County youth, who will explore the social and historical contexts of their identity and develop a performance based on the workshops.
$15,000 to Filmmakers Collaborative for pre-production of a documentary on the experiences of four women from Voices From Inside, a Greenfield-based organization that facilitates writing groups for incarcerated and formerly incarcerated women.
Outside Massachusetts
$3,500 to Hawaiian Mission Houses Historic Site and Archives in Honolulu for scholar-led discussions accompanying a performance about one of the first Native Hawai'ian missionaries to travel to New England.
###
ABOUT MASS HUMANITIES
Mass Humanities, a non-profit based in Northampton, conducts and supports programs that use history, literature, philosophy, and the other humanities disciplines to enhance and improve civic life throughout Massachusetts. Since its founding in 1974, the organization has provided millions of dollars in support of thousands of humanities projects across the Commonwealth. Established as the state-based affiliate of the National Endowment for the Humanities (NEH), Mass Humanities is an independent programming and grant-making organization that receives support from the NEH and the Massachusetts Cultural Council as well as private sources. masshumanities.org Twitter Facebook Instagram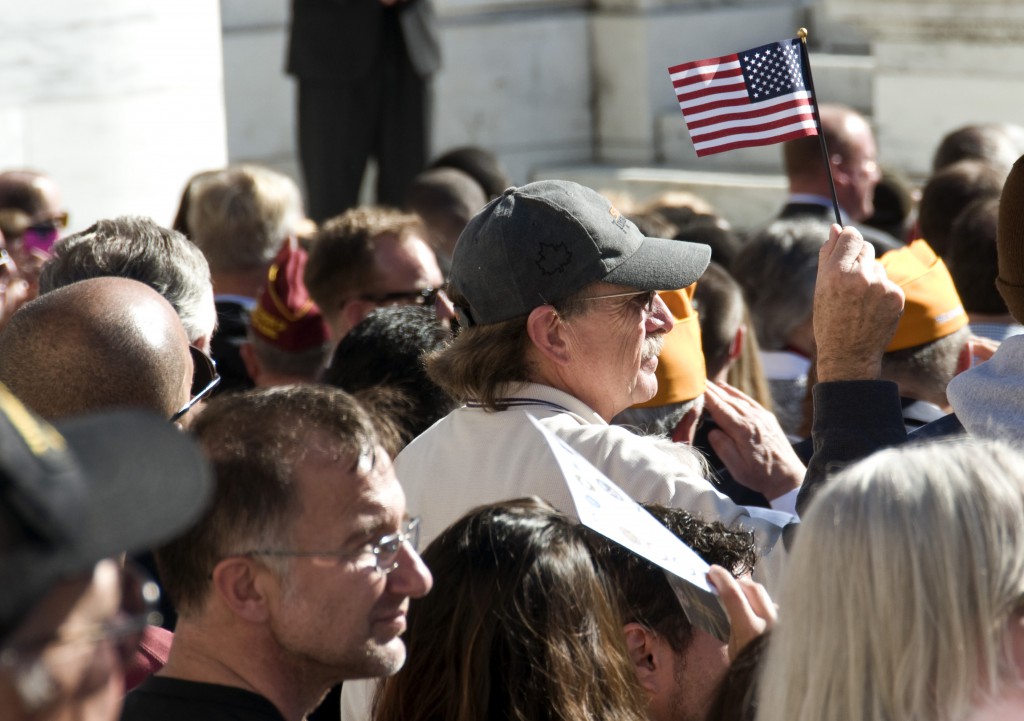 During the past fifteen years I have been honored to take part in at least a dozen programs, sponsored in whole or in part by Mass Humanities, concerned with understanding and addressing the excruciating harvest of our recent wars and the human cost of deadly conflict.
War is a dark place where eyes go dark and the enemy's and one's own humanity is often put aside, hidden away, and hard to retrieve. War is a place of ultimately indescribable loss and sorrow. "It should break your heart to kill," writes Army infantryman and poet Brian Turner, and it does. War imperils not only our lives but also our humanity.
The humanities help to keep the human flame alive, a flame we kindle every time we form a circle and tell our stories to each other. In the human circle the storyteller is always welcome. According to Homer, there are actually three types of strangers that we are always glad to see at our door: the physician, the carpenter, and the storyteller. We are glad to see them because they can fix what is broken and there's always something broken, something that needs fixing, whether in our bodies, our houses, or our souls.
How is it that storytellers—those first and consummate humanists—heal hearts and souls, particularly hearts and souls broken in war? "All sorrows can be borne," Isak Dinesen tells us, "if you put them into a story or tell a story about them." And why do we read? C.S. Lewis, another great modern bard, offers his view. We read, he says, "in order to know that we are not alone." For veterans, stories are, in the words of VA psychiatrist Jonathan Shay, "sacred stuff," a matter of life and death, a matter of survival. Stories bind wounds, re-knit the self, and reconstruct community. "That's the real obsession," writes Tim O'Brien in The Things They Carried. "All those stories. Not bloody stories necessarily. Happy stories too, and even a few peace stories…That's what stories are for…joining the past to the future. Stories are for those late hours in the night when you can't remember how you got from where you were to where you are. Stories are for eternity, when memory is erased, when there is nothing to remember except the story."
Our Paleolithic ancestors—hundreds of thousands of years ago if it was a day—carried their fire-kits with them everywhere they went, because survival depended on never being without fire or the capacity to kindle it. Fire brought light, safety, warmth, and the fellowship of the human circle. Today, our human survival depends on carrying our stories, whether in a backpack, a Kindle, or in our memory. Stories keep the most endangered parts of us alive. The human fire is always in danger of going out and not coming back, especially in war. We can all say with Albert Camus that "the years we have lived through have killed something in us. And that something is simply the old confidence that humanity had in itself, which led us to believe that we could always elicit human reactions from each other if we spoke in the language of a common humanity." That language, I would suggest, is the one preserved in great world literature. That language, I am confident, is not a dead language.
It is the human voice, the human imagination and its stories, which first create community. Listening to each other across all our differences and divisions fosters the recognition and acceptance that bring healing, not only to veterans but also to the communities that form around them. This listening also calls for a return to and an embrace of our history, because in words commonly attributed to Michael Crichton, "If you don't know history, you don't know anything. You're a leaf that doesn't know it's part of a tree." Today's stories of military and veteran suicide and moral injury are only the latest expression of a much older story. Their rarely examined roots reach deep into the history of war and its consequences. If we don't know how the stories we live and tell today are connected to the stories of the past, we don't know anything. In the words of Goethe, "If anyone is unable to give an account of three thousand years of human history, he lives in darkness, inexperienced. He lives from day to day." When each dawn brings another veteran suicide, we can no longer afford to walk blind through our days, confused and uncomprehending. The hunger for the humanities is, if anything, intensified in our times of digital delirium and existential peril. We need stories that bind us together.
I prayed for this day, for someone to take an interest in our history in Holyoke. – Holyoke community member
It's easy to forget that history is always being written. We tend to believe the past is the past: it's unchanging and, especially at this point, well documented.
But that isn't case. There is much original research still to be done, many untold stories to tell. That's why we offer Local History Grants, to support small organizations in working with their historical collections, and why, in 2017, Mass Humanities funded Wistariahurst Museum for a project uncovering the history of the black community in Holyoke.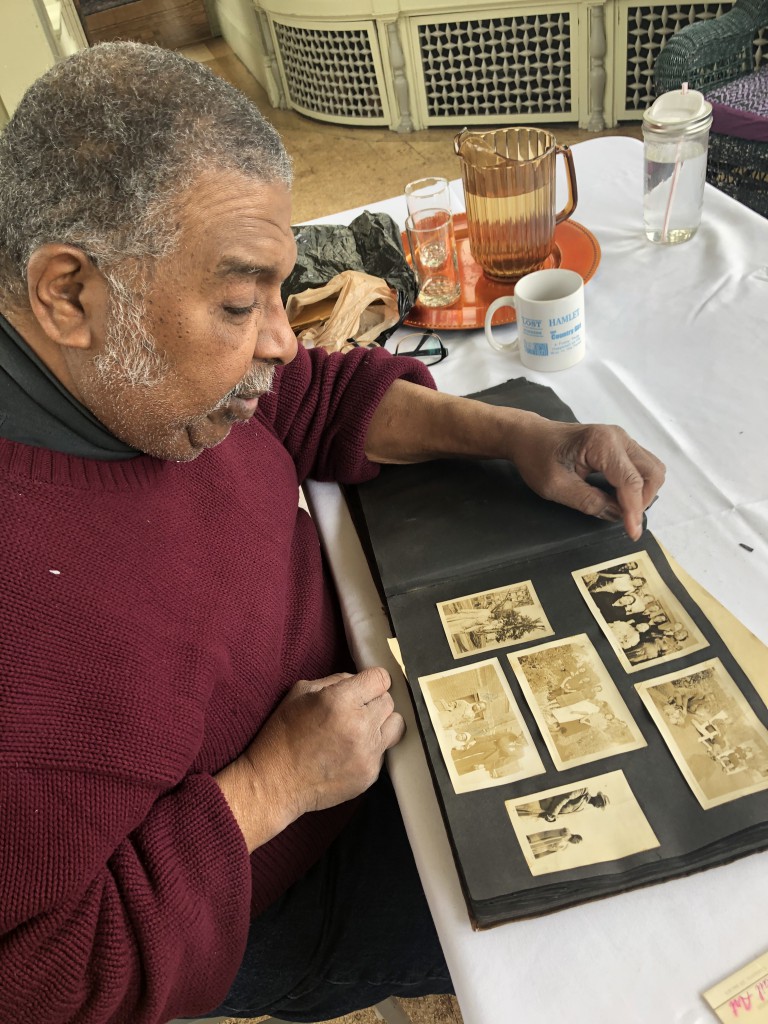 It's a story waiting to be told. The striking absence of African-Americans from the archival records in Holyoke, and the degree of neglect of the topic among scholars, made the project a crucial investment in the history of western Massachusetts. Led by scholar Erika Slocumb, the goal of the project was to uncover the problems, joys, pain, and struggles black people in Holyoke faced in their daily lives from the 18th century to the present. The experiences of black community members in Holyoke connect to national themes, from Civil Rights activism to school integration, red-lining, white flight, and the post-industrial economy.
Slocumb and volunteers initially worked with materials from the Wistariahurst Archive, the Holyoke History Room at the Holyoke Public Library and the UMass Special Collections and University Archives. But they were disappointed in just how little material was present and preserved, how little significant documentation had been collected.
As a result, Slocumb went out into the community, met people, generated trust, and began building a history sourced from people's attics, scrapbooks and memories.
The community response was extremely enthusiastic; according to Slocumb, "The greatest part about this project has been the response I received from the community." The project inspired people because of its potential to tell previously unknown stories, bring forth and capture old memories, and add something entirely new to the historical record.
That energy led to a desire to see the project to continue, which it is: in 2019, Mass Humanities awarded Wistariahurst a project grant ($14,500) for a much larger effort consisting of oral history interviews, transcription, and the creation of a gallery exhibit at Wistariahurst, which will go live in 2020.
Mass Humanities support
Historic Holyoke at Wistariahurst was awarded a $2,000 Research Inventory Grant for "Black Holyoke: Uncovering the History of Black Peoples in Holyoke, MA," for the inventory and scanning of Wistariahurst Museum's Holyoke and Carlos Vegas/Latino History Collections in order to provide a searchable documentation of Holyoke's black populations.
Historic Holyoke at Wistariahurst was awarded a $14,500 Project Grant for "Black Holyoke Oral History Project" for oral history collection, transcription, and the creation of a gallery exhibit examining the lives and experiences of Black residents of Holyoke from the second half of the 20th century through the present.
Interviewing my father meant the world to me. As I got older, our relationship and bond grew stronger and I realized that there was a lot that I did not know about him. This interview allowed me to do something positive, not only for…the Dudley area's history, but also for my personal relationship with my father. For that I am forever grateful. – Valduvino Goncalves
It's hard to top oral history when it comes to sheer storytelling power. The interviews capture the memories and perceptions of people who participated in a particular moment in history, preserved as a record for future generations. Oral histories are compelling, and valuable.
That's why in 2018 Mass Humanities supported the Dudley Street Neighborhood Initiative (DSNI), a Roxbury/Dorchester nonprofit community organization, for a project engaging young adults in the creation of oral histories of families living in the neighborhood. Specifically, the series of intergenerational interviews elevated the history of the families that moved to the neighborhood in the decades following WWII and rebuilt the community across diverse racial, ethnic and linguistic identities.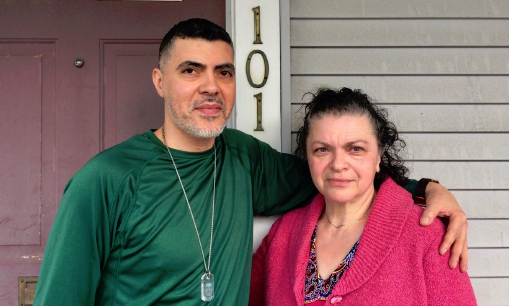 DSNI had two goals for the project: 1) share the neighborhood's unique history, and 2) arm the next generation with history. Nineteen young interviewers from the Dudley Street area were trained on how to do interviews, capturing their African-American, Latino, Cape Verdean and White elders' multilingual stories.
Sixteen interviews were recorded, covering a multitude of topics: the journey to the neighborhood; discrimination in housing and education, school desegregation, race relations, and social justice; holding onto cultural traditions, pride, hope, and the importance of family and community.
The stories told were both good and bad, realistic and hopeful. Houses in the neighborhood had low value, and banks blatantly discriminated against minorities, so people found other ways, mostly relying on each other, to buy homes. Arson was rampant–fires were so frequent that one woman kept a bag by the door for a quick escape with her three young children.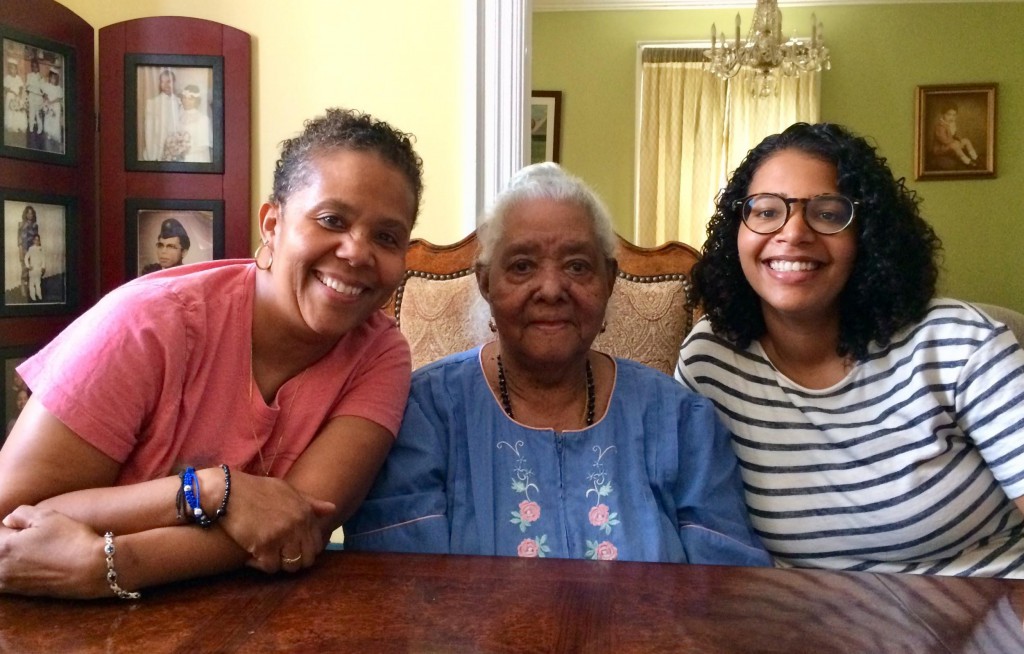 There were lessons learned as well: four federal acts, all from the mid-60s, directly impacted families and the neighborhood: the Civil Rights, Voting Rights, Immigration & Fair Housing Acts.
Overall, the people interviewed love their neighborhood, have hope and pride, a sense of community, are happy with the improvements they fought for—and are worried about affordability for the next generation.
Recordings and transcripts of the interviews can be found at UMass Boston Healey Archives, DSNI and with all the interviewers and interviewees.
Mass Humanities Support
Dudley Street Neighborhood Initiative was awarded a $7,500 Project Grant for "Neighborhood Voices: Stories of the Families of the Dudley Street Neighborhood of Boston," an oral history project documenting the stories of families living in the Dudley Street neighborhood.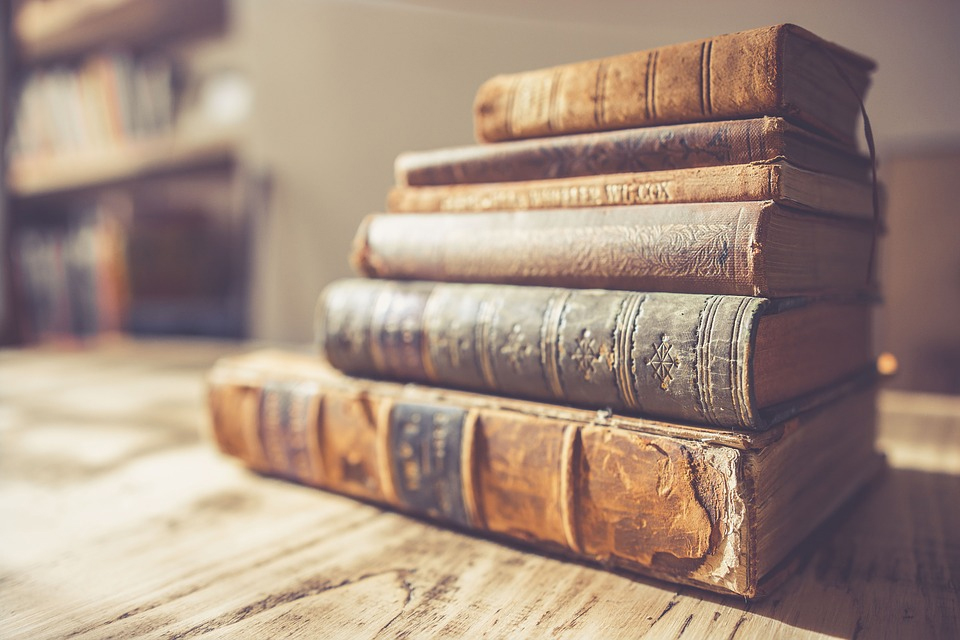 With so much media that demands to be consumed right now—newspapers and magazines, books and blogs, the infinite scroll of social media, documentaries, YouTube, podcasts, NetFlix, breaking news, and more, more, more—why spend your precious time reading obscure middlebrow literature published in the first half of the twentieth century?
For one thing, a lot of it is very well written. And it may just let you rest for a moment and make some sense of the world. As the literary scholar Gordon Hutner writes in What America Read: Taste, Class, and the Novel 1920-1960, this "middle-class realistic" fiction called middlebrow provides "a rudimentary vision of some relative cohesiveness of American life, a shareable set of values and questions about the world in which middle-class Americans live."
In previous posts ("Rediscovering Middlebrow," November 21, 2018) and "Edna Ferber's Cimarron, December 20, 2018), I discussed how the work of 20th century middlebrow writers is in danger of being forgotten, but shouldn't be: they still have much to say to present-day readers. Another middlebrow writer waiting to be rediscovered is Stephen Vincent Benét (1898-1943), whose body of work includes the book-length narrative poem of the Civil War John Brown's Body (1928) and the classic short stories "The Devil and Daniel Webster" (1936) and "By the Waters of Babylon" (1937).
—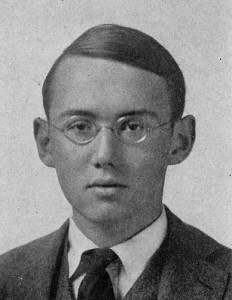 There was a time when Stephen Vincent Benét was hailed by critics as the Great American Writer and predicted his name would live forever. Pick up his short stories today and the first thing you'll notice is the clarity of his language, his ease of style. I mean no disrespect to him as a disciplined literary craftsman, but at heart Benét was a storyteller. Try these lines as openers:
The north and the west and the south are good hunting grounds, but it is forbidden to go east. It is forbidden to enter the Dead Places. But I am a priest and the son of a priest and we can venture there alone. ("By the Waters of Babylon," 1937)
They came up over the pass one day in one big wagon—all ten of them—man and woman and hired girl and seven big boy children, from the nine-year-old who walked by the team to the baby in arms. Or so the story runs—it was in the early days of settlement and the town had never heard of the Sobbin' Women then. But it opened its eyes one day, and there were the Pontipees. ("The Sobbin' Women," 1937)
It's a story they tell in the border country, where Massachusetts joins Vermont and New Hampshire. Yes, Dan'l Webster's dead—or at least they buried him. But every time there's a thunderstorm around Marshfield, they say you can hear his rolling voice in the hollows of the sky." ("The Devil and Daniel Webster," 1936)
While you're wondering who these people are and what's going to happen to them, the one sure thing is that they are Americans. You can't read Benét without recognizing his faith in the promise of the United States. Born in 1898 into a military family in Bethlehem, Pennsylvania, he published his first book of poetry at 17, and continued publishing fiction and poetry prolifically until he died of a heart attack at age 43. His era was the 1920s and 1930s. In spite of the First World War and the Great Depression, those years in many ways marked the end of America's national innocence. His characters included WASPs, Jews, Irishmen, Yankees, and African Americans. Each of them was unique, and most were fundamentally decent people who believed they would succeed through hard work and pluck.
And succeed they did. Even Jabez Stone, who sells his soul to the devil in "The Devil and Daniel Webster," is not so much "a bad man as an unlucky one." There was room for him, too, in Benét's America.
That doesn't mean Benét was naive. The characters in "Everybody Was Very Nice," the story of a disintegrating marriage, prefigure the empty suburbanites of John Cheever's mid-century fiction. "The Devil and Daniel Webster" deals with the struggles a great man faces when he is tempted to replace duty with personal ambition. "William Reilly and the Fates" is the story of a young midwestern journalist whose bedrock faith in Mom, Apple Pie, and the American Way is challenged when he gains insight into the interconnectedness of humanity during an afternoon at a very curious carnival.
And Benét's masterpiece, "By the Waters of Babylon," perfectly prefigures the horror of nuclear warfare decades before the atomic bomb was developed. I reread that story a few months ago, more than eighty years after it was written. Every word still rings true. The language is contemporary. You could still almost use it as a street map to find your way around lower Manhattan. Benét didn't fool himself about the dreadful possibilities inherent in humankind's self-destructiveness, but his eternal optimism breaks through in the last lines, when the narrator realizes that the Place of the Gods destroyed in the Great Burning was really a city of men:
And when I am chief priest…we shall go to the Place of the Gods—the place newyork…We shall look for the images of the gods and find the god ASHING and the others—the gods Lincoln and Biltmore and Moses. But they were men who built the city, not gods or demons…They were men who were here before us. We must build again.
Behind the elegant simplicity of Benét's language is a sophisticated mind and an original point of view. If I could bring only one book to that proverbial desert island, I'd chose his collection of short stories Thirteen O'Clock: Stories of Several Worlds. Some of them—unfortunately, not all—are available on the internet. I recommend finding them.
More than 75 years after his death, we may have lost Benét's innocent confidence in America. We shouldn't lose him as well. Do not forget this writer.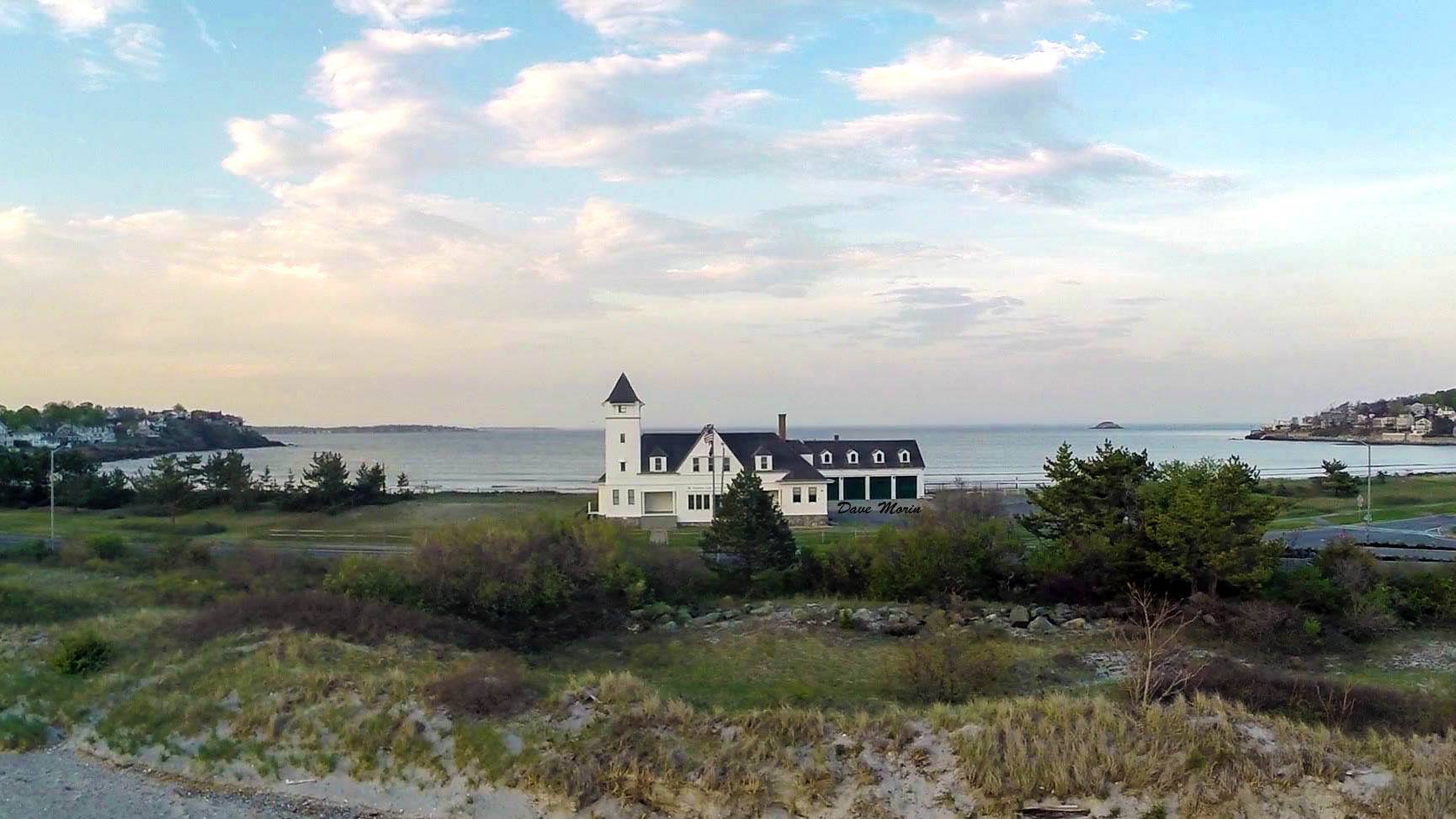 By Jeff Musman, former Mass Humanities Board Member
2019 Governor's Award in the Humanities Honoree
When I drive home from Boston and cross the mile-and-a-half causeway onto Nahant, it's like entering a different world: a magical place, a fairy land, the transition point from chaos to calm. The island of Nahant is a refuge for me and its other residents, as it is for lots of wildlife. It's been this way since I moved here 45 years ago, as it was long before I arrived, and I hope it will be far into the future.
Just out of law school and working at a firm in Boston, in 1974 I moved to Nahant with my wife at the time, two Samoyeds, and one Weimaraner—we needed more space than what we could afford in Boston. The dogs insisted. We stumbled upon Nahant quite by pleasant accident. We found ourselves in a rural village, both literally and figuratively within sight of the Boston skyline. We rented a house on Desmond Drive, at the very end of a dead-end street. We soon met the Desmonds across the street, the Desmonds down the street, and the Desmonds up the street. There were no sidewalks. Dogs could roam free…well almost free. The across-the-street Desmonds kept a flock of geese and duck that patrolled the neighborhood and terrorized and herded the dogs. It's only they who truly roamed freely.
You're surrounded by water on Nahant, with the causeway, known as the Lynnway, being the only way out. At one square mile, Nahant is the smallest island in Massachusetts. "On Nahant" is just as commonly said as "in Nahant." Is Nahant an island? Sometimes, although technically it's not: it's a "tombolo," a bar of sand or shingle joining an island to the mainland. Today it's a peninsula connected by the man-made causeway started in the 1830s, running the length of Long Beach (as distinguished from Short Beach, about a quarter mile down the road). Before that, you could come here by steamboat, or across at low tide when that mile-and-a-half stretch becomes a land bridge. In the early twentieth century the trolley from Lynn provided easy transportation over the land bridge. Before that you were crossing it by foot, on horseback or horse-drawn wagons.
In the 17th century, after most of the trees had been cleared for building and heat, farmers would lead their cattle onto Nahant at low tide and let them graze for the day, using the ocean as a fence.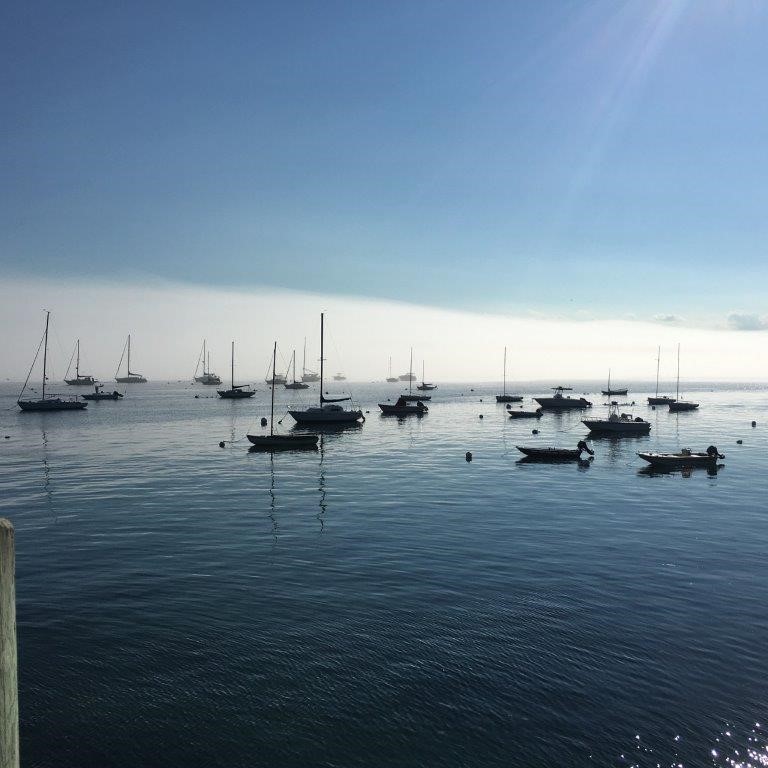 Fictional stories about "ice kings" abound these days, but later in the nineteenth century there lived in Nahant one Frederic Tudor, who made his fortune selling ice internationally, and he actually became known as the Ice King. He was, at one time, one of only three land owners of the island and it was he that set about reforesting Nahant, planting orchards and other trees throughout the island. He dedicated a portion of his land to create Maolis Garden, a "public" space that residents could pay a small entry fee to enjoy. The name comes from Siloam, a town mentioned in the New and Old Testaments, said to have a fountain to which Jesus sent a blind man to wash his eyes and regain his sight. Why the Ice King selected that name, spelled backwards, we'll have to ask someone more knowledgeable. Luckily, there are many people like that here.
Henry Wadsworth Longfellow summered in Nahant and wrote in his letters about Maolis Garden. U.S. Senator Henry Cabot Lodge had an estate nearby. Many other notable people have lived in Nahant as well, many of them not named Henry. The most notable person at the moment is Calantha Sears. At 97 years of age, Calantha has a mind that most of us youngsters can only wish we had. Her knowledge of Nahant is encyclopedic.  Walk down any street on Nahant with her and she'll tell you who lives there now, who lived there before, who lived there before that and what was there before anyone lived there.
In 1996, Nahant was in a financial crisis. Town Meeting considered selling the school that had been abandoned in 1982 when our 7th-12th-graders started being shipped to Swampscott for their education. They wanted the Nahant Historical Society to inspect the old school to see if there was anything worth saving before the school was sold and the building demolished. Under the shadow of the swinging wrecking ball, enter Calantha Sears and her "loyal few" that made up the Nahant Historical Commission and the Nahant Historical Society that Calantha had helped found years earlier. With her mentee, my partner, Lynne Spencer, they decided that it all must be preserved, the entire building. And it was. Today the old school has been restored and put into productive re-use as a thriving community center run by the Nahant Preservation Trust, the nonprofit created through the efforts to save it. It has received multiple preservation awards and contains the nationally recognized, award-winning Nahant Historical Society Museum.
Why am I telling you all this? Because it's stories like these that Mass Humanities preserves, fosters, and helps tell the world about. I support Mass Humanities because local history like this, which you can find literally everywhere in Massachusetts, matters a great deal. It makes life more navigable, and more enjoyable. What would science be without the humanities? What would art be without the humanities? Politics? Democracy? The answer is unimaginable, almost.
Come visit Nahant, and read about it, and marvel at it like I do. There are many more stories, and many excellent sources for them, which can be found at the websites below. (I highly recommend Nahant on the Rocks.)
http://www.nahanthistory.org/giftshop.shtml#gpm2_2
http://www.nahantpreservationtrust.org/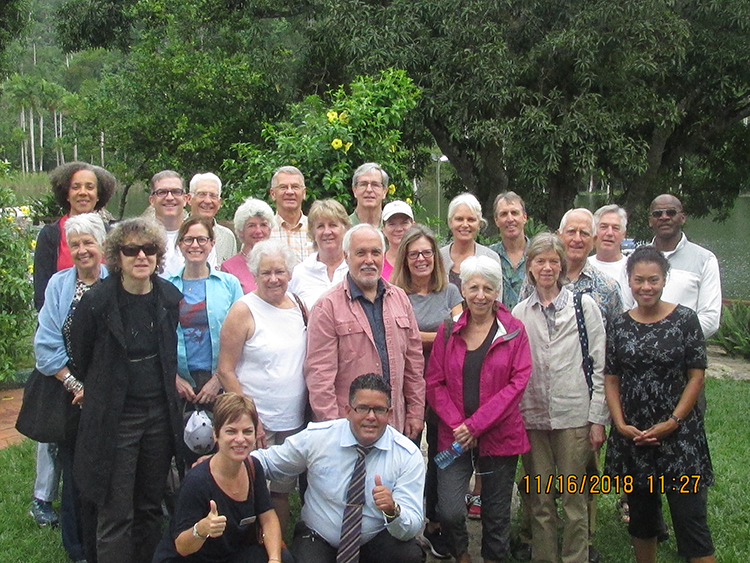 By Denise Kaigler, Board Member, Mass Humanities
As soon as David Tebaldi (former Executive Director of Mass Humanities) announced during a board meeting that he was planning to lead his eighth trip to Cuba, I was in. Visiting the country has long been on my bucket list. But for Americans, traveling to Cuba isn't a simple book-fly-relax experience. American tourists must apply to travel to Cuba under certain categories, such as education or humanitarian, and their itineraries have to include meetings with representatives of local charities and social service agencies. Thanks to Mass Humanities, we would be all set.
Traveling with Mass Humanities and ETA Cuba, our travel services provider, were 29 people representing California, Connecticut, Florida, Maryland, Massachusetts, and even Jamaica. Excluding David, this was the first trip to Cuba for all of us. That alone made the experience incredibly special. We enjoyed experiencing many "firsts" together, and sharing countless unique moments.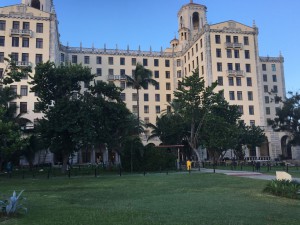 During our eight days in Cuba, our meticulously planned itinerary was divided between Havana and Cienfuegos. In Havana, we stayed at the storied Hotel Nacional, which overlooks Havana Bay and is known for the underground bunkers constructed during the Cuban Missile Crisis. During the first three days, we talked with noted political scientist Rafael Hernandez about Cuba's new constitution, explored the Old City (La Habana Vieja), enjoyed a rehearsal by the contemporary dance company Danza Combinatoria, visited the Muraleando community arts project (El Tanque), where we danced along with a traditional Cuban band, walked through Cuban history in the Museo de Bellas Artes (Museum of Fine Arts) and strolled along Paseo del Prado. For lunch and dinner, we were hosted by a selection of the few paladares (private restaurants often run out of the owners' homes). Not surprisingly, the food was undeniably delicious!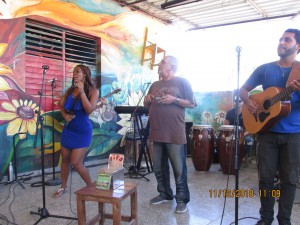 Leaving Havana, we stopped at Finca Vigia, the famed Ernest Hemingway Estate. We walked the grounds and saw Hemingway's private writing studio where he penned The Old Man and the Sea. Arriving in Cienfuegos, we enjoyed a walking tour through its main square, Plaza Jose Martí, met with UNEAC, the Union of Artists and Writers, admired the city's beautiful architecture, including the Tomas Terry Theatre, and heard a private performance by an incredibly talented string ensemble, Orquesta de Cuerdas, where we were invited up to dance during some of the selections.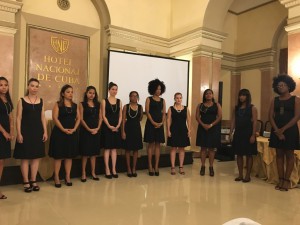 After two nights in Cienfuegos, we headed back to Havana where we would wind down our incredible Cuban adventure. On the way to the hotel, we stopped at Plaza de la Revolución and visited the outdoor marketplace. Later that day, we were instructed in Cuba's second most popular game: dominoes. After dividing into teams and playing dominoes alongside local players, we enjoyed a group lunch where we discussed Cuba-US relations.
After lunch, we spent time in the Museo de la Revolución, which is housed inside the former Presidential Palace. Bullet holes from the March, 1957 attack on the palace remain eerily visible throughout. That evening, we were treated to a magnificent private performance by the Havana women's chorus, Vocal Luna, where members of our group were invited up to sing alongside, and the entire group participated in a Q&A session about music education in Cuba.
Fittingly, our final day in Cuba was full of adventure and included a wonderful and very cool surprise. It began with a fantastic tour of Las Terrazas, a pioneering ecovillage and UNESCO Biosphere Reserve nestled in the Sierra del Rosario mountains west of Havana. And after changing and meeting in the hotel lobby to head to our final dinner, our surprise: parked alongside the hotel's main entrance was a jaw-dropping line-up of several of those beautifully maintained vintage 1950s cars that would take us to the restaurant. (One was an Edsel!) We were like little kids, running around and trying to decide, based on the vibrant colors, which car we wanted to jump into. Being driven to our final dinner by a remnant of Cuba's pre-Revolution days was definitely one of the many highlights of this incredible trip.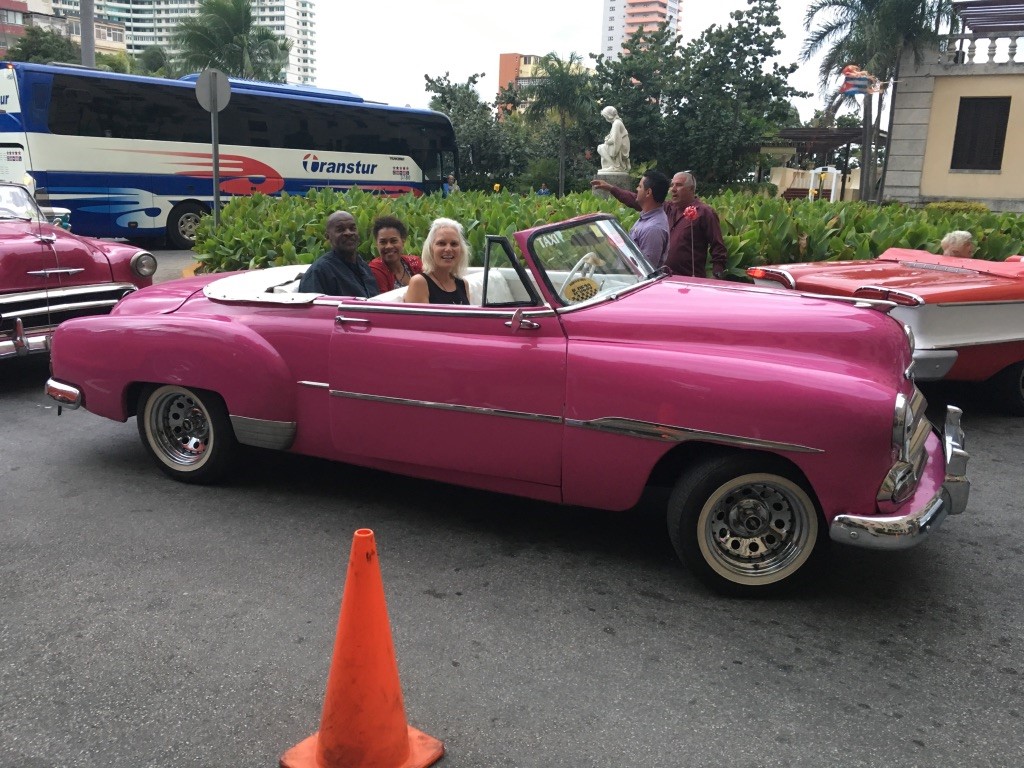 After dinner, we attended our final event–a spectacular theatre performance, Cuba Vibrai (Lizt Alphonsa Dance Cuba)–at the gorgeously restored Gran Teatro de la Habana. This show is so wonderful that photos and videos of the performance are strictly forbidden.
Visiting Cuba and seeing–experiencing–Cuban life first-hand shattered my preconceived notion about this communist-ruled country and its approximately 11 million citizens. While there is poverty throughout, Cubans embrace the country's Spanish heritage, openly share its storied past, and enthusiastically look toward its future. The country's multiethnic culture was on display everywhere we went, pulling us in and leaving us wanting more. It was wonderful to see children laughing and playing, and adults singing and dancing. We were invited into every aspect of their world, their lives. There was no question we couldn't ask (and we asked a lot) and no experience we couldn't enjoy. There was an incredible vibrancy I didn't expect to see and feel. I was engaged in ways I never imagined. Although I have visited numerous countries around the world, my week in Cuba was one of the most enlightening, educational and enjoyable experiences of my life.
On behalf of the entire November 2018 group, thank you Mass Humanities for making this incredible experience possible.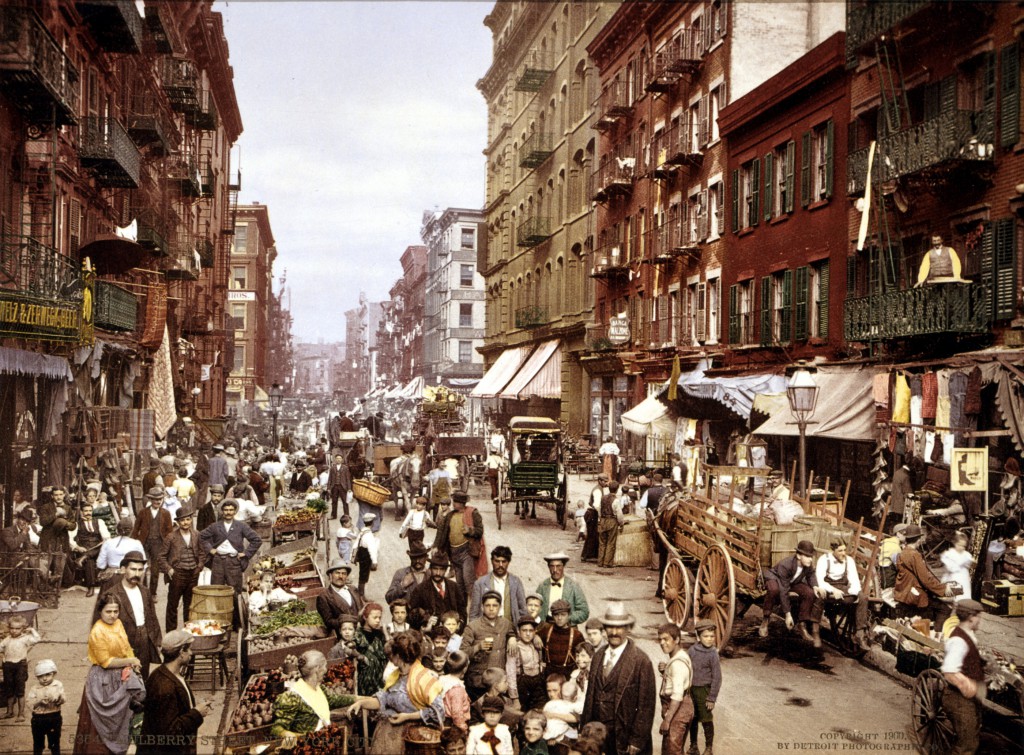 Near the end of Booth Tarkington's 1921 novel Alice Adams, the twenty-something social-climbing heroine realizes her family is destitute and she must set about earning her own living. Her broke and broken father tries to be sympathetic about his daughter's shattered dreams of love and social status, but she refuses to dwell in the past, saying, "Don't you think, since we do have to go on, we ought at least to have learned some sense about how to do it?" The critic Thomas Mallon damned the novel with faint praise in The Atlantic in 2004, calling it "a small bit of great" within an otherwise mediocre ouevre. He failed to notice that Alice expresses the same sentiment that would be considered the height of existentialism 17 years later, when Samuel Beckett wrote in his novel Murphy: "You must go on, I can't go on, I'll go on."
We don't read Tarkington much today, although in his time he was a best-selling, critically respected author and two-time Pulitzer Prize winner. But his stories about ordinary people, his straightforward, realistic narrative style, and his acceptance that the business of America is indeed business have worked to consign his writings to the scrapheap of literature known as "middlebrow."
Middlebrow is defined as "easily accessible" in terms of art, usually literature, and is also used  to describe people who use the arts to acquire culture and ascend in class. Middlebrow focuses on middle class people and middle class issues. Over the course of the 20th century, so-called "highbrow" critics and authors–think Virginia Woolf and Dwight Macdonald–often spurned these realistic narratives in favor of experimental post-modern literary styles. Underscoring their disdain was an increasingly condescending attitude toward the middle class and its aspirations to bourgeois culture. As Tom Wolfe observed in 1989, "The intelligentsia have always had contempt for the realistic novel–a form that wallows so enthusiastically in the dirt of everyday life and the dirty secrets of class envy and that, still worse, is so easily understood and obviously relished by the mob, i.e., the middle class."
Indeed, many scholars dismissed the middle class and the middlebrow in words that sound a lot like those of the precocious, pretentious little Fanchon in Tarkington's Penrod: "How boorjaw."
Fast-forward to today, and the editors of Slate Magazine are claiming that the late 2000s and early 2010s can be considered the true "golden age of middlebrow art" (although I think they're overstating their case). Certainly novels such as Colm Toibin's Brooklyn (2009) and televisions shows like Breaking Bad, Mad Men, The Sopranos, and The Wire reflect middlebrow values by presenting their audiences with stimulating stories while raising complicated social and moral issues.
But here's the thing: we shouldn't forget the middlebrow writers of an earlier time–the Booth Tarkingtons, Stephen Vincent Benets, Edna Ferbers, Fannie Hursts and others–who presented their middle-class readers with issues that continue to concern us today. Their work is in danger of being forgotten, and it shouldn't be.
My interest in middlebrow literature focuses on the period between approximately 1920 and 1960, the eras discussed by Gordon Hutner in his pathbreaking What America Read: Taste, Class, and the Novel, 1920-1960 (2009). Thousands of works of middlebrow fiction were published in the United States in those decades. They share a few common characteristics: the writing style is almost always realistic, not experimental; "work" is presented as a means through which characters can earn enough money to survive, not in Marxist terms, or, for that matter, in terms of the late twentieth-century attitude toward work as a source of personal fulfillment; little was off-limits in terms of subject matter. Indeed, the range of topics they discuss is extraordinary and often resonates with what is happening in our own world. Fannie Hurst's 1921 short story "She Walks in Beauty," for example, appears on the surface to be about a conventional upper-middle-class widow whose daughter resists her mother's remarriage; in fact, the daughter is trying to keep her stepfather from discovering that his new wife is a morphine addict. Edna Ferber's 1926 Show Boat takes on issues of miscegenation, gambling addiction, prostitution, and spousal abandonment; her 1911-13 short-story cycle, collected as Roast Beef Medium, features a divorced single mother who works as a traveling saleswoman and whose experiences will resonate with many modern women. Sloan Wilson's The Man in the Gray Flannel Suit (1955) is about a World War II veteran who suffers from PTSD and his struggle between establishing work/life balance and pursuing the professional success required of men in his generation.
Other middlebrow fiction takes on issues of race, religion, ethnicity, social class, regional differences, and relationships between parents and children. Work and the meaning of success and failure is a frequent theme.
In this series of blogs, I'll discuss some mid-twentieth-century middlebrow writers worth reading. I'll start with Fannie Hurst, Edna Ferber, and Stephen Vincent Benet, but there are many more almost-forgotten authors waiting to be rediscovered. If you have any suggestions, I'd love to hear from you.
Brian Boyles joined Mass Humanities as its new Executive Director on October 15, 2018. For the last twelve years Brian worked at the Louisiana Endowment for the Humanities (LEH), Louisiana's humanities council, including the last four as Vice President of Content and Publisher/Editor of LEH's award-winning magazine, Louisiana Cultural Vistas.
"Brian impressed us with his energy, enthusiasm, and practical grasp of the humanities," said Hilda Ramirez, a member of the search committee. "His record of accomplishment in engaging diverse groups of people was most impressive," she added.
Brian is a native of Pittsburgh. He graduated from Tulane University and began his career working in publishing at Simon & Schuster. He and his wife have two young children together.
Brian sat down with Tim Binkert, Communications Specialist, to talk about his new position.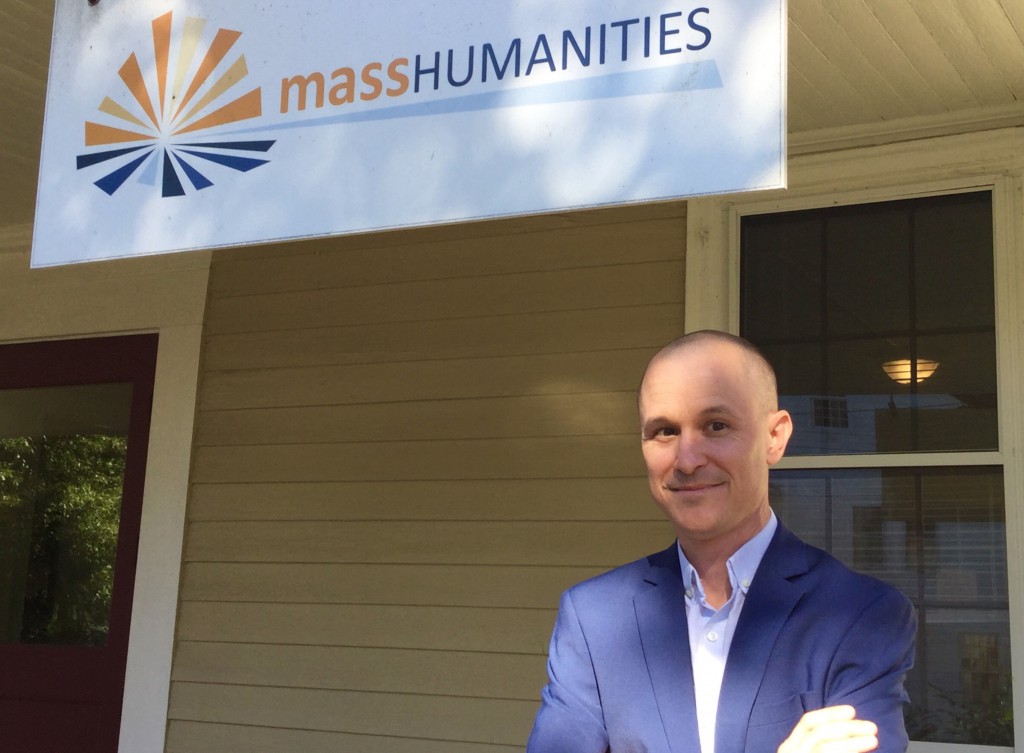 What's been the driving focus of your career so far? What's been your #1 goal?
I found early on that there was a real reward in being the person who connects people. There's no shortage of brilliant, hardworking people in the humanities, but the nature of the work is often solitary, demanding, and under-resourced. That goes for scholars, but also for the staff at a small town museum or a filmmaker editing in the wee hours. Someone needs to advocate for these folks, to make sure they know about each other, and to channel their work to new audiences. My goal has been to make these connections so that more people can enjoy and benefit from the humanities.
How do you think your experience at LEH will help you in your role at Mass Humanities?
Humanities councils respond to the particular needs and cultures of their home states. In Louisiana, we faced challenge after challenge, from Katrina to coastal land loss to the legacy of slavery, and time and again we found ways for the humanities to serve local communities. We listened, built new ways to connect scholarship with the public, and sought resources to give rural, urban, and suburban audiences the chance to explore their past and imagine a better future. Massachusetts is a much different place, with globally renowned humanities institutions and its own rich culture, but it's certainly a place with its own unique challenges. I'll approach our work with the most important skill I picked up in Louisiana—the ability to listen.
What drew you to this organization? To Massachusetts?
The work of Mass Humanities under the leadership of David Tebaldi set the gold standard for humanities councils. I came here to join in this long-standing dedication to widening the audience through meaningful, brave projects and programming. As our nation wrestles so vigorously with its identity, I truly feel that Massachusetts has a pivotal role to play, much as it has since the birth of the republic, in shaping public discourse and finding solutions.
What do you look forward to the most in starting this job?
The list is pretty long, but I'm especially excited to work with this staff and our board. We have talented, creative people in our office, and I look forward to helping them shape our initiatives. I'm also eager to learn the state with the guidance of board members who are experts on literally every corner of Massachusetts.
What will your approach be in the first year here? Can you let us know a little about the direction you'd like to take the organization in, your vision for it?
It's important for me to understand the ecosystem of the humanities in Massachusetts. Who's doing great work? How do we engage different communities? Who are our partners, and how can we meet new ones? I need to get to know the spatial and cultural geographies. I have young children, and my wife and I want to explore the state with them. For this first year, and probably every year, I plan to cover a lot of ground, meet as many people as possible, and eat a lot of local food. (I'm fairly sure I'll see the Celtics in the Finals this season, too.)
These experiences, along with David's mentorship, the guidance of our board and the input of our partners, will shape a shared vision for our work. What's clear is that Mass Humanities enjoys a great reputation, established through our grants program, the impact of the Clemente Course, the vivid content of Mass Moments, and initiatives like Reading Frederick Douglass and FAIR. This is a vital organization. My hope is that we link these pieces together in intentional ways so that a child who participates in our family literacy program becomes a high school student who uses Mass Moments to write her AP History paper. I want to see even more Clemente scholars, and find ways that they become project directors at Mass Humanities-funded museums, or direct a documentary film we support, or read Douglass in front of the State House. My great fortune is to join an organization where so many of these connections are already underway. Let's keep that momentum building for Massachusetts.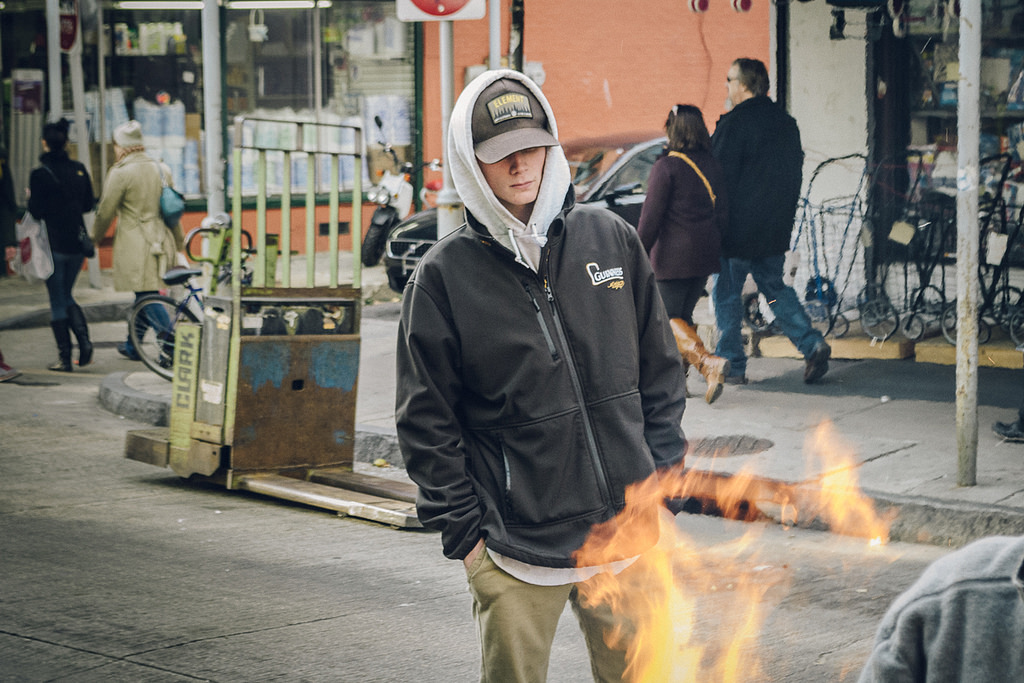 In a previous post, I discussed how approximately 9 out of 10 poor Americans are patriotic; despite facing very difficult circumstances and a system that often seems to care little for them, they believe in the greatness and even superiority of the United States. I offered some answers as to why based on extensive research in Alabama and Montana and in-depth interviews of 60 people who, though struggling in financial terms, shared a love of country. The discussion drew from my new book, Broke and Patriotic: Why Poor Americans Love Their Country (Stanford University Press 2018).
Not all the people I met were intensely patriotic, though. By design, I also looked for people who could give me a different perspective. I spoke with two people in Birmingham, Alabama:  Jake, a 24 year old white male just out of jail and sitting in a bus station, and Michelle, a 50 year old African American woman who quit working at McDonalds after 21 years and was now living in a women's shelter. Another was Kevin, a young white male in Billings, Montana working seasonally in construction and whom I met in a laundromat (all names have been changed). The goal was not to generalize from the three interviews but rather to identify key sentiments and ideas. Why did they feel unattached to their country? What feelings did the United States evoke in them?
Cynicism and disappointment
The main themes were cynicism and disappointment. They described with scorn the country, its ideals, and those who believe in them. Jake was perhaps the most direct:
I just don't like the connotation of saying like, you know, we're the greatest country on earth…that makes me think about preppy guys at school that play football and shit, you know? Greatest country on earth: these guys suck…this country is second place; this country is third place.
He talked about feeling apathy toward the political system, and of how the American flag reminded him of "bullies…yeah, yeah. And the way we are about wars—'F with us and you'll find out what happens.' So much for the most generous country on earth!" He recalled the pleasures of disrespecting the flag with his punk bandmates.
When asked about the national anthem, he described it as annoying, "'cause it's an annoying song." As to fighting for the country, he dismissed the concept outright: "I value my life much more than the idea of, of you know, utopia America…Kinda like the Desperate Housewives picture of living…it's kind of disgusting to me."
America as utopia: thousands of miles away, Kevin echoed the same idea. Those who are poor and believe in America, he reasoned, "are buying into what America used to be…that 1950s idyllic…idyllic suburbia white picket fence." As to those who feel America is God's country, he reminded me that Thomas Paine was not a Christian, and that Thomas Jefferson extolled the virtues of a separate church and state. Perhaps life was good in the 1950s, he said, but not now.
A struggle for survival 
What is life like now, then? It's primarily a struggle for survival. As Michelle put it, "If it was up to me, personally, I would go to another country." She was fed up with working so hard and still having no money: "Other states has [sic] better jobs than in the United States". If her kids were to "decide to get up and we all ship away, that's what we…that's what I prefer to do." Her job as a manager at a McDonalds paid so little that she, and her entire crew, went on strike and walked off the job.
All three described a country in decline, one of broken promises and people hurting. There were strong emotions and intensity in their words. As it turns out, however, they were not necessarily complete outliers: their more patriotic counterparts also at times voiced worries about the direction of the country. Several lamented the poverty afflicting so many Americans. Fiona, a white middle-aged woman in a Montana laundromat, stressed how "we have starving children right here in America that need to be taken care of." Sitting next to her, Oscar, a Native American elder, agreed: "We've got kids over here," he said, "that are starving to death, ain't got no family, ain't got no money." Indeed, as Alicia, a thirty-year-old black woman in a homeless shelter in Birmingham working on her GED, put it, things seem to be falling apart. She worried that the American people had lost their way, and that, as several others also felt, the "whole nation should get back to the Bible and do what God tells us to do."
By and large, America's economically worst-off are extremely patriotic, but there are doubts, resentments, and even fears. As I left my interview sites, I wondered who was more accurate: the cynics and disillusioned, or those who still believe, wholeheartedly, in their country? Will the power of America's promise eventually die out, as inequality and disparities continue to rise? Or will America return to its former glory? In my next post, I turn to Europe for some comparisons and final insights.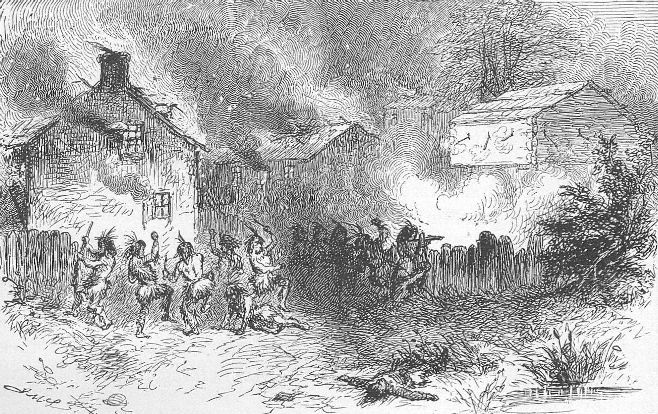 The year 2020 marks the 400th anniversary of the establishment of Plymouth; planning to mark this milestone has been underway for some time. Boston Mayor Marty Walsh is excited to mark Boston's 400th birthday in 2030. Several organizations have coalesced to celebrate multiple historical moments marking the 250th anniversary of the American Revolution in Massachusetts.
But something is missing: there is no comparable effort to mark the 350th anniversary of King Philip's War in 2025. Indeed, the war goes almost unacknowledged on the cultural landscape of Boston.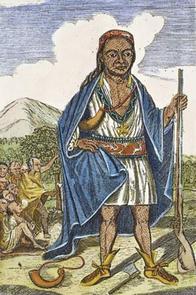 King Philip's War was a bloody conflict in the 1670s that involved every New England colony and all the peoples of the Algonquian nation. By the 1670s there were more than 50,000 English colonists living in New England, and they were steadily encroaching on land held by Native people. When the chief of the Wampanoag died while in captivity in Plymouth Colony, his brother Metacom (known to the English as King Philip) became determined to drive the colonists out. Over the course of 1675-76, both sides mounted attacks against each other. Colonists would destroy an Indian village and Indians would respond by burning down a colonial settlement. Colonist forces carried out multiple massacres.
Eventually the English won out, killing Metacom and interning many Christianized New England Indians on Deer Island in Boston Harbor during the winter of 1675-76, where roughly half of some 900 internees died of starvation and exposure. About 45 Indians were publicly executed on Boston Common. Many were sold into slavery.
Yet this history remains almost invisible in Boston. Why? One reason is the power of white America to identify who and what is important and to omit events that complicate the narrative. The strength of the settler-colonialist version of history is enormous. Second is the lasting belief among whites in the Myth of the Vanishing Indian: that the Indian faced certain doom as a relic of the past who had to give way to westward expansion and the advance of civilization, to the point that many people believe there are no more "Indians," or at least no more "real Indians." Roxanne Dunbar-Ortiz and Dina Gilio-Whitaker, writing in their book "All The Real Indians Died Off" and 20 Other Myths about Native Americans, declare: "No myth about Native people is as pervasive, pernicious, or self-serving as the myth of the vanishing Native…"
Indians have fought to mark the history of King Philip's War, organizing every October a Sacred Paddle, among other efforts. The 2017 flyer for this program states: "We remember the ancestors' sacrifice and survival through ceremony on Deer Island, a Sacred Paddle through Boston Harbor up the Charles River and a walk from Brighton to Natick," where the day ends in prayer. Christine DeLucia argues in her important new book, Memory Lands–King Philip's War and the Place of Violence in the Northeast: "The ability to posit ongoing Native place-connections in these seemingly conquered or ceded spaces is…a key function of tribal reclamations of heritage through movement, performance, and ritual."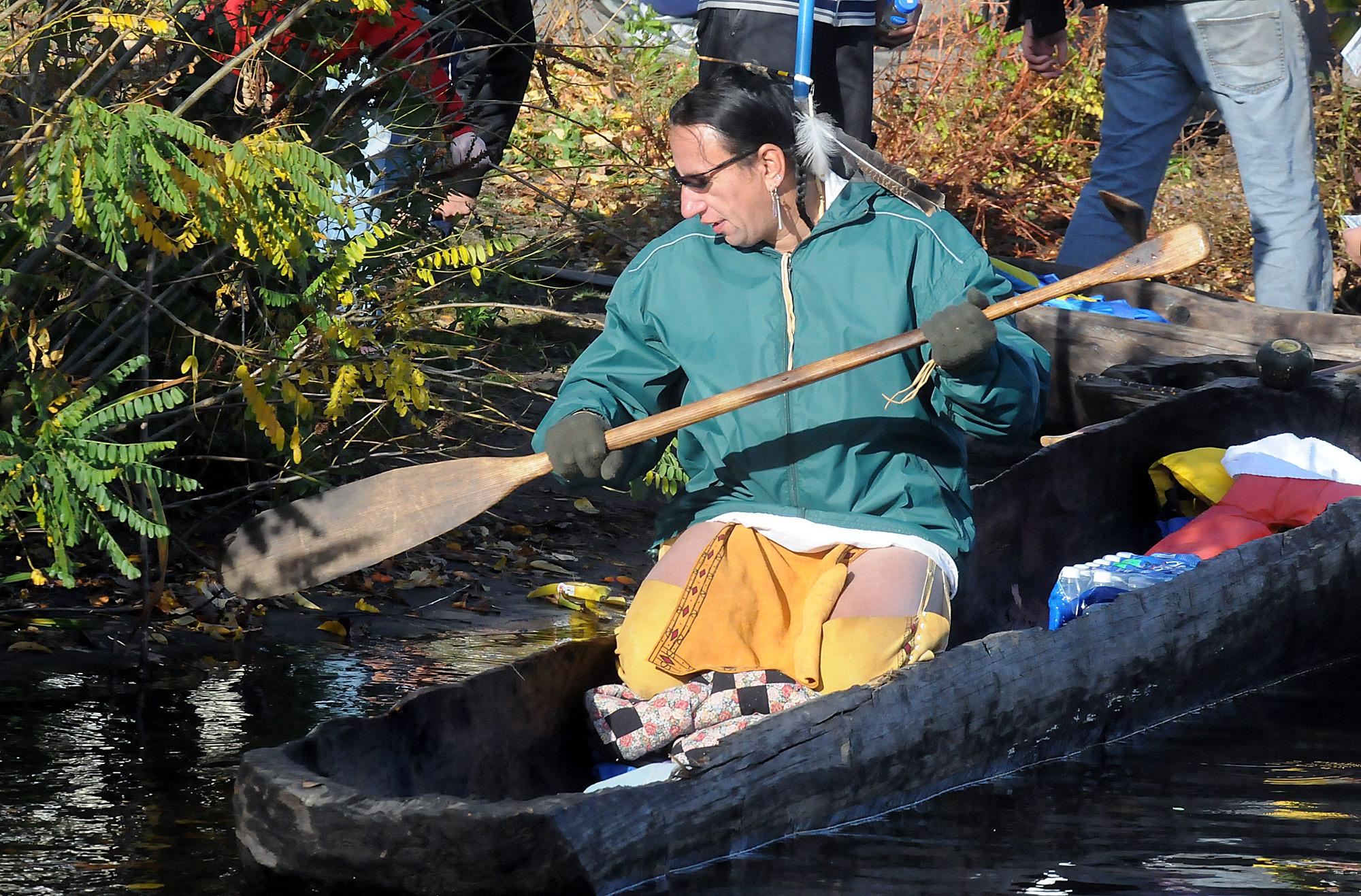 I think there's an opportunity to do more. The aftermath of the August 2017 white supremacist rally in Charlottesville has projected public history into an unprecedented national conversation and visibility. This has gone beyond the critical examination of Confederate memorials to a general reexamination of what is marked and what is unmarked on the cultural landscape. Here in Boston, Mayor Walsh has pronounced his strong support for the placement of public art outside Faneuil Hall to highlight the fact the Peter Faneuil, who gave the hall to the town of Boston, profited from the slave trade. A broad array of civic leaders have strongly endorsed the development of a memorial on Boston Common to Martin Luther King, Jr., and Coretta Scott King and a related learning center elsewhere in the city.
On Boston Common colonists publicly executed Indians brought into Boston as prisoners as part of King Philip's War. A public history or public art installation could introduce Bostonians and all those who visit the Common to this crucial moment in colonial history. There might not be a better place than the path of the Freedom Trail to commemorate King Philip's War. Because the Common has such limited space, another possible venue would be Christopher Columbus Park on Boston's waterfront.
A less costly but still significant step would be a public reading of William Apess's 1836 eulogy on King Philip in Boston. For the last ten years, Mass Humanities has supported public readings of Frederick Douglass's 1852 speech, The Meaning of the Fourth of July for the Negro, just prior to July 4th at the Shaw/54th Massachusetts Regiment Memorial on Boston Common and across the Commonwealth. The speech is edited into several short paragraphs, and anyone who chooses, from civic leaders to ordinary citizens, reads a passage.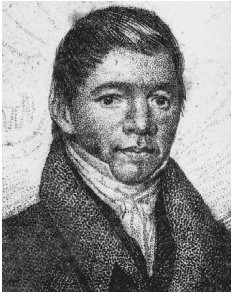 The same could be done with Apess's eulogy. Apess, a Pequot and Methodist minister, declared in the eulogy that Philip "…died a martyr to his cause, though unsuccessful, yet as glorious as the American Revolution." He called out the colonists: "It was a common thing for all the Pilgrims to curse the Indians, according to the order of their priests. It is also wonderful how they prayed, that they should pray the bullet through the Indians' heart and their souls down into hell. If I had any faith in such prayers, I should begin to think that soon we should all be gone. However, if that is the way they pray, that is, bullets through people's hearts, I hope they will not pray for me; I should rather be excused." (The full eulogy can be found here.)
In Boston and across the nation, the only way to begin to overcome a deeply racist past is to acknowledge it honestly and openly. It is my hope that we can launch a "Reading King Philip's Eulogy" program with a broad partnership in November, 2019, as a prelude to the Thanksgiving season. Perhaps the hatred we saw unleashed in Charlottesville can be countered with a more truthful recounting of our history. Let's work to remember King Philip's War.
—
Martin Blatt will be taking part in a conversation on how to memorialize the 400th anniversary of the Pilgrims' arrival in Plymouth on 10/25 at Suffolk University. More information and register here.