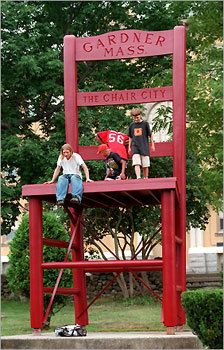 Gardner, a town in Central Mass just west of Fitchburg, was once known as Chair City. The furniture industry started here in the mid-19th century and by 1910 had grown to 20 chair factories producing four million chairs per year, employing thousands. Major companies like Heywood-Wakefield, Conant-Ball and Nichols & Stone made heirloom-quality furniture—carefully handcrafted pieces meant to be passed down from generation to generation.
Then deindustrialization hit. Jobs shifted to the American South, then South Asia. Heywood-Wakefield closed in 1979, Conant-Ball in 1980. Nichols & Stone lasted until 2008, when it was wiped out by the financial crisis. Hundreds of people in Gardner were terminated, left with no way to use their skills.
Chair City now exists in name only—Gardner produces only a tiny fraction of the furniture it once did.
This, of course, is a story that's been repeated over and over in America and elsewhere. Globalization, deindustrialization, and automation have continued apace for decades and will only pick up pace as time goes on. This represents a pressing problem for democracy. As the profits of globalization flow to a tiny elite, they wield power disproportionately, while the workers left behind are disillusioned and fearful that their own real incomes and those of their children will continue to stagnate or worse. This has led to middle classes around the world experiencing an increasingly pervasive sense of dissatisfaction and unfairness—which, sadly, has in turn led to the scapegoating of immigrants and minorities. Hence the rise of Trump in America, Brexit in Britain, National Front in France, Alternative for Germany, and on, and on.
One answer to this darkening trend is provided by the humanities: what if, in the towns abandoned by industry, we used history to help people make sense of their situation? To help people heal? That's precisely what Central Mass native and Mass Humanities grantee Tracie Pouliot has done.
True local
A couple of years ago Ms. Pouliot opened the Chair City Community Workshop in Gardner. There, with help from a Mass Humanities grant, she launched the Chair City Oral History Series, a collection of reminiscences collected from former employees of Nichols & Stone.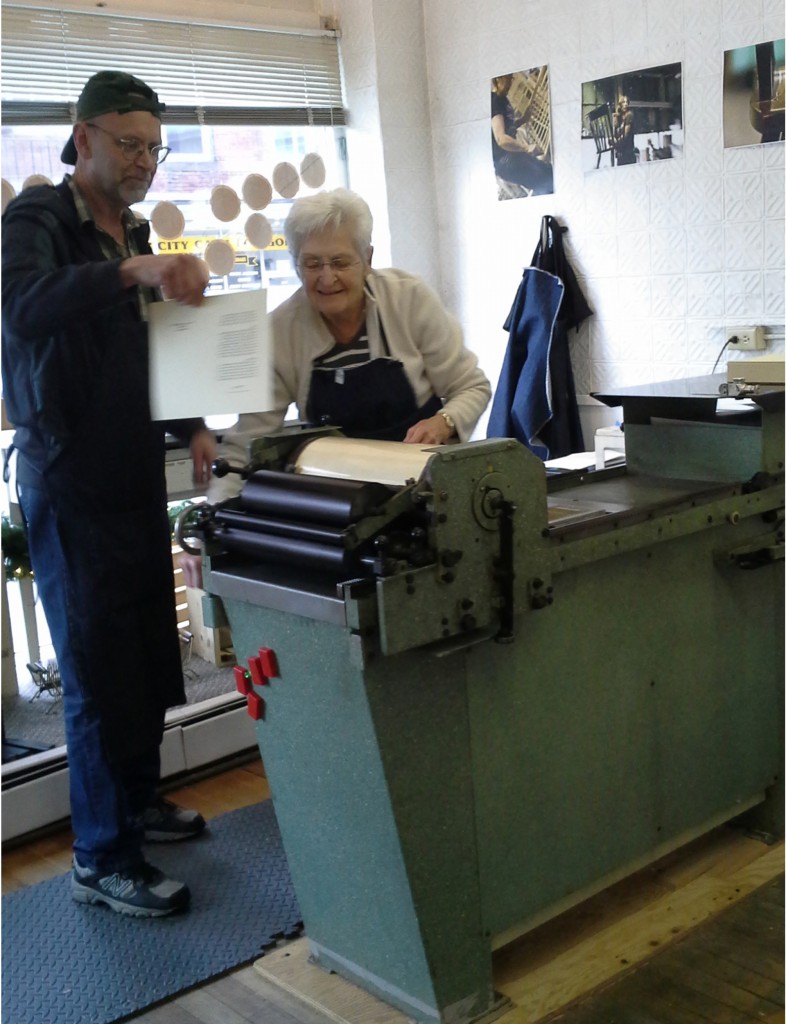 Each interview was converted into a handmade book, printed in editions of about 400 copies on letterpress, using handset type, polymer plates and woodcuts. The finished books are given to local people who worked in the furniture industry, and copies are donated to the Gardner library and museum. The workshop's art center houses the production of the books, as well as providing a space where residents can rebuild the social networks that were lost when the factories closed. Community members can learn how to use the letterpress, bind books and construct the finished product.
"My family was a part of the Gardner furniture-making tradition," Ms. Pouliot said. "My dad worked there for most of his career; I worked there summers between college. When it closed in 2008, that was really the end of an era, as it was the last large furniture factory in the city. I immediately knew that this would be a big deal for my family, and the community as a whole."
Ms. Pouliot received a bachelor of fine art degree from Pratt Institute in New York and a master of art in community art from Maryland Institute College of Art. The events in Gardner brought her home, though, where she was determined to make a difference.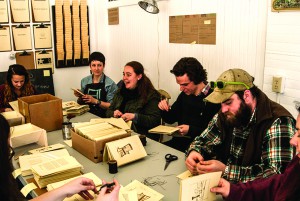 "With my background, the project came to be a series of books made the old fashioned way. This wasn't the type of project that I'd create alone in a studio somewhere. Because Gardner is full of people who take great pride in making things, and because the loss of the factories meant many people had also lost a center for social and creative life, the project had to take place in Gardner and the community had to be invited to help make the books."
Ms. Pouliot was able to interview twelve people in 2009, a year after the factory closed. That led to a book-making process that is still continuing today.
Mass Humanities Board Member Glynda Benham, who has first-hand experience with this project, said, "For the people whose stories are captured, it's not just about having their story in print, it's also about the heartfelt effort that goes into the making of each book: the making of the wood cut of a piece of furniture for the cover; the setting of the typeface for the special quotes in each book; the quality assurance of inspecting the printed copies; the collating and punching; the sewing of the binding; and chopping the edges on a 100-year-old guillotine. This is a process that honors memories, and mirrors the love and detail that Nichols & Stone employees put into each piece of furniture they made. This is what makes it special."
Denis's story
One of the people interviewed for the book series is Denis. He started working in a furniture factory right out of high school as a "floor boy"; three decades later he was the plant manager at the last large furniture factory in town. He was one of the last people out when the factory closed after everything inside was auctioned off. It was incredibly difficult "to see people tear apart what everyone worked so hard to build."
When he says "everyone," he means generations. Nichols & Stone had been in business for 151 years.
The Mass Humanities grant to Ms. Pouliot's organization was intended to support two things: the creation of the books themselves and, importantly, public discussions about them and why the project existed. This is where the public humanities shine.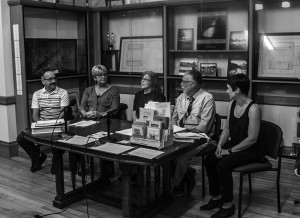 The first panel discussion the Chair City Community Workshop organized included Denis, two additional furniture workers named Barbara and Dale, and Dr. Robert Forrant, a labor historian from UMass Lowell. The venue was packed and old friends reconnected for the first time in years. The former furniture workers talked about their pride in the product they made, what working alongside each other meant to them, their heartbreak when the factory closed, and their deep regret that the work that defined Chair City is gone.
A woman raised her hand: "Why did the factories all close?" Instead of turning to Dr. Forrant, Denis and his co-workers explained what happened. They talked about how banks and investors limited access to funds; how despite technology upgrades and the level of skill in Gardner, production moved overseas where labor was cheaper; and how the financial crisis dealt a final blow.
"Working class people across the country have these experiences and knowledge, but it often goes unacknowledged," said Ms. Pouliot. "As Denis and his colleagues talked about deindustrialization, financialization and neoliberal trade policies, the whole room nodded along." Dr. Forrant added that workers in blue collar towns like Gardner are made to feel like it was their fault; that along with heartbreak and hardship comes undeserved shame, substance abuse, physical and mental health problems. He affirmed economic and political trends the workers had experienced; he validated their knowledge and experience.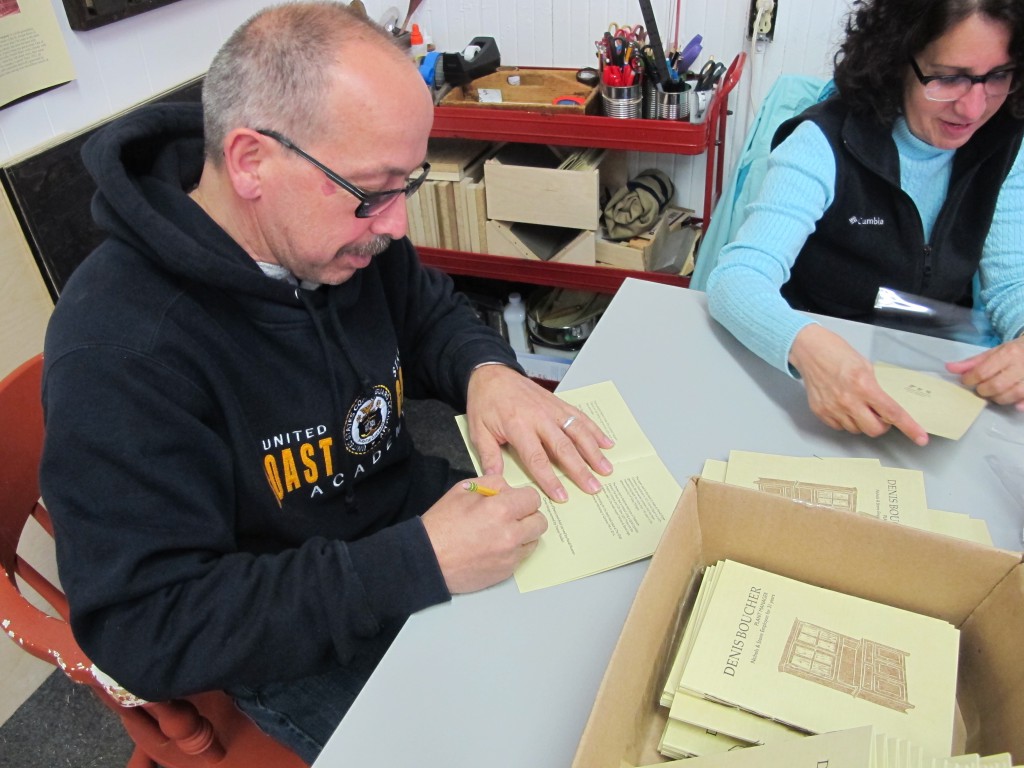 That night the heartbreak and hardship became public, and so did the causes of deindustrialization. "Not only could we finally talk about the mysterious policy decisions and economic forces that had changed our lives," said Ms. Pouliot, "but we realized we have the ability to investigate, understand and heal from these issues. As a community we have the power to shift the narrative."
Gardner has an important story to tell. It's a story that resonates across the world, and the process of telling the story is rich with the potential to solve these problems and create a productive, and hopeful, future.
Mass Humanities Support
The Gardner Museum was awarded a $4,000 grant for a community art and discussion project that engaged former chair manufacturing workers in producing 400 copies of eleven oral histories recorded in 2009, after the closing of the city's last chair manufacturer.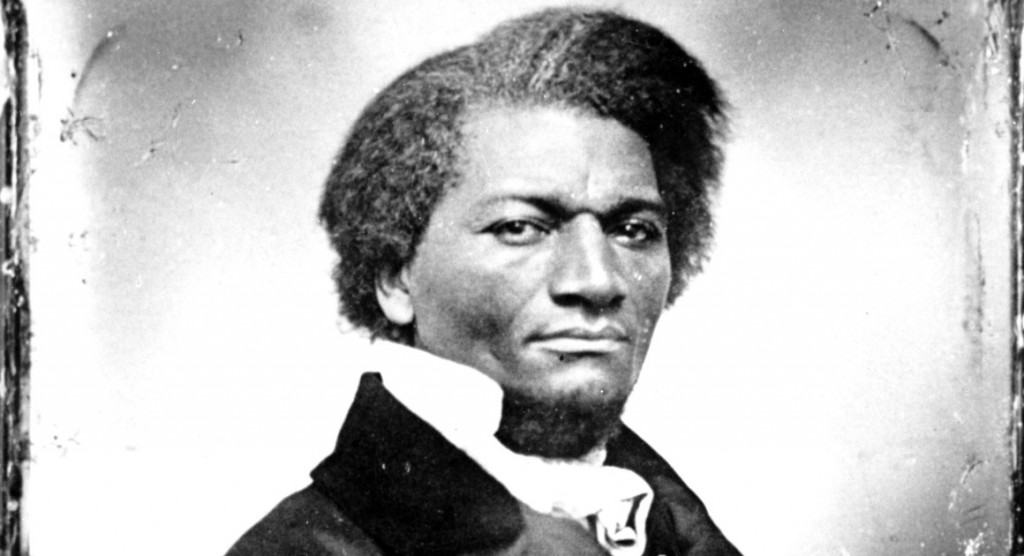 Every summer, Mass Humanities supports public readings of Frederick Douglass's famous Fourth of July address, "What to the Slave is the Fourth of July?" in communities around the state. Grants for up to $2,000 are available on a rolling basis. Click here to learn more.
People of all ages take turns reading parts of the speech until they've read all of it. But why? What's the purpose of reading Douglass's speech in public? What happens when we read it together? And how is the speech relevant today? We reached out to five people actively engaged in organizing their community's Douglass reading to get their thoughts. Enjoy!
CEDRIC ARNO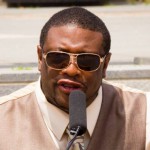 I believe the purpose in Reading Frederick Douglass's speech is the power a person gets in telling his oppressor, "I've had enough." It's a chance to publicly demonstrate truth to power. The speech is filled with eloquent, rhythmic patterns transcribing the landscape of America as a slave viewed it, written for those who didn't know the words or have the platform to say them. It's a public condemnation of slavery and a bellowing of, "I know what you are doing, I see what you are doing, I'm saying something about it."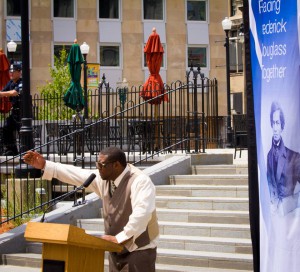 The hypocrisy shown to slaves in US history is the same shown to Native Americans, to the Irish, to many more. These are commonalities that can bring Americans together. We can fight injustices together if we hear our common struggles. So reading the speech out loud and in public has a second purpose: to bring us together to create a more perfect union.
The speech is relevant because of an unresolved illness that plagues America to this day: what to do with the slave, the Negro, the black man? Slavery was America's greatest illness. The enslaved mentality is still perpetrated onto black people, brown people—anyone whom the power structure views as "other." In that way, the speech couldn't be more relevant.
Cedric Arno is the Executive Producer of Music Mania Television and plays a key role in Future Focus Media Co-op and Youth Training Institute in Worcester. Email Cedric.musicmaniatv@gmail.com or visit http://bit.ly/2szLaW3 for more information.
LEE BLAKE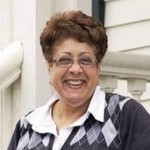 When we read Frederick Douglass out loud, we listen to the power of his words echo off the walls and around the room. It's a powerful thing to listen to different people reading his words and questions, some of which our society still struggles with just as much now as in 1852. After the speech, we take time to reflect on contemporary issues such as immigration, prison reform, and social and racial justice. We pause in our commemoration of Douglass's life to ask: what issues would he be championing now? What should we be addressing and how?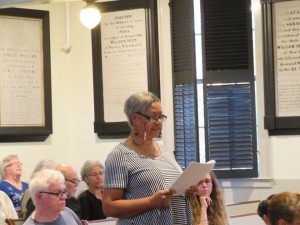 The speech could not be more relevant in a time when white supremacy and racism are on the uptake; when people seeking sanctuary at our country's borders are stopped and turned back; when women are once again losing control of our bodies through federal actions. We don't just want to celebrate the past; we want to use the past to light the way to a more inclusive future.
Lee Blake serves as the President of the New Bedford Historical Society and Director of the Campus Compact, University of MA Dartmouth. Email info@nbhistoricalsociety.org or visit nbhistoricalsociety.org or more information.
DAVID HARRIS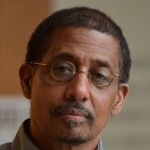 On this, the tenth reading of the speech, an event originally entitled "Reading Frederick Douglass in the Era of Barack Obama," I am reminded of Obama's words shortly after his election: "I have never been so naïve as to believe that we can get beyond our racial divisions in a single election cycle." At the time I wrote in the Boston Globe that "the true meaning of that election is not that we are relieved from talking about race but that we are relieved to talk about it." Last year was an equally dramatic reading as we entered the era of Donald Trump. Reading Frederick Douglass in the era of Donald Trump has certainly put the lie to post-racialism. Indeed the need conduct the reading is heightened by the tenor of today's talk about race. In light of the growing intolerance that characterizes a great deal of public discourse, it is all the more important not only to reflect on Douglass's words but to do so in community.
In that Globe article I quoted with optimism Douglass's words: "While drawing encouragement from the Declaration of Independence, the great principles it contains, and the genius of American Institutions, my spirit is cheered by the obvious tendencies of the age." Although it is difficult, if not impossible, to cheer in the tendencies of our age, these days I find my anchor in Langston Hughes' Let America be America Again.
…Let America be the dream the dreamers dreamed—
Let it be that great strong land of love
Where never kings connive nor tyrants scheme
That any man be crushed by one above.
(It never was America to me.)…
…O, yes,
I say it plain,
America never was America to me,
And yet I swear this oath—
America will be!
It is in this spirit that we gather again to read Frederick Douglass.
David Harris is the Managing Director of the Charles Hamilton Institute for Racial Justice, Harvard Law School and former chair of Mass Humanities board of directors. 
WENDY JOSEPH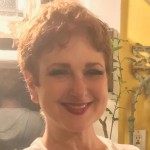 The purpose of the public reading, in my opinion, is to educate and inspire. Oftentimes people have never heard of this speech; the prose is wonderful, and the message makes them pause to reflect. Communal readings are also an essential part of place-making, whether it's a physical space or a community coming together. When we read it together, the words ring out; you feel the genius of the words and the message. As one teenager said, "I never feel as smart as when I'm reading the words of Frederick Douglass aloud."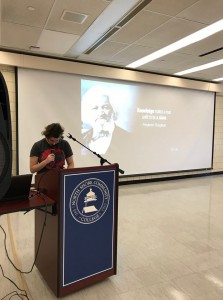 In terms of relevance: every year (and this will be my eighth year), we say, "It can't get more relevant"–but it does. Whether it is gun violence, police brutality, civil war monuments issues–each year as we gather our songs for social justice (which is how we begin our program) we keep what has happened the previous year in mind.
In addition, Douglass offers us insights into the hypocrisy of political and religious powers by speaking the truth. The enduring message from Douglass is that knowledge and education is the people's best way to get to the truth. Once you know the truth, you can raise your voice for change.
Wendy Joseph co-chairs the LynnDouglass200 Bicentennial Committee. Email wendy_joseph@mac.com or visit http://bit.ly/2xXtnNw for more information.
LYNN SMITH


We read Douglass's speech out loud for two reasons: to build community, and to honor the words by reading them with witnesses. The very act of putting aside time, committing to being together, and making a space where everyone is welcome elevates the experience. Additionally, saying something out loud, with witnesses, and owning it as a community can change the world. With Douglass, it's knowing how he struggled to learn to read and write; understanding his commitment to knowledge; and empathizing with the fact that even with his dignity, people assumed he was ignorant and incapable of oratory of any kind. "Oppression makes a wise man mad. Must I undertake to prove that the slave is a man?" We read, and we watch each other's heads go up and down, and we are one in thought.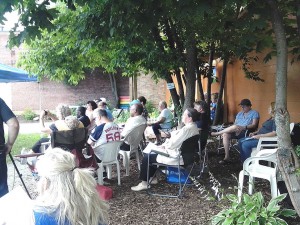 In terms of Douglass's relevance to the current day, he hits on themes of isolationism quite well: "No nation can shut itself up from the surrounding world." But he also gives hope, saying, "I do not despair of this country…the day will come when feuds will end, and foes will change to faithful friend." So don't despair! Come together, share in community and humanity, and create a beloved community.
Lynn Smith is the President of Frederick Douglass Neighborhood Association in Brockton and a Brockton Historical Society volunteer. Email fdnabrockton@gmail.com or visit douglassbrockton.org for more information.
I'm going, friends. Long ago I found my calling in the public humanities and have been the director of a state humanities council ever since—39 years total, 33 here in my native Massachusetts. This fall I will retire.
I've been reflecting on my retirement a lot lately, which I suppose is typical. On the one hand, I have the usual mixed feelings about stepping away: Mass Humanities has been my life's work for such a long time and it's been such an enormously enriching and gratifying experience, I'll miss it. The job has given me uncountable opportunities to work with a vast array of smart, interesting, and creative people who understand and appreciate the civic value of the humanities and for that I will be forever grateful.
But on the other hand, there's another, very different reason for my mixed feelings about stepping away: the state of the humanities, the country, the world.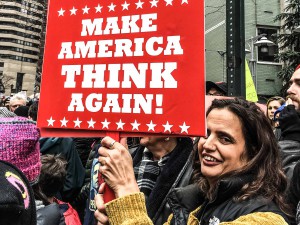 I'll be brief in listing the woes. The fragmentation of American society is well documented, with yawning and seemingly unbridgeable partisan divides. We lack any vision of a common good. Civility and decorum are best observed in history books. Cynicism—perhaps justifiably—is rampant. It is not uncommon to read articles on the disintegration of American community and the rise of isolation and loneliness. Globally, racism and nationalism are on the rise, anti-democratic strongmen are locking themselves into power, and above it all, climate change towers on the not-so-distant horizon. And when we need the arts and humanities more than ever, the Trump Administration wants to eliminate the NEA and NEH (again).
This means two things to me. One, I feel like state humanities councils have, to a certain extent, failed in their mission to inform and enlighten public discourse. The search for a common good is the domain of the humanities. History, literature, philosophy, and cultural studies provide us with the means of understanding each other, and ourselves. The humanities—particularly public issue-oriented programs like those organized and sponsored by state humanities councils—are supposed to provide broader context, help make connections between disparate elements, and build community and mutual understanding.
Inadequate funding is a major factor here: we have never been able to achieve a large enough scale on a shoestring. We also spend too much of our time preaching to the choir. Everyone reading this already agrees with our mission wholeheartedly. What we need to do is find ways to engage as broad an audience as possible and effectively demonstrate how the humanities strengthen the civic, cultural, and social fabric of society.
Two—and stay with me here—despite all of that, I am extremely optimistic for the future. I believe with all my heart that we'll get over this moment, reverse this trend; that the future is not one of intolerance, violence and despair but exactly the opposite: one of civility, diversity, morality, and free expression, where the humanities help ensure that opposing sides maintain respect for each other, that people with different viewpoints are sought out and welcomed, that ethical principles are refined and followed. I refuse to believe that what we see now will be our fate.
I don't believe this is pie-in-the-sky thinking, either. The evidence for optimism is everywhere. New research challenges the myth of the unhappy, underemployed humanities graduate, as their salary and job satisfaction levels (it turns out) are fully on par with other majors. More and more humanities institutions are turning outward—reaching out to the public and embracing their role as communicators and defenders of a civic ideal. Full-throated defenses of the humanities as fostering, as de Tocqueville said, "Poetry, eloquence, wit, imagination, depth of thought"—the lifeblood of democracy—are appearing in the media on a regular basis. We seem to be moving away from the assumption that the humanities are a frivolity, a nice to have, not a need to have. They are essential.
Even more importantly, I gain optimism from what I can only call a general trend toward diversity across all areas of society. It feels like the spirit of inclusivity—the belief that the humanities are for everyone, not just a few—is more widespread and more vigorous than ever. This is a good thing. As a society we seem to be experiencing a critical mass of increased awareness of barriers, a broad desire to do something about it, and crucially, an understanding of how to make lasting changes. Proof of this is omnipresent, from #MeToo and #TimesUp to Black Lives Matter, trans acceptance and much, much more.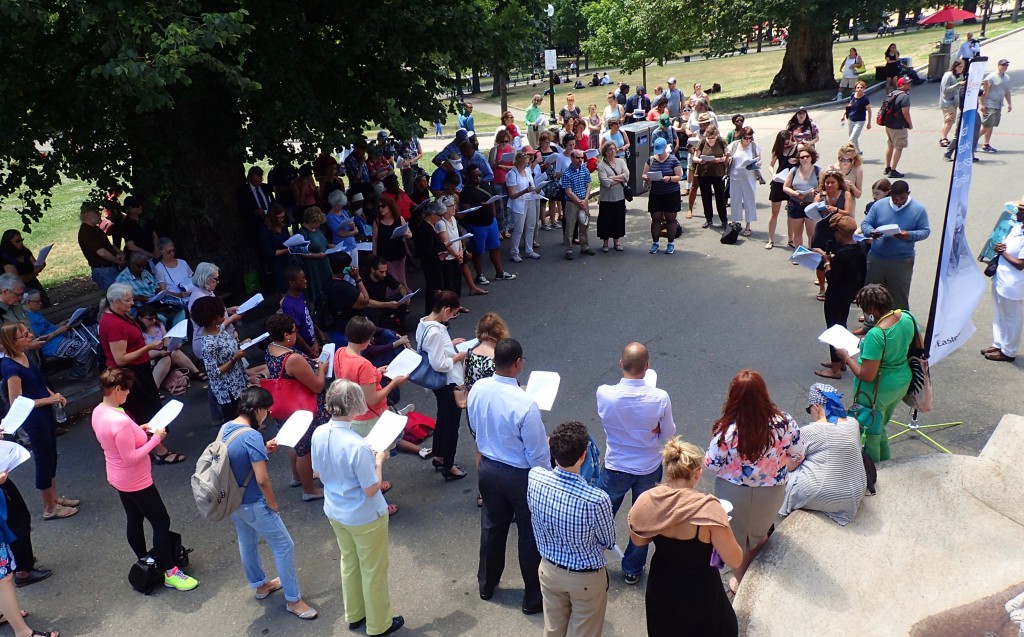 This is precisely the direction Mass Humanities has gone in in the last ten years: the Clemente Course in the Humanities, Engaging New Audiences grant-making theme, and Reading Frederick Douglass events have all been designed with the goal of increasing access to humanities programming and moving the conversation about equity and justice to the fore.
I'm happy to announce that to ensure the continuation of this programming emphasis, the Mass Humanities Board of Directors has established The David Tebaldi Fund and is seeking contributions to it. This fund will, in a sense, allow me to continue these efforts into the future. I'm humbled to have a fund named after me and can only hope it helps the public humanities remain essential to civic life—for everyone—in Massachusetts.
As I go, I want to say thank you for your friendship and support. Mass Humanities exists only through collaborations, partnerships, and contributions of time, talent, and treasure from people like you. I'm hanging up my spurs, but I've never been more hopeful.