Exciting project takes shape in Holyoke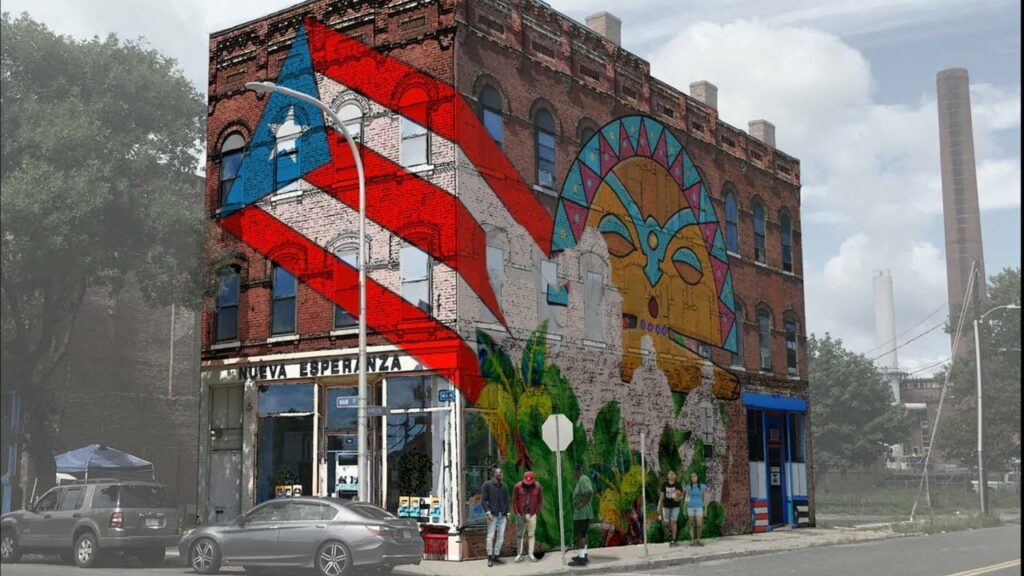 Each year, Americans observe National Hispanic Heritage Month from September 15 to October 15 by celebrating the histories, cultures and contributions of American citizens whose ancestors came from Spain, Mexico, the Caribbean and Central and South America.
In honor of National Hispanic Heritage Month, Mass Humanities is highlighting one of our 2021 Expand Mass Stories projects that uplifts Hispanic American stories in Massachusetts.
Through the grant Nueva Esperanza, Inc.'s launched "El Corazón/Heart of Holyoke Walking Tours", an interactive tour and exhibit of the Puerto Rican and Latinx stories in the city that is part of the larger El Corazon de Holyoke project. Mass Humanities funding supported the design and execution of nine walking tours that began in February and will last until October 2022.  These stories are shared along Main Street as art installations and through a traveling exhibit from the Wistariahurst Museum.
For a few years now Holyoke's Main Street has been transformed into a work of public art with a mural, place-making projects, banners and other multimedia tools to celebrate the incredible contribution the Puerto Rican and Latinx community has made to the culture and diversity of Holyoke.
During these walking tours Massachusetts residents can learn the stories behind four large photo banners, one mural, twenty five banners, quotes and images by Holyoke's Puerto Rican and Latinx community over the past 30 years.
Celebrated Puerto Rican Artist Shey Rivera Rios was selected to curate the public art portion of El Corazon and act as mentor to fellow artists working on the Main Street mural and banners that tell the story of Holyoke's Puerto Rican and Latinx community.
"The central idea was to celebrate Holyoke and its cultural diversity and really anchor it on Main Street," said Rivera Rios.
Rivera Rios said Phase I of the project kicked off a few years back by UMass Amherst's Center for Design Engagement, the installation of banners on light posts along Main Street. The banners feature the faces of Holyoke's "Hidden Legends," designated by Holyoke High School's Pa'lante Restorative Justice program.
Rivera Rios said Phase I acted as a catalyst for future El Corazon phases, and the leadership of the project was handed over to Nueva Esperanza, Inc. and local partner, Holyoke's Office of Planning and Economic Development. Last year, Nueva Esperanza, Inc. was awarded the Mass Humanities grant to launch the walking tour and begin telling the story of the city's Puerto Rican and Latinx community.
Rivera Rios's "¡Arriba, Corazones!" a multimedia installation and tribute to AfroBoricua artist and civic leader Ruth Fernández is one stop on the walking tour. It consists of a digital art portrait of Ruth Fernández printed on a large hanging canvas, alongside an original design LED neon sign with her famous quote "¡Arriba, Corazones!"
"The importance of El Corazon is getting to know our cities, our histories, and who our neighbors are, who we are," said Rivera Rios. "Especially in a world that's so fragmented, and there's so much political tension and a lot of separation between people. It's so important to create a space where we can learn from each other and the contributions that all people have made to the city we live in. This project is super important because it creates ownership, a sense of belonging, it inspires people to take care of their city, to support its youth while encouraging people to have an active civic life, vote, take ownership of how to make our neighborhoods better and ensure we have a good quality of life for everyone."
Rivera Rios added, "I really think that art is central to that and El Corazón is just a beautiful example of how, through celebrating the stories of our city, we get to know ourselves."
Learn more about the project or download your own walking tour brochure at https://nuevaofholyoke.org/el-corazon/.