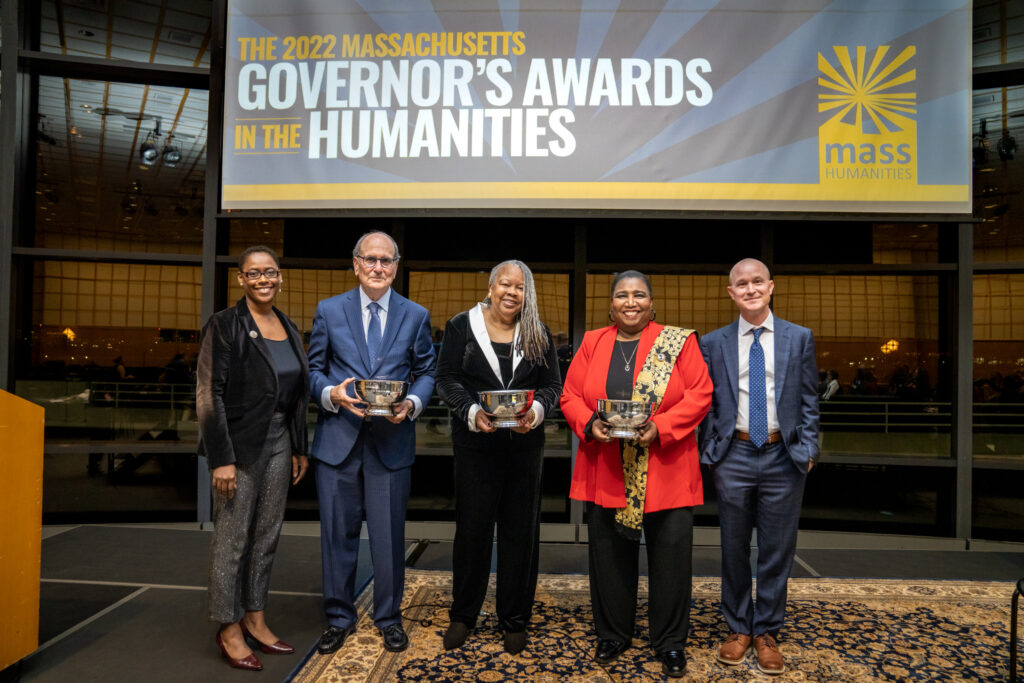 On Sunday, Oct 23, over 150 Mass Humanities friends and supporters came together at the John F. Kennedy Presidential Library in Boston to celebrate this year's Governor's Awards honorees.
Each year, Mass Humanities recognizes individuals whose public actions enhance civic life in the Commonwealth through a deep appreciation of the humanities.
At the event, Barbara Lee, founder and president of The Barbara Lee Family Foundation and The Barbara Lee Political Office; Callie Crossley, host of Under the Radar with Callie Crossley; Frances Jones-Sneed, Massachusetts College of Liberal Arts professor; and Fredric Rutberg, president and publisher of New England Newspapers, Inc. were all honored for their commitment and stewardship of the humanities in Massachusetts.
"It's an honor to have this opportunity to address this year as recipients of the Massachusetts Governor's Awards in the Humanities," said Gov. Charlie Baker in a taped address Sunday evening. "The humanities bring people together. When we connect through shared learning experiences and conversations, we each contribute to the ongoing story of the Commonwealth and our communities."
Baker said this year's honorees each represent the best of the best with respect to achievement in the humanities.
"Massachusetts is lucky to serve as the home of so many inspiring individuals," continued Baker. "I want to thank you for your invaluable contributions to the Commonwealth and beyond into the humanities fields. Your dedication and passion and made Massachusetts a better place to live and learn."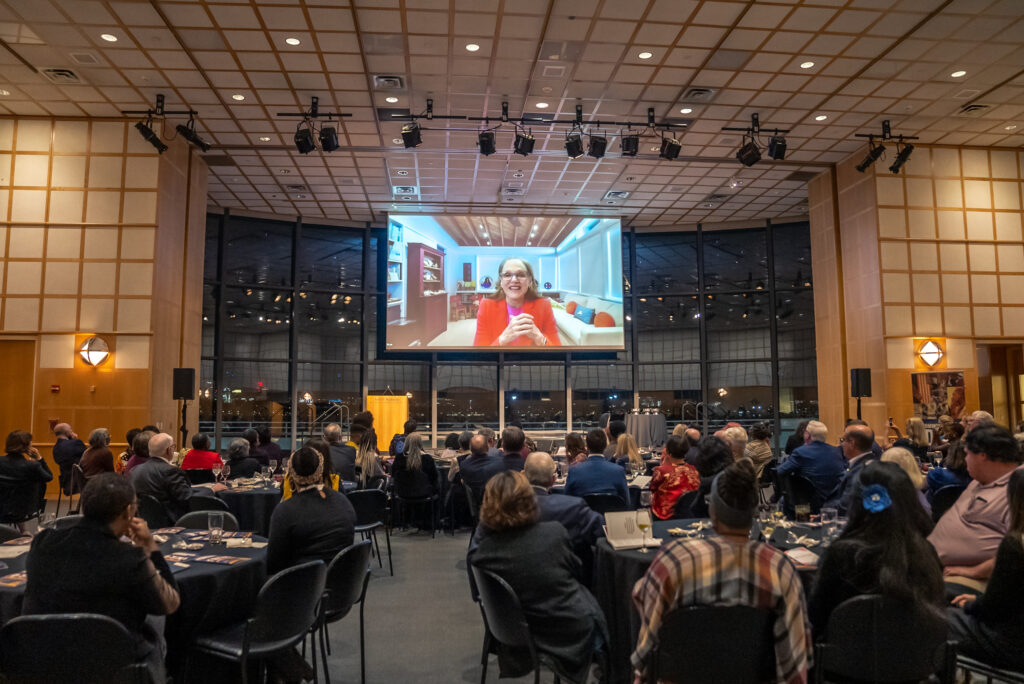 First to be honored Sunday evening was Barbara Lee, who accepted her Governor's Award virtually.
Originally from New Jersey, Lee, left home for Simmons College and pursued a master's degree in Social Work from Boston University.
In 1998, Lee founded the Barbara Lee Family Foundation, which aims to elevate women's representation in politics and contemporary art. Since then, Lee has helped elect 197 women in 33 states through her political office, including every sitting Democratic woman Governor and U.S. Senator.
"Thank you, Mass Humanities, for this prestigious award and for your amazing work, and thank you, Governor Baker, for this enormous honor. As we all know, women are essential to the humanities, so I accept this award on behalf of every woman who has ever published a book, picked up a paintbrush, or sat down at a pottery wheel; every woman who has ever run for office, whether she has won or lost; and every woman who has followed her heart and strengthened the whole of our society. This award is for all of you," said Lee. "I know a better future is in the making. This belief is the foundation of my work, and this is a proud part of my family's history. I see more school history books that celebrate the stories of women and people of color who have shaped our nation. I see museums that showed women who aren't just objects of art, but women artists sharing their vision. And I see women political leaders who show that they can dream big and accomplish big things. So thank you again for honoring me with this prestigious award."
Next, Callie Crossley accepted her award as one of this year's honorees. In her long and varied career, Crossley has shown a passion for amplifying voices that don't often get a lot of airtime. With programs like Basic Black and "Under the Radar with Callie Crossley" and in weekly radio essays on WGBH's Morning Edition, Crossley continues to shine a light on history and current events while providing a platform for everyone to be heard.
"In the words of Maya Angelou "I come as one, but I stand as 10,000," said Crossley. "The arts and humanities are vastly more important in troubled times, certainly never more important than now. We must find and amplify the wisdom that democracy demands, and I will continue to appeal to my words voice and lived experience through the humanities. I am humbled and appreciative to be in the company of my fellow honorees for and to receive this great honor."
In accepting her award, Frances Jones-Sneed thanked her friends, family and colleagues that traveled from the Berkshires and commented that she accepts her award not as an individual, but as a part of the collective group of people that she has worked with over the years.
Jones-Sneed, a groundbreaking scholar of history and an invaluable voice in our commonwealth, came to Western Massachusetts from Mississippi in 1993.
After taking a job at the former North Adams State College, she began researching African American communities in the Berkshires. Her collaborative work ultimately produced a revolutionary 250-page book and oral history project that adds vital layers of depth to any understanding of the region.
Jones-Sneed also served as director of Women's Studies at the Massachusetts College of Liberal Arts and has also been an integral part of the effort to preserve the historic Clinton A.M.E. Zion Church in Great Barrington.
"W.E. Dubois said, "Now is the accepted time. Not tomorrow. Not some more convenient season. It is today that our best work can be done and not some future day or future year. It is today that we fit ourselves for the greater usefulness of tomorrow. Today is the seed time and now are the hours of work, and tomorrow comes the harvest and the playtime once we have done the work," said Jones-Sneed. "Thank you Mass Humanities."
Lastly, Frederic Rutberg accepted his award as a 2022 Governor's Awards honoree to close out the program.
Through his hard work and vision, Rutberg has helped revitalize a historic newspaper, transforming it into an essential component of civic dialogue. Born and raised in Philadelphia, Rutberg got to know the beauty of western Massachusetts at summer camp, as a child and moved to Berkshire County at age 26 and opened a law practice in Stockbridge in 1974.
In 2015, Rutberg purchased New England Newspapers, Inc. As president and publisher, he has led investment in the newspaper and revitalized it.
"The humanities are the cornerstones of democracy, and democracy requires citizenship," said Rutberg. "For the first time in my lifetime democracy in America is being threatened and the concept of democracy is being questioned both from the right and from the left, and I find that very scary. As we celebrate the humanities, let's remember that the cornerstone of our democracy is that it requires citizenship and citizenship is not a spectator sport. We should begin by being responsible citizens who treasure the gift of democracy. If we do so, it's my belief, we'll all be better citizens. Thank you all for this gift and support."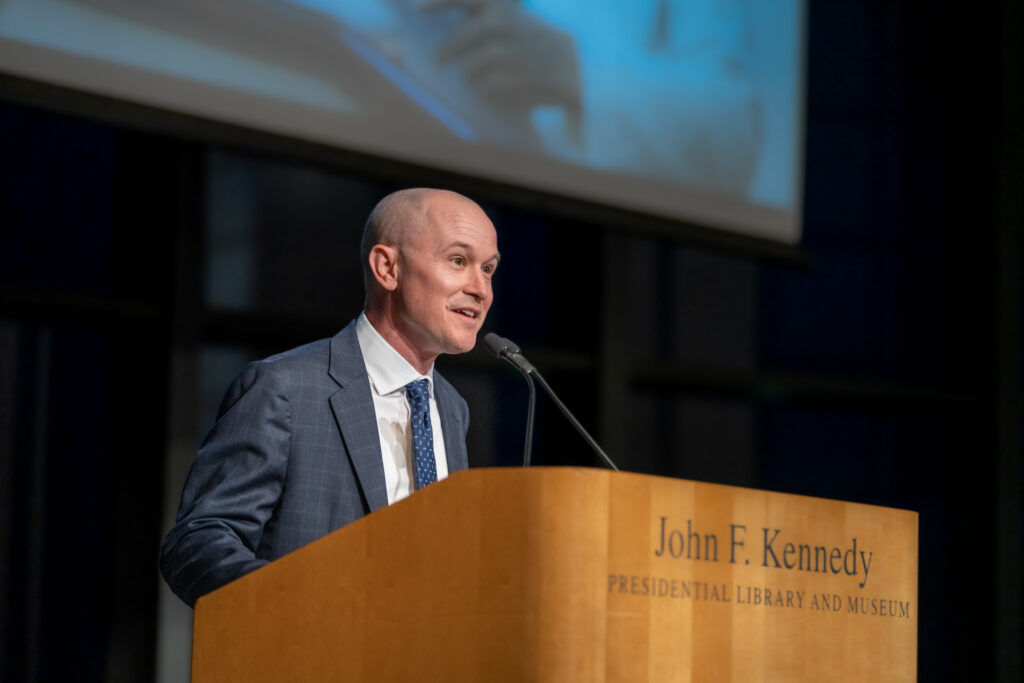 Mass Humanities Executive Director, Brian Boyles, said while our democracy is ill , it is still alive.
"Every day Mass Humanities works with the people that will be part of the rebuild. The healing begins by making the change we believe in at the local level," said Boyles. "Mass Humanities believes it is our role to change the story, to change who the story tellers are, who we listen to, and, what we do to uplift the spaces that protect those stories. This has been a time of separation and hate. It's also been a time of renewal and personal strength and earth-shaking calls for a better way. Please join those efforts. We must step boldly into this revision of the humanities and reimagine the stories that play a part in rebuilding our democracy."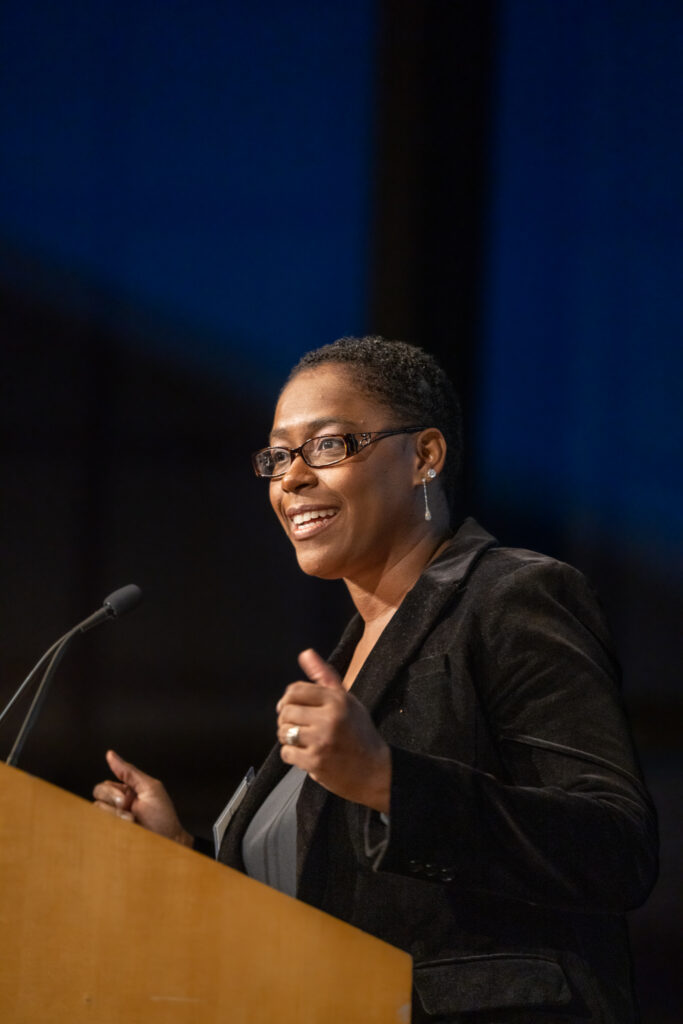 Mass Humanities Board Chair, Dr. Yves Salomon-Fernández, added, "The humanities have the lessons provided by our ancestors, and the messages we pass on to future generations. The humanities are the way we communicate our hopes and our fears to our fellow human beings. The humanities–history, literature, and philosophy–help us respond to the essential questions, "What is the right thing to do?" What do I owe to my family, my community, and especially to my country?" Here at Mass Humanities, we do our work through grants, programs, and partnerships. We take pride in our public/private partnerships and are grateful for major funders like the National Endowment for the Humanities and the Mass Cultural Council. I invite you to join our supporters in need this evening in envisioning and supporting what the humanities can be in an age of digital transformation, diversity, equity and inclusion."
Started in 2014, the Massachusetts Governor's Awards in the Humanities recognize excellence in the humanities. Mass Humanities partners with the Office of the Governor to name the awardees.
Proceeds from sponsorships, ticket sales, and direct donations benefit the organizations and programs that Mass Humanities supports each year, including the Clemente Course, Reading Frederick Douglass Together, and other humanities-based programming that reaches people throughout Massachusetts.
Mass Humanities would like to thank the following sponsors for making the 2022 Governor's Awards a huge success:
Luminary
Berkshire Health Systems
Al & Sally Griggs
Lia & Bill Poorvu
Laura Roberts & Ed Belove
Howard & Fredi Stevenson
Anonymous
Champion
Eastern Bank
GBH
Ronald Hertel
K | B Private Wealth Management Group
Benefactor
Berkshire Taconic Community Foundation
John Burgess and Nancy Adams
Steve Immerman
Paula Johnson/Wellesley College
Celinda Lake/Lake Research Partners
Mass College of Liberal Arts
Kristin McGurn
Jeff Musman
Seyfarth Shaw LLC
Raymond James
###
For further information, contact John Lynds at jlynds@masshumanities.org.