Bosco, Paris Jeffries, and Wang join statewide leadership.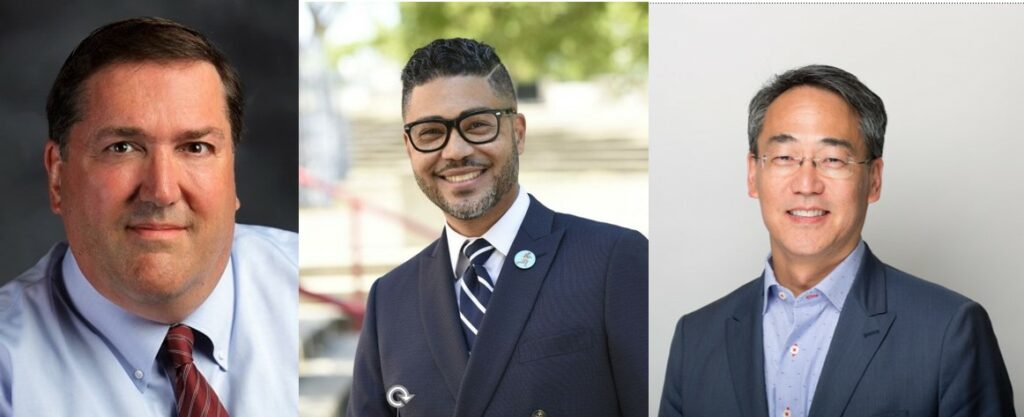 At its September meeting, the board of directors of Mass Humanities inducted three new members.
Paul Bosco is a technology executive and advisor to early-stage ventures and visionary founders across the internet, ed-tech, digital health, bio-compute, and social impact sectors. He also serves in board, trustee, and advisory roles to foundations, corporations, universities, and private investors with a focus on strategy, innovation, digital transformation, entrepreneurial capacity, and talent. He was previously a vice president and general manager at Cisco, founding and scaling the business unit that delivers industry leading digital infrastructure to securely connect our homes and lives to the Internet. At Cisco he led or sponsored $1.2B in strategic software and internet startup investments and acquisitions. Paul also served as site executive for the Cisco New England Development Center, supporting partnerships with regional non-profits, museums, schools, and communities. He previously led research and development teams in the IBM High Performance Computing and Communications unit. Paul has contributed to and coauthored winning NSF, ARPA, and HHS internet, digital media, and education proposals, including a focus on underserved communities. He holds a BS from Lehigh, MS/MBA from RPI, SM from Yale, and is a PhD ABD from MIT. He was a 2018 Harvard ALI Fellow focused on internet futures and the digital divide, social enterprise and entrepreneurship, and education and workforce development for the future of work. Paul is based in Cambridge.
Imari Paris Jeffries was named Executive Director of King Boston in June 2020. Paris Jeffries brings a wealth of experience from the nonprofit management, racial equity, community activism, education reform, and social justice sectors, and has served in executive roles at Parenting Journey, Jumpstart, Boston Rising, and Friends of The Children. He serves as a Trustee of the UMass System and on the boards of United South End Settlement Houses, MA Budget and Policy Center, and Governor Baker's Black Advisory Commission. Imari most recently was the Executive Director of Parenting Journey. Previously he served as Chief Executive Officer of the Italian Home for Children, Chief Operating Officer of Jumpstart for Young Children's Inc., as interim CEO of Boston Rising, and as Executive Director of Friends of the Children-Boston. Imari has extensive professional experience in public, national, and nonprofit leadership. He committed to equity and justice and has supplemented his work with volunteer service on boards. These have included Jumpstart, the African American Federation of Greater Boston, Save the Harbor, Save the Bay, the Elizabeth Peabody House, the Massachusetts Mentoring Partnership, the Edward Brooke Charter School, The Providers Council, and Third Sector New England. Imari is a three-time graduate of UMass Boston and is currently pursuing his Ph.D. through UMass Boston's Higher Education Program. He earned his BA in 1997, MEd in 1999, and his MA in 2003 from the University of Massachusetts. A veteran, Imari served from 1991-1996. He currently lives in Hyde Park with his family.
Willis Wang is Vice President and Associate Provost for Global Programs, and Deputy General Counsel at Boston University. He is the senior international officer responsible for strategic and major global initiatives. In addition, he manages the Global Programs Office which consists of study abroad programs with in-country operations in 15 countries, immigration support to thousands of international students and scholars, an ESL school, and operational support services facilitating the global activities of BU faculty. Willis also oversees a London-based academic internship non-profit, and is a trustee of Sea Education Association. As Deputy General Counsel, and since joining BU in 1998, his legal practice focuses on international ventures, corporate transactions, tech transfer, endowment investments, research, employment, and environmental matters. Prior to BU, Willis was in-house counsel at an MIT spin-off environmental technology company and the EPA. Hailing from Missouri, Willis has lived in
Massachusetts since 1988 with a brief detour in DC.
Each year, Mass Humanities accepts nominations from the public for seats on its board.