Plan your event
You may choose to host an event at your community center or historical society, at a public day or festival in your town, before Independence Day fireworks, in your backyard, or even at a fair.
Apply for a Reading Frederick Douglass Grant
To organize a Reading Frederick Douglass Together event that includes a moderated discussion session and is sponsored by a nonprofit or government organization, apply for a Reading Frederick Douglass Together Grant. For more information on grants and other ways to plan events, please contact Dr.Latoya Bosworth at lbosworth@masshumanities.org.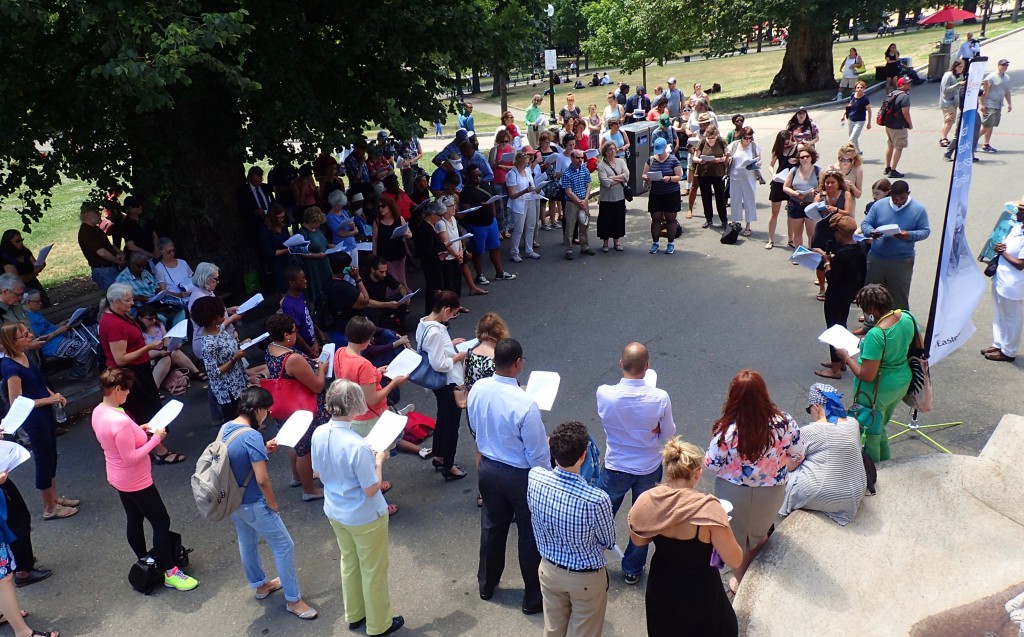 Recipe for a Successful Reading
Step 1: Choose a location. We suggest that you read the speech at a local event or commemoration. Any number of places would make for a good reading, such as with the lunch crowd in a public place, at the public library, during a 4th of July family barbecue, before the local fireworks display, or at microphones set up on the steps of the town hall. You could also work with a private group and use the speech as your book club's monthly read, for example.
Step 2: Come prepared. The speech (edited for different lengths) is available below for download. Make copies for readers and audience members. If it is a large event, you may need to arrange for amplification, and depending on the location, you may need to get a permit from your town hall and/or arrange for wheelchair access and seating. If your event will include a moderated discussion, be sure to prepare for that. Local (community) colleges are great places to find discussion leaders, and Mass Humanities will fund a reasonable stipend for a humanities scholar to serve as a discussion leader.
Step 3: Food and drink. People talk more freely and happily if they can have something to eat and drink. If the event is public, oftentimes a local market (including the supermarket) is willing to donate cookies or fruit and lemonade.
Step 4: Draw a crowd. Invite locally well-known persons to introduce the event or start off the reading. Collaborate with other organizations so that you will have more attendees, more resources, and more publicity. (Consider if you will need a permit and/or amplification.)
Publicity
Please read through Mass Humanities' Publicity Guidelines, and you may also want to use our Media Kit.
Submit your event to your local public radio station and other online community calendars. Some online calendars allow you to submit a small image for a calendar listing. Here's a Douglass image for your use. Don't forget to submit your event to the Mass Humanities online events calendar.
Alert Your State Reps
Find out who they are and invite them! Find your Senator's telephone and email. Find your Representative's telephone and email. Phone and fax communications are most effective.
Poster
Below you will find a downloadable poster to customize with your event's details. You will need Acrobat Reader to edit the PDF. Just click on the poster graphic to download, open the PDF, and fill in the details on the screen. Print and copy as needed.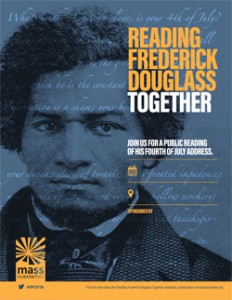 Speech
Download various lengths of Frederick Douglass' 4th of July speech.
In English
Abridged – Short version (approx. 30 minutes)
Abridged – Medium version (approx. 35 minutes)
In Haitian Kreyol:
Abridged – Medium version (approx. 35 minutes)
In Spanish:
Discussion Guide and Additional Resources
Download this PDF for tips on leading trauma-informed discussions, best practices, and other suggestions.
Download this PDF for proactive tips and strategies to maintain safety and security at your event.