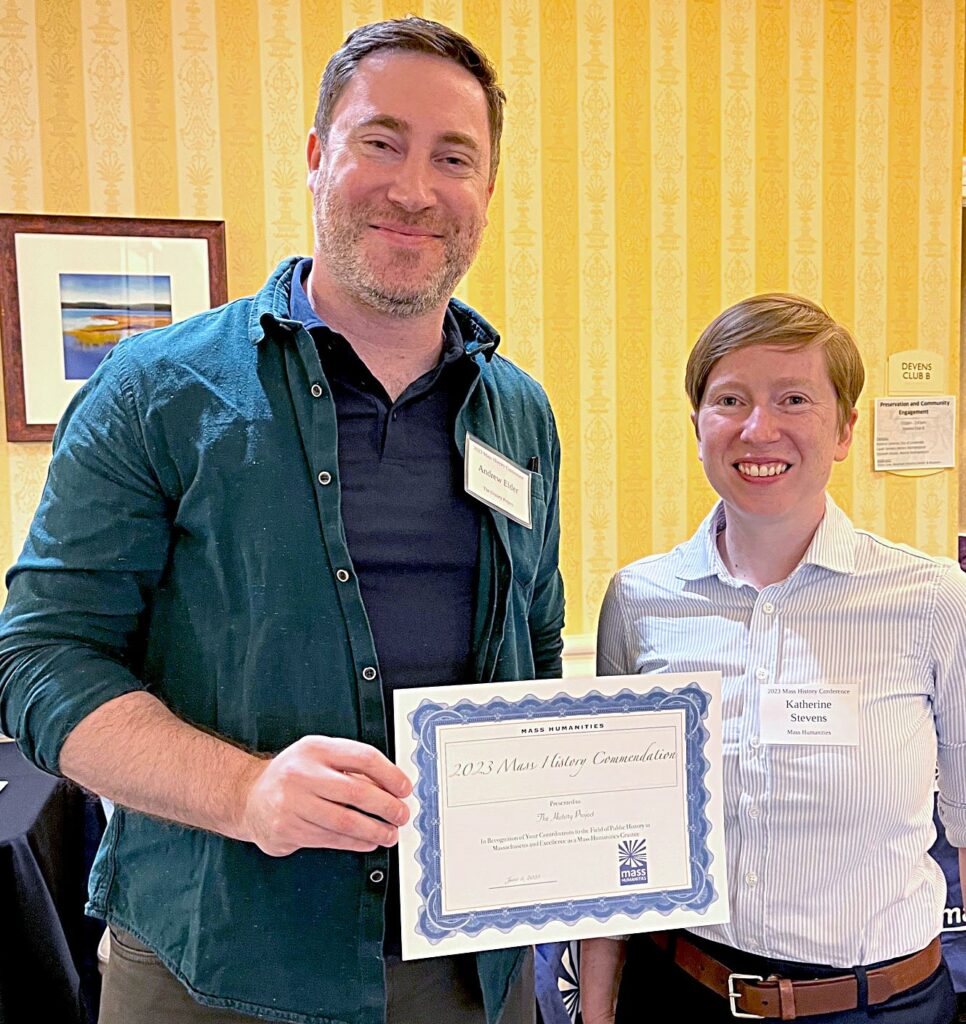 Each year, Mass Humanities awards a Mass History Commendation to a grantee whose work represents the very best of today's public history field in Massachusetts.
This year's Mass History Commendation goes to The History Project, a Boston-based archive that documents and preserves the history of New England's LGBTQ communities and shares that history with LGBTQ individuals, organizations, allies and the public.
The award was presented to Andrew Elder, Board Chair for The History Project, on Monday, June 5 during the 2023 Mass History Conference in Devens, MA. The conference was made possible in part through funding support from Mass Humanities.
Like so many great history organizations, The History Project is volunteer-driven and endlessly innovative.
In 1980, a group of activists, historians, archivists and writers were awarded a grant of $300 from the City of Boston to document Boston's gay and lesbian history in conjunction with the city's 350th anniversary.
Today, The History Project maintains one of the largest independent LGBTQ archives in the nation, which includes more than 250 collections from organizations and individuals encompassing more than one million documents.
Two recent projects supported by Mass Humanities reflect The History Project's ongoing efforts to collect more inclusive stories of LGBTQ communities.
A 2021 Digital Capacity Grant helped establish a Community Curator position for community outreach with Boston's Black LGBTQ community, enabling access to the historical legacy it has been denied and ensuring that the stories of the contemporary LGBTQ+ community will be preserved in perpetuity.
As online programs bolstered audiences for history organizations in recent years, a 2022 Bridge Street Fund grant from Mass Humanities supported The History Project's events on "Queer Women in Bookstores," the "History of Pride Celebrations in Boston" and the "Speeches that Shaped LGBTQ Literary Culture."
Additional grants from the CARES Act and the American Rescue Plan sustained the organization during the pandemic.
In a time when efforts to silence the voices and experiences of LGBTQ+ communities are on the rise, the strength and groundbreaking work of The History Project exemplify a humanities organization that is meeting the moment and serving the people of Massachusetts.
It is truly an honor for us to celebrate this work with the 2023 Mass History Commendation.