Smithsonian Museum on Main Street "Crossroads: Changes in Rural America" traveling exhibit makes stop at the Hull Lifesaving Museum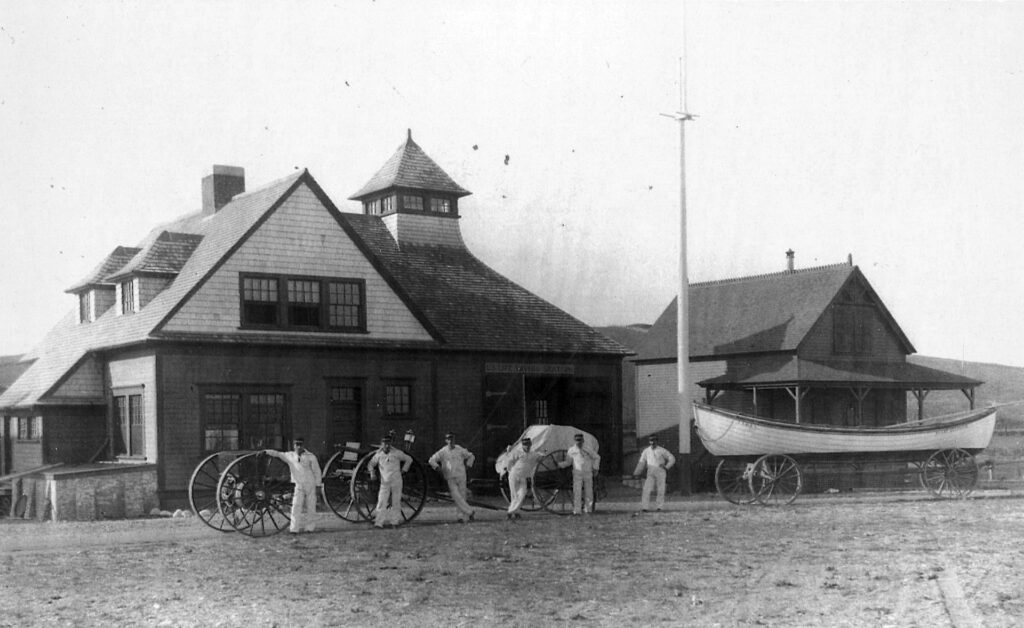 As a sandy peninsula on the southern edge of Boston Harbor, the Town of Hull has undergone many transformations over the past century. From a small fishing village to a seaside resort Hull is once again at a crossroads with shifting demographics and new development projects on the horizon.
Hull's rich history and present-day way of life will take center stage as the Smithsonian Museum on Main Street, in cooperation with Mass Humanities, rolls into the Hull Lifesaving Museum (HLM) from Oct. 30 through Dec. 10.
The museum's goals in hosting this exhibit and complementing programs include bringing greater awareness to small town issues and showing how Hull's history and current state are both similar to and different from other small crossroad towns. The net effect will be a renewed sense of optimism and positive energy which will build more excitement and interest for the Museum and its programs while inspiring visitors to the exhibition
Throughout the exhibit the "Crossroads" theme will connect Hull's land, people, identity, persistence, and change to evaluate Hull's past, present and future.
Over the last several months, HLM has worked hand-in-hand with the Smithsonian, Mass Humanities and local partners to create additional exhibitions and programming that ties Hull to the Crossroads theme. Some of the local sponsors and partners participating include: Nantasket Beach Resort, Jake's Seafood Restaurant, Hull Pride, No Place for Hate, Jews of Nantasket Beach, the Massachusetts Lobstermen's Association, Hull Historical Society and the New England Historic Genealogical Society. Mass Humanities' partners for the statewide tour include: National Endowment for the Humanities, Big Y, and Blue Cross Blue Shield.
It was fitting the HLM was chosen to be part of MoMS because it celebrates the heroic actions of the coastal lifesavers, who set out into the sea during storms to save imperiled sailors from around the world as they attempted to navigate the treacherous waters at the entrance to Boston Harbor. These coastal lifesavers did not ask those sailors about their race, religion, country of origin or sexual orientation before saving them because they saw everyone as humans in need of help.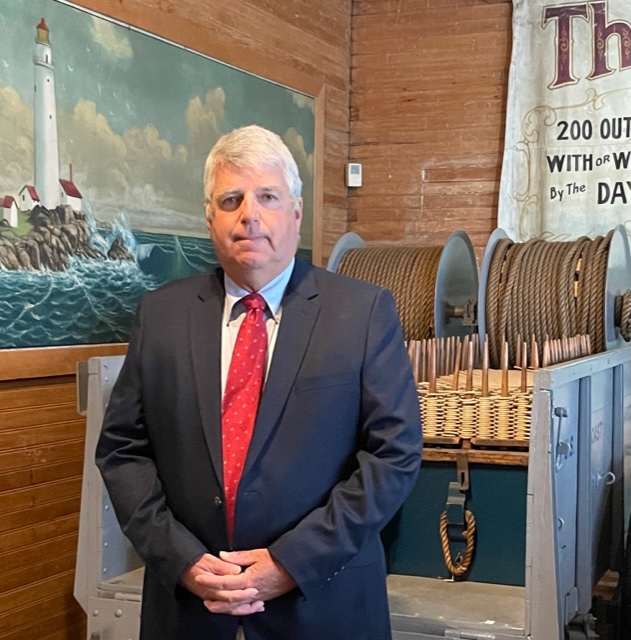 "We are much more than a Museum" said Mike McGurl, HLM Executive Director. "We offer a wide range of programs including six public events in conjunction with our upcoming exhibition Museums on Main Street, Towns in Crossroads, sponsored by the Smithsonian. The diverse programs help to frame the Town of Hull and The Hull Lifesaving Museum an important Crossroad in the history of the country."
Rep. Joan Meschino (D-Hull) said she is excited for the MoMS exhibit to arrive in her hometown on October 30.
"I want to thank Mass Humanities for recognizing that when communities get these type of grants it really helps them uplift, illuminate and connect," said Rep. Meschino.

Over the past year the HLM received extensive training from the staff of Mass Humanities and the Smithsonian along with a $10,000 grant from Mass Humanities to develop public events during the exhibit, which will be on display for six weeks.
"We are inspired by the events and ideas taking shape at the Hull Lifesaving Museum for their time with the Smithsonian exhibit," said Brian Boyles, Executive Director of Mass Humanities. "The team there focuses their work on being inclusive and improving lives in their community through humanities programs. I'm looking forward to being there this fall to learn more about their nationally-significant history and innovative future."
Selwyn Ramp, project director with the Smithsonian's Museum on Main Street added, "The Hull Lifesaving Museum has generated tremendous energy as they've prepared for the arrival of "Crossroads: Change of Rural America". They've developed community programs highlighting the unique and rich history of the community of Hull and the Nantasket area. We're excited to see the renewed pride of place and enthusiasm to engage with stories of Hull's heritage, industry, transformation, and its connection to the broader story of rural America."
This unique programming includes:
Saturday, Oct. 15: Hull Village Architecture Walking Tour–Get ready for hills and architectural thrills! Join Bob Pahl, Massachusetts registered architect and member of Hull Village Historic District Commission, on a walking tour adventure as we explore the architecture of Hull Village. We'll examine buildings stretching from the colonial era through to the contemporary discussing the unique expression of familiar styles in this formerly remote fishing village. 128 Spring St Hull Village from 10AM to 12PM.
Thursday, Oct. 20: A Community's Journey of Diversity–Please join moderator Chad Wolfe, on the Board of Directors for Hull Lifesaving Museum and panelists from Hull Pride, No Place for Hate and Jews of Nantasket Beach for a thoughtful discussion of Hull's journey of cultural diversity. The intention of the discussion is to provide an opportunity for neighbors to engage with one another as they share their experiences and insights. Nantasket Beach Resort, 45 Hull Shore Drive from 7PM to 8PM.
Tuesday, Nov. 8: Early Families of Hull and Other Genealogical Connections–Go back in time! Join Chris Child, genealogist, author, and lecturer from New England Historic Genealogical Society to discover the English families that settled in Hull in the 17th century, their historical impact on descendants there and elsewhere. Learn about the ancestry of Joshua James, Abraham Lincoln, and other genealogical populations in Hull through the centuries. Nantasket Beach Resort, 45 Hull Shore Drive from 7PM to 8PM.
Saturday, Nov. 26: Clash of Cultures: The Pilgrims and The People of the First Light–Enjoy a riveting walking tour led by Sean Baggett about two cultures; the Pilgrims and Indigenous peoples. For a short time, they were successful in working, living and thriving; by putting aside their differences and prioritizing this complex relationship above their differences. Actions, views and decisions in this period led to the most devastating war in our history and set into motion the treatment of indigenous peoples for the next 400 years and cemented a legacy we continue to struggle with today. XYZ Street Parking Lot Hull from 10AM to 12PM.
Thursday, Dec. 1: History of the Massachusetts Lobstermen's Association–Join Beth Casoni, Executive Director of the Massachusetts Lobsterman Association as she takes us through the journey of the evolution of lobstering through the years. What the impact of fishery management and right whale conservation has been on the lobster industry. What does the future of lobstering look like? Nantasket Beach Resort, 45 Hull Shore Drive from 7PM to 8PM.
Thursday, Dec. 8: Hull at the Crossroads: From Summer Playground to the Next Big Thing–What was once a quiet fishing village became a thriving summer resort whose fortunes during the next 100 years would be linked to the amusement industry. As the town outgrew the carnival economy and developed into a year-round suburb, it set its sights on finding the "next big thing" – from urban renewal plans to a casino proposal to the eventual focus on residential condominium development. Today, Hull is at another crossroads, with shifting demographics and new development projects on the horizon. What is Hull's "next big thing" as it grapples with the remnants of old development models, an aging population, climate change, and its ongoing search for identity? This presentation by Chris Haraden, Hull Historical Society treasurer and contributing editor to The Hull Times will look back at the path that got us here and offer a glimpse of the road ahead. Nantasket Beach Resort, 45 Hull Shore Drive from 7PM to 8PM.
---
Launched in 1994, Museum on Main Street (MoMS) is a Smithsonian outreach program that engages small town audiences and brings revitalized attention to underserved rural communities. The program partners with state humanities councils like Mass Humanities to bring traveling exhibitions, educational resources and programming to small towns across America through their own local museums, historical societies and other cultural venues. A private foundation based in Northampton, Mass Humanities serves as the state affiliate of the National Endowment for the Humanities.
MoMS kicked off at the Essex Historical Society and Shipbuilding Museum on September 10 with programing continuing through October 22. MoMS in Hull will be followed by stops at the Rutland Free Public Library (12/18/2022 – 1/28/2023), Great Falls Discovery Center, Turners Falls (2/5/2023 – 3/18/2023), Bushnell-Sage Library, Sheffield (3/26/2023 – 5/6/2023) and Athol Public Library (5/14/2023 – 6/24/2023). Organizations located in towns with populations of 12,000 or less were eligible to apply for the MoMS grant. The six sites chosen for MoMS will have the opportunity for a second year grant to continue the work and programs they developed as part of MoMS.
For more information about each activation, including the times and locations of each, visit Hulllifesavingmuseum.org.
For further information, contact Jen Atwood at jatwood@masshumanities.org.