Published by Meg Trogolo in Worcester Magazine on July 4.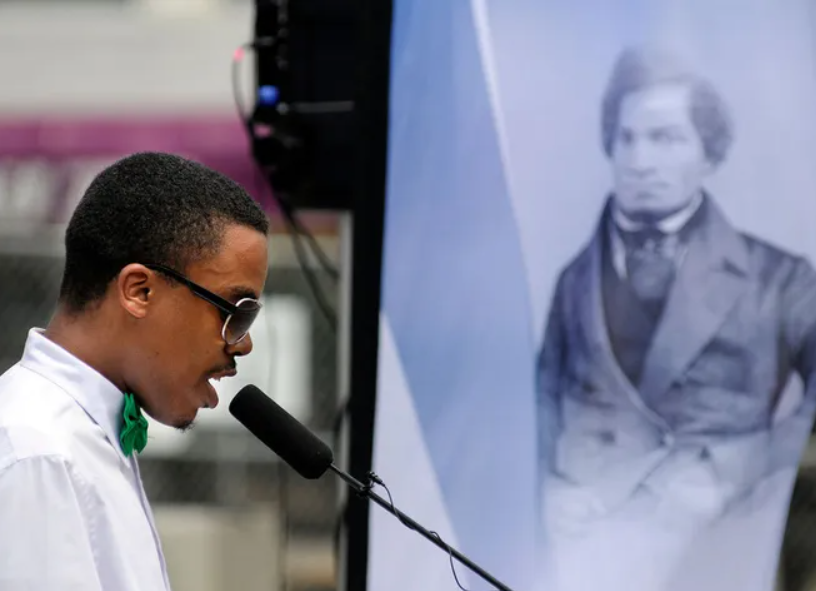 Every year, on the eve of Worcester's July 4 celebrations, city residents ranging from artists to elected officials to line cooks come together outside City Hall to recite "What to the Slave is the Fourth of July?", abolitionist Frederick Douglass' famed 1852 speech addressing the extreme inequality that the holiday laid bare in pre-Civil War America.
"Your prayers and hymns, your sermons and thanksgivings, with all your religious parade and solemnity, are, to (an American slave), mere bombast, fraud, deception, impiety and hypocrisy – a thin veil to cover up crimes that would disgrace a nation of savages," Douglass wrote.
Those words will ring out again across Main Street, when the annual "Reading Frederick Douglass Together" takes place June 30 at the Worcester Common Oval. Anyone who attends can sign up to read part of the speech. The event will also feature performances from singer Chappella Rabess and poet April Neely, and Worcester Youth Poet Laureate Adael Mejia.
"We have a long way to go. It's a chance to speak up and have a voice. (When the U.S. declared independence) in 1776, Black people were still slaves and didn't have any freedom," Worcester NAACP president Fred Taylor said.
The meaning of democracy
City Hall has provided the backdrop for the yearly reading for over a decade, but Douglass' history in downtown Worcester goes farther back. During the fight for abolition, the building was host to Douglass. In the 1830s, he was a member of the Worcester Anti-Slavery Society and visited the city often to speak at both City Hall and Mechanics Hall.
Mechanics Hall is currently commissioning a painting of Douglass from artist Imo Nse Imeh of Holyoke to hang in its portrait gallery — one of three portraits of prominent 19th century Black leaders set to be added.
"Frederick Douglass has a very rich history in Massachusetts, and I think the reading of the speech brings a significance to that," Mass Humanities program officer Latoya Bosworth said. "As times change, there's always issues around what it means to live in a free and equitable society, and that changes as time changes. It always helps to promote that discussion about where our democracy is today, the challenges to that democracy and the strength of that democracy."
More:Worcester's Black Heritage-Juneteenth Festival postponed to July 1
The Worcester NAACP will organize the event, funded by Mass Humanities, which provides funding for similar events across the state. According to Mass Humanities' calendar, more than a dozen readings will take place throughout Massachusetts in the week leading up to July 4, with eight readings happening on July 4 itself.
"We've been funding the readings since 2009 all over Massachusetts, but we recognize that some of the readings have been taking place before that as part of Black public memory," Bosworth said.
'Still fighting the battles'
The Worcester NAACP has long been part of the yearly Frederick Douglass readings. Former president Cedric Arno organized the readings beginning in 2009, and Taylor stepped in after becoming president. Taylor said the speech resonated with him as a Black Worcester resident, particularly in light of the recently-settled racial discrimination lawsuit brought by a retired Worcester police officer against the Worcester Police Department.
"It's a reflection on where we were then, and how we're still fighting some of the same battles. You look at leadership in almost every organization and you don't have a lot of Black representation," Taylor said. "Sometimes you have Black leaders in certain spaces, but those people are leaders in name only. At the end of the day, they're not making the decisions."
A share of the harvest
Arno, meanwhile, drew a direct line between history and the current economic and working conditions for Black Worcester residents. Arno painted a picture of enslaved Blacks, doing back-breaking work to harvest a farm's worth of crops only for that harvest to be enjoyed by their white captors instead.
"Black people in Worcester are not getting that harvest," Arno said. "They are not receiving that harvest for years of toil. Now, we are in a situation where we are not even receiving the benefits of the ARPA grant that set out money for Black people to get things going. Worcester is not delivering in any way, shape, or form on what was signed."
More:Douglass' fight for women's rights included the 1850 convention in Worcester
The June 30 reading will not be the first time this year that Douglass' 1852 speech has been read in Worcester. In February, another reading took place at City Hall as part of Worcester's Black History Month programs, and Arno said during a discussion forum after that reading, he encountered what he remembered as a teaching moment.
"We had Robert Jones come in and do a discussion in City Hall about the intersectionality of crime and punishment and Black people from emancipation until now. There was a subversive person in there who wanted to misdirect the conversation, and it was found that that person had bigoted thoughts," Arno said. "Hopefully, we got a chance to change that individual's bigoted theories and mindset for the next time. I believe the person was invited to come back to the next reading."
"Reading Frederick Douglass Together" will take place in front of at noon June 30 in front of Worcester City Hall. To learn more, visit the event page at worcesterma.gov. Also, this year's Black Heritage-Juneteenth Festival will be held July 1 at Institute Park.