Partnership will ensure The Clemente Course continues to change lives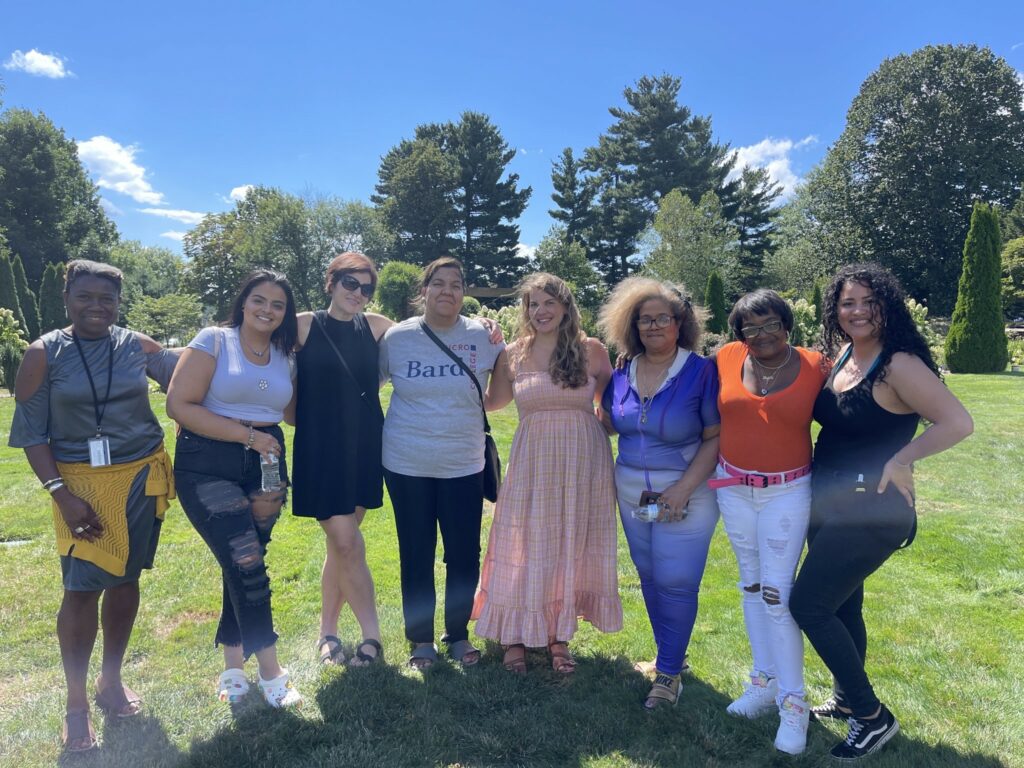 Four and a half years ago, with her two sons in tow, Jessica Cox relocated to Holyoke from Vermont in search of a better life.
While her move was rooted in a mother's instinct to improve her family's future, it was also filled with a level of uncertainty and anxiety.
As a single mother starting over in a new city, Jessica knew Holyoke would be filled with endless possibilities but wasn't sure how to access new opportunities.
Like many single parents in her situation, Jessica turned to the local social service office to achieve stability while she figured out her next move.
However, it was during a casual check-in with her caseworker at Holyoke's Department of Transitional Assistance that would change Jessica's life forever.
"My youngest was six-months-old at the time and sitting on my case worker's desk were these brochures about Bard College's Clemente Course in the Humanities at The Care Center in Holyoke," said Jessica. "My case worker, a very kind woman, told me the program was something she recommends to a lot of women looking to further their education."
Jessica said she was awestruck when her caseworker told her the college-level classes at The Holyoke Care Center were free.
"I couldn't believe it because nothing in this world is free, right? I thought there had to be a catch" said Jessica.
Because she was out of school for so long, Jessica was apprehensive about enrolling in college-level classes but finally took her caseworker's advice.
"I finally said, 'Okay, I'll give it a go and see what it's all about," said Jessica. "So I did and it changed my life."
The program in Holyoke is made possible through a renewed partnership between Mass Humanities and The Care Center as well as The Clemente Course in the Humanities and Bard College. Holyoke was home to the first Clemente Course in Massachusetts; the first in New England, and the only one just for women.

The course champions opportunities for Massachusetts residents from historically and systemically excluded communities to engage with, discuss, and author stories and ideas about our democracy. The course is designed around a student-centered, seminar-style learning environment where students are invited to actively engage in discussion, critical thinking and form a writing community.
"Clemente changes lives," said Brian Boyles, Executive Director of Mass Humanities. "Mass Humanities began our journey with the program more than twenty years ago with Holyoke, so it's an honor to renew our partnership with The Care Center. I'm looking forward to learning from their community."
Along with Holyoke, adults in Brockton, Dorchester, New Bedford, Springfield, and Worcester can attend tuition-free, college-level classes in art history, critical thinking and writing, history, literature, and philosophy.
In addition to earning college credits from Bard College, Clemente participants draw upon their lived experiences to spark new ideas about historical texts; connect with neighbors about relevant civic issues ranging from LGBTQ rights to voting accessibility; author powerful anthologies like We, Too, Are America and This is Your Democracy; and take on leadership roles in their communities.
"We had this radical idea years ago to give people with little means what people with means have," said Anne Teschner, executive director of The Care Center in Holyoke and former Mass Humanities staff member. "We said, "Let's just do it and see what happens" and, of course, what has happened is remarkable. At this point, hundreds of women's lives and the lives of their families have been changed."
Anne continued, "The Clemente story is one of the state's more under-told stories. We received a Presidential Medal, so it's understood at the national level by some, but I think the State of Massachusetts does not know what fabulousness is happening here. The Clemente Course concept is powerful and we're still here after 20 years of doing this work because it changes lives profoundly."
Jessica would be the first to agree with Anne and her time spent taking the Clemente Course in Holyoke forever changed the trajectory of her life.
"You know, it wasn't just about going to school it was about finding my identity as a single mother, starting over in a new place and really finding out who I was separate from everybody else in my life," said Jessica. "It's something I'm incredibly grateful for to this day. If I decided that day in my caseworker's office not to enroll in Clemente, I never would have experienced all the wonderful things I've experienced."
Jessica continued, "It showed me that I wasn't just a welfare mother and that I had the potential to do so much more. It made me love learning again and want to be a better parent and give my kids the future they deserve."
Now, Jessica's future looks as bright as ever, and life has seemed to come full circle since that day in her caseworker's office four and a half years ago.
She's enrolled at Smith College, has big plans for her education, and works part-time at The Care Center. 
"I graduated Clemente in 2019 and I'm working on my bachelor's degree at Smith College with the goal of getting my master's degree in social work," she said. "I also work as a program assistant at The Care Center and check in on the new Clemente students all the time."
In the end, Jessica gave some advice to anyone thinking about taking the Clemente Course.
"Just do it and dive in because you'll be surprised at who you are and who you're going to become," she said. "The course just opens doors that you never thought were possible to open. Don't be afraid and just go do it because it'll be worth it in the end."